January 29, 2019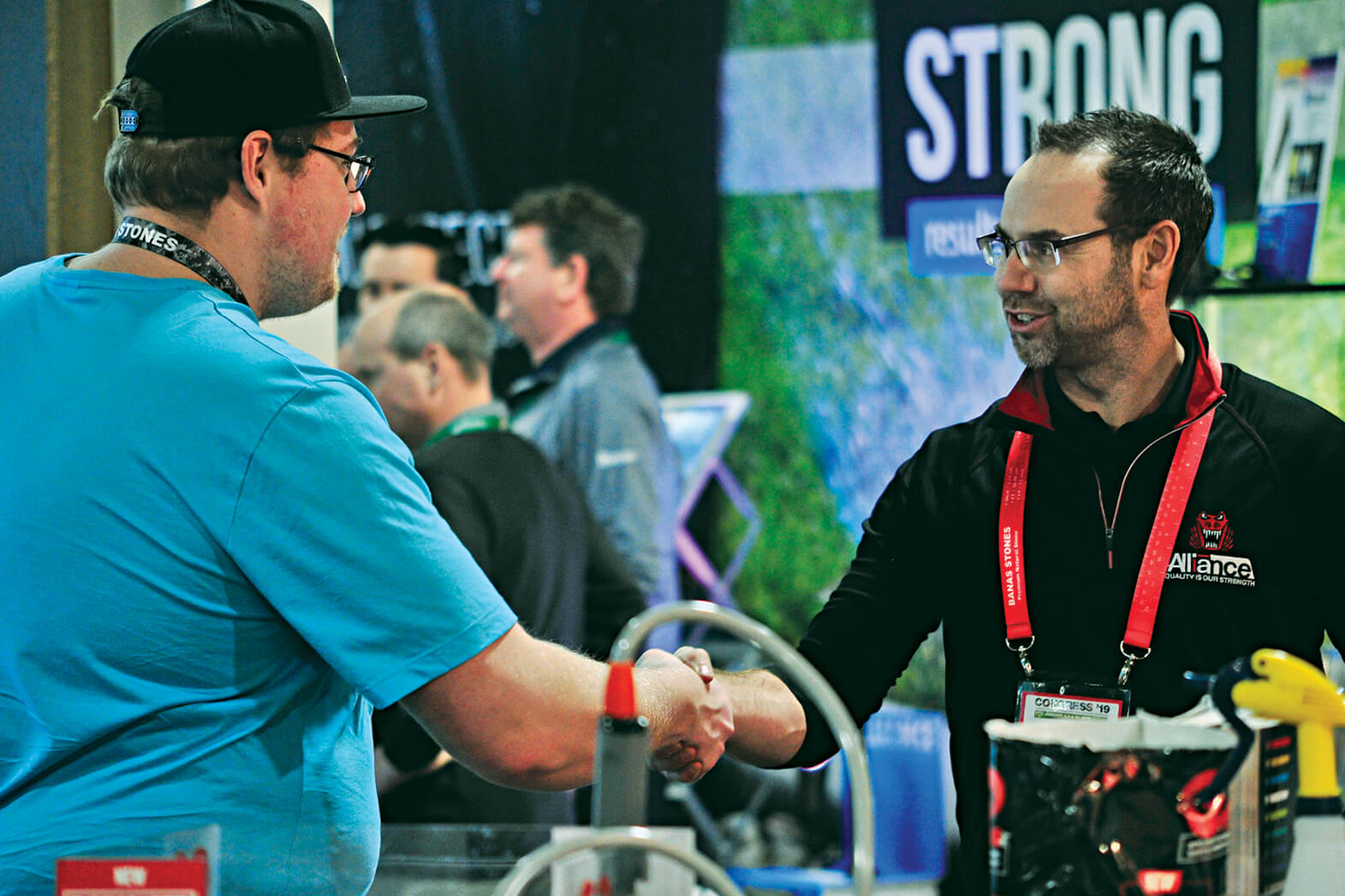 15,657 professionals attend Congress '19
A record-breaking, 15,657 landscape and horticulture professionals attended Congress '19, Jan. 8-10 at the Toronto Congress Centre.

Produced by Landscape Ontario Horticultural Trades Association, the 46th edition of the three-day trade show and conference featured over 600 exhibitors on 8+ acres of show floor, a full conference, after hours special events, live demonstrations and some sector-specific conferences and symposiums.

Landscape Ontario show manager, Heather MacRae, says the record-breaking attendance was possible thanks to great weather, increased marketing of the event, and the on-going dedication of many Landscape Ontario members and volunteers — some of whom serve on the association's Show Committee to help plan and run the annual event.

"Our volunteers and committee members truly are amazing," MacRae says. "Many of them take several days in their downtime to help with the event, from move-in, through to move-out. On top of that, they also attend meetings throughout the year to ensure Congress continues to provide exactly what members of the profession are looking for."

Another key to the shows' continued success is the ability to listen to both exhibitors and attendees, and to adapt and implement changes each year.

Feedback is gathered throughout the week from conference speakers, volunteers, staff, attendees and exhibitors, with everything documented for review prior to next year's event.

"We also send surveys to both our exhibitors and attendees right after the show," MacRae explains. "Within only days after the show closed, an attendee survey received over 400 responses. "Our exhibitors and attendees provide such great feedback that it makes it easy to see where we may have dropped the ball or what change was very successful."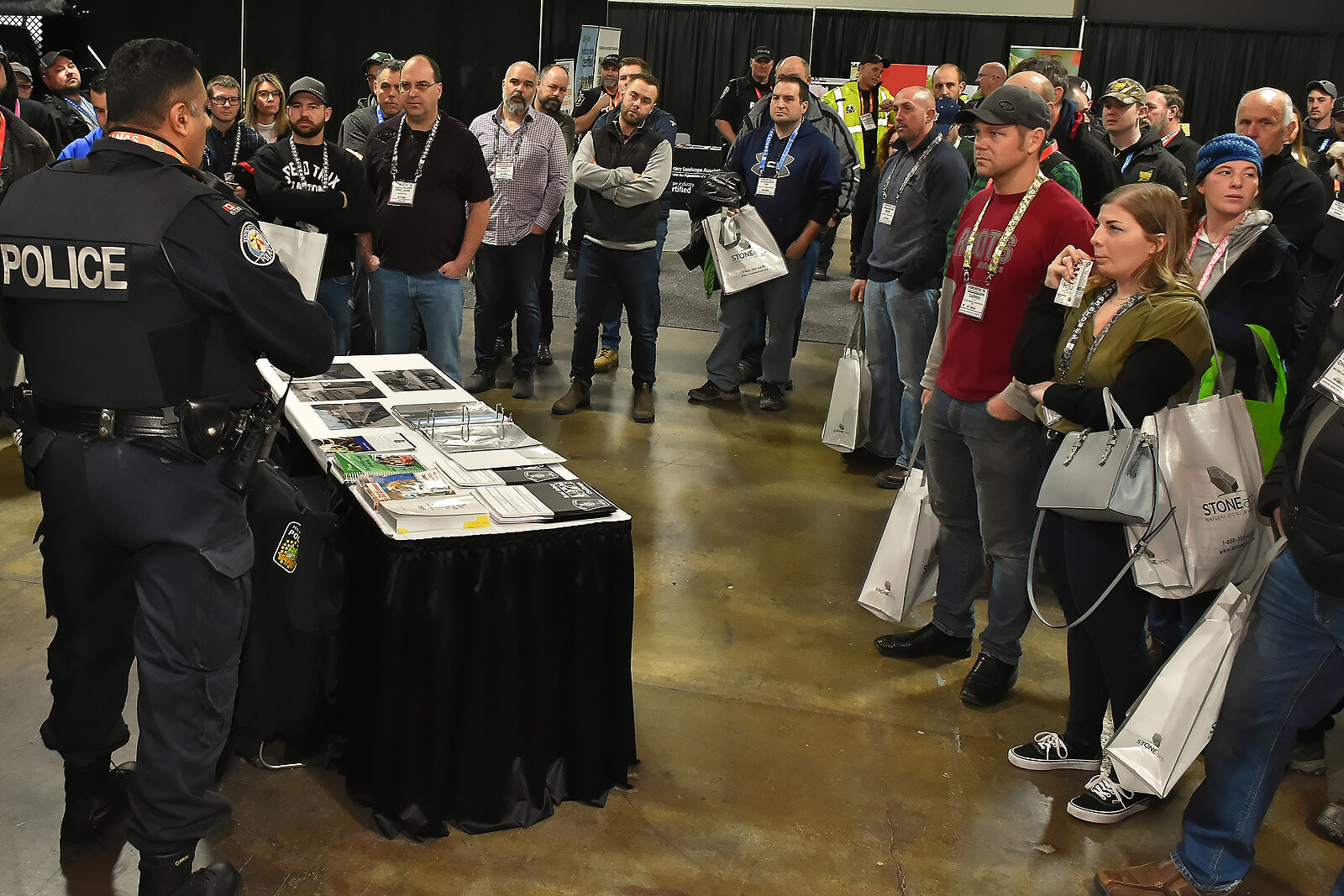 DriveLIVE! is just one of the three educational offerings that are available to all Congress attendees.
---
Everything new under one roof
Scott Duff, owner of Aura Landscaping in St. Catharines, Ont., has been attending Congress for about 10 years and says he looks forward to the event much like a child anticipating Christmas.

"Having everything that all comes together under one building, one time of the year, is absolutely great because it provides me with new products, innovations, new seminars and getting to meet my peers and people that help me to grow," Duff says.
Being able to access the latest education, innovative products, equipment and new technologies that he can then offer to clients goes a long way in making his projects stand out from his competitors.

"If you're not coming to the show, then you're being left behind," he adds.

Learn from the best
Congress overs a wide range of both learning and networking opportunities that cater to each sector of the landscape and horticulture profession.

It all begins on "Warm-Up Monday," this year, Jan. 7, where special, all-day events took place, including the Landscape Designers Conference, Integrated Pest Management (IPM) Symposium and LO Peer to Peer Network Workshop.

Sponsored by Dynascape, the Landscape Designers Conference, presented in recognition with the Ontario Association of Landscape Architects (OALA), included presentations by Ron Koudys, Walter Kehm, and Thomas Rainer, plus an introduction to Fusion Landscape design, a design challenge with Andy Paluch, and the LO Designers Sector Group annual general meeting.

The annual IPM Symposium once again featured a variety of technical and informative sessions by a wide range of presenters to keep turf management pros up-to-date on the latest research, practices and legislation requirements. Presented by Lawn Life, attendees of the event were able to earn Continuing Education Credits (CECs) from the IPM Council of Canada.

Business owners and upper management gathered for the fifth straight year on the day prior to Congress, at the interactive Peer to Peer Workshop. Here, they learned how to identify issues within their operations and then work together to find solutions and implement systems to make those solutions work.

The group also met to identify the top issues affecting their business and to set goals and learning objectives for the remaining workshops to be held throughout the province this year. Company culture was identified as the top priority for business owners, to both attract and retain a healthy, balanced, productive team.

Other sector-specific events at Congress included the Garden Centre Symposium on Jan. 9, where guest speaker, Zak O'Connor spoke about the ins and outs of digital marketing. Following the presentation, plaques were handed out to winners of the Landscape Ontario Awards of Excellence in the Garden Centre program.

Learn it LIVE series
Continuing education for all attendees at Congress also comes in the form of six live demonstrations held each day in three separate areas of the show floor.

Hardscape LIVE!, DriveLIVE! and GreenLIVE! offered the most current information, products and practices to landscape contractors, grounds maintenance pros and the grower community.

The popular series continue to draw large crowds over the three days of Congress.

Something for everyone
With the variety of educational offerings at Congress, and the access to so many exhibitors, products and services, the event truly gives you a feel for the size and scope of the landscape and horticulture profession.

Michael Anthony Gucciardi, director of sustainability and new business at International Landscaping in Milton, Ont., says Congress is an excellent learning opportunity for new team members: "Another great thing you can do at Congress is bring new team members. Maybe those that are not too familiar with some of the aspects of the landscape industry or some of the things you are trying to teach them. It's a great opportunity to show them all of the awesome things happening in the industry today and some of the individuals, the driving forces behind that. You can introduce them and kind of give them a stepping stone and a foundation to motivate themselves moving forward," Gucciardi says.

Gucciardi says the Landscape Ontario name "attracts a lot of great names. I think in the landscape industry, we learn from each other and I think this is a great opportunity to come here and learn from some of the best and grow your company the same way some of the other individuals have. I think you can get really good advice and opinions."

International exhibitors
Congress not only features exhibitors from all over North America. This year, a group of 13 exhibitors from China participated at the show, primarily in the Fencecraft area, that serves as the only gathering of fencing manufacturers and distributors for the Canadian Fence Industry Association.

Dylan Zhao, Project Manager, Beijing Vanbo International Exhibition, spearheaded the Chinese delegation after finding out about the event in Canada.

Zhao says for the past five years, a similar delegation has attended the American Fence Association's annual Fencetech trade show in the United States, and that differences in tax legislation between the two markets prompted a look at any available shows in Canada.

"We want to bring the Canadian market to Chinese exhibitors," Zhao said.

Zhao says the Chinese exhibitors were happy with the show and were primarily looking to connect with distributors or larger, commercial firms who would order large volumes of products.

Great experience for students
The Canada Blooms Campus student gardens are yet another highlight of Congress, showing off the skills, creativity and passion of the next generation of landscape professionals.
The feature gardens were designed and built by students from four Ontario post secondary schools: Durham College, Fanshawe College, Humber College, and Niagara Parks Commission School of Horticulture.
Destiny Lacasse, a second-year student at Niagara Parks Commission School of Horticulture was able to take time to attend the show and some of the special events after participating in the construction of her schools garden.
Lacasse says the experience of building the student garden was fantastic and getting to network, see new plants, products, and equipment being offered is a main reason for attending Congress each year.
Lacasse says she would highly recommend attending Congress for any other students. "There are professionals from all over Ontario, from all different fields, different schools, and all kinds of people you can network with," she days.
Recognized on stage during the Landscape Ontario Awards of Excellence ceremony as a Cullen Family Scholarship recipient, Lacasse plans a career in horticulture therapy, helping people in need to get better with plants.
The Canada Blooms Campus gardens were supported by sponsorships from the Ontario Horticultural Trades Foundation (OHTF), Gelderman Landscape Services, and Killaloe Wood Products. Special thanks also to Brian Cocks for his supervision of the area.
New at Congress this year
The New Product Showcase area at Congress is always a huge reason why so many people attend the event. Getting to see the latest products and technology available from manufacturers, distributors and suppliers can help to improve efficiency, lower costs and give a competitive advantage.
Some new things at the event his year included the very popular Ale Trail, which offered limited number of special edition Congress beer glasses to attendees 19 years of age or over. The attendees were given a passport and the task of seeking out various exhibitors who offered samples of various craft beers.
The keynote session in the Congress Conference changed to a lunchtime event this year, where storm chaser and explorer, George Kourounis helped to motivate the audience to face challenges in both their personal and business lives.
On Thursday, the Congress Education Partners, a group of exhibitors known for their own quality education programs, held a series of training sessions to potential customers.
Landscape Ontario events
Landscape Ontario members and their outstanding projects were honoured at the 46th annual Landscape Ontario Awards of Excellence ceremony on Jan. 8 (see page 7). In addition, the association's annual general meeting was held the following morning, where an update on association activities was given (
see LO AGM at Congress 2019
).
Exhibitor awards
A panel of judges evaluated the over 600 displays at Congress with the following exhibitors recognized for their exceptional displays and promotion of the event:
Drive Products
- Best Promotion Award
Jackson Pond
- Best Booth: 100 sq. ft.
Kawartha Custom Cut Stone
- Best Booth: 100 to 400 sq. ft.
Spider Mowers
- Best Booth: 401 to 800 sq. ft.
Nissan Canada
- Best Booth: Over 800 sq. ft.
NVK Holdings
- Paul J. Day Award for Best of Show
SEE ALL WINNERS
Looking ahead to 2020
Congress 2020 will take place Jan. 7-9, 2020. For details on the show, visit
LOcongress.com
.
Thank you volunteers

Show Committee
Chair: Nathan Helder
Vice chair: Terry Childs
Past chair: Michael LaPorte CHT
Members: Brian Cocks CHT, Douglas Coote, Paul deGroot, Everett DeJong, Barry Dickson, Lindsay Drake Nightingale, Beth Edney CLD, Kim Iceton, Christopher Muller, Rebecca Parker, Mike Riehm, Klaas Sikkema, Peter Vanderley, Jason Vettese.

Volunteers
Adele Pierre, Alexander Zalewski, Andrea Weddum, Audriana VanderWerf, Barb Coote, Brandon Gelderman, Bruce and Eilleen Warren, Cees Braamse, Chloe Philip, Chris Clayton, Constance Cadotte, Devantae Pearce, Fran Moore, Gerrit Tervrugt, Greg Redshaw, Haig Seferian, Irene Bultena, Irene Bultena, Irina Polstvin, Keith Dejardins, Kelly Keates, Laura Marsh, Lee Benson, Luke Koudys, Mark Mastantuono, Nancy Harasym, Paul Brydges, Peter Bride, Robert Brubacher, Ron Koudys, Ron Sikkema, Sarah Michelle Rafols, Skai Leja, Teresa Matamoros.