June 15, 2017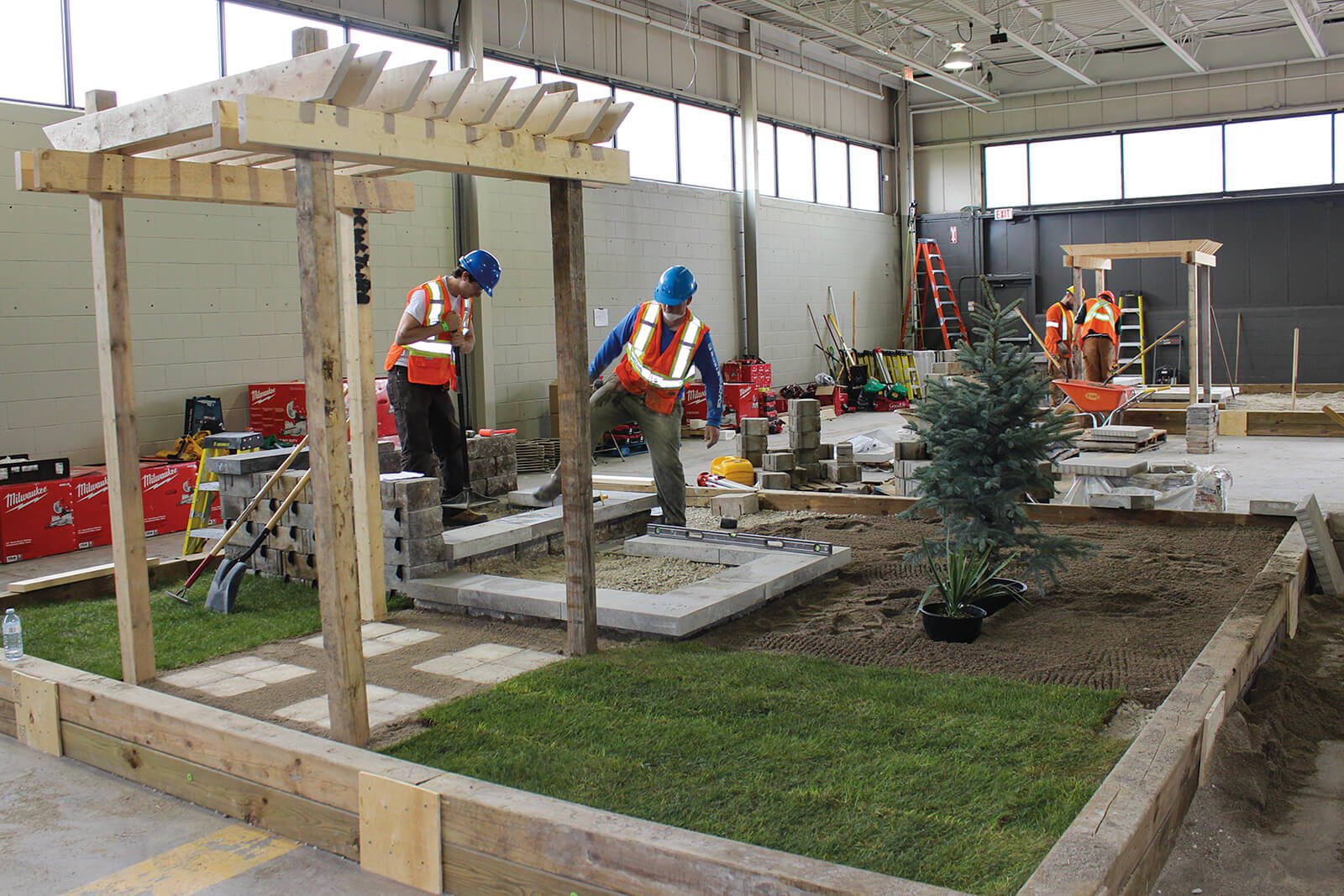 Young people shine at Skills Ontario
By Cassandra Wiesner
Skills Ontario, Canada's largest provincial skilled trade and technology competition, took place May 1-3 at the Toronto Congress Centre. The competition is an opportunity for students at secondary and post-secondary levels to showcase their skills and compete in a truly inspiring atmosphere.
The competition attracts over 30,000 educators, students and family members each year. There are over 50 skilled trades represented with specific categories for Horticulture and Landscape, and Landscape Design. Most trades have a secondary and a post-secondary competition that can be viewed by attendees.
The Horticulture and Landscape secondary school competition was a one-day build. Teams of two were assigned a landscape project that incorporated both hardscape and softscape elements. The competitors had to bring the design to life in a 10 by 10 foot plot. Throughout the process, industry leaders judged teams on skill, workmanship and ability to maintain a safe work area. There were 12 teams competing at the secondary school level.
Congratulations to Shawntanna Atkinson and Quinn Young of Waterloo Region District School Board for taking first place.
The post-secondary competition involved construction of a more complex project that included a pergola and stone steps, over a two-day build. The Horticulture and Landscape competition had eight teams competing, with first place won by Adam Dugas and James Marangon from Durham College.
Organizers would like to thank Permacon and Connon Nurseries/NVK Holdings for sponsoring the competition. Thanks also to volunteer technical chairs Brandon Gelderman, Robert Tester and Eckhard Lutz. The competition would not have been possible without their dedication.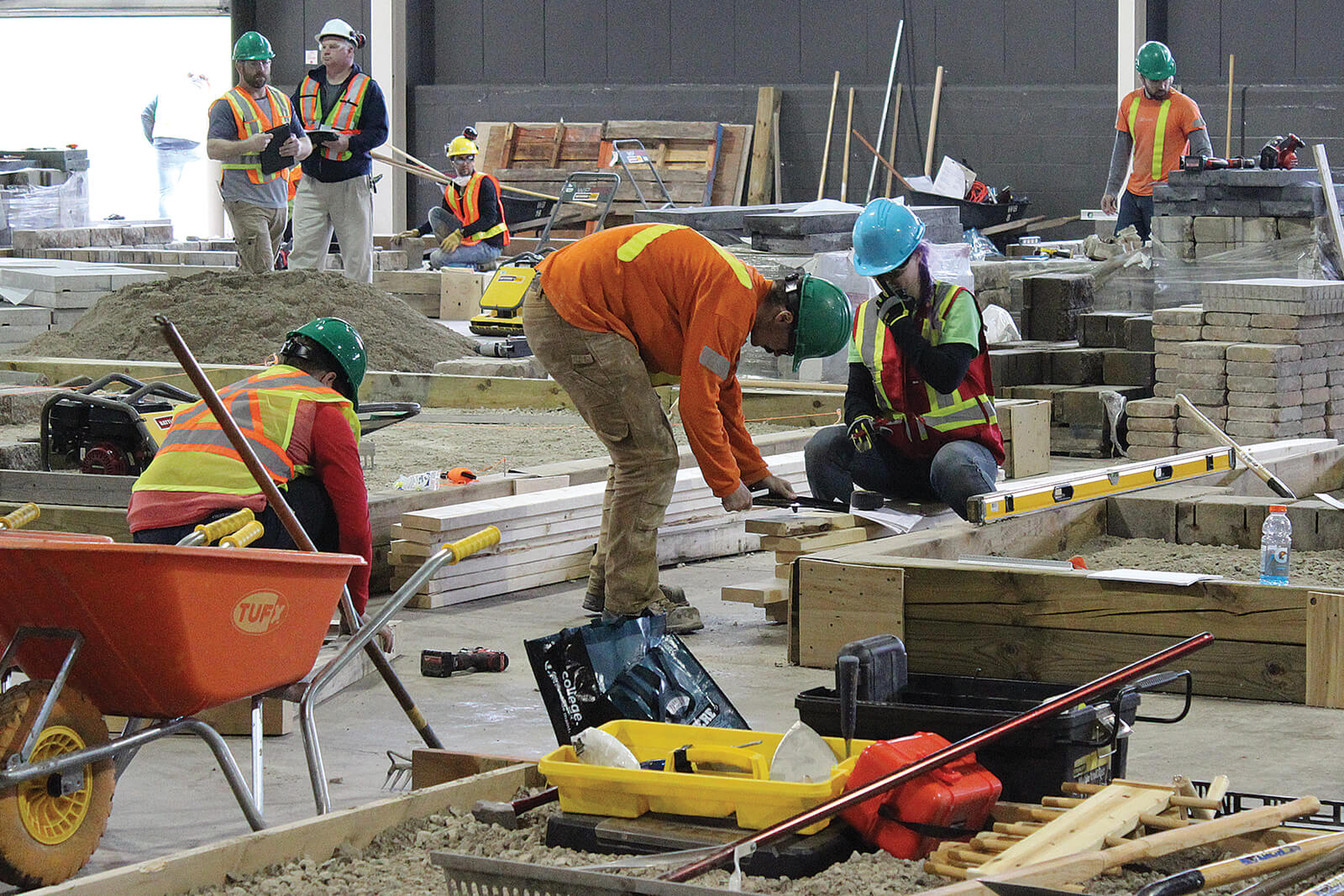 Competitors are judged by industry professionals.
---
The Landscape Design competition took place at the other end of the building in the heart of the computer technology area. Competitors showcased their design and drawing skills using either Computer Aided Drafting (CAD) software, or hand drawing. Designs were judged on creativity, ability to meet client and site requirements, and plant selection.
There were eight competitors at the secondary school level and five at the post-secondary level — the largest group to date for Landscape Design. Laura Winters of Bluewater District School Board won the secondary school competition and Ambrosia Walters of Niagara Parks Commission School of Horticulture won the post-secondary competition. Congratulations Laura and Ambrosia!
Thanks to Landscape Design competition sponsors Humber College and Dynascape Software, and for the volunteer efforts of technical chairs, Andrea Weddum and Brandon Gelderman.
The Ontario Horticultural Trades Foundation (OHTF) donated monetary prizes for gold, silver and bronze winners. The OHTF's main initiative is to support the growth of a prosperous horticultural industry. David Turnbull, OHTF president, commented on his experience at Skills Ontario: "As a judge in the Horticulture and Landscape competition, it was encouraging to see the enthusiasm of the teams who are the future employees and leaders of the horticultural industry. I would like to say a special thank you to the Technical Committee and Chairs, who work very hard to ensure this competition runs so well and is a credit to our industry."
Secondary school Landscape Design competition bronze medalist, Gregoire Salvadore, of Toronto Catholic District School Board, expressed his gratitude for the opportunity Skills Ontario and the OHTF provided him: "...It is because I got to participate in Skills Ontario that I have come to realize what I am passionate about. My passion is landscape design. As a competitor, I would like to thank the Ontario Horticultural Trades Foundation for their contribution…"
Judging from the skill, passion and dedication shown by the young competitors at Skills Ontario this year, the future of the landscaping and horticulture profession looks bright. Landscape Ontario would like to congratulate all of the winners (see
gfl.me/h3ns
for a complete list). Thank you to all of the schools and coaches who supported the competitors and prepared them for the incredible opportunity provided by Skills Ontario.
For more information about the competition, visit
skillsontario.com
.