June 1, 2016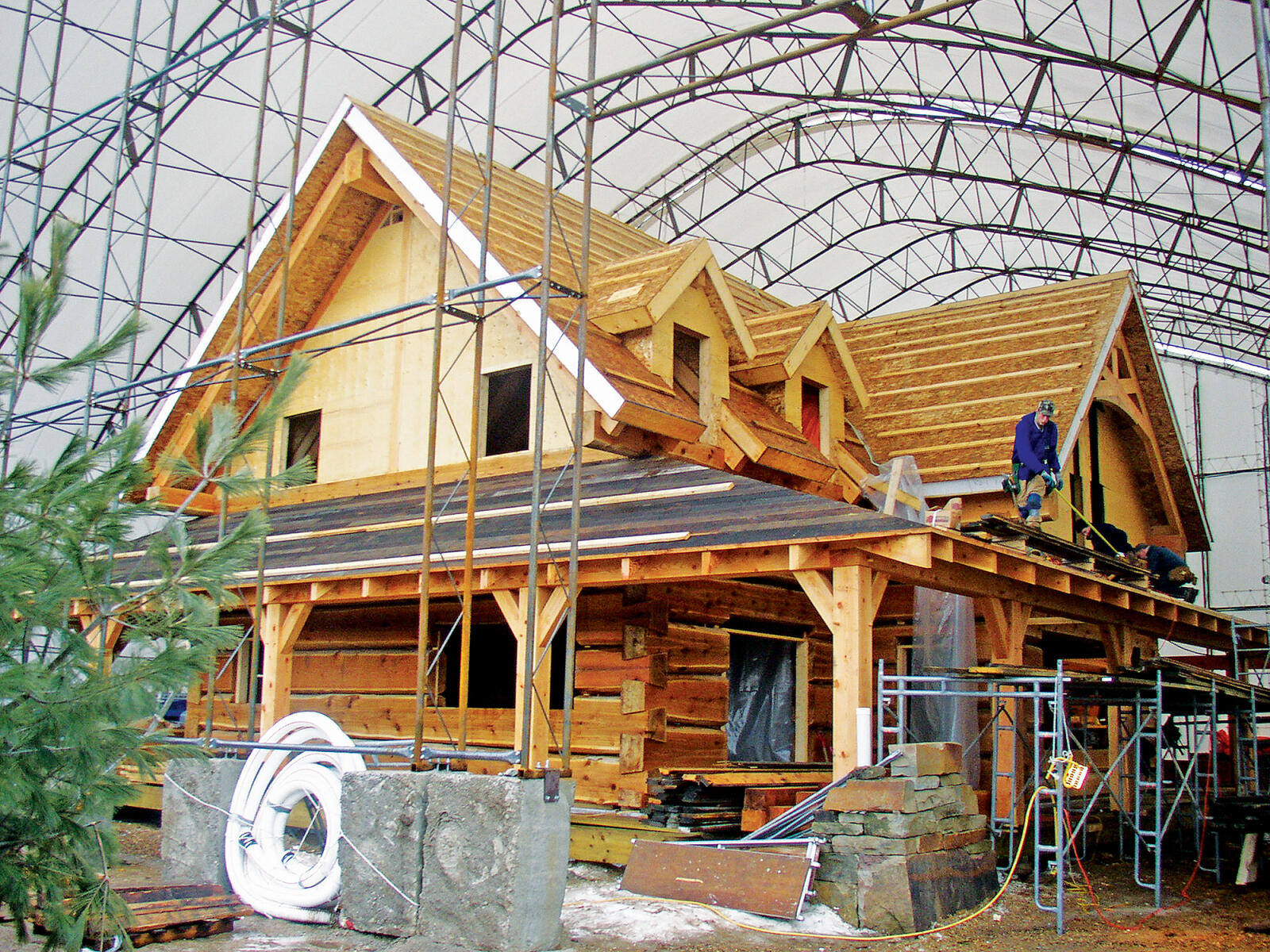 Year-round pioneers
Two contractors live the dream:
Steady cash flow with 365-day staff retention
BY SCOTT BARBER
For landscape contractors not interested in winter snow and ice service, retaining quality staff members, as well as covering bills and overhead, can be a significant challenge.
"It was like a constant I.V. drip of money coming out of the bank account with nothing coming in to replace it," says Adam Gracey, owner of D.A Gracey and Associates. "Like a lot of people in this industry, I had done snow plowing as a kind of subsidy, but it wasn't right for my business. So the issue became covering 12 months of bills and overhead with eight or nine months of revenue."
That changed about 10 years ago, when Gracey implemented a system allowing has Vaughan, Ont.-based landscape construction company to do outdoor masonry all year long.
"We stretch the season through the winter by working on projects that involve concrete foundations," Gracey explains. "Typically, it involves larger jobs and some examples would be basement walkouts, retaining walls and raised terraces; we often do flagstone work, stone veneers and patios. Really, our method works for any project where you are applying stone to concrete."
The key, he explains, is to prepare each job site in the fall, completing all the necessary excavation and pouring the concrete foundation before the ground freezes. Then, his staff sets up tents and tarps to enclose the work area, which is heated by propane.
"It's critical to spend the time and effort on making really good enclosed structures," Gracey says. "Instead of trying to do it on the cheap, we spend the money to do it right. That includes solid framing with two by four studs and scaffolding, as well as making sure the space is well lit and ventilated."
Upscale clients happy to pay
"We typically charge about five per cent of the job to cover the additional expenses," Gracey says. "We're not doing this for $10,000 patios. So if you look at it for a $200,000 job, the client is going to pay $10,000 more. But if it means they can be swimming in their pool by May 24 instead of Aug. 24, a lot of people out there are willing to pay a premium."
Working through the winter also means clients don't lose access to their outdoor spaces when the weather is nice, Gracey adds. It all amounts to a compelling sales pitch once the client is educated on the process.
Not only is winter construction a win-win for the client and the business owner, perhaps the biggest impact is on employees.
"My staff members are masons and carpenters; those are their trades and that's what they're skilled at," Gracey says. It doesn't make sense for them to plow snow when they have a passion and talent for landscape construction; especially when there is a viable alternative.
This way, "My guys get to come into work in January and February with shorts on inside our enclosures where we have music playing and it's a very comfortable environment," Gracey says. "They love it."
Nearly everything is done inside the warm, dry enclosure, except for cutting stone.
Staff members still get vacation time during the winter — rotated through each crew — with the added bonus of being able to travel abroad without violating unemployment insurance rules. And when they return, they get right back to working full-time and earning a full paycheque.
"Commercial construction companies and home builders have been doing masonry work outdoors year-round for generations," Gracey says. "We can do it too."
Year-round in Alberta
Bruce Kay, owner of the Cochrane, Alta.-based landscape design and build company OnGrowing Works, believes winter construction is key to the industry's future.
"I first started in the trade back in 1984, and what I discovered as a young tradesman was that as much as I liked the trade, it's actually a really hard career because of its seasonal mindset, its seasonal nature and its seasonal reality for most business owners," Kay says. "The part-time mindset just simply doesn't make it easy to pay a mortgage or raise a family."
Seasonality also puts the landscape industry at a significant disadvantage when it comes to drawing in young talent, Kay says.
"Parents, if they're going to make recommendations to their kids when they're in high school, if they are trade-oriented students, landscape horticulturalist is pretty low down the list in comparison to carpentry, electrical work, welding and so on."
And so Kay left the industry for the better part of 15 years. But by the late '90s, he missed landscaping, and decided to start his own business.
"It didn't take long for me to realize that if we were going to really be an effective business and powerful in our relationship with our clients, it was first of all going to be with what we describe in our business as the 'Be, Know, Do' philosophy." Kay uses sports to illustrate what that means.
"We have this attitude towards things, where, like in hockey, you can't teach speed, but all other skill sets can be developed. So for us, we look at character first when we are trying to hire. Morals, principles and values are key, but the next aspect is the craft and the trade itself, and we know that we can send people away to school or courses and take an active and aggressive role in developing trade skills."
Once you start investing in your staff, keeping them in the fold becomes vital to the bottom line.
"The apprenticeship program here in Alberta is a wonderful way to develop trade skills," Kay says. "Typically it's a mentorship-type program, four years long. We started sending folks away to school and part of the mindset was it had been really beneficial for me, so let's encourage other people to do it."
Another, less explicit consideration in paying for employees to go to school during the off-season was to keep them engaged and involved in the company and the industry.
"I didn't want to lose these employees because we were really starting to invest in them and we knew they were quality people," Kay says. "But what else could I do with them for two months during the winter?"


"We weighed out the costs of getting ready to do winter work and there are certainly some additional expenses, especially in terms of prep and set up," Kay explains. "But, if I had to choose because the costs of doing winter work versus the costs of laying quality people off for the winter and then trying to rehire, it was a no-brainer. We felt that if we could find a way to break even, it would be well worth the effort in the long run."

The next step was to go all in on winter work, and about 10 years ago, Kay and OnGrowing Works made it happen.

"The driver was that we wanted to offer careers to really phenomenal people," he says. "These are good-character people with strong morals, and typically they're young people with young families or people who aspire to have a family and a house. And they were asking for the same thing that our business was asking for: solid, long-term careers in the industry they have a passion and talent for."

Then, Kay consulted with structural engineers to ensure the construction work they did during the winter would be fundamentally sound. Commercial construction has been done outdoors during the winter for decades, Kay says, so he knew it was possible.

"I consulted with a structural and a civil engineer and said, 'Here's my idea, but before I start shooting my mouth off about what we can build in the winter, what are the concerns? How am I going to deal with the frozen ground? How can I thaw the frozen ground and get rid of it

Winter excavation that works
Unlike Gracey, Kay's company doesn't limit winter work to masonry applied to fall-poured concrete. With the advantage of a slightly milder climate in the Calgary region, thanks in part to Chinook winds, OnGrowing Works excavates during winter.

There was some trial and error at first, Kay admits. However, once they found the right equipment, including ground-thaw units and insulated tarps, and implemented building processes according the engineers' specifications, things really started to work well.

"My fear, initially, was that we would build and then the following year we would have to go back to repair everything," Kay says. "But it's just not true."

One strategy Kay uses to combat cold weather is permeable base preparation. "We dig down until the ground isn't frozen and then we rebuild," Kay explains. "Frost can go down four feet into the ground but that's not always the case, and once we get past the organic matter and we are dealing with ground that is already firm, we compact if we can, and then build back up the way you would install a base for a permeable patio."

Apart from thawing the ground with heaters and enclosing work areas with scaffolding and insulated tarps, the work is the same.

Using pea gravel for base instead of three- or five-mm sand is one example of a small change that can make a big difference, Kay says. Weeping tile can also play a big part in both keeping a work area dry and providing effective drainage for the finished product.

"It comes down to making the commitment that providing full-time, year-round employment makes sense for your business and your staff," Kay says. "Once you have made that commitment, then you start to be innovative and creative."





According to Kay, it was "less expensive to send employees to school and to pay their salaries while they were away then it was to lay people off and risk not getting them back and having to reinvest the time and money training new staff." From a purely economic standpoint, it made sense, he says.
There is absolutely no drop in quality and craftsmanship, Gracey adds. If there was, he wouldn't do it; it's that simple. And neither will he incur the costs associated with tenting and heating.