September 15, 2011
Windsor Chapter members make young girl's dream come to life
Members of the Windsor Chapter have dug in their pockets and the earth to create a dream backyard for 11-year-old Olivia Klingbile.
When complete, the backyard will have a swing, bicycle track, outdoor chalkboards, a painting station and raised planters, so Olivia may pursue her love of gardening from her chair.
At only six days old, Olivia required heart surgery to correct a congenital heart defect. Complications led to another heart surgery at five weeks old, at which time she suffered a stroke while in recovery. With the right side of her body partially paralyzed, Olivia now relies on a wheelchair and walker to move around, with the help of her family.
Through the Sunshine Foundation, Olivia drew a map of her dream backyard, with an accessible swing surrounded by a bike circuit.
Sasha Hunter CLD, a landscape designer at Garlatti Landscaping of LaSalle, designed the backyard based on Olivia's drawings. She and the company donated labour and material, while the Sunshine Foundation provided a grant of $6,000. Company owner Dan Garlatti is past president of the Windsor Chapter.
Hunter said some of the accessible equipment ran in the thousands, leaving them short of funds. She said she is determined to give Olivia her dream backyard and has been contacting local contractors, asking them to donate anything they can.
Anyone who would like to make donations can call Hunter at 519-734-0444, ext. 100.
"We're trying to basically give her a park in her own backyard that's fully accessible so she can enjoy it with her friends," said Kathy Leblanc, national media and communications manager of the Sunshine Foundation. "This is a very special dream for Olivia and I think it's going to make a big difference in her feeling like she's just another one of the kids."
Olivia's custom-made bike provides her with a sense of independence. Once the concrete track was framed on Aug. 18 and 19, and the frames were removed, Olivia did a couple of laps to try it out.
"The project is really coming along. The accessible swing is in, excavation started and the gravel was installed," said Hunter. She noted that the art easels are in, "and look fantastic!" The chalkboards are going up shortly. By early September the fencing, planters and landscaping should be installed. "Then the soft surface just needs to be poured in place," said Hunter.
In an article published in the Windsor Star, Olivia is quoted, "I can get around without anyone helping me. It's freedom."
Hunter said there are a number of people to be thanked. She listed Nino Papa from Santerra Stonecraft for helping make things happen ("he got us a great deal from Santarossa J and Sons on the concrete."); Joe Savone and Sons (framed and finish the concrete track); Frank Dupuis Landscaping and Trucking for donating the gravel for the track; Chuck Pronger of Water Gardens Unlimited for donating materials to the project; Fab-Tech made parallel bars and donated them to the garden, and the City of Chatham donated highway signs to be turned into outdoor chalkboards and posts.
The
Windsor Star
article may be accessed online at
http://bit.ly/o5YH1S
.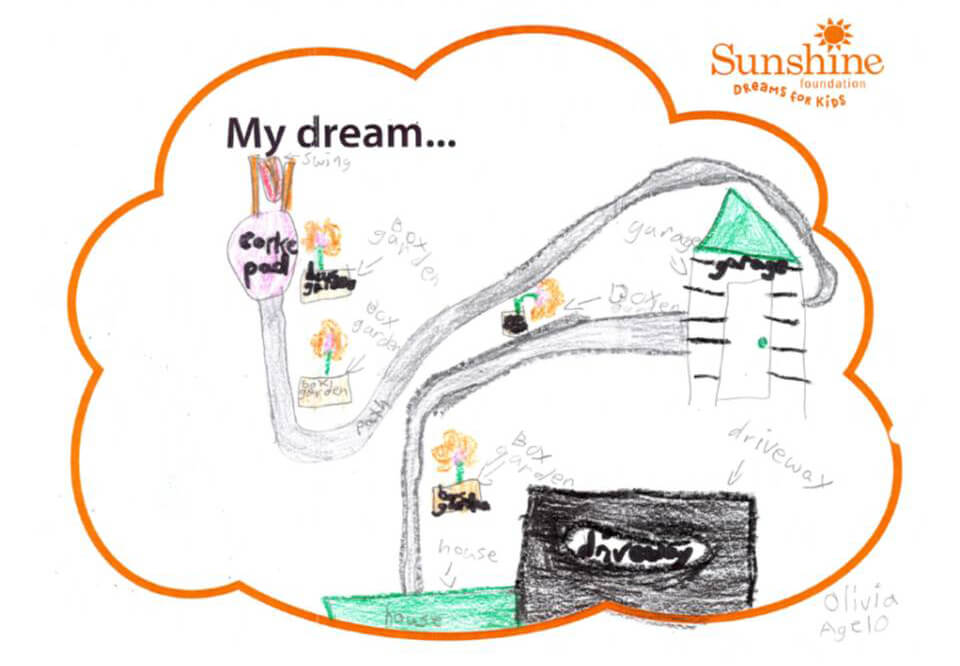 Olivia's drawing of her dream backyard.