June 15, 2016
Why members belong to our association
Tony DiGiovanni CHT
LO Executive Director
I am always in awe of the contributions of time, money, ideas and resources members make to their association. From a staff perspective, it is inspiring to watch the engagement, passion, interaction, sharing and caring that members reflect every day. It makes working for Landscape Ontario very rewarding. Who would not want to work in a supportive atmosphere of goodwill where you feel part of a community that wants to make a positive difference?
At Congress and Canada Blooms, our membership team decided to explore the motivation for membership by asking 30 members why they are part of the LO community. The results are heartwarming. Take a few minutes to watch these two videos below.
While viewing the videos, I felt proud and thankful to be associated with such an amazing community of members who are focused on making the profession and the world a better place.
It is important to underscore that Landscape Ontario is not a building in Halton Hills or a group of staff. Landscape Ontario is you! Here is what your fellow members said about being associated with the community of members we call Landscape Ontario.
To promote the mandate of best education and best practices.
To be part of a larger community of like-minded people.
To make acquaintances.
To benefit financially. If benefits are used, they pay for membership many times over.
LO brings buyers and sellers together in a cooperative atmosphere.
LO conveys the ethical aspects of doing business.
To learn what is changing in the profession.
To keep on top of trends, threats and opportunities.
To grow your network.
To learn from other members.
To find new customers.
To become aware of the larger issues affecting businesses and the industry.
To achieve a common goal.
To meet people who have the same style of business.
To raise the professional standard of an industry.
To promote a standard of excellence.
To be in the company of others who have an abundance mentality.
To be part of an organization aimed at making the industry better.
To be part of a larger family.
To socialize — associate with fun people who have a common interest.
To be energized by others who share the same goals.
To promote credibility to clients.
To set ourselves apart from others.
To be exposed to new products and services.
To get to know others who specialize in different areas of work.
Educational and training opportunities.
To become better people.
It builds camaraderie.
To energize employees and help them grow.
To increase skills.
To meet and share with competitors for common benefit.
Opens doors to relationships to people who will help your reach the next level.
To aspire to a statement of principles and code of ethics.
Because of what it stands for — environmental stewardship, high standards, beautification, enhancing lives.
Contribution ethic of the membership.
It provides what members need to succeed in business.
To be in the company of people who work together and who want to help each other out.
It is a large lobby and advocacy group.
To feel supported.
Dealing with government, legal issues, education.
I want to personally thank the following people for inspiring the rest of us with your views on LO membership: Robert Boltman, Lynne Barnes, Christopher Clayton, Scott Wentworth, Mike Silva, Mike Pascoe, Harry Gelderman, Mark Cullen, Margaret and Ivan Stinson, Neil Obach, Kim Costain, David Goodwin, James Thompson, Mike Riehm, Caroline de Vries, Randy Stellings, Bill McKague, Michael Di Nunzio, Joelaine Hutchins, Nick Antoni, Jason Whittemore, Greg Goulet, Peter Comu, Fran Mackenzie, Laura and Chelsey Catalano, Dan Vanderkruk, Terry Vanderkruk, Barb Kruger, Anna Buchanan, Bruce Burns, Stephanie Moore and Margot Byers for their wonderful comments. They have helped to articulate our culture as we bring in more members who share the same desire to become better people, run better organizations, and contribute to making better communities.
New leader for Eastern Canada
Please help me congratulate LO's Sally Harvey, Manager of Education, Labour Development and Eastern Ontario Region. Sally is leaving to become the Executive Director of Landscape Nova Scotia and Landscape Newfoundland and Labrador. We will miss Sally's boundless energy, unmatched passion for our industry, effective leadership and amazing contributions to our vision of a prosperous, professional, ethical, recognized and valued profession. Sally has served us well with dedication, enthusiasm, creativity and intelligence. She represented the values of Landscape Ontario very well on the provincial, national and international stage.
I am proud and thankful to be associated with Sally. I am pleased we will still be able to work together on national issues. I know she will achieve great things in eastern Canada.
Tony DiGiovanni may be reached at
tony@landscapeontario.com
.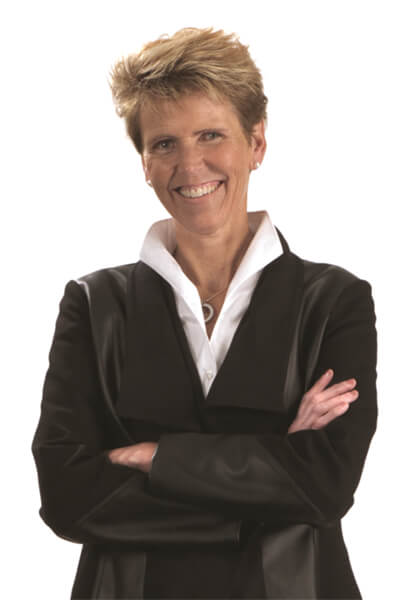 ---
---