May 15, 2012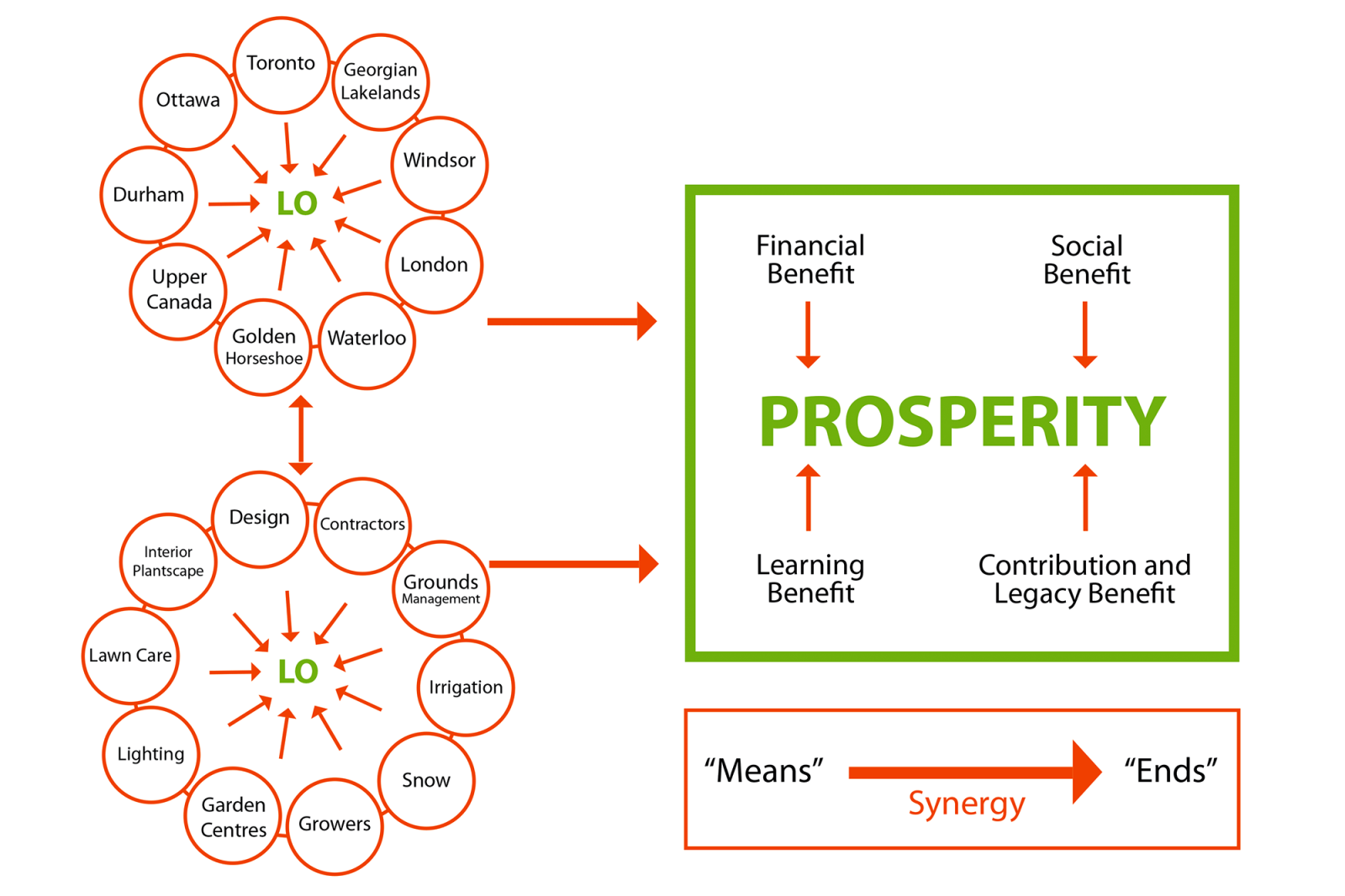 Why does Landscape Ontario exist?
Tony DiGiovanni CHT
LO Executive Director
In 1973 our pioneers created a unified Landscape Ontario Horticultural Trades Association by merging three pre-existing associations: Ontario Nurseryman's Association, Ontario Landscape Contractors Association and Ontario Garden Maintenance and Landscape Association.
The merger resulted in one of the largest and most active associations of its kind in the world. The reason is simple. Associations are built on synergy. Synergy is when the result is greater than the sum of the parts. Synergy is created when people work together for a common goal.
I never tire of talking about Landscape Ontario's common goal. Our end point is a prosperous, professional, ethical, recognized and valued industry. Our means to achieve this end is to work together for mutual benefit and improvement. Or, in simpler terms, our purpose is to help each other prosper. Prosperity is defined broadly as financial, personal, professional, social and legacy growth.
Canadian Nursery Landscape Association (CNLA)
CNLA is an industry federation comprised of provincial associations. CNLA proactively attempts to align the goals and agendas of the provinces, so that the federation works more efficiently. CNLA's major representative role is at the federal government level. Approximately 28 per cent of LO dues go to CNLA to leverage the power of working together across Canada.
Pesticide Industry Council (PIC)
The Council was initially formed to deal with the pesticide issue by encouraging the Ministry of Environment (MOE) to raise the competency level of pesticide technicians. We developed the Pesticide Technician Program (PTP) in partnership with MOE and another group, the Pesticide Industry Regulatory Council (PIRC). This program became part of Regulation 941 in the Pesticides Act. Landscape Ontario is the agent and administers the PTP program.
IPM Council
Landscape Ontario formed this council to develop an accreditation program for all stakeholders interested in managing pests by utilizing the principles of Integrated Pest Management. Council members include Ontario Golf Course Superintendents Association, Ontario Parks Association, Structural Pest Control Association of Ontario, International Society of Arboriculture, Ontario Vegetation Management Association and Crop Life.
Under Ontario's Cosmetic Pesticide Ban, our sector was generally excluded from using pesticides, regardless of IPM accreditation.
Canadian National Exhibition Association (CNEA)
The Canadian National Exhibition Association is comprised of agricultural and community-related organizations, including government officials. It is responsible for the CNE. Landscape Ontario has long held a seat with the association.
Canadian Agriculture Human Resource Council (CAHRC)
This council is focused on human resource issues in agriculture and horticulture. It is a major funding source for HR-related projects. The council includes agricultural/horticultural organizations, as well as educators. Our sector is represented through CNLA.
Canadian Ornamental Horticultural Alliance (COHA)
This alliance is made up of CNLA, Flowers Canada and Federation Interdisciplinaire de l' Horticulture Ornamentale du Québec (Fihoq). It is focused on raising awareness of our sector at the federal government level. COHA was responsible for the Deloitte Economic Impact Study (2009) and the George Morris Centre document Health and Environmental Benefits of Horticulture.
Canada Blooms
Canada Blooms began as a joint venture of Landscape Ontario and Garden Club of Toronto in 1996. It has grown to the largest flower and garden festival in Canada (number two in North America). Originally Landscape Ontario staff administered Canada Blooms. After the first year's enormous success, it became necessary for risk management purposes to create a stand-alone legal entity. It now has its own general manager and staff. In the new structure the Garden Club and LO each appoint four representatives to the board. There is also one neutral position.
Communities in Blooms
This organization promotes community beautification by offering recognition to communities that reflect a high standard of horticultural, environmental and community activity.
Horticultural Ontario Secondary Teachers Association (HOSTA)
This organization unifies horticultural teachers at the secondary school level. Results have been amazing. HOSTA and LO worked to create the Specialist High Skills Major Program, as well as the development of a common high school curriculum.
Ontario Horticultural Educators Council (OHEC)
OHEC is an organization of post-secondary horticultural teachers. It advocates horticulture at the college and university level.
Smart about Salt Council (SASC)
Formally incorporated in 2010, SASC involves the Region of Waterloo, Building Owners and Managers Association (BOMA), Landscape Ontario and the Ontario Good Roads Association. It promotes the Smart about Salt accreditation program across Ontario. The SAS program provides excellent information to deal with slip and fall claims.
Agricultural Adaptation Council (AAC)
Comprised of many agricultural associations, this group allocates government money to support programs and projects that advance the sector. All projects are approved by an industry-directed board.
Vineland Research and Innovation Centre (VRIC)
VRIC is a world-class organization focused on industry-directed, relevant research and innovation to solve industry problems and stimulate economic growth. Landscape Ontario demonstrated its alignment for this new vision by acting as a catalyst bringing together Flowers Canada, AG Energy, CNLA and Ontario Horticultural Trades Association in a consortium that purchased a 4.5 acre property at Queen Elizabeth Highway and Victoria Road, adjacent to VRIC. In the future, the land may be home to a satellite office.
Flowers Canada Ontario (FCO)
FCO represents greenhouse growers supplying floricultural product. Together with nursery production, the sector is responsible for one-billion dollars in farm gate value. Flowers Canada also administers the Pick Ontario branding program. FCO is an ally on most government relations initiatives.
Ontario Fruit and Vegetable Growers Association (OFVGA)
OFVGA is generally successful at generating a great deal of funding support for various risk management programs, such as the Plum Pox Virus Program, Canadian Agricultural Income Stabilization (CAIS) Program, etc. Although focused on edible horticulture, government relations work benefits our sector.
Industry Advisory Committee (IAC) Horticultural Technician Apprenticeship Program
This committee is the main industry conduit to the Minister of Training, Colleges and Universities on issues related to the Horticultural Technician Apprenticeship Program. In the near future, the committee will merge into College of Trades.
Great Lakes Conference
This organization is comprised of nine landscape/nursery associations operating around the Great Lakes. LO is the only Canadian member. Each association hosts one meeting per year to discuss issues and challenges related to the advancement of the industry.
Landscape and Environmental Horticulture Alliance (LEHA)
LEHA includes University of Guelph, Vineland Research and Innovation Centre, Landscape Ontario, Ontario Horticultural Trades Foundation and Ontario Turf Research Foundation. It was initiated by Landscape Ontario in 2008 to raise awareness for the importance of landscape and environmental horticulture within the University of Guelph.
Green Infrastructure Ontario (GIO)
GIO was initiated by Steven Peck of Green Roofs for Healthy Cities (GRHC). In addition to GRHC, it includes Evergreen Foundation (EF), Ontario Parks Association (OPA), Toronto and Region Conservation Authority (TRCA), LO, OALA and Local Enhancement and Appreciation of Forests (LEAF). GIO advocates the importance of green infrastructure at all levels of government.
Ontario Horticultural Trades Foundation (OHTF)
The Foundation is a registered charity promoting research and scholarships. It is a separate legal entity, which aspires to raise capital to generate funding to advance horticulture. The Foundation has raised approximately $1-million. OHTF pays out at least $20,000 per year in scholarships.
Ontario Parks Association (OPA)
OPA represents the municipal parks sector. It is important for the future growth of the horticultural industry to raise the profile of parks and green infrastructure with municipal governments. The more trees planted, parks constructed and green space maintained, the more benefit for our industry.
Ontario Agricultural Commodity Council (OACC)
This group includes all producer-oriented agricultural organizations. It acts as the voice of agriculture/horticulture. It is the primary point of contact with the Ontario Ministry of Agriculture and Food and Agriculture Canada. It was responsible for convincing government to allocate research and development funding to the Agricultural Adaptation Council.
Labour Issues Coordinating Committee (LICC)
This group was formed in 1990. It deals with collective labour issues in agriculture/horticulture.
Foreign Agricultural Resource Management Services (FARMS)
This group facilitates foreign seasonal agricultural workers. Authorized by Human Resources and Skills Development Canada, FARMS performs an administrative role to the Caribbean and Mexican Seasonal Agricultural Workers Program.
City of Toronto Low Impact Landscaping Committee
This group includes OPA, City of Toronto and LO. The alliance is developing an environmental accreditation program for the landscape and parks sector.
Canadian Garden Tourism Council
The council was formed to raise awareness for the significant tourism potential offered by gardens. It offers a number of projects: Garden Route, linking Canada's best garden experiences; Garden Tourism Conference, to be held next year on Mar. 18 and 19 during Canada Blooms; and Garden Tourism Awards. Landscape Ontario is a major supporter of the program.
World Garden Event
Landscape Ontario is aligned with Region Network Development and Employability Network of Ontario (Ontario RDÉE), Niagara Parks Commission and the Niagara Region Tourism Partnership to bring this major event to Niagara in celebration of Canada's 150th anniversary in 2017. The world garden event will inject huge excitement and development into Ontario's horticulture industry.
---
Tony DiGiovanni may be reached at
tonydigiovanni@landscapeontario.com
.