December 12, 2018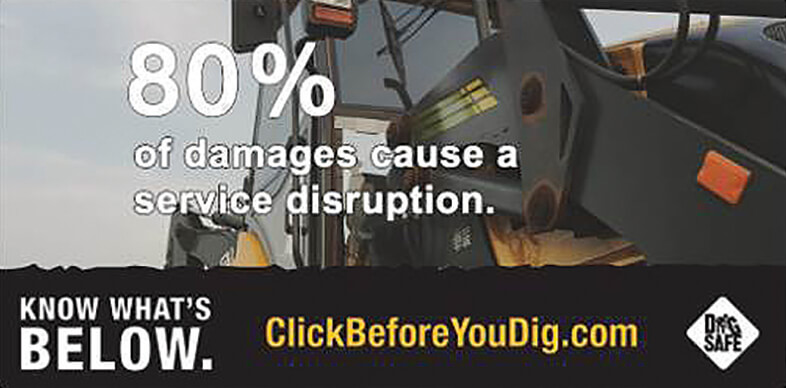 Who does more damage: homeowners or professionals?
By Terry Murphy CLM
The question of who causes more damage to underground infrastructure, homeowners or contractors, is always a point of contention with members of the damage prevention industry. The Ontario Regional Common Ground Alliance (ORCGA) publishes statistics annually in the DIRT Report (Damage Information Reporting Tool). The main purpose is to measure if efforts to reduce the number of hits is effective. Last month, I looked at statistics for homeowners who are responsible for about 15 per cent of all utility hits. This month, I will look at the landscape sector and compare it to statistics for homeowners. You would think that as professional landscapers, the number underground hits would be much lower than in the public sector. Landscape contractors have more experience, are familiar with excavation requirements and laws, and have many operating procedures in place that incorporate locate requests.
Homeowner trends
Table 1 shows that homeowner hits in 2017 are down to 631. This equates to 12.3 per cent of the total hits in Ontario. There is also a downward trend on the total number of hits for homeowners over the past five years. This is exactly the results ORCGA efforts are trying to accomplish. Homeowner hits have gone down from 18 per cent of the total industry hits, down to 12 per cent in only four years.
This is solid improvement is in part due to advertisements Enbridge Gas Distribution as included with their monthly invoices. (see graphic).
Comparison criteria
When comparing sectors, we generally consider two key statistics: one is the actual number of hits in that sector, and the other is the percent of total industry hits. Both of these two statistics have to be considered at the same time in order to get a true comparison between the sectors. Total industry hits can also be a reflection of the overall economy. The more construction projects in progress, the more utility hits occur.
Homeowners
Table 1 shows that year after year, there is a steady decline in the number of hits for homeowners. But for the industry, there is no clear trend. However, if you look at the homeowner hits compared to the total industry hits, you will also see a steady downward trend. It is not significant — only about one per cent each year. But this is great news and would lead me to believe that advertising and promotional initiatives aimed at educating the public are working.
Landscape pros
Table 1 shows us the actual number of hits for the landscape sector is about half the number of homeowner hits (338 vs. 631). Our previous assumption of professionals being more experienced, skilled and aware construction practices and laws holds true. But the interesting statistic here is that the percentage of hits that landscape pros are responsible for overall remains about the same, around 6.7 per cent each year. While homeowners continue a downward trend, pros are neither improving or getting worse.
Conclusion
Over the past five years, homeowners have been responsible for about 15 per cent of the total industry hits, while the landscape sector has averaged about seven per cent. The ORCGA's goal is to see both sectors achieve solid reductions over the next couple of years. Regardless of the success, both sectors continue to be worthy of attention.
Companies who are serious about reducing the number of hits and improving the safety of their employees can help by becoming a member of the ORCGA. Membership includes many benefits, including access to education, resources, and events. For companies with under 20 employees, the annual membership fee is only $125. For more information, contact Jennifer Parent at the ORCGA office at 1-866-446-4493. And don't forget to include damage prevention, Dig Safe and ON1CALL subjects of your company's regular safety meetings.
Terry Murphy can be reached at
tvmurphy@ca.inter.net
.
TABLE 1
| | | | | | |
| --- | --- | --- | --- | --- | --- |
| YEAR | ACTUAL HOMEOWNER HITS | TOTAL INDUSTRY HITS | HOMEOWNER HITS PERCENTAGE OF TOTAL INDUSTRY HITS | LANDSCAPER TOTAL HITS | LANDSCAPER HITS AS PERCENTAGE OF TOTAL INDUSTRY HITS |
| 2012 | 857 | 4,853 | 17.7% | 369 | 7.6% |
| 2013 | 906 | 5,006 | 18.1% | 334 | 6.7% |
| 2014 | 623 | 3,872 | 16.1% | 258 | 6.7% |
| 2015 | 651 | 4,695 | 13.9% | 318 | 6.8% |
| 2016 | 599 | 4,597 | 13.0% | 351 | 7.6% |
| 2017 | 631 | 5,149 | 12.3% | 338 | 6.3% |