November 15, 2015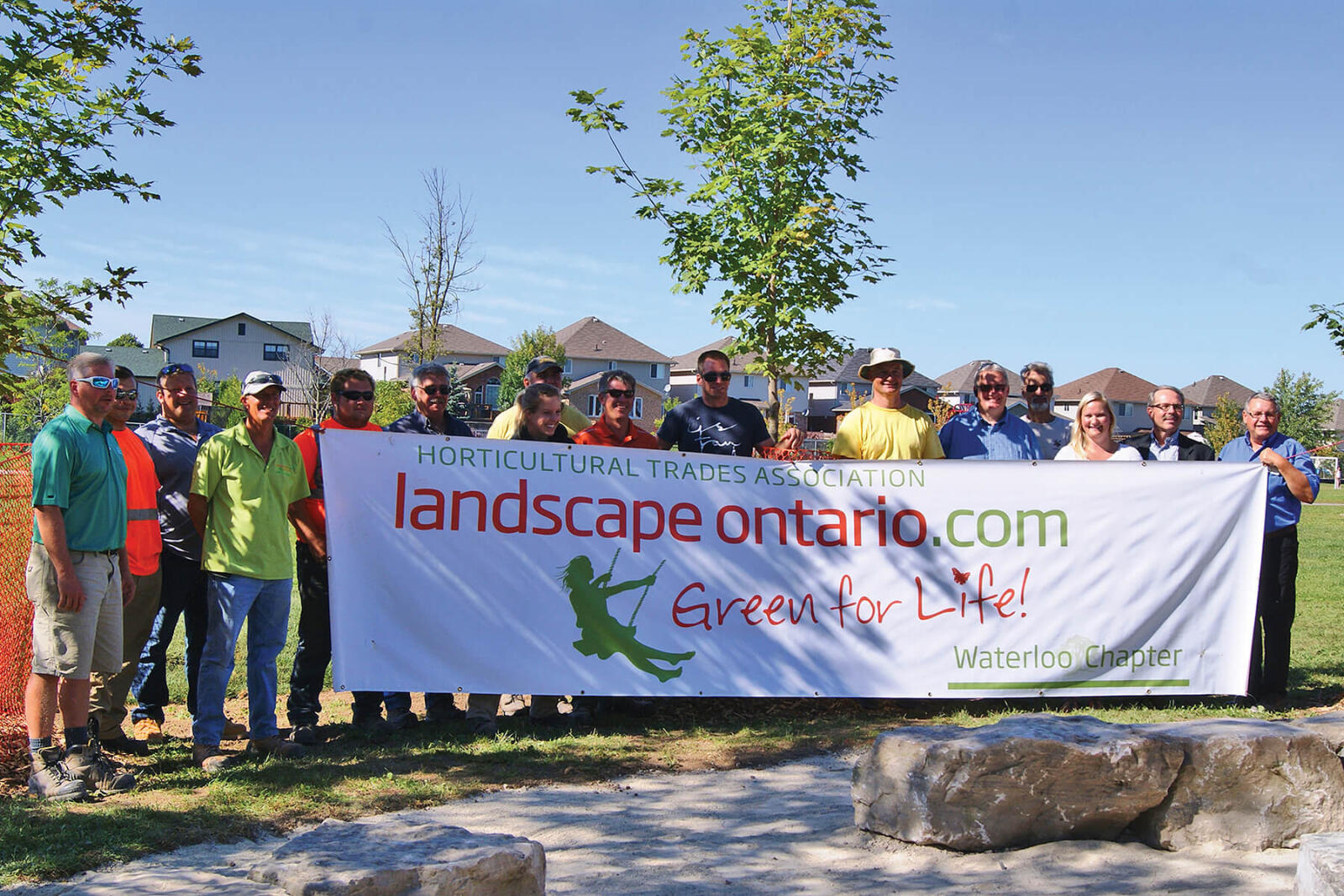 Waterloo Chapter brings outdoor classroom to Guelph school
Sir Isaac Brock Public School in Guelph was the site of this year's Waterloo Chapter school greening project.

Each year the Chapter chooses a school to receive landscaping services from the professional members of Landscape Ontario. This year the members created an outdoor classroom with armour stone seats. As well, 11 trees and three large shrubs were planted in the play area near the classroom.

Project coordinator Thomas Blatter CLM, of Dreamestate Landscaping in Guelph, estimates the project value at $25,000. It took volunteer crews three days, or 32 man hours.

"A revitalized green space and outdoor classroom was created by volunteers from our Waterloo Chapter," said Blatter.

An official opening took place on Sept. 23, with the entire school community coming out for the project unveiling. This included all students and staff, parents and family members. The principal shared words of welcome and gratitude for the Chapter's work. There was also a butterfly release, which was accompanied by the students showing their school spirit in singing their school's anthem.

Councillor Phil Allt from the City of Guelph also attended the unveiling and shared some words of welcome on behalf of the city.

"Our mandate as a Chapter is to promote the green industry, show how landscaping is so important and provide outdoor spaces that many will enjoy for years to come," said Blatter. He said the reaction from the school was fantastic. "Our hope is to let them see how we can provide landscape makeovers and show them what we do for people every day."

Companies that provided manpower and product included Ace Lawn Care, Allgreen Tree Service, Alltask Property Improvement, Burch Landscape Services, Coleman Equipment, Compact Sod, Connect Equipment, Creative Landscape Depot, Crewson Corners Landscaping and Home Maintenance, Don Prosser Landscape Design, Dreamestate Landscaping, Fast Forest, Guelph Building Supply, Guelph Power Sweeping, Johns Nursery, Lafarge, Orchid Gardenscapes, Platinum Stone Design, Snider TLC, St. Jacobs Country Gardens, TNT Property Maintenance, Tri-Green and UPI Energy.

"It really is all about our members who donate, contribute, and sacrifice paying work days to make a difference. Thanks again to all those who go above and beyond and reach out to the community and change it for all to enjoy," said Blatter.