February 15, 2014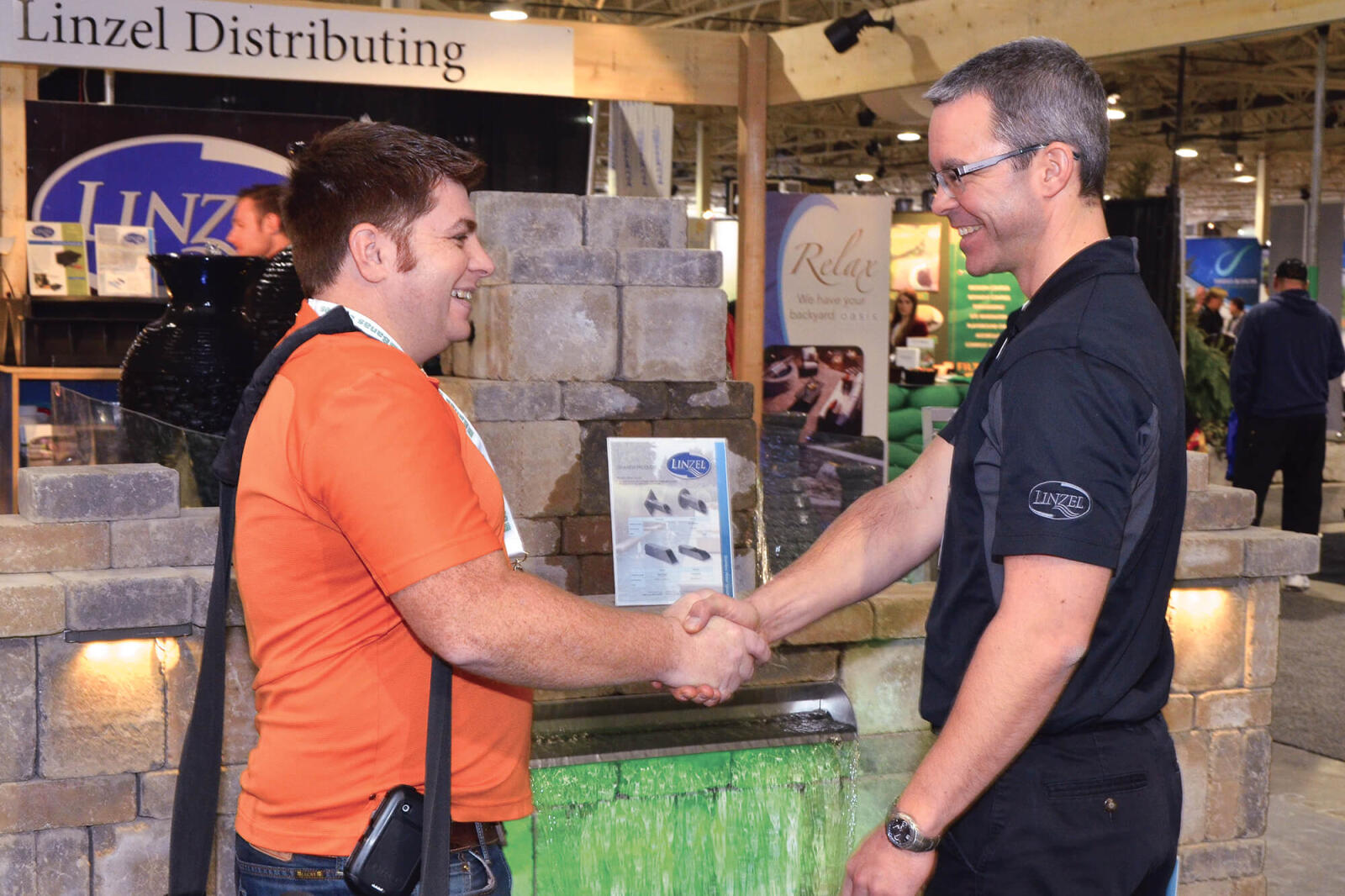 Warm Congress buzz thrives amid falling temperatures
"I am very impressed. This is a great show," said Randy Clarke, of Action Trailers in Strathroy. "I have found many leads to help my business."
He was among the hundreds of industry professionals to overcome frigid -24°C temperatures, snow and the aftermath of the December ice storm to attend Congress, held Jan. 7-9 at the Toronto Congress Centre.
Celestion Pariselli, of Par-Bro Design/Build in King City, said that he has been coming to Congress every year for 30 years. "I come here for the networking, new ideas and education," said Pariselli.
A designer at Hayes Landscaping in Scarborough, Margaret Combaluzier, said she has been coming to Congress for many years. "Ever since I graduated from the University of Guelph," said Combaluzier. "I usually come to see nursery items and new products. This year, I am impressed with all the new heavy equipment." She also enjoyed seeing the work of the college students.
A student at Humber College, Catrina Chiodo was visiting Congress for the second year. She and fellow student Robert Longley said they found Congress offered great opportunities for networking and jobs through the job board. "It's a great showcase for the industry," said Chiodo.
Alicia Reid of Ferrell Builders' Supply of Hamilton said she was scouting for the latest trends in landscaping. "I love it!" said Reid. "As a supplier to the trades it keeps us informed and up to date with all the new products available. It is also great for gathering new design ideas."
This year's Congress was the first for Craig Stefan, who attended with his co-workers from Geerts Lawn Care and Property Management of Delhi, and it was eye-opening. "It is completely overwhelming how much cool stuff they have here that makes our work a lot easier," said Stefan. "I'll be back again, that's for sure."
Unique challenges
"We had some unique challenges, but that made the resulting success of this year's Congress that much more special," said Heather MacRae, Director of Events and Trade Shows for Landscape Ontario.
"As I reflect on Congress, I saw so many great experiences. I saw exhibitors who weathered the storm. Many of them prepared for less attendees, but they were excited for the opportunity to see qualified buyers," said MacRae.
"I saw exhibitors who invested in new exhibit displays, which in turn enhanced our show floor and raised the benchmark for others. I saw attendees who thrive on the annual tradition of Congress and are willing to make the time to attend. And, I saw attendees who were inspired by education and eager to enhance the industry by exploring our show to see the latest and greatest products and services. I saw volunteerism at its finest. The commitment by LO members is second to none. At Congress 2014, I saw success."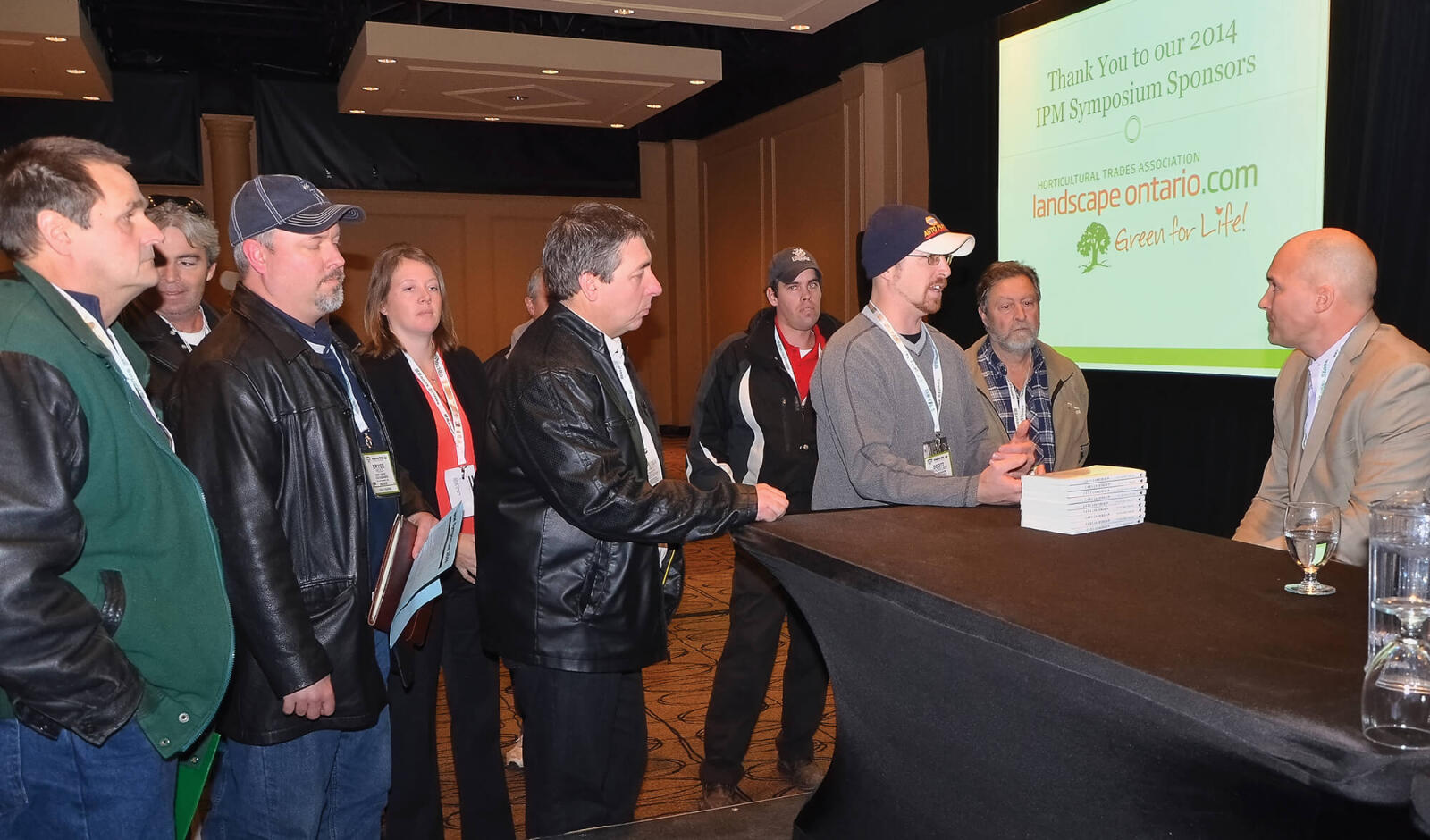 Peter van Stralen of Sunshine Brands was a very popular keynote speaker at the IPM Symposium. Following the event, many lined up to speak with him, or purchase his new book Culture of Care.
---
Conferences open week's schedule
Monday warm-up events opened this year's Congress activities. The conferences included IPM, Designers, Effective Management Short Course and the Living Walls and Green Roofs Train the Trainer workshop.
"We had snow squalls, white-outs, road closures, towns and cities closed down, and actual snow blizzards," said Kristen McIntyre, LO Conference and Event Manager. "Despite the weather, the green industry showed up. The people who attended the Monday Warm-Up events, Conference sessions, Awards ceremony and Tailgate Party demonstrated true dedication to furthering their professional development and their relationships within the industry. I thank all who participated; that was one for the history books!"
The 49th IPM Conference featured a great line-up of speakers throughout the day.
Chair of the IPM Symposium Committee, Kyle Tobin of Lawn Savers Plant Health Care, presented the annual IPM Leadership Award to Dr. Michael Brownbridge of Vineland Research and Innovation Centre.
The award recognizes leadership and contribution to the healthy growth of the industries represented in the IPM symposium. This winner of the award is nominated by peers, and IPM Symposium Committee determines the recipient. Dr. Brownridge is working to evaluate natural agents to provide growers and landscapers with safe and effective ways to eliminate pests and weeds.
A Niagara-area newspaper wrote, "Dr. Brownridge said, 'It was great. I had my Oscar moment,' noting it was the hard work of his research team that led to the award. 'I was the one to get the award but I'm really just someone who sits on top of a great group of people doing great work.'"
Speakers at the IPM Symposium were Scott Olan of the Ministry of Environment, Jim Chatfield of Ohio State University, David Smith of DCS Agronomic Services of Gravenhurst, Pam Charbonneau of the Ontario Ministry of Agriculture and Food, Dr. Karen L. Bailey of Agriculture and Agri-Food Canada, and Brownbridge. Keynote speaker was Peter van Stralen of Sunshine Brands and author of Culture of Care.
A ticket draw at the IPM Symposium saw Ian Hunter of Highland Gate Golf Club of Aurora win a 50-inch TV.
Chair of the Landscape Design Sector Group Chris Mace was pleased with the attendance at this year's Designers Conference, "considering the weather conditions."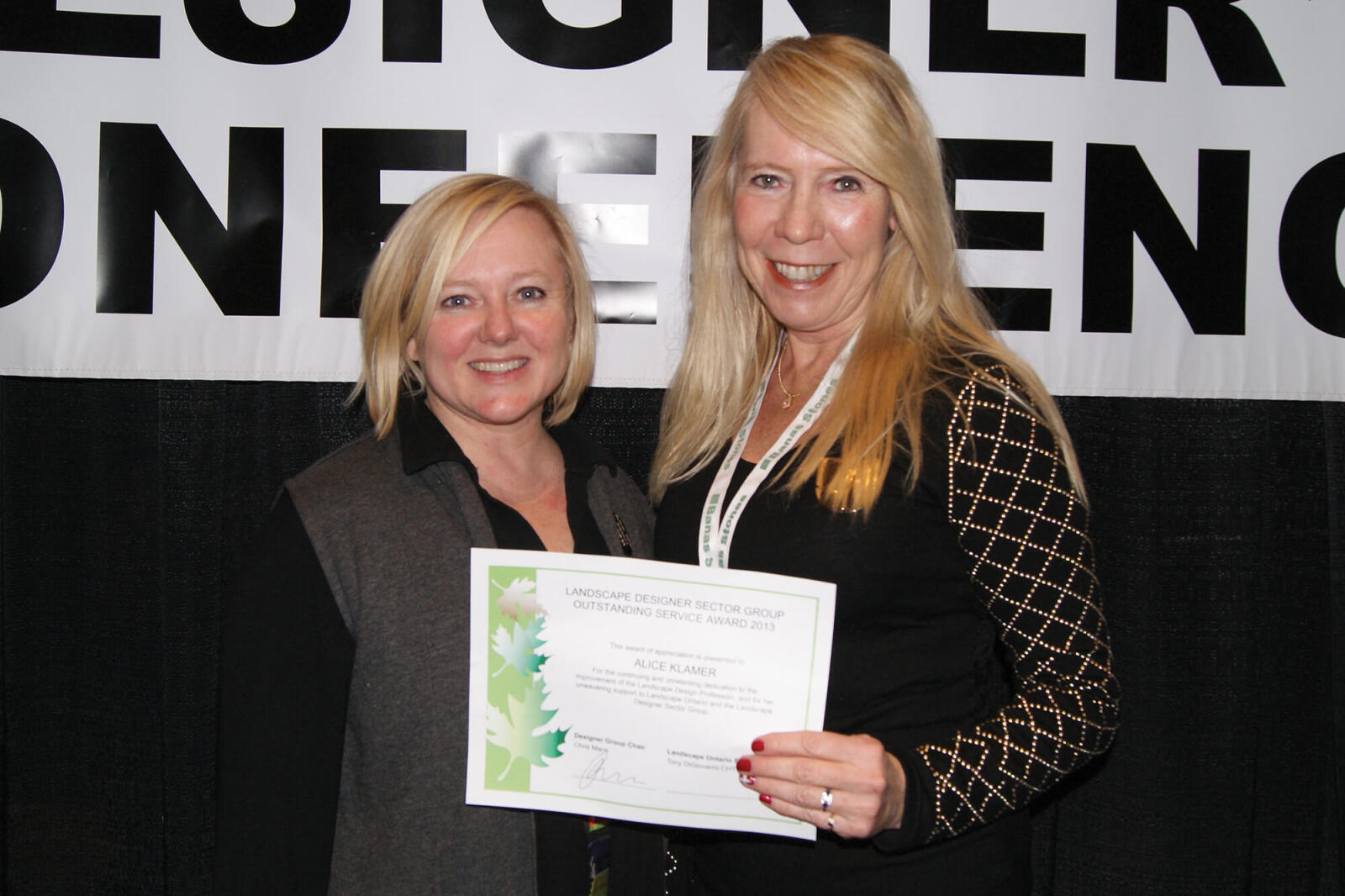 Alice Klamer of Blue Sky Nursery in Beamsville was presented the Landscape Design Sector Group's Outstanding Service Award for 2013. She was presented the award by former sector group president Beth Edney CLD, left, of Designs by the Yard in Toronto, at the designer conference on Jan. 6.
---
Speakers at this year's event included Ron Koudys CLD of Koudys Landscape Architects, London, and Christine LeVatte CLP of Highland Landscapes for Lifestyle of Sydney, N.S. They talked about, 'Is there a Future in Landscape Design?' They were followed by Ron McCarthy of The McCarthy Group, Toronto, and Rob Kennaley of McLaughlin and Associates, Toronto.
Keynote speaker was special guest from Ireland landscape designer and television personality Diarmuid Gavin. He talked about his history, and challenged perceptions of what a garden was and could be. He demonstrated through photographs and a humourous presentation how he creates gardens that are fun, quirky, and beautiful, but always different.
Those attending the designers' conference had an opportunity to win an iPad. The winning ticket belonged to Rob Vogel of Vogel-Moore Landscapes of Collingwood.
Also held on Monday was the Effective Management Short Course. Jacki Hart CLP and Tim Kearney CLP ran the program for an attentive group.
"In addition to rave reviews on the feedback forms, several business owners have contacted us to bring the short course to their business team for a one-on-one event. We also had many members in the room who shared that they have already used the Build Your Prosperity seminar content to form their business style," said Hart.
With so much interest shown in a future Build Your Prosperity seminar, one has been scheduled for Mar. 19 at the LO home office in Milton. More information may be found at
www.horttrades.com/pp001
.
The Irrigation Conference took place on Jan. 9, hosted by Landscape Ontario's Irrigation Sector Group. Guest speaker was Industry Development Director with the Irrigation Association Brent Mecham, of Falls Church, Va. He spoke about Irrigation Association initiatives, such as the Certified Irrigation Technician program.
Many Conference and special event speakers have generously shared their presentation materials. Visit
www.horttrades.com/congress-presentations-2014
to browse and download the files.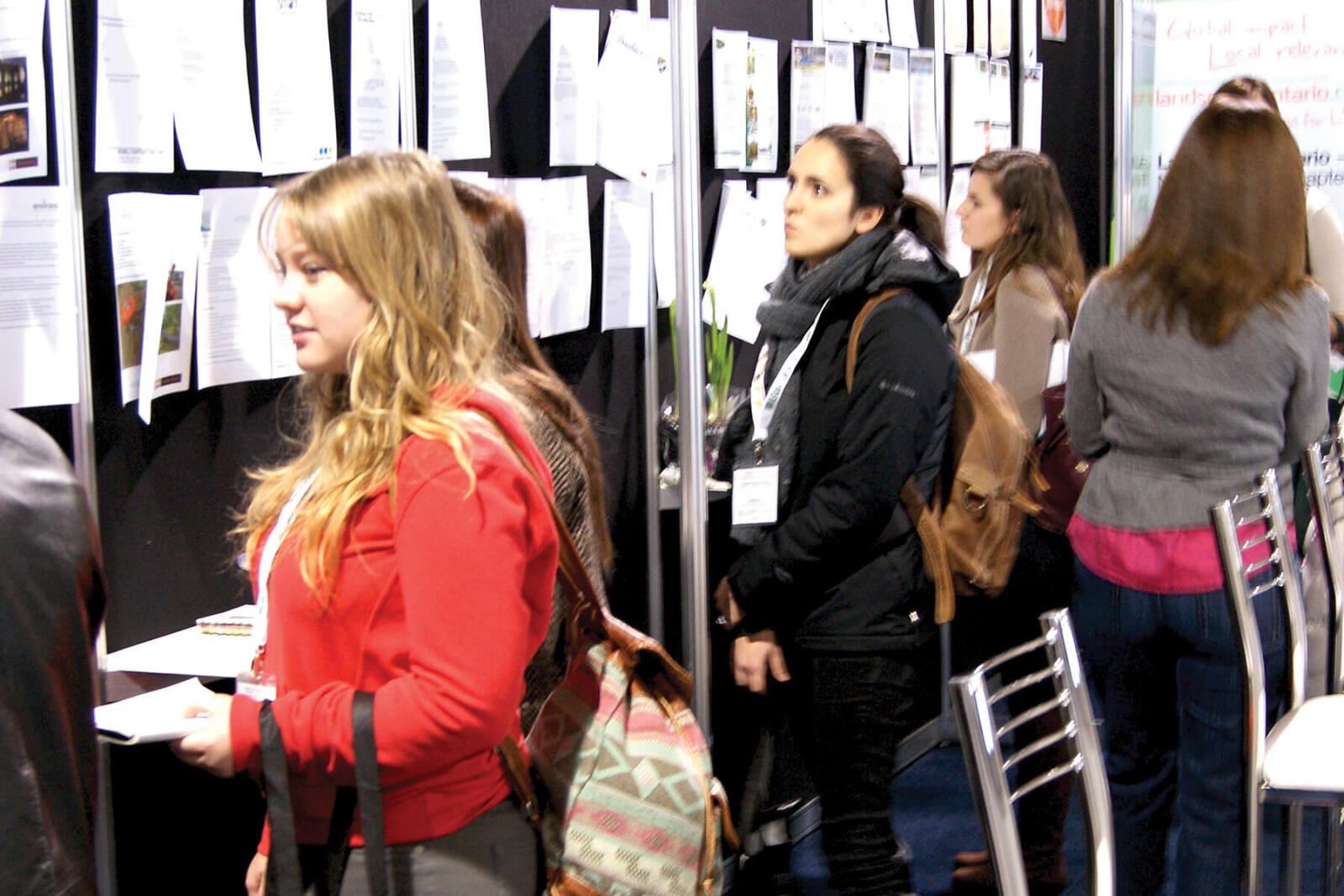 The job board adjacent to the LO resource booth was a very popular area during Congress.
---
Plant ID challenge
The Plant Identification Challenge booth again drew a great deal of interest. A number of visitors to the trade show floor took on the challenge of identifying 20 plants lined up on the floor.
The Challenge was developed to bring awareness to the Landscape Industry Certified Program. The exhibit was similar to a plant identification test station at a sanctioned certification day. Often one in a group of visitors took on the challenge, and then prodded co-workers to see if they could better their score.
New Product Showcase
Attendees at this year's Congress were greeted by an exhibit of the industry's latest products. They also had the opportunity to vote on which product was their favourite.
After counting the ballots, the winner of the the People's Choice Award went to Molnar Metal Art - Division of Impax Mfg in Durham, for a 14 gauge metal gate depicting a peacock and ivy.
Molnar receives a complimentary 10 x 10 booth at Congress 2015.
Attendees who cast ballots in the New Product Showcase were entered into a draw to win cash. The winner of the draw for $250 was Deb Downey of Egger Truck and Machine, of Dunnville.
Visitors and exhibitors at Congress 2014 affirmed that a trade show's top advantage, face-to-face contact, will never go out of style. Plan to attend Congress 2015, Jan. 6-8 at the Toronto Congress Centre.