July 14, 2023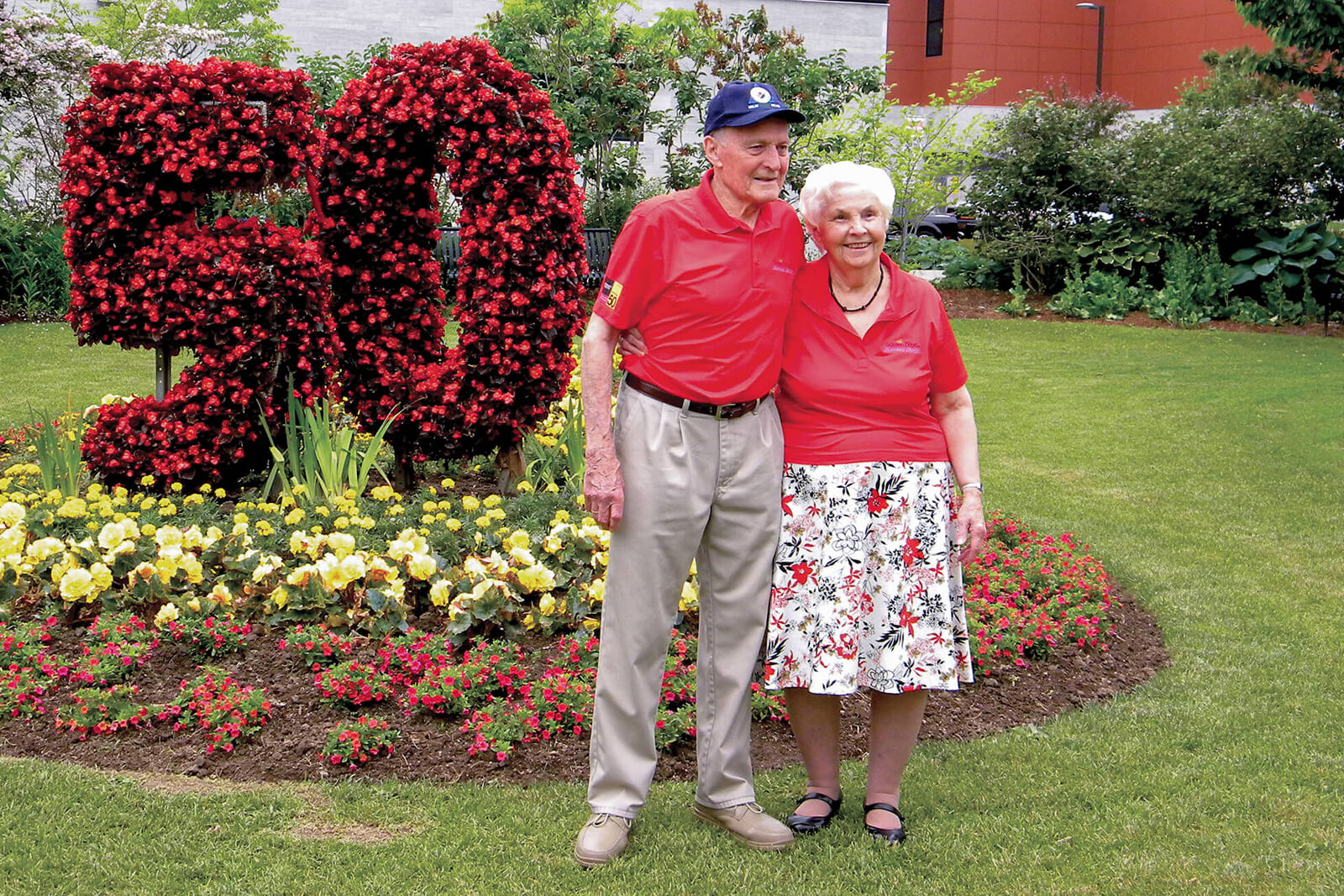 Unfinished business: Landscape Ontario says goodbye to an exceptional volunteer
By Tony DiGiovanni
Margaret and Ivan Stinson were a couple of retired school teachers who decided (in their 80s) to adopt our Landscape Ontario family. They volunteered at many of our events and spread goodwill and positivity everywhere they went. You may have seen their smiling faces at Congress, introducing speakers and helping out where they could.
Landscape Ontario presented them with a Legacy Award a number years ago for their immense contributions to Landscape Ontario, Communities in Bloom, Canada Blooms, University of Guelph Arboretum, National Tree Day, and much more. They were awesome role models.
In 2018, Ivan passed away and Margaret asked me to be a speaker at his Celebration of Life. The last time I saw Margaret was February 10, 2020. She and her daughter Lisa Crawford came to the Landscape Ontario office to attend a meeting. Even in her early 90s, Margaret served on the board of the Green Cities Foundation. I had the pleasure of giving her a hug as she came through the door.
The next day, I received a wonderful and touching email from her. In her customary positive fashion, Margaret talked about aspects of "sunshine" she experienced during her visit. There was "sunshine" because the predicted snowfall did not arrive and her daughter was able to drive her to the meeting on time. There was "sunshine" because the living wall at the entrance to our building was welcoming and because she was greeted with a hug and smile. The email talked about the lasting friendships she and her "beloved Ivan" had made and how Landscape Ontario was her extended family. In Margaret's own words, here is the most touching part of the email for me.
"Just as at the celebration of Ivan's life, when you paid tribute to an honest, humble, hard-working gentleman, I would be honoured and grateful, if you would do the same for me — when I leave to join Ivan in Heaven."
Margaret joined Ivan in Heaven on November 4, 2020. Unfortunately, this was in the middle of COVID restrictions that did not allow for gatherings and celebrations of life. This is the unfinished business this article hopes to complete.
I am thankful and honoured to pay tribute to Margaret Stinson. Through her positive and loving manner and her contribution ethic, Margaret made a huge difference in the lives of many. She reflected care and warmth, enriching the lives of everyone she came into contact with. Margaret was a wonderful and inspiring role model.
I am in possession of hundreds of wonderful emails sent by Margaret. Some were sent right after she and Ivan spent hours volunteering at one of our events, thanking us for the opportunity. Of course, it is us who should be doing the thanking.
There are congratulation messages, messages of encouragement and goodwill, messages marking Christmas, Easter and other holidays. There is an annual message "of peace, happiness, prosperity and good health for all."
There are messages offering advice on how Landscape Ontario might extend our reach to different audiences. There were emails urging us to spread the green stewardship message to young people who would teach, enthuse and engage older members of the family. There are thoughtful notes informing us that someone in our extended community was ill or had lost a loved one.
The most touching and heart-wrenching (and inspiring) was a note sent to apologize for missing one of our events. The Stinsons' son was diagnosed with cancer and had to have emergency surgery. He later passed away. In the midst of their anguish, there was still room in their large hearts to think of others and to send well wishes for a successful event.
Margaret and Ivan Stinson accept Landscape Ontario's Legacy Award in 2015. The award recognizes a lifetime of achievement in the horticulture industry. (L-R): Tony DiGiovanni, Phil Dickie, Ivan Stinson, Margaret Stinson, Dave Braun.
---
Here is an excerpt from one beautiful email providing a glimpse into Margaret's selfless character:
"Since Ivan left for Heaven on October 4, 2018, I have endeavoured to do that which he would have done if he were here. His and my wonderful family provide their love and support for all my needs. I am so blessed with family and friends such as you.

I am a Director on the Green Cites Foundation and try to contribute a little.

As an Ambassador at Stone Lodge, Guelph (where I have called home since my beloved Ivan left for Heaven) I welcome residents new to the facility. It is so comforting to see a smile on each face!

Of course, there are challenges, but I tell them that, whatever it is, it could be worse, much worse! So let us keep each other company and thank the team who diligently take care of our needs.

I have 12 new residents to whom I try to welcome and chat with twice a day. It feels great to put a smile on someone's face.

I count my blessings that, at 90 years young, I am able to bring some joy to some. For example, one of my new residents is in a wheelchair and is receiving treatments for cancer.

Each day, I try to chat and take fresh fruit juice, made from real oranges, for her to enjoy .

I shall always be thankful to my parents, who instilled, often by unspoken words, leadership values, mores and beliefs to live by, into each of my siblings and me!

To bring me more joy, I shall imagine that I am at Congress!

With kind regards and respect,
Margaret
Margaret Stinson was a blessing. Her Landscape Ontario extended family are honoured that she and Ivan adopted us. Her positive spirit has left a wonderful legacy. Our organization has been enriched by her example of selfless contribution.