August 15, 2010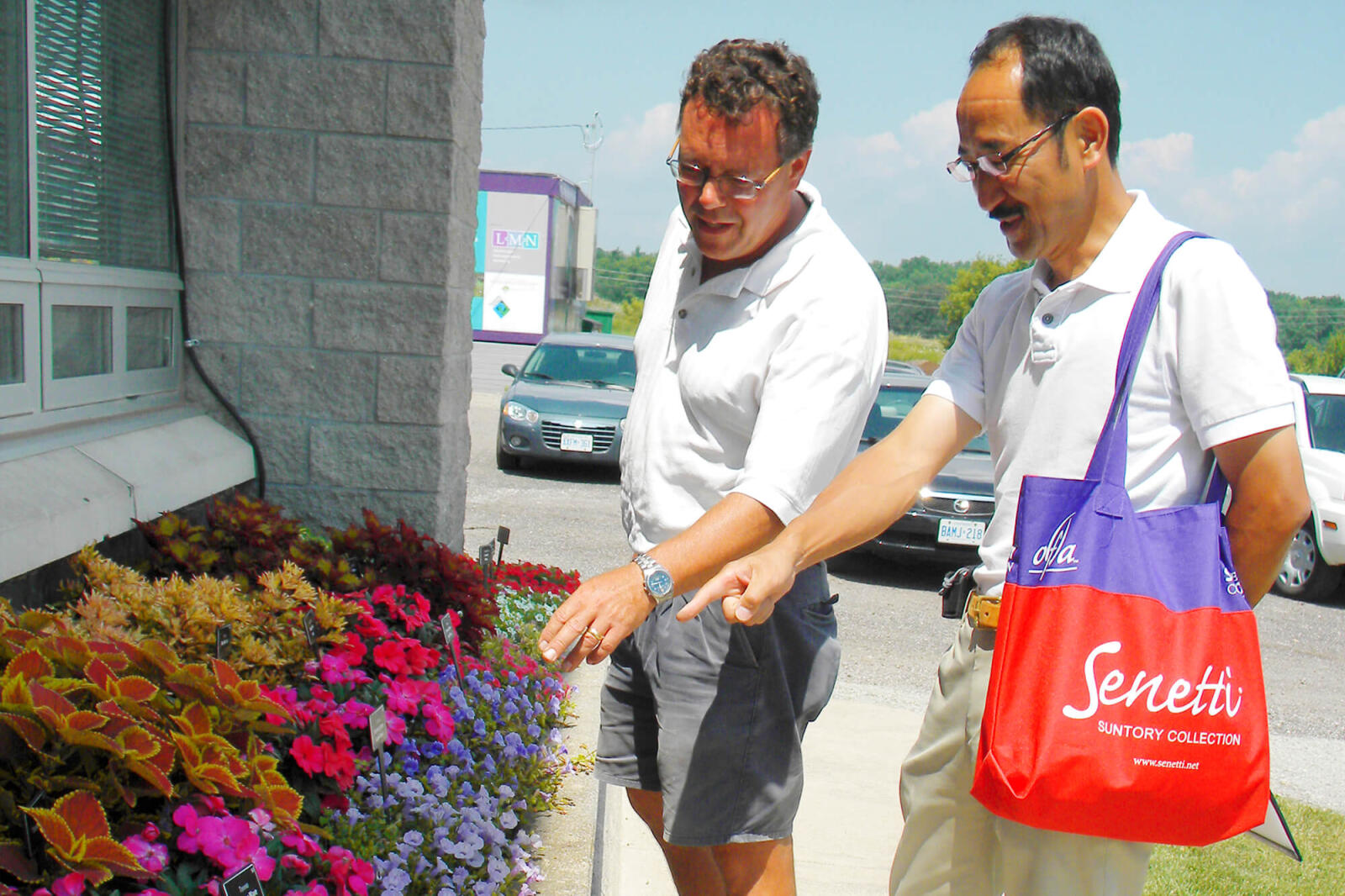 Trial gardens open for two days this month
The buzz at this year's California Spring Trials was Ball FloraPlant's black petunia, Black Velvet. Is it truly black?
Both trade members and the public may see it first-hand at the open houses at the Landscape Ontario trial gardens. Black Velvet is among the 500 plants that are being evaluated this year.
The gardens will open to members of the industry on Aug. 20, while the public will have an opportunity to see the new plants on Aug. 21, and as part of the Milton Horticultural Society's annual garden tour.
Annuals are the mainstay of the trial garden. Along with three selections in the black family of petunias, there are great new selections of verbena, calibrachoa and lantana. Plant breeders with product on display are Ball, Syngenta, Suntory, Proven Winners, Floranova and Takii.
Visitor from Japan
In late July, Suntory's executive general manager Yasuyuki Murakami Ph.D., of Japan, visited the trial gardens at Landscape Ontario. He told Horticulture Review, he was very impressed with the size and condition of the gardens. He also complimented Landscape Ontario on its involvement and was impressed with the size and scope of the association.
Perennials also make up a good portion of the trial gardens, now in its fourth year. More new perennials from Ball, Blooms of Bressingham, Takii, Vanhof and Blokker and Jelitto were planted in 2010.
Vegetables for small urban spaces will also be on display. This is the second year that the edible part of garden is included in the trials. Selections include cultivars from Seeds of Change, Ontario Seed Company and Floranova.
Open house dates
Industry: Fri., Aug. 20, LO Trial Garden (Milton) 9:30 a.m. - 1:30 p.m. and the Guelph Trial Garden 2:30 - 4 p.m. (free admission). Events include talks and tours of this year's trials (refreshments at the LO site) and a lunch at the LO site. Trial Garden sponsors will be on hand to talk about their products.
Public: Sat., Aug. 21, 10 a.m. – 5 p.m. at the LO Trial Garden (free admission). Note: This year the LO trial garden will be a tour stop on the annual Milton Horticultural Society's Garden Tour, a fundraising event in support of United Way. Tickets for the full garden tour are $25 and can be purchased on the Milton United Way website at
www.miltonunitedway.ca
.
To find out more about the sponsorship opportunities available with the Trial Garden, contact Rodger Tschanz at
rtschanz@uoguelph.ca
, or Kathleen Pugliese at
kathleenp@landscapeontario.com
.