September 15, 2014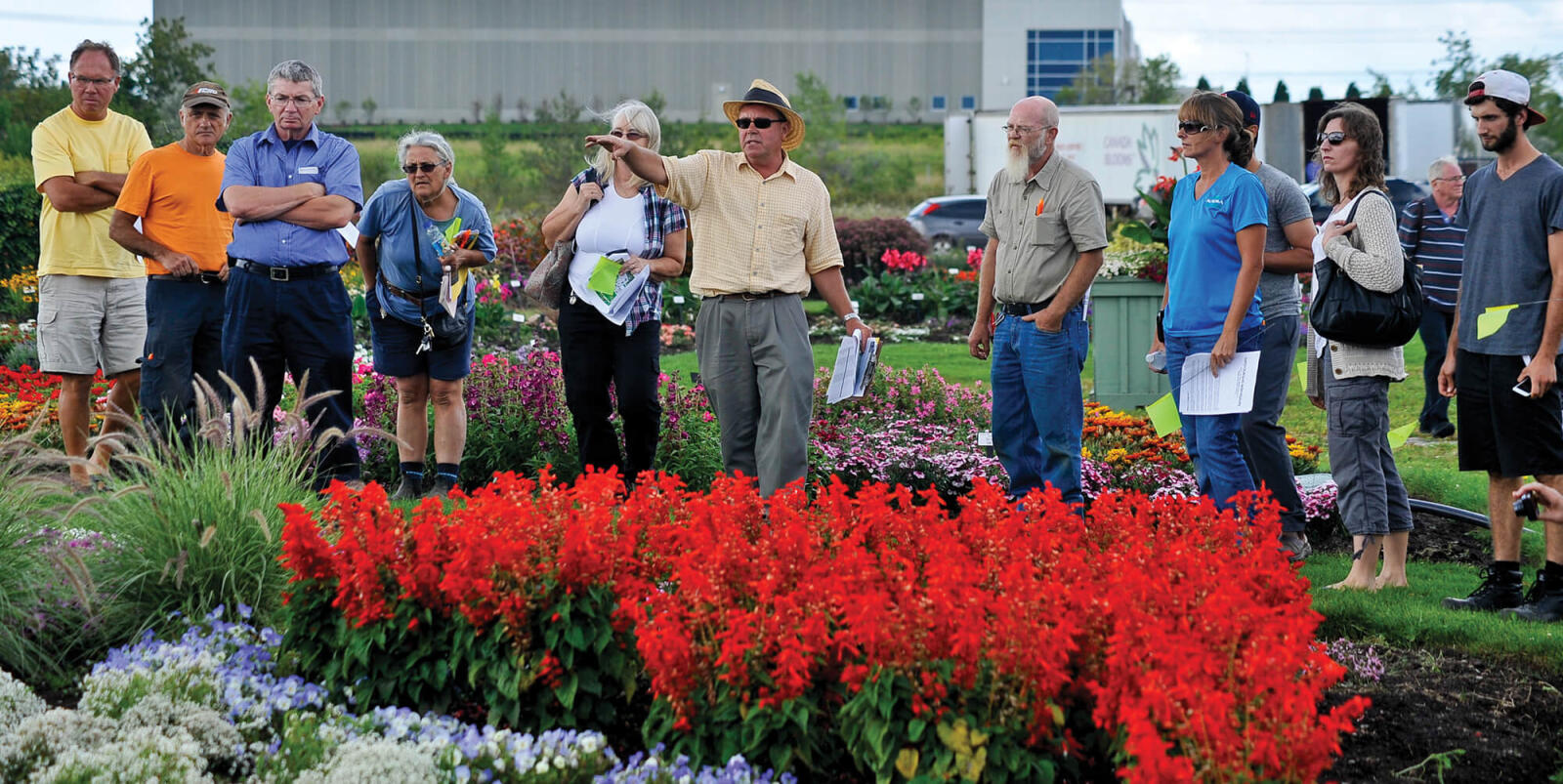 Trial gardens combine education with great new plants
The trial gardens at LO home office have come a long way over the eight years of existence.

On Aug. 21, the annual open house saw an excellent educational component, along with strong representation from the municipalities.

Lee Ann Knudsen, publisher at Landscape Ontario, welcomed the over 70 people in attendance. She thanked trial gardens manager Rodger Tschanz of the University of Guelph for his dedication and hard work creating the gardens.

John Bakker, of J.C. Bakker & Sons of St. Catharines, told the background of how the 600 roses in the trial gardens came about in 2011. "After creating a display of roses at Canada Blooms, we decided to move them to Landscape Ontario home office's greenhouses. From there, we dug special gardens and planted over 600 roses."

Bakker told those gathered that it's part of a move by the rose industry to create roses that require little or no maintenance, are disease free, handle frigid climates and still look great.

One rose Bakker used as an example is Campfire, which has been a great performer in the LO trial garden. Bakker also emphasized that it's important to know where roses come from.

"You need to make sure your roses come from Canadian growers."

Dr. Rumen Conev, a research scientist at Vineland Research and Innovation Centre, provided background on his studies with roses. "Vineland is the only research program in the world to study cold climate roses," said Conev. He told those in attendance that the number one priority is to eliminate black spot. He estimates there are 50,000 hybrids growing at Vineland.

Other speakers at the open house included Terry Talsma of Syngenta Canada; Mary Battaglia, Manager of Field Services, and Judy Aldham, Supervisor of Turf and Horticulture, both with the City of Burlington; and Peter Simon, working in Urban Forestry for the City of Toronto.

Simon drew a great number of questions following his presentation on Growing Trees in City Sidewalks. He demonstrated the system presently used by the City of Toronto to allow better conditions for trees to grow in city streets.

Trial garden manager Rodger Tschanz led the group outside to the trial beds, and offered information on some highlights of the annual, vegetable, perennial and rose trials. Visitors were invited to continue their observations in the afternoon at the University of Guelph Trial Garden at the Guelph Turfgrass Institute.

Landscape Ontario and the University of Guelph give thanks to the suppliers of the plant material for the trials: American Takii, Ball Horticulture, Ball Ingenuity, Blooms of Bressingham, Burpee Home Gardens, Dummen USA, Fides Oro, Genesis Seeds, Goldsmith Seeds, Jelitto Seeds, Johnny's Selected Seed, Kieft Seeds, PanAmerican Seed, Proven Winners, Sakata Seeds, Selecta North America, Thompson and Morgan, Syngenta Flowers, Van Hemert and Co. Seeds, Vanhof and Blokker, and William Dam Seeds.

Thanks also go to the crew from Boots Landscaping and Maintenance who weeded the gardens just before the open house.