November 15, 2017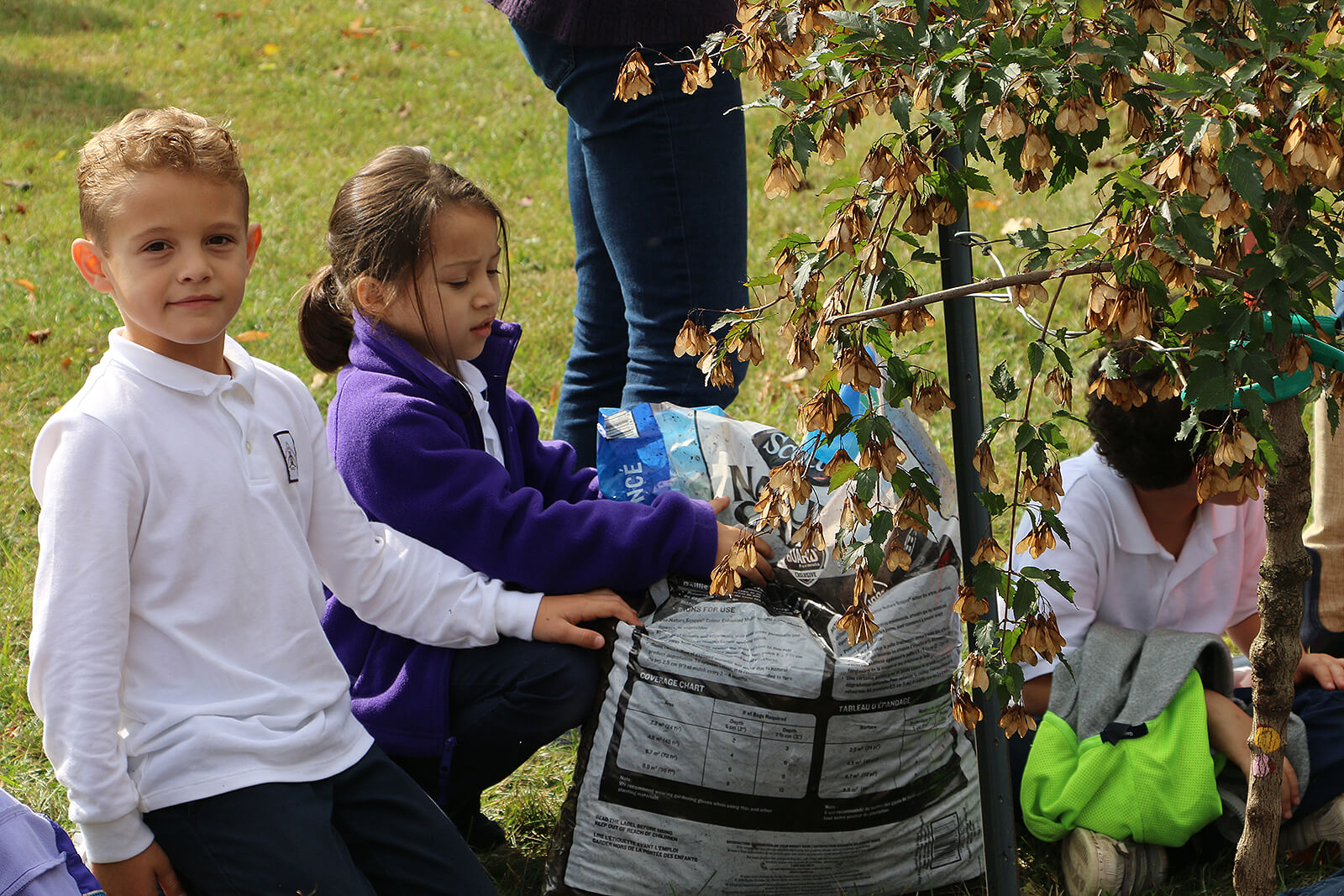 Tree donation inspires student learning
Students at Sainte-Marie Catholic Elementary School in Oakville, Ont., were excited to welcome 11 newly-planted trees to the school grounds, courtesy of Landscape Ontario member, Bloemen Decor, and the Canadian National Exhibition (CNE).

Bloemen Decor's owner, Albert Graves, was able to find the new home for the trees at his daughter's school after a display he had created for the CNE had concluded.

On Oct. 13, classes from junior kindergarten to grade six were read a traditional French story that helped to explain the importance of trees, including the vital role they play in helping the environment. Classes were each assigned a tree and students then went outside and gathered around each of the trees. Each group was asked to name their tree, some choosing a name right away, others deciding to later vote on a list of possible names.

The trees will become an integral part of the childrens' studies, says Vicky Thiffault, vice principal at the school. "We are going to encourage the teachers to use the trees for different projects at the school," Thiffault explains, "to write a poem or an imaginary story or create art." The students will continue to observe the trees throughout each of the four seasons, noting how they change, which insects and animals they attract and what to do if a tree looks sick.

Moving forward, students will be responsible for watering the trees once teachers create a proper schedule and rotation.

Thiffault believes having the students take ownership of the trees will not only help to teach them their value, but also give students a sense of accomplishment, noting a student who is now in JK will be able to see the trees mature as they progress to grade six some eight years later.

In addition to being part of their studies, Thiffault says maintaining the trees, and having a member of the local community provide them, aligns with one of the school board's new policies aimed at engaging the students in projects that help to develop a sense of community. Other projects include a food drive and writing cards for hospital patients.

"We have been lucky to have the Graves' family with us," says Thiffault, noting many other parents also help to promote a sense of community through various volunteer efforts at the school.