September 21, 2021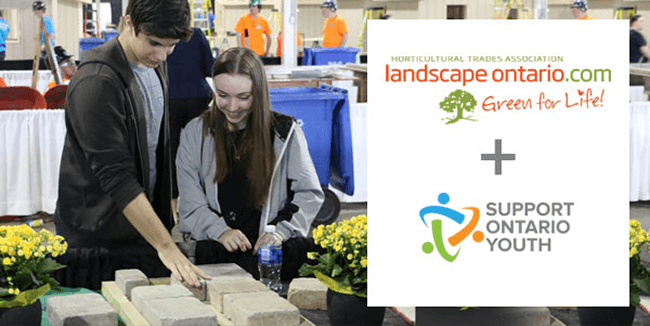 Connect with the workforce of tomorrow.
Showcase your company
and reach out to future local jobseekers
Come join us September 28 at Fellow High School (420 Bell St, Pembroke) as we introduce graduating SHSM students to Landscape Horticulture in an intensive one-day boot camp. Tools in the Trades Boot Camp (Pembroke) is hosted by Support Ontario Youth and Landscape Ontario Horticulture Trades Association.

Students will be exposed to different aspects of the trades in order to enhance their success in the skilled trades as well as having the opportunity to network with potential employers like yourself. This is an excellent opportunity for employers to find future workers pursing a career in the horticultural profession.
Are you interested in shaping the workers of tomorrow?
We are in need of horticulture professionals to participate:
as an Employer Panellist where you will educate, network and answer questions
(approx 1 hour).

OR as an Activity Mentor where you will guide participants through experiential pre-designed learning activities (morning, afternoon or full day).
Box lunch is included
If you are interested please complete the
Tools in the Trades Employer Registration Form by September 24.
For more information about the Tools in the Trades Boot Camp
or Email us at bootcamp@supportouryouth.ca
Please note all COVID safety protocols will be in effect. Masks must be worn, social distancing, etc.

Thank you all in advance for your support in connecting youth and job seekers to amazing in-demand careers in the landscape and horticultural sector.
This message is sent by Landscape Ontario Horticultural Trades Association
Contact us at 800-265-5656
7856 Fifth Line South, Milton, ON L9T 2X8
or HortTrades.com

To unsubscribe from commercial electronic
messages sent by the Landscape Ontario
Horticultural Trades Association
Manage your e-mail preferences