July 15, 2015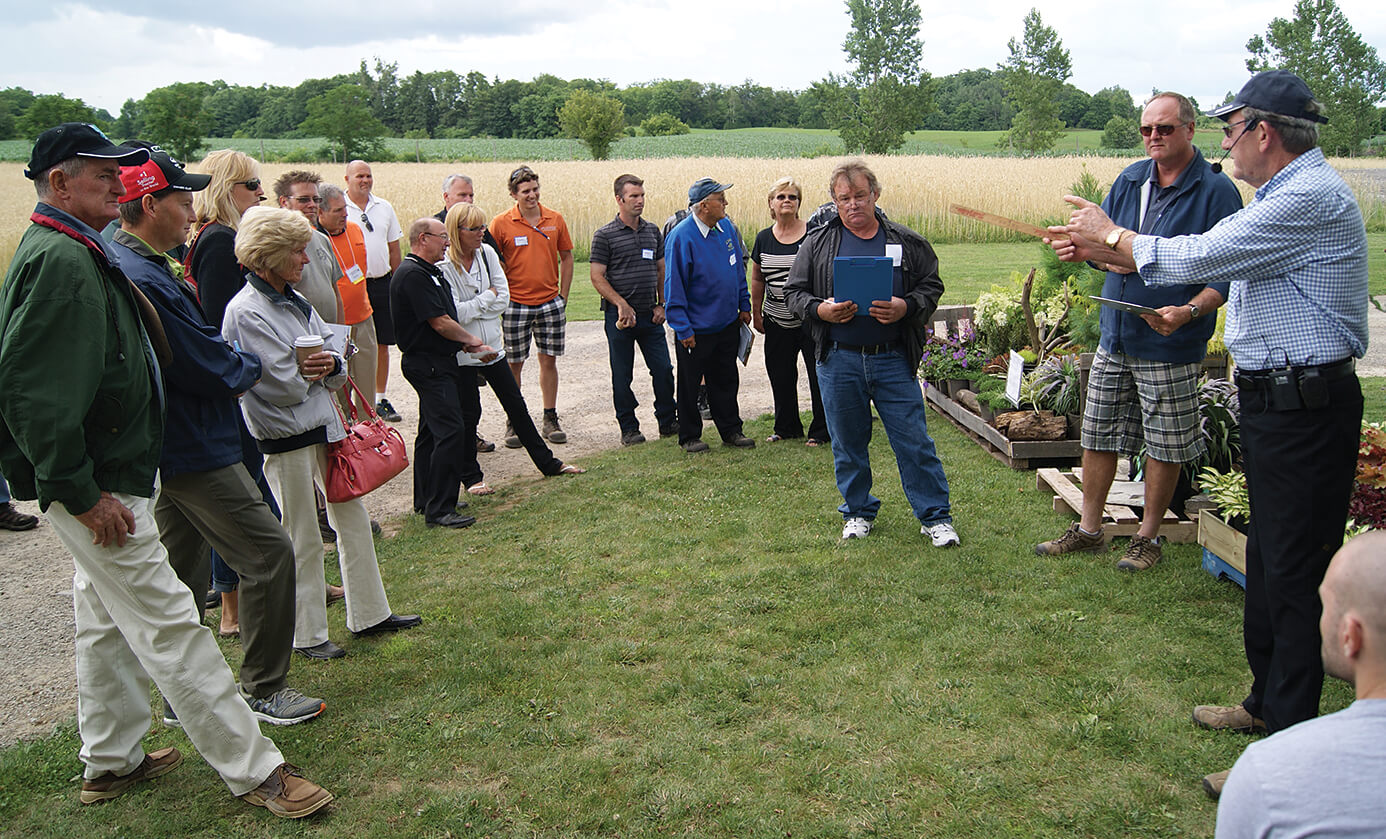 Thrive '15 is this year's exciting new event
Feelin' Thrivish? Yes, that is a new thing heard around the LO home office for weeks now. It's an indication of the excitement that is building around Sept. 16 and 17, where several popular fall events are co-locating at Landscape Ontario's newest event launch — Thrive' 15.

This bold move to the Ancaster Fairgrounds will see our Garden Expo trade show anchor the new event, which also features the Industry Auction, Chicken Roast, Snowposium trade show and conference, as well as a retailers' keynote breakfast, the auctioning of the Growers Awards of Excellence winners and a ceremony for the Garden Centre Awards of Excellence.

The power of Landscape Ontario as an association is to provide a community of like-minded professionals with face-to-face encounters and opportunities to develop and build positive and stronger relationships. Thrive' 15 has that in spades.

The focus for Garden Expo has always been to connect garden centres and growers with horticulturists, designers and affiliates for knowledge, purchasing and social opportunities.

The sharp new venue, which features several related professional development and community building activities, provides new ways for delegates to interact and build their network.

With more than 100 industry leaders and innovators showcasing their newest and most trending products, Garden Expo truly is a one-stop shop for garden centres and forward-thinking green industry professionals. An exciting change for 2015 (aside from location, date…and venue!) is admission is FREE if you pre-register by Aug. 28. Yes, free! Not only that, EVERY registration includes lunch. Yes again! How are we doing this? Through careful planning and generous sponsors like Fafard et Freres, which is presenting the Buds n' Suds tent.

Retailers are invited to join the one-and-only Judy Sharpton on Sept. 16 for a fabulous breakfast and her much anticipated keynote, Retail Evolution: The Black Plastic Trash Can and You. Retail in all categories has undergone a revolution in the past 20 years. The impact of electronic communications has changed not only how consumers buy products online, but also in stores. Sharpton will deliver a challenge to overthrow the black plastic trash can (aka: nursery pot) as consumer packaging and offer an alternative packaging that will change the retail environment and possibly your customer's perception of your store.

Sharpton is a garden centre design and renovation specialist with 35 years experience in advertising and promotion and the owner of Growing Places Marketing. She has served more than 300 individual independent garden centres with a wide range of renovation and new construction design services. In addition, she provides program content on store development, branding and product placement to trade groups and suppliers through Growing Places' Store School.

The Garden Centre Awards of Excellence ceremony will also run during the breakfast; come join your peers as we announce the winners. Prices are $20 per member and $30 per non-member until Aug. 28. Prices go up to $40 and $50 respectively after that date. Don't miss the ticket to this retail event of 2015.

Also building your community connections on Sept. 16 is the annual Chicken Roast Social, hosted in the evening by Golden Horseshoe Chapter. The event brings a relaxing family and community building environment to Thrive '15, and employers, staff, potential members, guests, spouses and kids are all welcome to attend. The chicken roast provides one-on-one time with your association's family and opportunity to make new connections. Children's dinner options and entertainment will be available, so bring the whole crew. Tickets are $10 before Aug. 28 and $15 each following.

As if that wasn't enough, the annual Industry Auction (aka: best kept buying secret!) will be held the morning of Sept. 17. The auction is an outstanding opportunity to purchase the best-of-the-best in Ontario-grown plant material.

The Growers Awards of Excellence will be judged the day before and then auctioned off during the day of bidding. There will be live-bidding on everything from caliper trees, to skids of deciduous and evergreens shrubs (both container grown and field grown) to perennials and growing products. Not only that, but there will be silent auction items as well; in the past we've had golf packages, restaurant vouchers, gardening tools and more! Participants simply need to sign up for a bidder's number and join the fun. Each winning bidder name is entered into a draw for a fabulous prize. In the past this has involved TVs and tablets, courtesy of Plant Products.

The plants are top-quality, and you pay on-site with credit card, debit or cash and take them with you. And now for the best part, with no cost to register, each delegate receives lunch, and ALL proceeds are directly allocated for industry research and scholarships — every penny. So bring your staff — and your trailer.

Need more info? It's all at LOthrive.com. Early bird pricing is in effect until Aug. 28, and some of the options are completely FREE (but only until Aug. 28). Also, don't miss your chance to win one of three early bird registration prizes. Registrations completed by Aug. 28 will automatically be entered into the draw. So bypass the lineup at the door and register right now. Get Thrivish with us Sept. 16 and 17.