March 24, 2020

The landscape of leadership
Contractor Earthscape teams homeowner delight with inspired careers
Listen to your clients' visions and objectives, and create thoughtful, innovative solutions for their landscape needs.
This is the simple philosophy guiding Earthscape, based in Elmira and Toronto, a Landscape Ontario (LO) member since the company was founded in 2005. Sam Bauman of Earthscape says, "We were hungry to learn as much as possible about the industry, and taking courses through LO was an easy decision to make. LO has been a huge help to us."
Earthscape provides design, construction, lighting and maintenance services focused mostly on residential properties, working for clients that want the very best. "We want our projects to look beautiful for a very long time, so a maintenance plan is critical," says Bauman. "Some of our clients love gardening, so we help put a plan together for them. Other clients do not want to think about it, so we maintain their properties on a weekly or monthly basis."
The employment dilemma
Finding qualified staff to ensure excellent service is a real challenge for Earthscape, as well as other skilled trades. Earthscape casts a broad net when looking for new team members, considering all ages from Millennials to those who might want a career change midway through their working years. Even with proper tools and machinery, Earthscape recognizes there is no escaping the work landscaping requires, but believes a prospective employee of any age is likely to succeed as a team member if he or she values hard work.
Earthscape is big on education for all its employees. Field team members are encouraged to participate in the Landscape Ontario Apprenticeship program. The program can take three to four years to complete, but the value is well worth it. The designers with Earthscape are all graduates from the Landscape Architecture program at the University of Guelph.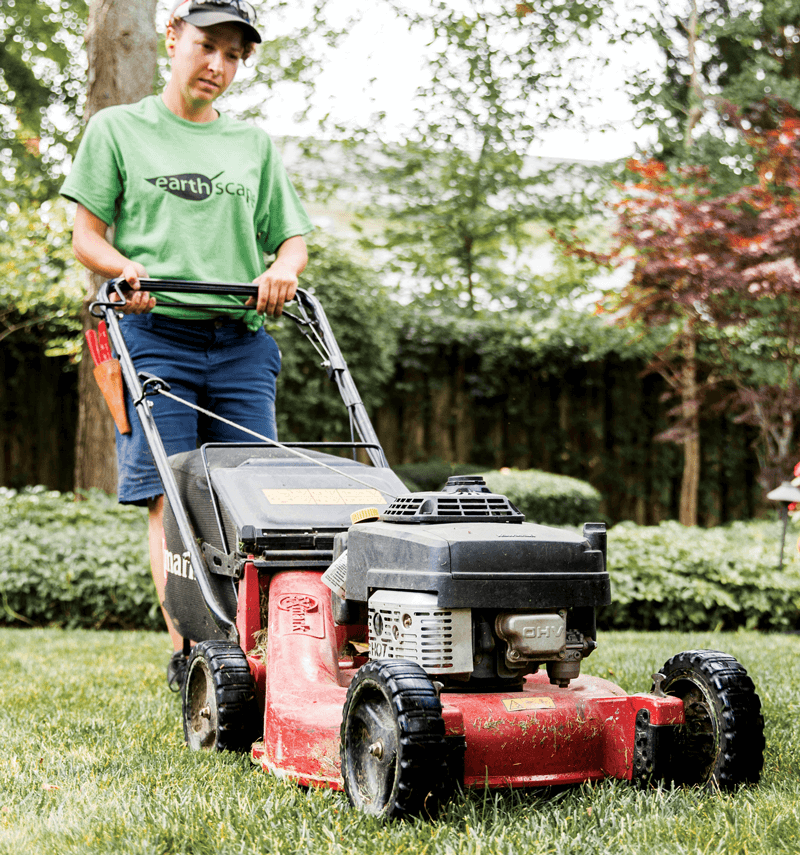 Lucy Brubacher, one of Earthscape's newer team members, is currently enrolled in the Landscape Ontario Apprenticeship program. "I began working at Earthscape in the spring of 2018. I had spent nine years working as a personal support worker in long-term care after taking a program through the St. Louis Adult Learning Centre in Kitchener-Waterloo," says Brubacher.
"As much as I enjoyed support work, I realized it was time for a change. I had always wanted to try landscaping because I love the outdoors. If I'm working outside, I'm happy. I grew up on a farm, where I learned my love of the outdoors," Brubacher says. "I had connections with individuals that worked at Earthscape, and learned of an employment opportunity with the company. I had no experience working for a landscaping company before, so I considered myself very fortunate when they took a chance and hired me!
"I'm now in my second year of working for Earthscape, in the maintenance department," says Brubacher, "and I love my job! I am signing up for the Horticultural Technician Apprenticeship Program through LO, and am very excited about this learning opportunity, and where it will take me in my landscaping career."
Recognizing excellence
The Landscape Ontario Awards of Excellence program recognizes association members who achieve the highest levels of execution in landscape design, construction or maintenance. Earthscape has won more than 50 Awards of Excellence over the past eight years. Entries are selected when team members have that 'feeling' when completing a project, that it's special enough to be an award winner. They recognize that the bar is always being raised by other member landscape companies, which encourages Earthscape to continually better its own designs and construction projects.
Sam Bauman of Earthscape says winning an award acknowledges team efforts. "We have great pride in all of our projects, but especially the award winners," says Bauman. "There was a lot of hard work to get to that point, from the design all the way through construction and ongoing maintenance. We like to celebrate together." The awards ceremony is a special night for the Earthscape team; they share their success together and send different team members up to get the awards. Mark Schwarz, founder of Earthscape, stood firm since Day One that everyone should share the accolades of winning an award.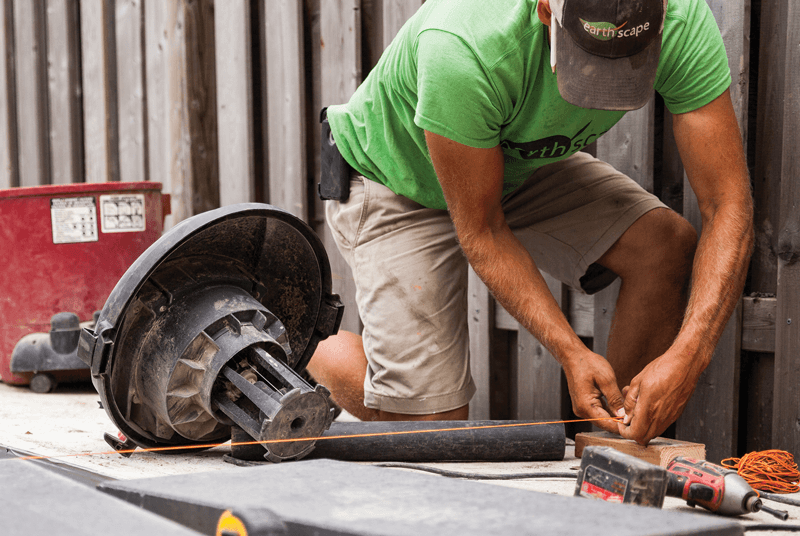 Says Bauman, "Winning an award feels like we succeeded as a team! All our hard work has been given the thumbs-up by the judges." After winning,Earthscape shares the news with the homeowner.
"Our clients love it," says Bauman, "and we feel like we and the client won it together as a team."
Yet despite all the recognition, Earthscape team members understand the next day, it's back to work to start all over again, offering inspiring solutions for outdoor spaces.
Landscape career success story
Craig Diefenbacher says, "Five years ago I moved into a landscape construction role with Earthscape. It seemed like a natural fit with my background of farming and machine operation. My Dad is skilled in many trades, aside from farming, which I believe contributed to my interest in constructing things and established my ability to create and visualize an end product. I receive a lot of satisfaction in seeing a job through to completion, and enjoy solving the challenges that arise during the process. Earthscape has been a great vehicle in growing my knowledge and skills in landscaping as well as my pursuit towards the highest quality while increasing efficiency."