December 14, 2021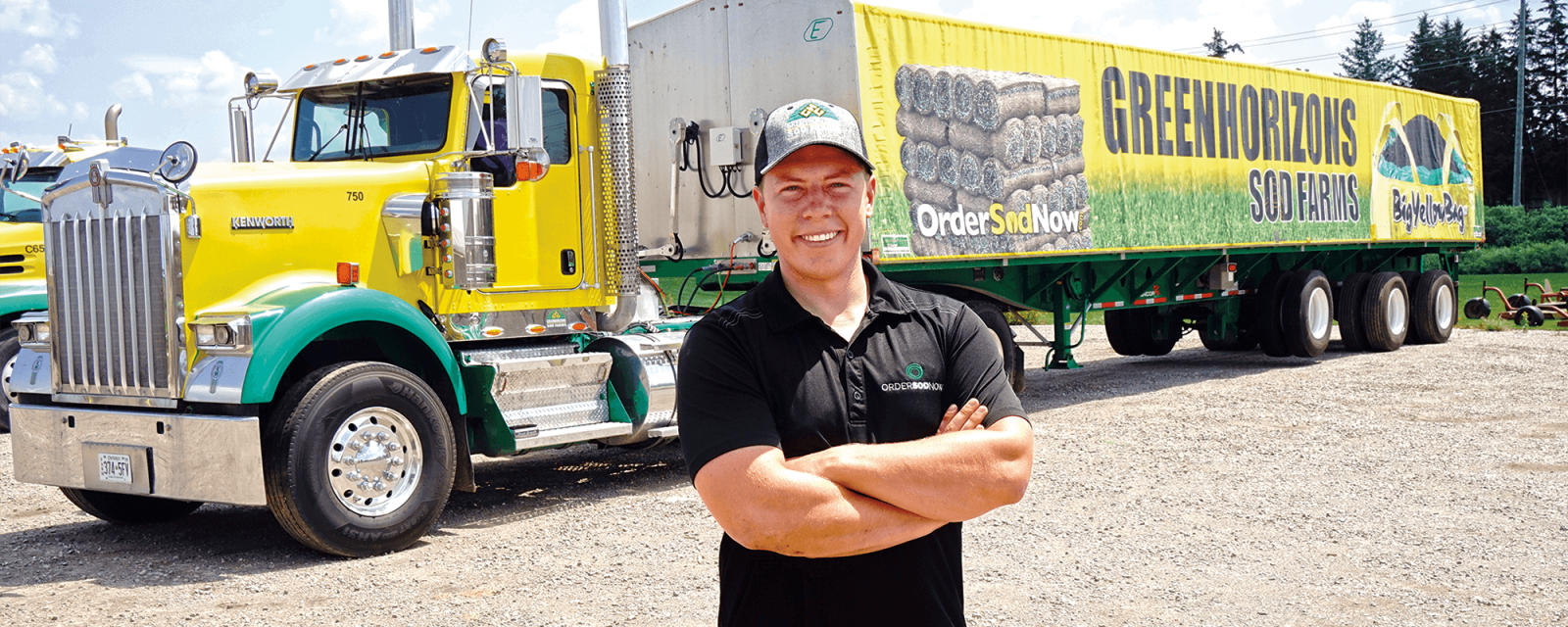 The grass is always greener
Demand outgrows supply in the sod industry

BY BILL TREMBLAY

For Canada's sod growers, the COVID-19 pandemic created an abundance of opportunity, possibly too much opportunity.

When COVID-19 and its travel-related restrictions hindered the ability to vacation, homeowners focused their attention — and their disposable income — on their properties instead of their wanderlust.

"It's the lockdown effect. People can't travel so they're focused on creating their own little oasis in their backyard. Everybody's landscaping," said Brett Jeacle, president of the Nursery Sod Growers Association of Ontario and director of revenue operations at Manderley Turf Products Inc. "It's a perfect storm that nobody saw coming, obviously."

Before the pandemic, the sod market was shrinking. Some growers opted to sell their inventory and leave the industry in favour of higher-demand crops. Others downsized their sod crops to diversify their product offering. After COVID-19 restrictions came into effect, Manderley Turf Products, which operates in Ontario, Alberta and Quebec, noticed its customers' orders increased dramatically.

"All of a sudden we come into the COVID era, and the script flips entirely," Jeacle said. "We were talking about initiatives to preserve the market we had. Then, all of a sudden, the market is growing for the first time in decades."

When lockdowns became a reality, Fairgreen Sod Farms, located in Markham and Oro-Medonte, Ont., was deciding how many acres of land they would dedicate to sod production. With garden centres and home improvement stores limited to curbside pickup, Fairgreen opted to increase cash crop production, rather than sod.

"We ended up taking 300 acres that would have gone into sod, and put it into corn and soybeans. Obviously, we guessed wrong," said Matt Gauthier, farm manager at Fairgreen Sod Farms. "We thought the pandemic would be bad news for the industry. We were thinking we weren't going to have a season."

By the end of 2020, Fairgreen would cut 700 acres of sod, but only plant new grass seed on 400 acres. Fortunately, 2018 marked the largest amount of seed planted in Fairgreen's history.
"We got lucky, we had extra inventory going into it," Gauthier said.

Delayed reaction
The remedy to sod supply isn't as simple as growing more grass, since the time from seed to sod may take as long as three years and usually a minimum of 18-months.

If we could put more sod in the ground today, and have it ready for Friday, we would have done that," Jeacle said.

As well, grass isn't harvested in the same manner as other crops.

"It's not like corn or soybean where it's all about plant health. For us, it's all about density," said Mike Schiedel, manager at Greenhorizons Sod Farms. "We need a healthy grass plant that's dense enough without weeds or holes that can make a roll. You need the root structure. If you start harvesting sod prematurely before you should, you start to bring your yield down."

Sod is also a uniquely local product with a minimal shelf life, meaning importing isn't an option.

"When we harvest it and cut its roots off, it's stacked on a skid, and the clock starts ticking," Schiedel explained.

With farms in Hamilton, Cambridge and London, Ontario, Greenhorizons operates about 6,000 acres with upwards of 4,000 acres green in grass per year. The company supplies landscapers, commercial properties, municipalities and homebuilders. Throughout its diversified customer base, demand has increased between 30 to 50 per cent. Schiedel explained that while homeowners focused their attention on their properties, demand from new home construction also increased dramatically.

"It's exciting and worrisome. We're harvesting inventory that we should really be harvesting in the spring of 2022. How do you solve that?" Schiedel said. "There is no other way to find more sod. What you have is what you planned for two years ago."

Growing pains
Bob Buckton, of the Peterborough, Ontario-based Graham Turf Seeds, said the grass seed market is also expecting a lack of supply. An increase in demand, as well as drought in the seed producing regions of the western United States, has impacted seed availability. Buckton explained environmental factors alone are expected to reduce this year's seed crop by 30 to 40 per cent.

"They've had such high heat out there, the crops have really been hit hard," Buckton said. "The demand is unprecedented for sure. Prices are going to go up a bit, just because of supply and demand."

Competition from other, more profitable crops will also hinder grass seed supply. With wheat prices climbing, some farmers opted to forego, or reduce, grass seed crops.

"Supply is getting very, very tight. With that, pricing will go up," Buckton said.

Mother Nature is also causing issues for sod farms. In 2020, drought affected grass development. This year, too much rain is threatening to hinder the seeding of new crops.

"When we seed, we need it dry. Otherwise it sticks to the seeders. Then it doesn't come out level and the sod ends up with ruts and holes when you harvest," Gauthier explained.

Input costs are another growing issue for sod farmers. Fertilizer is facing supply issues and prices have nearly doubled. Like many other industries, fuel prices are also taking a toll on production costs.

"The crops we are planting this year are going to be sizably more expensive," Jeacle said.

No clear cut solution
An increase in demand for sod is expected to continue. However, exactly how demand will play out is unknown.

"On one hand, it's exciting and great because it's an opportunity to sell. But it's also challenging to manage," Jeacle said.

If growers decide to plant more grass seed, it may be ready to harvest in time for demand to return to pre-pandemic levels. As well, Jeacle said it's unlikely farmers have additional land to plant extra sod crops, or would consider purchasing space to expand.

"The answer isn't trying to produce more, especially because it's not an immediate reaction," he said.

Jeacle said he believes the best solution is to stay the course, manage inventory and employ supply and demand economics.

"If everybody is knocking on the door, I would be using things like pricing mechanisms to obviously try to slow some of that demand," he said, adding sod prices have been relatively stagnant for years. "I think a large enough correction is probably overdue. We're not having secret meetings to do that. It's up to the individual growers, but ultimately I would think there will be a good size increase next year."

A price increase isn't an easy solution for sod farmers. Jeacle explained they see their customers as partners, often with a lengthy history of cooperation.

"It should be a dream situation in terms of the textbook, but it's not. It's very difficult," he said. "You have to recognize it's not only the livelihoods of you and your employees, but your customers as well."

Schiedel explained some sod farmers have started using a quota system to provide sod to their regular customers, while turning away new clientele. Fortunately, Greenhorizons wasn't forced to turn anyone away this summer.

"We are giving people the heads up that supply is tight and there's a shortage," Schiedel said. "We are getting worried about how we properly handle this to make sure next spring we're looking after everybody."

He added the sod industry has put in the extra effort to maintain prices, or implement minimal increases this season.

"We treat our landscapers as partners. We need to make sure they're getting the proper price increase for their labour and able to cover the supply," Schiedel said. "Looking at our replacement costs and for next year's seasons, that's just not the case. There will definitely be significant increases to cover next year."

Gauthier recommends that landscapers check with their sod suppliers before they quote a job.

"In the past, the industry set their prices in the spring and then stuck to those prices through the season," he said. "With Mother Nature the way it is, and the market the way it is, it might not be a given that those prices will hold."