June 15, 2011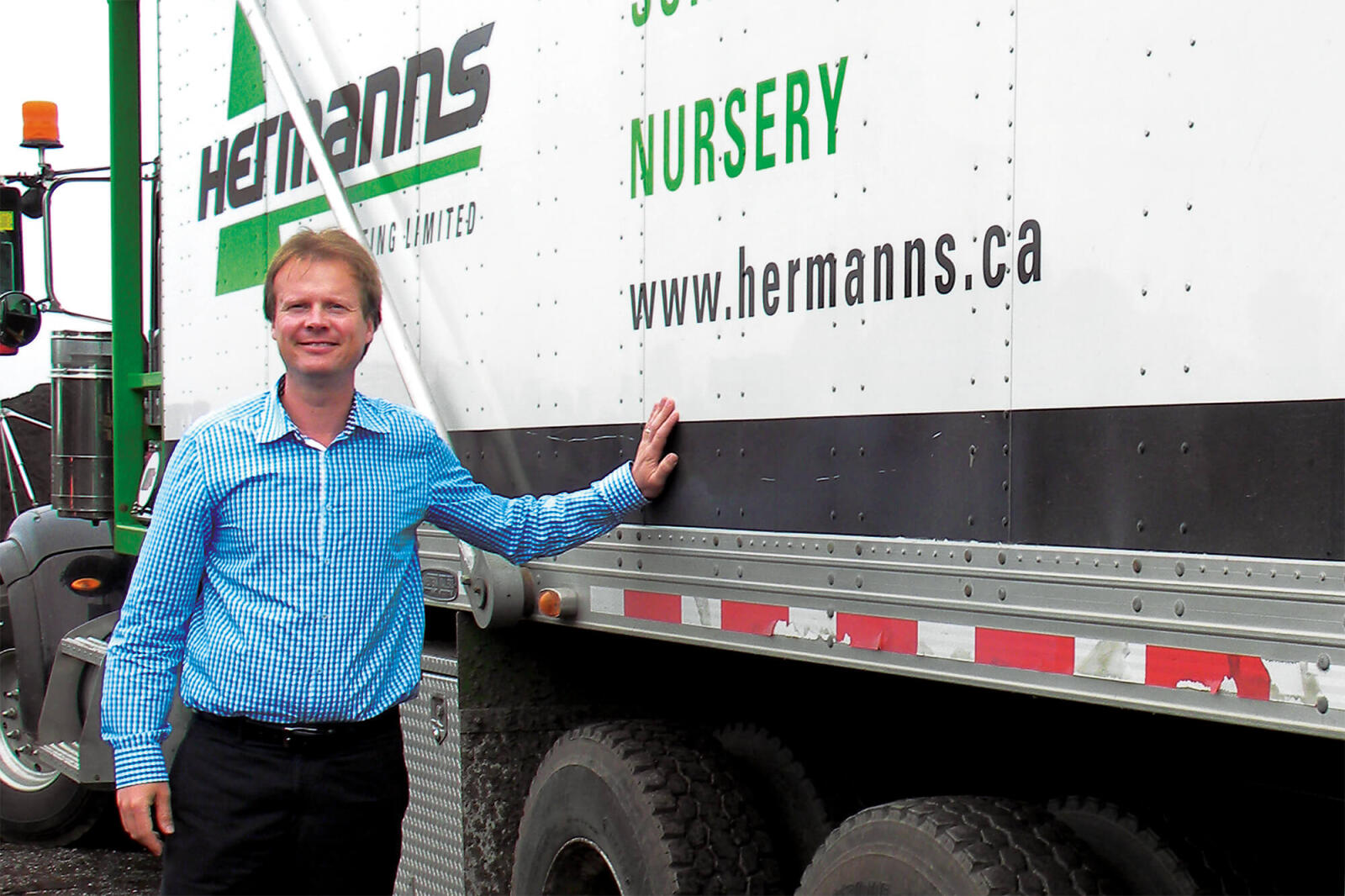 Taste for adventure and good business sense bring success to Hermanns Contracting
By Allan Dennis

One only needs to speak with Jorg Hermanns for a short time to discover he is a dynamic, energetic and creative thinker.

He began Hermanns Contracting of Schomberg in 1991, and since then his company has grown into one of the largest landscape contractors in the province, taking on some of the most challenging projects available.

Jorg Hermanns' personal philosophy is the driving force behind the company's success. Some of that is revealed in his statement, "A taste for adventure and a profound aversion to boredom are two things that set us on a unique path."

The company has evolved into four operating divisions: blower truck services, mulching, landscape contracting, and soil production and nursery.

Blower truck technology
Back in 2002, Hermanns revolutionized large scale seeding programs through the unique blower truck technology called TerraSeeding.

Huge savings were found in time and costs compared to contemporary methods of installing large-scale seed, soil and mulch projects. The company soon established itself as the largest blower truck company in Ontario with a fleet of seven units.

The system has been involved with such projects as the 100-acre sports complex in Brampton that includes 14 soccer fields, a green roof project on the second storey roof of the Ontario Science Centre, the Guelph Civic Centre green roof project, and more.

Green roof projects are one of the fastest growing business opportunities in the industry. Hermanns' blower truck technology has placed it in a great position to become one of the leading companies in green roof construction, by offering a cost effective soil system. The trucks are capable of blowing soils as high as 12 storeys.

The mulch production facility is located at Hermanns' 33 acre site next to Highway 27. The property also houses the company's administration offices, truck centre, nursery and landscape department.

As blower truck technology evolved for Hermanns, the next natural progression was the mulch side of the business. Hermanns now produces huge quantities of its own mulch.

Purchased from Northern Ontario sawmills, pine bark is shipped to Schomberg, where a variety of mulches, compost and soils are produced.

Hermanns will deliver bulk orders, or install the product from one of its blower trucks.

Nursery
All the available land on the Schomberg site is used to grow nursery stock, while a nearby 80 acres is also used for planting. Hermanns wholesales some of the nursery material, but much of the plant material and trees are used for Hermanns' landscape projects.

A variety of coniferous and deciduous trees are grown. Jorg Hermanns says growing their own trees allows the landscape designers on staff to be creative and unique in their choice of plant material in a project.

Landscape contracting
Jorg Hermanns speaks with great pride when talking about his company's involvement in very large and award-winning projects. "We are proud to have grown to a full-service landscape construction firm, thriving since 1991, by aggressively pursuing the most interesting and challenging landscape projects, both large and small-scale."

The most recent cause of his pride is the BILD (Building Industry and Land Development Association) Award 2011 for Mattamy Homes, Mount Pleasant Village project. Hermanns provided landscaping expertise, creating one of the most impressive parts of the project, a reflecting pool that converts to a winter skating rink.

The BILD Award category was Project of the Year – Low-Rise. The Mount Pleasant Village project includes more than 120,000 trees and shrubs.

Jorg Hermanns sees more mega-projects ahead. His message on the company's website reflects how he will lead his company into the next phase, "We at Hermanns Contracting consistently embrace new ideas and we strive to pursue new business ventures as opportunities unfold."