July 12, 2017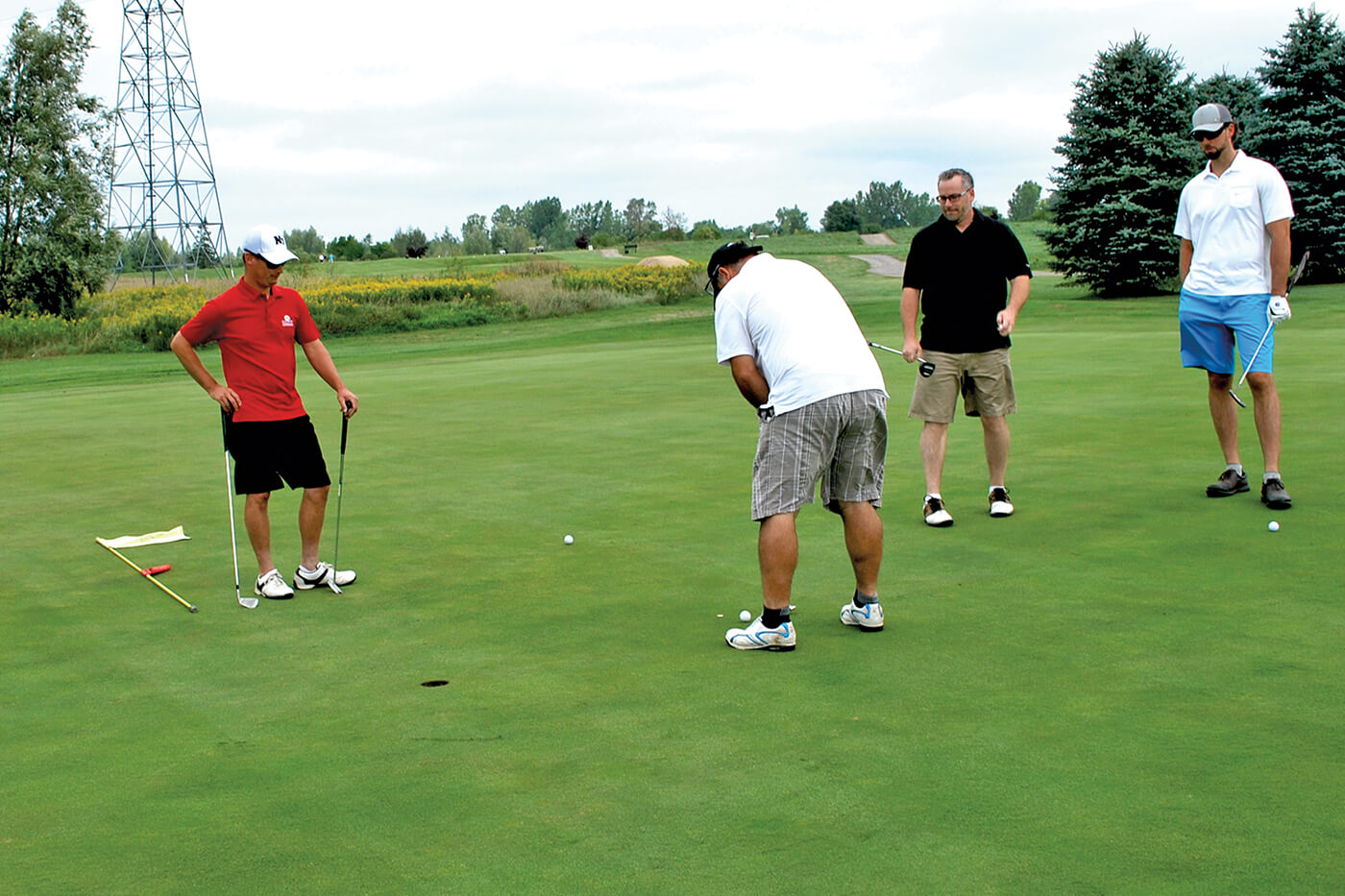 Summer events offer networking and fun
Landscape Ontario Chapters, Sector Groups and the membership services department have a staggering number of fun, social events planned for you and your staff over the next three months. LO members work hard, and playing hard seems to go hand-in-hand.
Golf tournaments support others
Golf season kicks off in July with the
Toronto Chapter's annual golf tournament at Nobleton Lakes Golf Club on July 20
. This event is the largest of the tournaments and proceeds help support a chapter community project. Recently, Toronto Chapter members installed an accessible playground at James Robinson Public School in Markham.
The
Ottawa Chapter's annual golf tournament will take place July 27
. This year's event will take place at the Meadows Golf and Country Club and will once again raise funds for the Children's Hospital of Eastern Ontario Foundation (CHEO). The chapter has raised over $20,000 for CHEO over the years, and needs to raise just over $6,500 this year to bring their total support to $30,000. Golfers will be able to purchase a "Specialty Hole Coupon Booklet" allowing them to participate in all of the contest holes and will receive an official tax receipt for the full $45 cost.
On
Aug. 18, the Golden Horseshoe Chapter will return to Willow Valley Golf Course in Hamilton
to raise money for the Multiple Sclerosis Society of Canada. MS Society staff were amazed at the overwhelming support and generosity by LO members last year.
Also on
Aug. 18, Upper Canada Chapter members and guests will take over the Glen Lawrence Golf Club in Kingston
. This event is growing each year and proceeds go to fund the chapter's very own scholarship program. Each year, the chapter has three $500 scholarships available for continuing education in horticulture.
Join hosts Mark Cullen and Dr. James Clubine for the first annual
Highway of Heroes Living Tribute Golf Tournament at the Port Hope Golf and Country Club on Aug. 24
. The tournament is a fundraiser for the initiative.
The
London Chapter is celebrating the 12th anniversary of their golf tournament at Echo Valley Golf Course in London on Sept. 15
. Proceeds help to fund school greening initiatives in the chapter.
Windsor Chapter's annual Bob Girard Memorial Golf Tournament at Sutton Creek Golf Club in Essex on Sept. 16
is named after the late Robert Girard, a participant in the chapter's early golf tournaments and one of the twelve past members recently recognized at the chapter's Legacy Garden dedication.
LO's Hardscape Committee promises golfers the "wildest golf tournament in the industry" on Sept. 20 at Granite Ridge Golf Club in Milton
. The full-day of craziness features a photo contest, great food and great prizes, with profits helping to fund the committee's popular Hardscape LIVE! demonstration at Congress '18 and other education courses.
On
Sept. 21, the Waterloo Chapter will hold their annual golf tournament at Conestoga Golf and Conference Centre
. The day features many contest holes and proceeds go to the chapter's annual $1,000 scholarship, Kids Ability and the chapter's annual school greening project.
Team sports
If team sports are more your thing, both Toronto and Waterloo chapters have co-ed baseball tournaments this summer.
Richmond Green in Richmond Hill is the location for the Toronto event on Aug. 20
and
Waterloo's tournament on Sept 10 will be at Southwest Optimist Ball Diamonds in Kitchener
. The help of sponsors make the tournaments possible and the full-day event is a great way for your crew and office staff to bond and work together on the field.
Sector group events
LO's Growers' Group will hold their biggest event of the year, the Industry Auction on Sept. 12. Hosted this year by Brookdale Treeland Nurseries, the full-day offers morning nursery tours and a free lunch followed by the live auction of donated products and plant material — some of which is award-winning from LO's annual Growers Awards of Excellence program. Bring your empty truck and go home with some of the best plant material in Ontario. Proceeds from the auction help fund industry research and scholarships through the Ontario Horticultural Trades Foundation. For details, visit
IndustryAuction.ca
.
If your focus shifts from plants to snow each year, you won't want to miss Snowposium at the LO home office in Milton on Sept. 28. Brought to you by LO's Snow and Ice Group, Snowposium includes a trade show featuring the latest products, technology and equipment — plus a top-notch conference of experts and a moderated, roundtable discussion. Lunch is included and exhibit space is limited. For details, visit
Snowposium.ca
.
More information
Landscape Ontario's summer events have something for everyone. Owners and managers can take a much-needed break and do some networking, or you can reward staff for their hard work. These events get landscape professionals together to learn and share with each other — all while helping to support charities, scholarships, research and education, Sponsorship opportunities at the events also helps connect you with suppliers and other industries. For complete details, online registration and contact information, visit
horttrades.com/events
and check your weekly LO enews.