November 5, 2018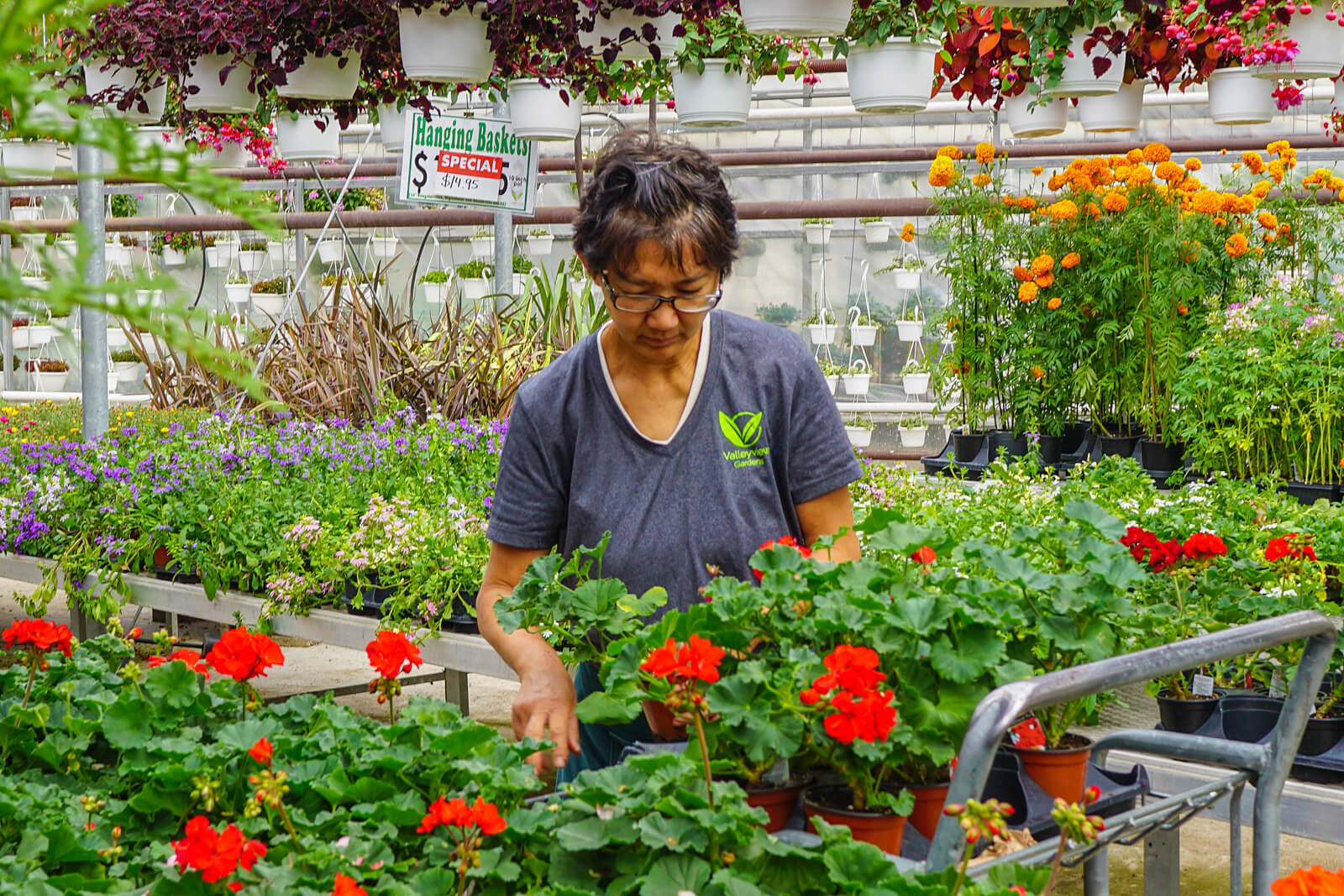 Member profile: Valleyview Gardens, Markham, Ont.
Strong values continue success for second generation
By Kelli M. Maddocks
Integrating a second generation of family into an already successful business can sometimes result in a difference of opinions, goals and philosophies. But at Valleyview Gardens in Markham, Ont., adhering to a business model that works, and valuing a strong work ethic while main-taining a highly regarded reputation, has resulted in continued growth and success. There is something to be learned from respecting the ideals and vision of the previous generation.
I recently had the opportunity to spend some time with Larry Varlese, part of the second-generation of family members at Valleyview Gardens. I wanted to know just what business model they had adopted, and how they have managed to set themselves apart as an industry leader.
When you walk into their newly-renovated and remodeled 200,000 square foot facility, you know you're entering a space like no other. "We had two locations up until November of last year," explains Varlese, "one of which was primarily a production/growing facility, while the other was our sales space. Now we have everything under one roof." This renovated space represents a big difference from the one in which the first generation, comprised of Larry's uncle Tony, uncle Jerry, and his father, Benny, began their small enterprise. "An amazing attribute that remains common throughout this family business is that those three 'pioneers' are still very much a part of Valleyview Gardens, and are still the first ones in, and quite often, the last ones out [each day]," says Larry proudly.
The facility is staffed 365 days a year, and is open for business 362 days. Throughout its 48 years in business, this family works hard, and it shows.
Catering to the local market
Looking beyond the size and beauty of this facility, we find that Valleyview has developed a niche product line inspired by the desire to take risks, be different, but even more, to work from a smart marketing strategy. "We're located in a very diverse area with a dense population, and a large multicultural community" says Larry. "We have a captive market here, and we do everything we can to cater to it. It really is that simple."

Larry provides me with a great example, as he takes me to The Citrus House, which is in one of the production areas of the facility. "This is a Calamondin miniature orange given as a gift of prosperity," which we began ordering in for Chinese New Year. We found we couldn't out-source a reliable product, so we began growing these plants ourselves. In Chinese culture, these are given out as a gift, as the mini-oranges represent gold, and the sentiment is the wish of prosperity to the receiver." It's hard to think of a more representative display of capturing your marketplace by providing a niche product to address their needs. This type of forward thinking is exactly what sets Valleyview apart from others. "We try not to chase the trends when it comes to the products we develop, grow, and offer," Varlese says.

Inspiring new ideas
Larry and team attend the IPM Essen trade show in Europe. "We only go once every few years, but Europe is a part of the world that in many ways, is years ahead of us from a horticultural industry perspective," Varlese explains. "We're always looking to bring back new ideas to our own production model, so that we can continue to offer our clientele something innovative and differ-ent. We love being able to offer our clients something new and interesting," says Larry, "something that they really can't find anywhere else."

"In any good business" continues Larry, "it doesn't matter what you do. Just figure out what you love to do and be the best at it." This sentiment was passed down to Larry from the first generation that started the company, and in turn, Larry has now passed this mantra on to his staff, as well as his children.

Staff
Valleyview Gardens has approximately 25 employees, the majority being full-time. "It's nice to be able to keep many of our employees working year-round, to match our business model," explains Varlese. "In order to meet our seasonal staffing deficit, we utilize an eight-month placement program through the Foreign Agriculture Resource Management Services (FARMS), which provides us with offshore labourers, and it works very well."

The majority of staff have been with the company for several years. "Most of the staff began as general labourers and have worked their way up through many different roles," says Larry. "We encourage our staff to stay with us, allowing them to take risks, make mistakes — and learn from them. I want to make myself redundant in the business, and in order to do that, I have to let my staff feel confident to grow." It also helps that Larry and his family treat all employees in the same manner. "Our staff is family, and we treat them all with the same love and respect."

Sharing knowledge for the greater good
Supporting the industry, and the professionals within the landscape and horticulture profession, is something the team at Valleyview Gardens strongly believe in. "Being a member of Landscape Ontario helps to provide credibility, and elevates the profession as a whole," explains Varlese. "It also provides a good framework as to where we all 'fit' within the profession, and promotes healthy business growth through new knowledge and by sharing innovative ideas."

Larry goes on, "When you're part of an organization like Landscape Ontario, there's knowledge share not only when it comes to product, but also sharing our business knowledge, which I think is a positive for our industry. I think we should be an open book with one another, as it's only a positive for our profession, and strengthens our position in the marketplace."

One of the core principles that Larry applies to his business is something that resonates, and is really quite simple: "If you believe in yourself, invest in yourself. Be inventive, take risks, and double down. The benefits will come," he says.

These strong, honest values that have been passed from generation to generation are a large part of what has helped make Valleyview Gardens an amazing success.