January 13, 2017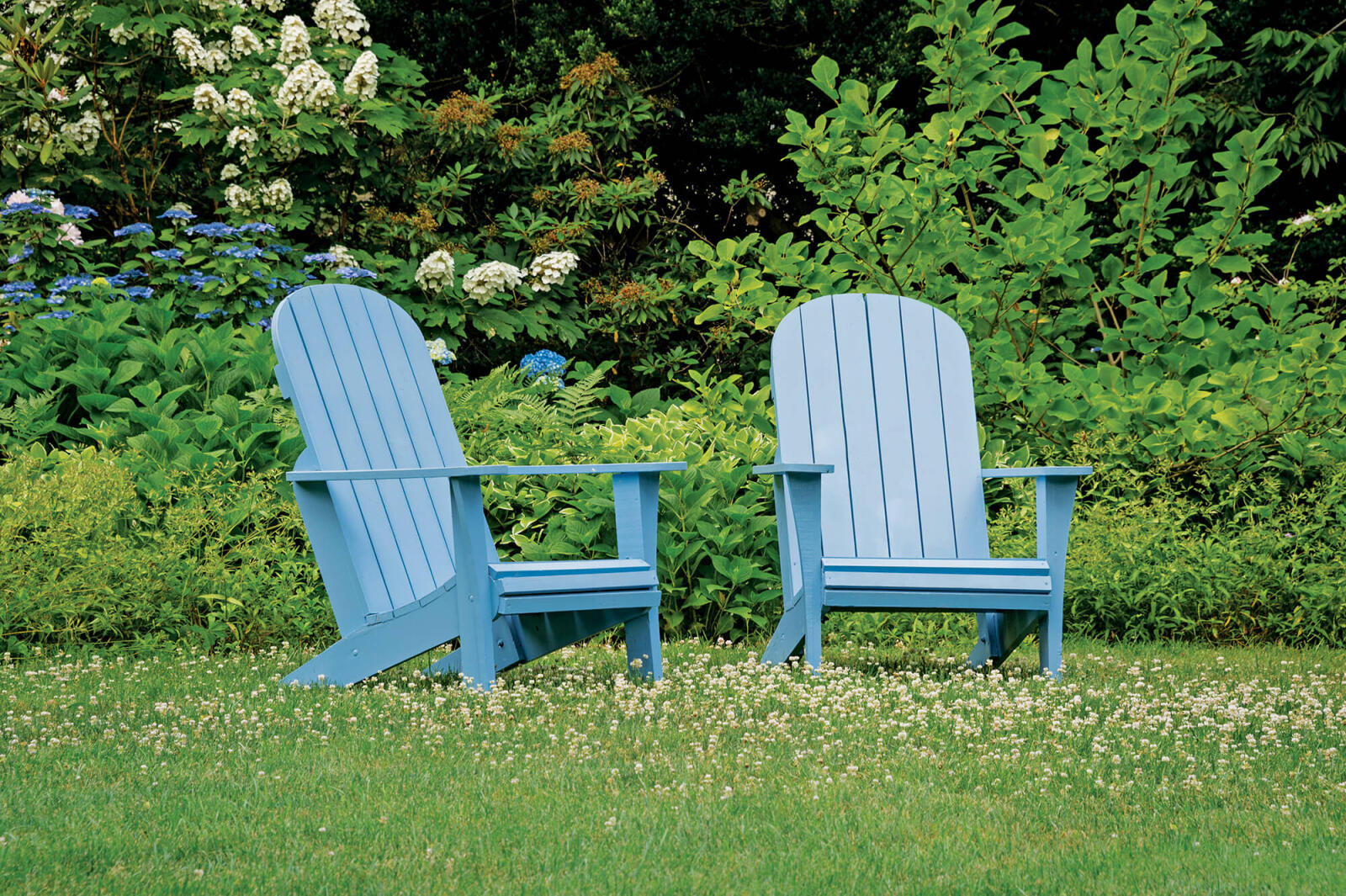 Stepping back to nature
BY THERESA FORTE
Are today's designers, landscapers and growers working with clients who are ready for more natural, biodiverse and resilient landscapes?
A stack of well-thumbed garden books on my desk provides inspiration for my home garden and my weekly garden column. Sometimes I just read, other times, I'll study the images and let my mind drift to distant gardens.
Through their writings, authors like Rick Darke and Douglas Tallamy, Thomas Rainer and Claudia West offer a fresh approach to garden planning, design and maintenance by taking cues from nature. I've made a point of getting a more personal understanding of their work.
To this end, I visited prominent gardens and sat down with experts working in the field to see if the current trend toward naturalized landscapes has had an impact on their operations.
Grasses at Chanticleer: Sculpture over time
Chanticleer Garden, in Wayne, Pa, is much more than a formal garden in an historic setting, it is also a teaching garden, where practical ideas for container designs, woodland gardens, vibrant borders and soft meadows are among the many lessons to be learned. Its executive director R. William (Bill) Thomas met me beneath a century-old black walnut to share his thoughts on how the garden has evolved over the last decade.
Chanticleer's meadow garden is planted with prairie dropseed grass (Sporobolus).
The first meadow there was planted around 2001, right after the Ruin Garden was built. Plugs were planted on 18-inch centres; the plants take three years to fill in, but once they do, the tips of the leaves cover the tips of the next plant.
Thomas explained, "Originally, we mowed every winter, and it took about three days. We now bring in the local fire company for a controlled burn. It's a training exercise for them, and it burns in about 43 minutes. Burning is supposed to be good for grasses. I'm not convinced — if we just continued mowing I think we'd continue to have healthy plants.
"I've found with
sporobolus
, that you get a mound [after the burn] and the repeated blackened mounds are attractive. If one doesn't like it, in two weeks there are new green sprouts coming out."
The sporobolus meadow is dotted with seasonal perennials and has a lovely, soft look that complements the old-stone Ruin. Within the Ruin, hakone grass is massed as an edging creating an easier-to-maintain gently manicured look.
Thomas offered another low maintenance example, "At the front entrance under the dawn redwood, we have fescue grasses that get about eight inches tall. We mow those twice a year. In other areas, we've let regular lawn grass grow up, then we mow maybe once a month. We mow paths through it; that tells people we haven't forgotten, the grass is long on purpose, it isn't just that we're being lazy."
I asked whether Thomas finds that longer grass is more acceptable today: "Yes it is. It's a different aesthetic. I like to think that our doing it, gives a seal of approval. Even if people don't like it, they think about it, and it gets discussions going."
Thomas mentioned he had stopped spraying clover and other broadleaf weeds when he took the helm at Chanticleer. "Clover is one of the more controversial topics in-house. I like clover, and I have people tell me that they are happy to see that we have clover, and the honeybees like it, so we have it. It stays green in a drought. It has deeper roots than the grass, so it makes a good ecosystem in the lawn."
Parks and professional education in Niagara
Hunter believes the perception of public garden space is changing.
The Legacy Garden was a deliberate attempt to get rid of lawn and bring back a sense of habitat. "We planted in blocks, rows and curves, everything was according to a design. But now, the point is to back away and allow it to evolve. We've provided the proper environment, space, lighting and we've chosen the right plants — now we have to say, enough is where we are," Hunter explained.
Is one more beautiful than the other? "I'd say there's more variety in a garden that's been designed, but will it always be that way, say in 10 or even 20 years? We don't know.
"When I was a student 25 years ago, we cultivated rose beds all the time. There was no mulch, all the beds were hand cultivated. We now realize it is actually healthier for the plants not to do that. Chemicals were once used as a bad approach to management. I like to think plants are the most forgiving people on the planet — they teach us.
"From my perspective, we are really teaching our students instinct, right plant in the right place, understanding their strengths, weaknesses and tolerances. Many landscape architects say, 'I will always find the plant, I'm going to design first.' It's about a different attitude, using the plants that are going to succeed, and less trial by fire.
"This institution is based upon students developing an awareness of horticulture; to be able to walk into an environment, be it a prairie, forest, agricultural or ornamental horticulture, and have a sense of awareness, and be able to adapt and make decisions based on that."
Hunter agrees the students are definitely on board when it comes to biodiversity, reliance and communities, "They are all over that, and they absorb it." The challenge is, students can be at very different levels; some are just out of high school, some have three years of gardening experience, others have been gardening for 20 years.
"Our students are definitely asking for more ecological and native plants, all the buzzwords that you are hearing. But do they know how to work with it? That's what they are here for."
Progressive design, paying customers at Fern Ridge
Sean James, owner of Fern Ridge Landscape Consulting and Eco-Solutions of Milton, Ont., started landscaping when he was 14, and has always been self-employed. He graduated from Niagara Parks School of Horticulture in 1991.
As James walked me through his property, slivers of sunlight cut through the rainclouds highlighting patches of colour and pretty lines in a consummate collector's garden. James introduced me to notable trees, shrubs, perennials, annuals and edibles as we nibbled on cherry tomatoes and raspberries collected on-site. Ever ready with his trusty pruning shears, he nipped wayward branches. The space is his office, studio and trial garden, with three dogs and a house filled with memorabilia; he's a man comfortable in his own skin.
After the tour, we sat down to discuss today's garden trends over coffee. "Thomas Rainer is in the right place, ethically," he began. "It's all over the media." The public may not have read Rainer, Tallamy or Darke, but James says they understand the gist. A copy of The Living Landscape by Darke and Tallamy sat on his desk, waiting to be read.
"I think of gardening as refereeing." The site of a large Nova Scotia project he completed had 120 different species of plants, but most people couldn't see the beauty, said James. "If I showed people how cool it was, then they got it." A house was going in and the owners wanted some green (read lawn) so James had to compromise, but he managed to repurpose the plants. "I rescued plants like low bush blueberries and kalmia and then grouped them elsewhere. We need to see some order to actually recognize the beauty.
"Mowed paths give people a chance to see intimate details. From a distance it may look like a mix-mash, but up close you can see an aster, goldenrod, milkweed or some of the funkier stuff like grey dogwood and so on. But they need some sort of sign, either massing or a defined edge, to see it's not just budget cuts, it's a new way of thinking."


"We've always been interested in eco-landscaping and now people are coming to us. People are reading about the stress pollinators and monarchs are under. Organizations like Conservation Halton are mandating that New Jersey tea (Ceanothus americanus) has to be in every landscape they do, so the mottled dusky winged butterfly can have food. We are using the prickly ash (Zanthoxylum americanum) to feed giant swallowtails.

"Landscapers are not selling well, we bemoan the fact our business share is dropping, but we are not staying current with what the public wants. For example, young people want edibles. They want to know their food is healthy, they want to do their own composting. They want to know that their food is nutritional, they are keen on this.

"Just about every client will say, 'I'm looking for low maintenance.' If you can figure out how to design a garden that doesn't need forever tweaking, and make it fit with the general population's aesthetic, then I think you can be more commercially successful. I think people don't really understand how much work they actually do; they mow their lawn every week on auto pilot. If you didn't have to do that, you could just occasionally prune or weed a little bit."

I wondered if Fern Ridge is seeing a trend, if people are hiring them for environmental projects. "Yes. Schools are calling us for butterfly and conservation gardens. The conservation authority is hiring us for the same thing, plus rain gardens, a lot of our residential customers are also asking for the same things."

Reflections on the future
I believe there is a common thread — a thread that touches each of us and is woven in that green tapestry we call nature. We are all becoming more aware of the need to recognize and understand how creating and maintaining gardens can reestablish our ancient connections with nature. Adopting an approach that includes beauty, biodiversity and resilient plants, chosen for suitability to their sites, over imposing our will on a given space, can be both beautiful and cost effective. Public gardens, schools of horticulture and prominent authors are leading the way by encouraging us to ask questions. How will we respond to the answers?

---
Theresa M. Forte is a garden columnist, photographer and speaker based in the Niagara peninsula. You can reach her by calling 905-374-1505 or by e-mail theresa_forte@sympatico.ca.
"We used to bury eco initiatives. If you asked people 'What do you think of eco-gardening?' they would fold their arms and step back." But James found if a rain garden was incorporated into a plan, it would pique a client's interest and they'd often ask for it to be included in their quote.
"I think people now are looking for that proper blend between 'letting it go' and 'we need certain spaces that have a defined use.'" Charles Hunter offers a unique perspective to the discussion; as superintendent of Niagara Parks Botanical Gardens, School of Horticulture and Butterfly Conservatory he brings insights into both public gardens, and is training the next generation of horticulturalists.