March 15, 2018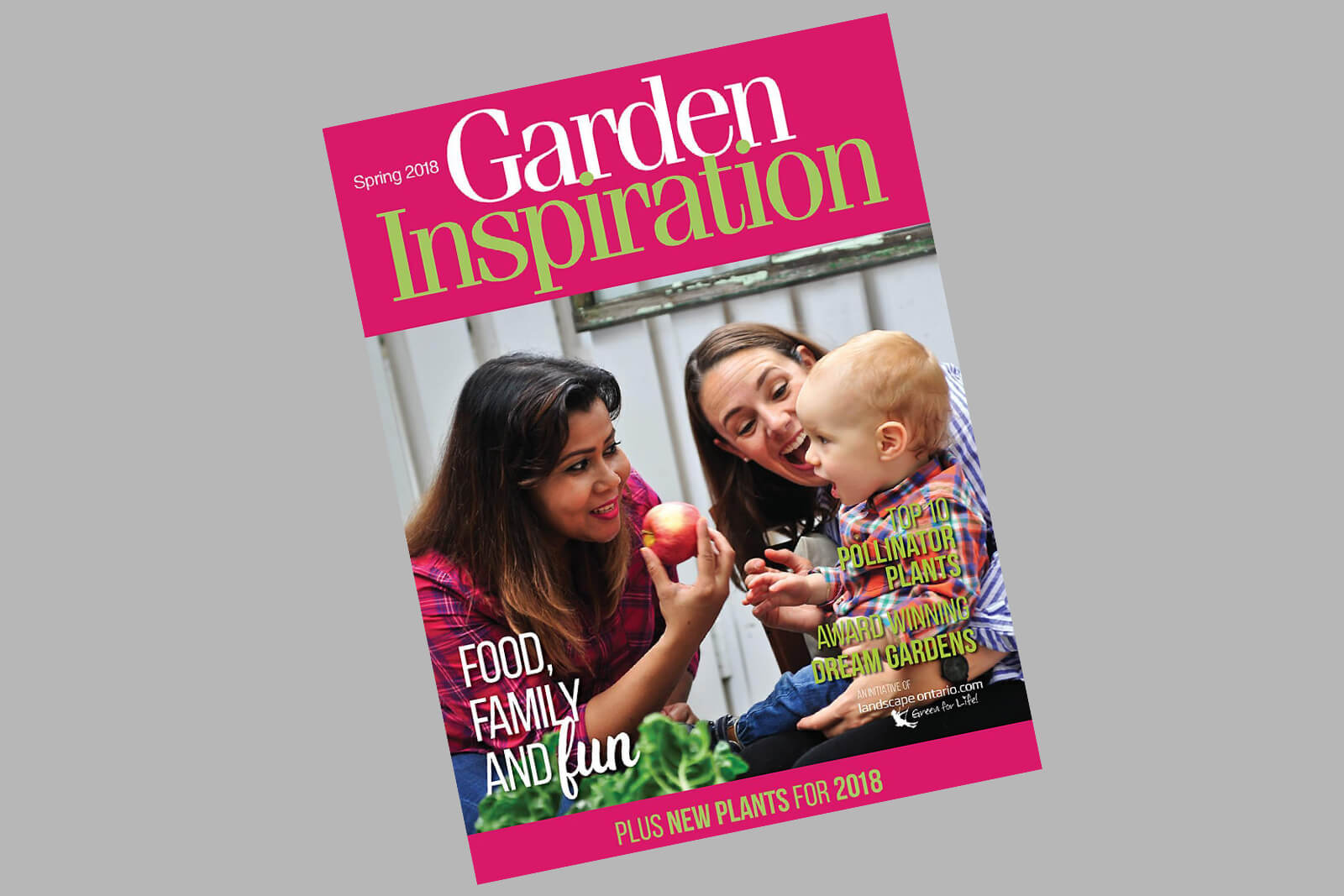 Staying ahead of your clients
By Denis Flanagan CLD
LO Manager of Membership and Public Relations

March is the month when your clients often visit home and garden shows and read the latest gardening magazines that contain articles full of the newest trends in landscaping.
Landscape Ontario can help you stay informed on the latest trends with a visit to Canada Blooms. If you can't make the trip this year, check out this year's edition of
Garden Inspiration
magazine. Distributed at Canada Blooms, this amazing magazine produced by LO's publishing department includes exiting new plants, award winning projects by LO members and community projects by LO chapters that show the passion, commitment and professionalism of our members. Riding the food and edible trend that continues to strengthen each year, Garden Inspiration will focus on "food, family and fun." The magazine is sure to resonate with all types of gardening enthusiasts.
Staying informed on the latest trends will increase your credibility and professional image. It will show clients you continue to look for new and innovative ideas and that you are connected with trendsetters and leaders in the profession.
After the festival, we'll have an ample supply of Garden Inspiration at the LO home office. It's designed to promote LO members year round at numerous home and garden shows and chapter events. So if you are stopping by to attend a meeting or a seminar, inquire about taking some copies to give to your clients and potential clients.
In addition to
Garden Inspiration
, LO provides photos and articles to a number of other publications. The goal of these articles is to inspire homeowners to renovate their property in order to live a healthier, outdoor lifestyle, while also stressing the importance of hiring a professional member of Landscape Ontario to make their dreams a reality. Here are just some of the messages we are putting out to gardening consumers via other media outlets this spring.
Have a plan and a budget
Any landscape renovation should have a formal plan and a budget. This keeps everyone on the same page and allows for the work to be done in stages over a few years if there is not enough money to do everything all at once. It is critical to have, and follow a master plan, instead of winging it over several seasons.
Food for thought
Food has been a growing trend each year for a number of years. From cooking shows to hip new restaurants, growing and eating food is the number one conversation around the dining room table (or the poolside sushi bar). Many families like the idea of growing their own produce for a variety of reasons. With many new introductions over recent years, growing your own food is even possible on tiny, urban balconies.
Outdoor kitchens
With those freshly-harvested vegetables, it's time to use the outdoor pizza oven or one of the many other elements of the modern outdoor kitchen to prepare your meal. Equipment includes sturdy, weather proof ovens, fridges, wine coolers and even humidors. Many people are now spending more on their outdoor entertainment area than on their indoor kitchen. From a practical standpoint, we all know when you have a party, the most popular place is always the kitchen, so having the option of having your guests outside in the fresh air is the perfect setting.
Health and wellness
Many research studies have shown time spent gardening can make a significant contribution to maintaining a healthy lifestyle. Green spaces are beneficial to our physical and mental well being. Designers are now incorporating open air yoga and exercise areas into properties in order for clients to truly enjoy the experience.
More and more people are working from home and a nice outdoor workspace allows for fresh air, reduced stress and even a quick dip in the pool when it's time for a screen break. There's even fresh fruit and vegetables nearby for lunch.
Unique plants
Plant choices for a landscape will often depend on several factors, including the overall design, site conditions and the clients likes and dislikes. When choosing a unique plant there are a few factors to consider, such as evergreen versus deciduous, flowering tree versus non-flowering, hardiness, and the amount of maintenance required.
A real landscape professional will know how fast each plant will grow and when it flowers in order to create interest in the garden for more than just one or two seasons.
Colour my world
For a few years it seemed plant breeders/hybridizers were in search for the darkest coloured plants. The quest was on for a black rose, dark-leaved coral bells and petunias with shades of cocoa colour. These are still favorites with many designers, but it seems we have come out of the Dark Ages to a new era brightly coloured plants in 2018.
This trend is evident in the new plants in the Landscape Ontario/University of Guelph Trial Gardens over the last couple of years. Read about them in our
Garden Inspiration
magazine.
Denis Flanagan can be reached at dflanagan@landscapeontario.com or at 905-875-1805, ext. 2303.