August 15, 2013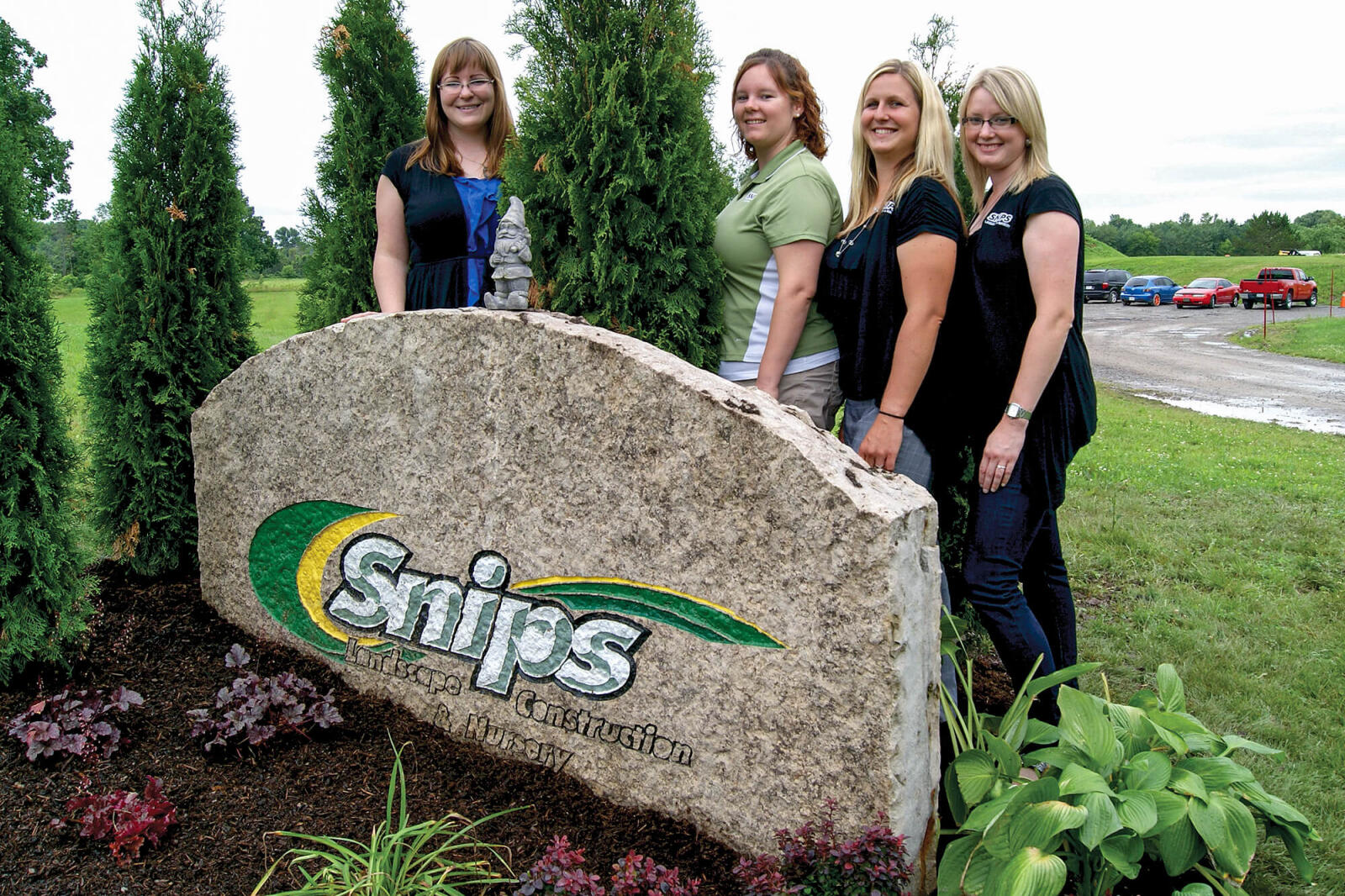 Snips Landscape passionately promotes green roofs
When you walk into the offices of Snips Landscape and Nursery near Welland, you immediately feel a high level of energy.
It comes from the four women who operate the 30-year old company with passion, knowledge and determination.
General manager Kristi Montovani leads the team includng Alena Dawson, green infrastructure manager; Laura DeGraaf, sales and marketing manager; and Tasha Beck, administrative assistant. Ed Cushine began Snips as a grass cutting operation. He continues to be involved in the business, but leaves the day-to-day operation to his team.
A Niagara College graduate with degrees in both arts and design fundamentals and landscape technology, Montovani says that sustainable practices were a natural progression from what she learned in school.
Just over seven years ago Snips began to focus on creating sustainable landscapes. Snips Landscape and Nursery is now considered Niagara region's green roof experts.
Dawson says the majority of the company's work is in Toronto. "When the city passed the green roofs by-law, we saw an increase in inquiries. More and more people now realize all the benefits from a green roof, and the gardens look great." With a postgraduate certification in ecosystem restoration from Niagara College, Dawson brings a great amount of knowledge on sustainable principles.
She says the company is becoming more green, working to lessen its customers' ecological footprint. Dawson and Montovani speak to a number of area groups about green roofs and green walls and how they can provide an environmentally friendly way to both cool buildings during the hot summer months and warm them during the winter.
"Alena was the first person in the Niagara area to receive certification in green roofs," says Montovani, who is also certified in green roof installation. Both she and Dawson work hard to keep up-to-date on the newest technical advances and trends in the landscaping industry.
Although the Niagara region hasn't accepted green roof construction as much as its big neighbour across the lake, Snips has worked on some great projects such as Garden City Towers and Lock 3 Museum in St. Catharines.
"We have noticed a increased interest from the public on the issue of sustainability," says Montovani.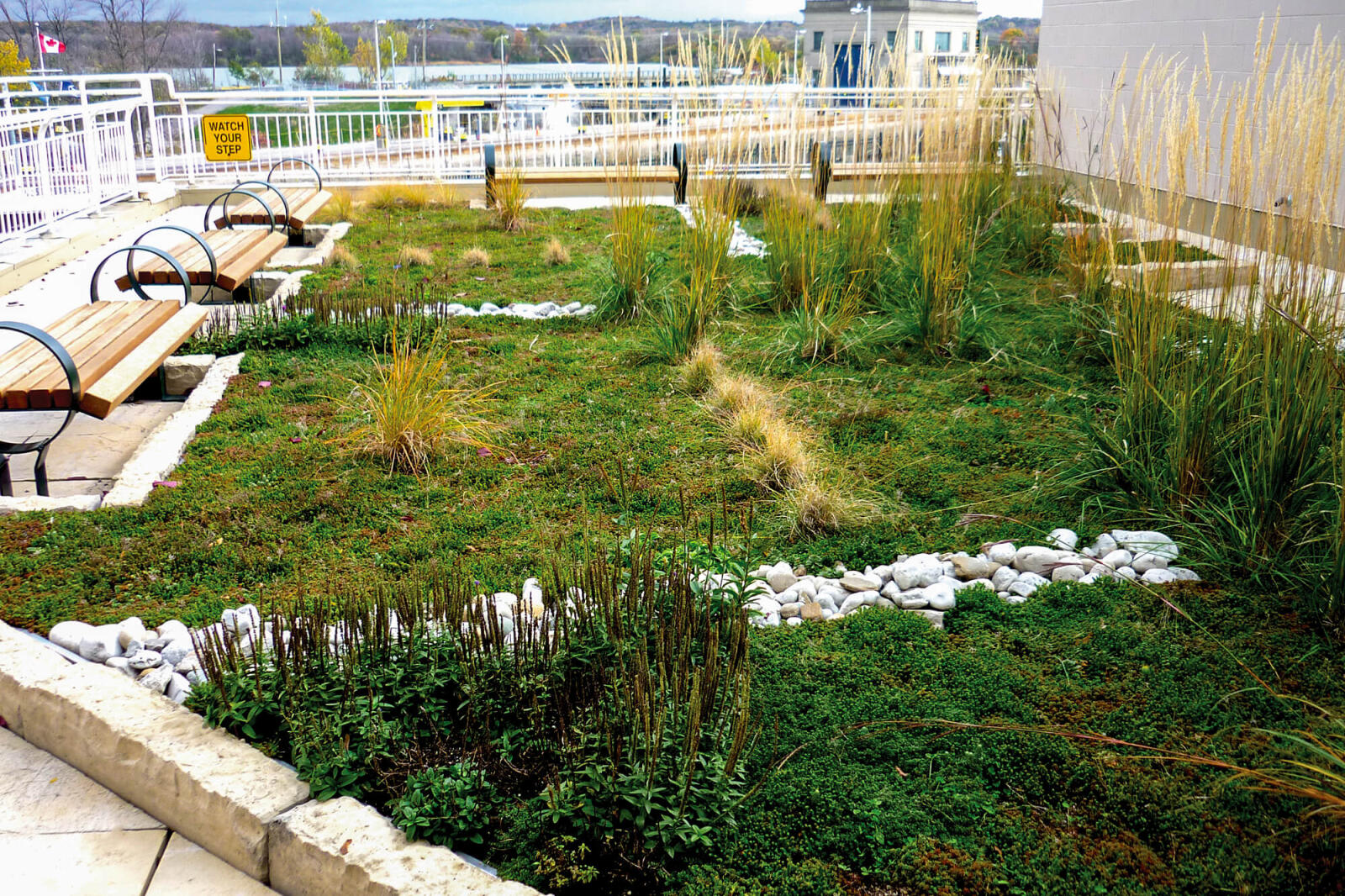 Snips installed the green roof at Lock 3 Museum in St. Catharines, which won the company an Award of Excellence.
---
The company isn't alone in recognizing the value of green roofs and walls. "Since we first began we have noticed the green roof sector becoming more competitive among companies, but we offer knowledge, experience and expertise to our clients," says Montovani. Many clients want a sustainable landscape, but are not sure if it is possible at their home.
"We look at each situation and gauge whether the structure may be suitable. With the new systems available on today's market, many homeowners are surprised at both the ease of installation and ongoing maintenance," says Dawson.
All four women produce confident smiles, when the subject of women succeeding in a male-dominant industry comes up. "It's satisfying when we win the bid on large projects," says Montovani. She also reflects that it's humourous when a man from another company will say that, 'It's a pretty big project. Will you girls need help?' "We have a well-experienced team and are quite capable of taking on large projects," she says. "I have a lot of experience and training under my belt."
Montovani says that when it comes to customers making decisions on projects, 80 per cent of the decision-makers are women. "There's a comfort level and understanding of the client's vision when we speak to them."
Snips won a construction category award in the 2012 Landscape Ontario Awards of Excellence for the design and installation of the Lock 3 Museum in St. Catharines.
Following the official opening of the museum rooftop garden, an article in the St. Catharines Standard referred to the location as an eye-catching garden that doubles as a roof with benefits beyond being just a building topper.
Museum manager Kathleen Powell is quoted, "This green roof offers the opportunity for the museum to show leadership in environmental sustainability while at the same time offering a lovely respite for its visitors. The green roof never closes and some days, it's tough to find an empty seat."
Snips Landscape and Nursery works on both commercial and residential projects. "Our staff is experienced and passionate. We know what it takes to bring a property to its full potential," says Montovani. The list of services reads container gardening, decks and fences, grounds maintenance, interior plantscapes, interlocking paving, landscape contractors, design, lawn care, snow removal and water features. There are six employees year-round, and the number runs between 18 and 20 during the prime season.
Dawson says that about 10 per cent of the business involves interiorscape work. "This has allowed us to give employees more hours during the winter season."
Social media has become an important tool at Snips. Marketing manager Laura DeGraaf says the company is on Facebook, Twitter and LinkedIn. "We are seeing more and more inquiries from this method of promotion," she says.
"Both Facebook and Twitter allow us to display samples of projects we have done, promote green roofs, as well as have a little fun," says DeGraaf. And, fun is a key ingredient of success for the women at Snips. It's all part of the formula that maintains an enthusiastic, forward-looking and creative team at this Niagara region member of Landscape Ontario.