April 15, 2016
Sky's the limit for Pro-Land Landscape Construction
Pro-Land Landscape Construction owner John D'Ambrosio calls his first year in business "the typical landscape story."
Indeed, like many green industry professionals, he started out with little more than a pickup truck, some tools and the willingness to work extremely hard.
But while the beginnings of the business were humble, the outcome has been anything besides ordinary.
Now, with more than two decades of experience under his belt, D'Ambrosio and his Brampton and Bolton-based design and build company are perennial contenders in the high-end construction categories Landscape Ontario's annual Awards of Excellence Program. This year, Pro-Land picked up a pair of awards for projects in the $100,000-250,000 and $250,000-500,000 ranges. The year prior, they earned the prestigious Casey van Maris Award for a stunning project designed by Ronald Holbrook that earned "the highest marks for execution of unique and innovative design in landscaping," from a panel of experts.
It all started in the early '90s when D'Ambrosio, the ink still wet on his Humber College civil engineering diploma, decided he had no interest in pursuing an office job.
"The first year was 1993," he says. "I bought a pickup, a tamper and a quick-cut and off I went. I always had an interest in construction, and while I never studied it directly in school, my background in civil engineering and knowledge in structures, surveys, heights and elevations obviously helped out a lot over the years."
What he lacked in industry experience — in fact, D'Ambrosio had never worked a day in landscaping before starting the business — he made up for with youthful enthusiasm.
"I would work during the day and at night and on Sundays I would run around with flyers and lawn signs I made myself with a stencil and spray paint," D'Ambrosio recalls, adding that in those days, he wouldn't shy away from door-to-door cold calling.
Before long, it was clear he had taken the right career path.
"I just really had a knack for it from day one," he says. "It was a heck of a lot of work at first, because I only had so much money to work with; it was all hand digging and loading up the pickup truck, but I found after the first eight months or so, I really didn't have to look for work anymore."
Over the next 10 years, Pro-Land grew at a steady pace.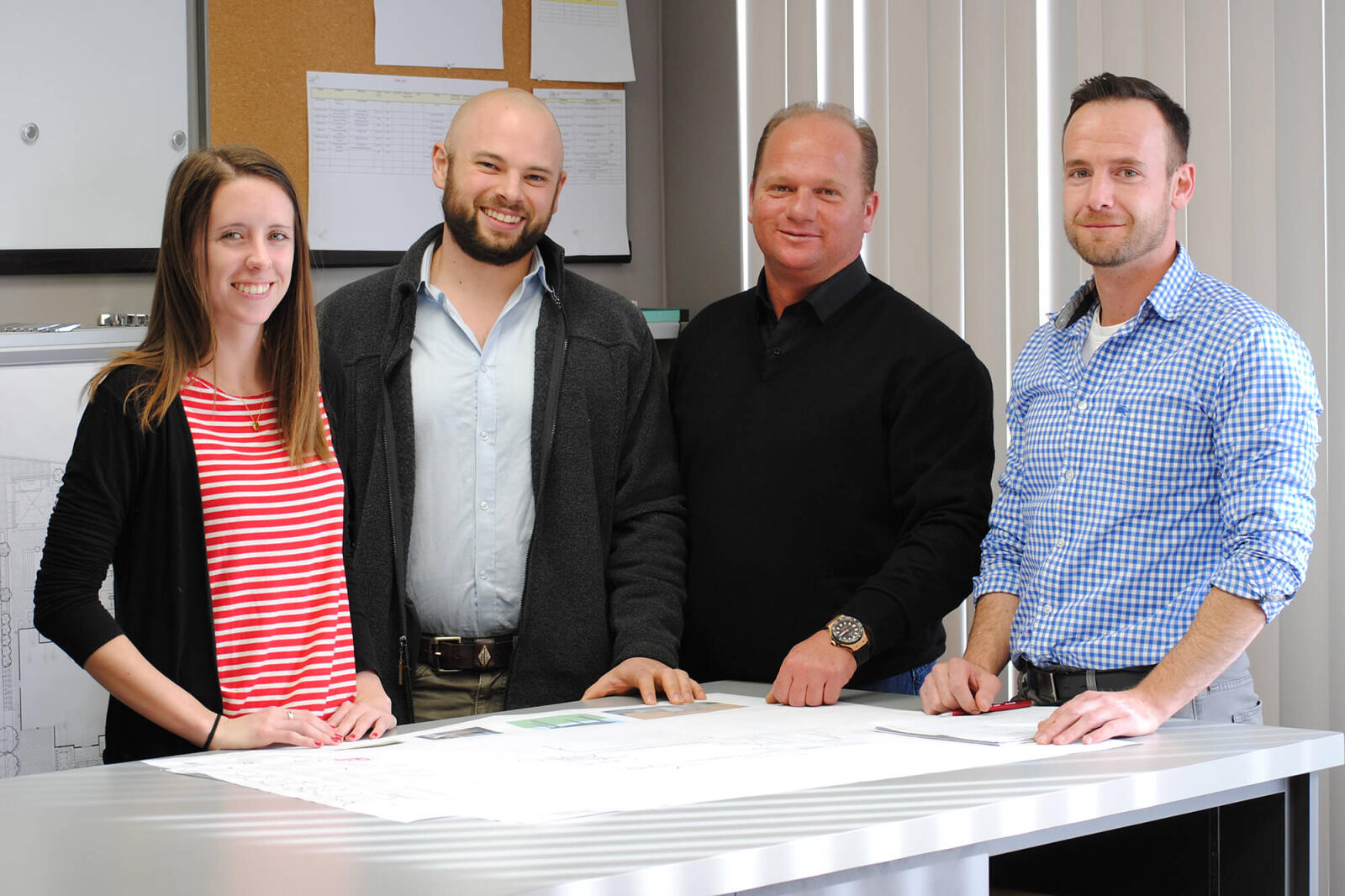 (L-R) Landscape designer Hailee Moynihan, estimator Brent Wilde, owner John D'Ambrosio and project manager Frank Addario work closely together to make every project smooth from the first consultation through completion.
---
One of the biggest challenges every burgeoning landscape construction company faces is landing its first few high-end clients, D'Ambrosio says. How do you close the deal on a luxury job before you have a portfolio of comparable projects to show the client what you can do?
For D'Ambrosio, it came down to confidence and perseverance.
"I was never scared; I just wanted to get my foot in the door," he explains, looking back on Pro-Land's transition from start-up to industry heavyweight. "Even though I was doing $20,000 patios, I was still meeting with people who were looking to spend several hundred thousand dollars."
The key to closing deals and building positive relationships with clients that lead to word of mouth business is the same now as it was then, D'Ambrosio says.
"I explain the building process, because the overall finished product is something that a lot of guys can do. It's critical to pass on that knowledge about proper strengths of concrete, depths, drainage materials and so on."
He adds, "I always put myself in the client's position. If I was spending two, three hundred thousand dollars on a backyard, I'd want to make sure that three years later I don't have stuff that's cracking and falling apart."
Then, in the earlier 2000s, Pro-Land got a big break: a major condo developer spotted a Pro-Land lawn sign and gave D'Ambrosio a call.
"Things really started to ramp up when we got into commercial work for condo developments and we became a preferred contractor for Home Depot," D'Ambrosio says.
From that five dollar lawn sign, D'Ambrosio says Pro-Land has received some $15 million dollars in commercial construction work.
"(The developer) loved us because I'm as straightforward as possible," he said. "You can always count on us to make the openings and closings for sales centres; it doesn't matter what the weather is like or what the timeline is, we've never failed them once."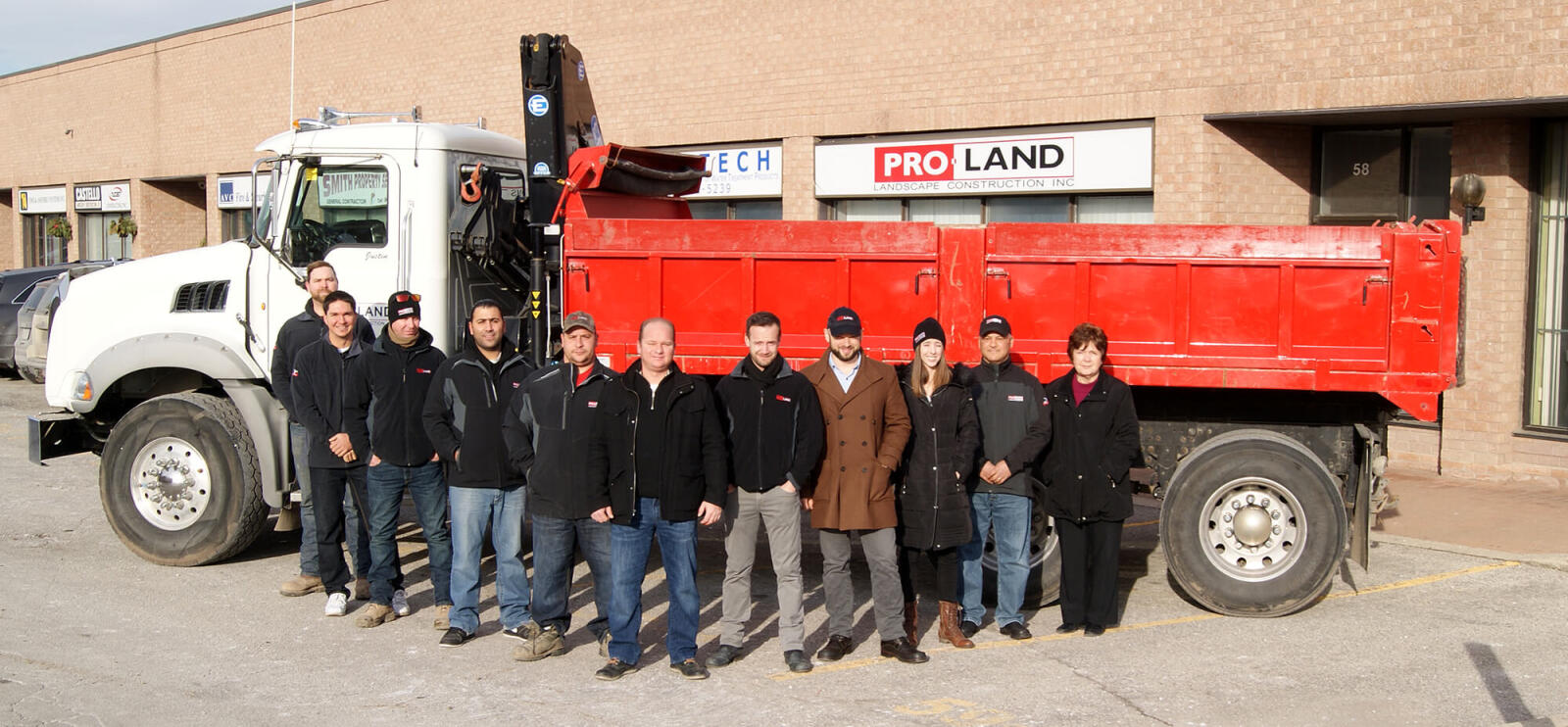 John D'Ambrosio runs Pro-Land Landscape Construction alongside his brother Anthony, the company's construction manager, and brother-in-law Paolo Bacchin, who has been with the business for 18 years.
---
Empire Communities has been a commercial client of Pro-Land for over 10 years. Co-founder Paul Golini says the relationship has grown over the years as a result of the quality of their work and service, as well as D'Ambrosio's ability to head off potential issues during the planning stages of a project.
"We saw right away that John was someone that is very easy to work with," Golini says. "He's someone that takes a lot of pride in delivering not only on quality, but on service as well."
Over the years, the scope and scale of work Pro-Land has undertaken with Empire Communities has grown from the landscaping of model homes to luxurious rooftop gardens for high-rise condominiums.
"There's an element of trust and a relationship that builds where you know that he can get the job done," Golini says. "John also always comes to the table with suggestions, so when he bids on a landscape architect's plan, he often says he can deliver the same look and feel, but that there will be less problems doing it a different way. Or, he finds ways to cut costs in a smart and effective manner, and that's music to a developer's ears."
Currently, Pro-Land employs 35 workers during peak season and 10 year round. The workload is split 70/30 between residential and commercial projects.
In spite of all of the success and accolades, D'Ambrosio's passion and creativity for overcoming obstacles and meeting his client's needs continues to grow.
"The harder the project is, the more interested we become," he says, recalling a number of rooftop condo projects the company has undertaken. "When you're hiring pump trucks and cranes and working 17 stories up and raising trees 100 feet in the air, you start to realize the possibilities in this industry."