July 18, 2023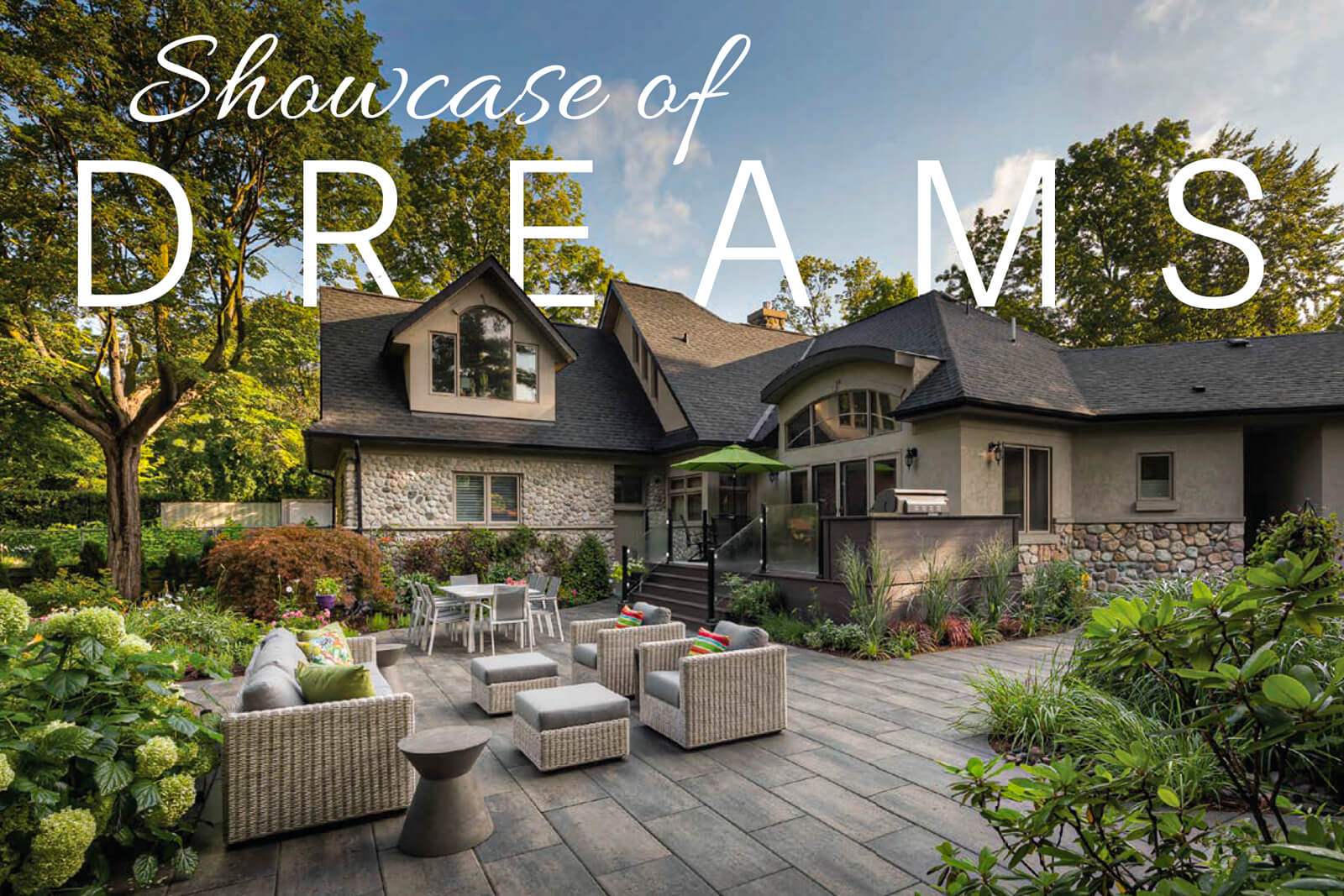 Showcase of dreams: Visualizing the future with M.E. Contracting

By Karina Sinclair
The home of M.E. Contracting is tucked inside an unassuming industrial park in North York, Ont. It's the kind of building you'd drive by without ever knowing an oasis awaits inside, but if you went in, you might never want to leave.
The front office walls are decorated with numerous awards, including several Landscape Ontario Awards of Excellence for residential and special interest projects. If you could drag your attention away from the inspiring photos, you'd be led to a 7,000 sq. ft. showroom with everything from pergolas and outdoor kitchens to landscape lighting and tile choices. A full-size fibreglass pool, complete with a spouting water feature, delivers the ultimate wow factor.
The show stopper
This is where co-owners Keren and Eitan Abu help clients dream up their new landscapes, even when there's snow on the ground and summer seems a distant memory. "It's very hard for potential clients to visualize," Eitan said. "So to bring them to a showroom, I can show everything: pools, pergolas, decks, retaining walls, you name it."
Having everything in one place lets a client get a better sense of scale and allows them to see how different materials look and feel side by side. "It's a 3D experience, I like to call it," Keren adds. "It's very hard for people to visualize sizing or square feet. So when we say the showroom's pool is 12 by 35, clients say 'Oh, that's amazing. This is exactly what we need. I want this.'"
Daryl Ellis, M.E. Contracting's sales and project manager, feels the showroom signifies stability for the company. That helps ease client anxiety as they hand over a deposit. "It's a bit of a comfort that we're not just going to get up in the middle of the night and take off and you're not going to be able to find us," said Ellis. "We've invested the time and the money into the showroom. We're not going anywhere."
"Our season is typically about eight months," said project coordinator Casey Ross. "We're pretty much nonstop from March all the way until December, and it's just go, go, go seven days a week."
With stylish displays and samples of raw materials, the Abus acknowledged it was expensive to create this space. "An investment, I call it," said Keren. "Yes, it's a lot of money to create, but we invest to grow. We see ourselves years from today, knowing that we are the leading company for landscaping."
Investing in people
Another key investment is in staff. Ross says COVID-19 restrictions put a big strain on their labour supply, so M.E. Contracting strives to take care of their year-round and seasonal staff. "The client is obviously the most important," said Ross. "But our contractors are right up there with them and we keep our contractors happy. They stick around and their quality of work is what the client expects."
It's as simple as showing respect and understanding their contractors have lives outside of work, explained Ross. "We also compensated them accordingly," said Ross. "We tried to bring ourselves up to the standard of other trades, such as electricians, plumbers, that sort of thing."
Ellis feels this is why M.E. Contracting has a number of long-term employees. "Treat your employees well and they'll stick around. You pay them what they deserve to be paid," Ellis said. "I'd rather pay somebody a little bit more and keep them, than pay somebody less and have to continuously train new guys to do the same thing. It'll cost the company more in the long run to pay people less."
"We're very picky with our employees. We're willing to pay good money to find people and we train them. Step by step, we have a system," Eitan said. "If my staff and employees are happy and they wake up in the morning enjoying what they do and they're happy to come to work, that makes my day. I love it."
---
With a wide range of services, the crews are kept busy. "We do anything from decks and patios to pools, essentially anything landscaping or outdoor related. We can take care of it," Ellis said. With the amount of referrals they get each season, he believes their success is due to "the quality of our workmanship and being able to handle projects from start to finish." As the showroom demonstrates, M.E. Contracting can take a client from initial design to final decor.
Ross agrees their success is due to high quality work, but also "good communication and kindness between all the colleagues within the organization. Also time management and just project management as a whole. We really take our time and things just come together perfectly."
International influence
Originally from Israel, Keren and Eitan pull on their European inspiration to create fresh landscape designs that combine clean, modern lines with raw organic materials. "When we came to Canada, we saw that most of the houses are still in the traditional look of heavy stone, less airy, lots of pillars," Keren said. "We decided to clean it a little bit and get it very smooth, very clean. And that's basically the influence from Greece and from Israel, a little of it from Paris."
The couple feels this approach helps maximize a space to make it more functional. And Keren admires her husband's ability to interpret a client's needs and wants to then dream up the perfect space. "He's the smartest. Eitan can go into a backyard, scan it with his eyes and he already knows what the future will be like for the client," Keren boasted, quick to add that their talented team, including Ross and Ellis, helps make those dreams into reality.
Landscaping patterns and trends
While Eitan takes care of design and manages the crews, Keren handles marketing while staying on top of trends. She thinks the future of M.E. Contracting will focus on the kinds of jobs "that have a very unique feature that maybe only people with a lot of guts would do."
Keren has also noticed raw and organic types of materials have become more available. "Less straight lines, more organic, more things from nature. That's what I see for the future," she said. "I see less cutting around the trees and more giving it the wild look. If it's stone, just let the stone be. That's, I think, the future where we see ourselves."
"We want to take care of the environment," Eitan said. "To use materials that are good for the environment. More green walls, green roofs. We need to take more care of the Earth. And that's our goal for the coming years."
Ross, who is working on his Masters of Landscape Architecture, is excited by this prospect. "My own personal values around that are really trying to use native and local entities within the landscape, also trying to maximize value within the landscape. So I'm not installing or designing anything that doesn't add or maximize value within residential backyards or anywhere else." This includes being purposeful about the process and minimizing waste whenever possible.
From one small deck to winning awards
M.E. Contracting began with a single wood deck Eitan built for a friend shortly after immigrating to Canada. A neighbour saw it and asked for one of his own. And as Eitan built more decks, the more people wanted them. Keren designed a brochure and started going door to door to introduce their new services. They created a website and clients left glowing reviews on HomeStars and similar directories. Keren says one of the best things they did next was join Landscape Ontario.
As Landscape Ontario members, the Abus took the opportunity to expand their knowledge of the trade. "Usually in the winter we take all the training and workshops. We got to know a lot of new colleagues," Keren said. She enjoyed being active with the Toronto Chapter, even sitting as Director for a while before her last pregnancy. "It was a beautiful experience for me. I learned a lot. Absolutely, Landscape Ontario contributed to my success. It's not a question. I have learned from my competition! When they were able to share with me their challenges when I was the newbie, they taught me what to do, what not to do. I learned so many things that helped us to create and grow M.E. Contracting."
Ellis said he found his first job through an ad on Landscape Ontario. "I think it's super helpful, especially if you're starting out or you've been in the business for a long time, there's always something that you can learn. And Landscape Ontario would probably be the number one resource for that," he said.
The Landscape Ontario Awards of Excellence are another favourite benefit. "The event itself is a beautiful event. I'm not missing it for any price in the world," Keren laughed. "To get the Landscape Ontario Award of Excellence, it gives us credibility for our clients. And they say, 'oh, they just got an award, they are probably a legitimate company.' That builds their credibility with us, which is great."
When they learned they had won their first Award of Excellence in 2017, Keren said "We felt we finally belonged to Landscape Ontario. It's like, 'good job guys.' It's not just us, it's all our teams together."
And with that kind of credibility, Keren said potential employees and clients come to them already 'half-sold.' "Employees who see us as a place to grow and learn, and clients who say "I prefer to work with a legit company, with high reviews, who is winning awards and I'm willing to pay even a little bit more to have this umbrella of services."
For a duo who started from scratch in a new country, reaching this level of success brings great satisfaction. "I wake up every morning excited about new projects and how we can provide better service to our customers," Eitan said.
Keren loves that moment when a project wraps up and the client says 'wow, we love it!' Knowing the client "chose right" by hiring their company confirms that M.E. Contracting is doing exactly what they're meant to do. "That's our name behind that effort. That's why we do that."
Profile image credit:
Jeff McNeill, McNeill Landscape Photography