August 16, 2018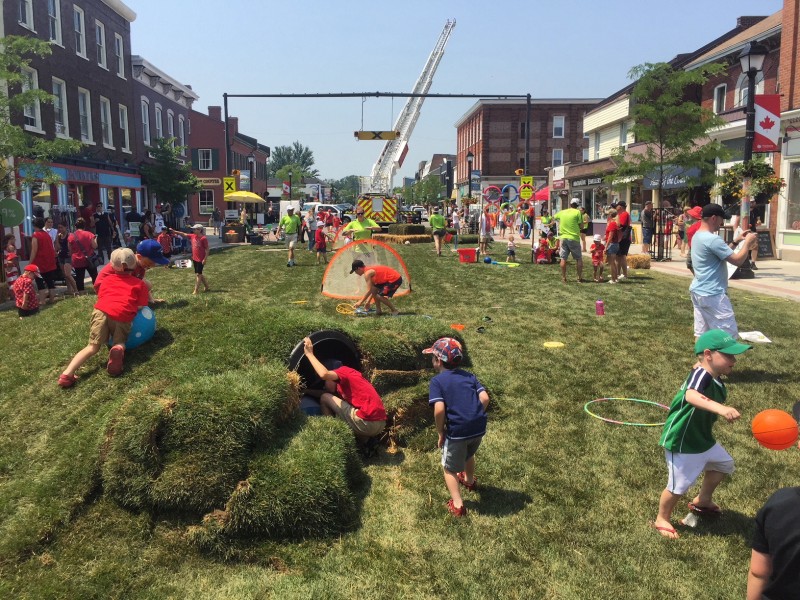 Pop up city park to teach kids the lost art of unstructured play
Yonge Street at Bloor Street in Toronto will be sodded Sun. August 19 from
10:00 a.m. and 2:00 p.m.
to teach children the "lost art of unstructured play." The Come Alive Outside Green Street Challenge will be completing its summer events by temporarily laying 5,000 square feet of sod at the busy downtown intersection as part of the Open Streets Toronto event.
The event is aimed at getting children to be more active outdoors and engage them with the natural world around them. Many recent reports have concluded the reduction in physical and outdoor activity can have serious consequences. The
New England Journal of Medicine
reported that for the first time in two hundred years, this generation of children may live a shorter lifespan than their parents, perhaps by as much as five years, due to the health impacts of their sedentary lifestyle. The CBC Radio program
Ontario Morning
, also discussed this vitally important issue due to a recent report by ParticipACTION on our children's failing fitness level.
While not much has been done in way of a solution, Come Alive Outside, a landscape profession-led movement, has for years been working to re-connect kids with nature, get them unplugged, and more active outside. It's five principles are:
Get active outside.
Grow something you can eat.
Connect with nature.
Learn with your hands in the soil.
Play unplugged.
Landscape Ontario, the landscape profession's provincial trade association, has hosted numerous Come Alive Outside programs again this year. The Green Streets Challenge teaches kids the games previous generations played that engaged whole blocks of kids well into the evening hours when the streetlights came on. The Green Streets Challenge was held in eight communities in Canada this summer. Streets were closed and up to 8,000 square feet of sod was laid as a temporary park for kids to learn and create unstructured games. Yonge and Bloor in Toronto will be the final event of the summer, with previous events held in Picton, Hamilton, Westport, Barrie, Woodstock, Huntsville and Calgary. The event has also expanded to the U.S., where events are held in many communities as well.
Another event, the Come Alive Outside Design Challenge engages students and landscape professions to design and build natural outdoor learning spaces. Students from college and university landscape design programs, high school students, and most importantly, grade three elementary school children, all work together and use their unrestrained creativity to serve as both the clients and the ideas consultant. This program creates magical results as students are empowered to offer their ideas for how their school grounds can be re-vitalized, naturalized, and become more effective learning environments. Come Alive Outside and Landscape Ontario members then assist in building the new outdoor learning centre for the students and the entire community to enjoy.
Using the principle that "it takes a village to raise a child," Come Alive Outside and Landscape Ontario members are committed to providing communities with the see themselves as having a responsibility to the communities to give children those five years back.
For more information on Come Alive Outside, visit
comealiveoutside.com
.