January 15, 2012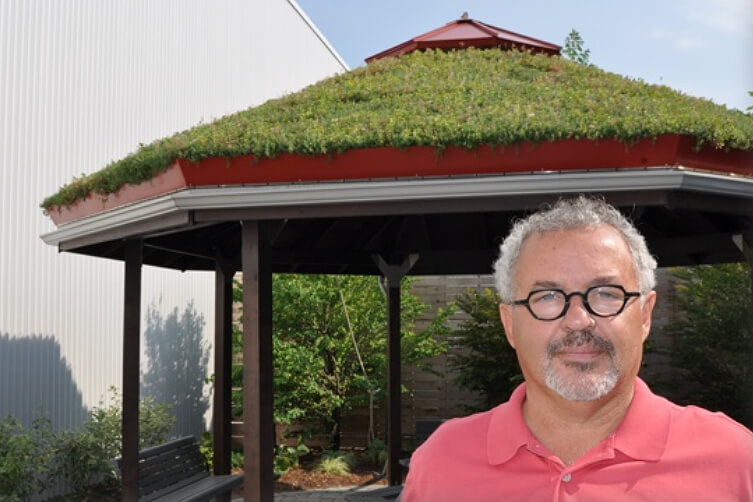 Plantsman Terry McGlade reflects on 30 years of change
By Sarah Willis
Terry McGlade has been building beautiful gardens in Toronto for nearly 30 years.
He started his company Perennial Gardens in 1982. In the beginning, Perennial Gardens was just that. "I only planted perennials at first. I had a different clientele who were interested in the plants in their gardens."
Gradually, and with the encouragement and advice from industry veterans at the time, McGlade began to incorporate trees and shrubs, along with a judicious use of stone. "I began attracting a certain type of residential client interested in having something of beauty in their garden."
However, he notes, "People don't interact with their gardens anymore. They are interested in patios, open space and outdoor televisions. You see it in the evolution of Canada Blooms. Ten years ago the feature gardens were half plants and half hardscape, now they are 20 per cent plants and 80 per cent hard surfaces."
McGlade admits to feeling incredibly sad about the way the industry is developing. "You can be really happy in garden – planting, pruning – or just being there is important. One of my clients used to tell me her garden made her heart sing. We don't hear that about hardscapes.
"I had always used environmentally sound practices in my perennial garden work," says McGlade. "We used organic and sound horticultural practices." Because of his location within Toronto, McGlade began to field requests for gardens from condominium owners and apartment dwellers, which led to the development of his second business, Gardens In The Sky. As the environmental movement built a strong following, interest in green roofs and rooftop gardens also grew, and the second business took over. "I didn't start Gardens In The Sky with the intent of shutting down Perennial Gardens, but looking ahead, I could see rooftop gardening becoming more important."
Change in lifestyle
A health scare and heart surgery necessitated a change in lifestyle, so McGlade chose to gradually phase out Perennials Gardens, and accepted an offer from building envelope giant Flynn Canada to buy Gardens in the Sky and come onboard as its green roof authority. "Closing down Perennial Gardens has been a lament. I loved the idea of making a garden – making something of beauty, selecting plants, stone and making things happen. My work with Flynn Canada is in a different league. It's a national company, where we work on multi-million dollar projects that are great, but it's a totally different world.
"People love nature, but they don't necessarily want to have it," says McGlade. "We seem to be working to change the dynamic of nature to suit our own model of clean and uncluttered — like a magazine spread. With very few exceptions, gardens in magazines don't even show plants anymore. Gardening is work. You either have to do it yourself, or pay someone else. I don't think the average person wants a garden anymore.
Unfortunately, there are certain age groups who have no day-to- day experience with nature. I'm encouraged by the insurgence of vegetable gardening, but gardening requires a long-term commitment. It's not a fad."
McGlade's observation is that people who do garden today tend to be one- or two-person companies. The larger landscaping companies are attracted to large-scale work in subdivisions and commercial properties. "I think the landscaping business will continue to grow, but the gardening business will not. You can only create gardens with a certain type of client, and there aren't that many of them around anymore.
"In the beginning, I had the advantage of learning directly from oldtimers in the industry, who took the time to pass advice onto a novice." McGlade feels those starting in the green industry today are at a distinct disadvantage, as no one has time to stop and mentor the up-and-coming generation.
"The advent of the container culture changed the way people in this industry work," he explains. People use to take time off during the summer." There was more of a balance to life. In McGlade's view, the horticulture trade has become more commoditized.
McGlade is the first to admit the horticulture industry is full of pitfalls, and it can be tough to succeed. At this stage in his career, he is happy to give back to the industry that has given him so much, and is willing to mentor companies looking to construct and maintain green roofs. "There's lots of growth in green roofs and sustainable gardening — it is the way of the future."
McGlade and Seferian featured speakers at Contractors Lecture Series
Wednesday, Feb. 22, 2012 6 p.m.
Toronto Botanical Gardens
Don't miss a retrospective of Terry McGlade's memorable projects at the 2012 lecture series, sponsored by LO's Contractors Sector Group. Noted landscape architect Haig Seferian is also featured on the program.
Admission is free, RSVP appreciated to: Kathleen Pugliese, 1-800-265-5656, ext. 209,
kpugliese@landscapeontario.com