June 15, 2012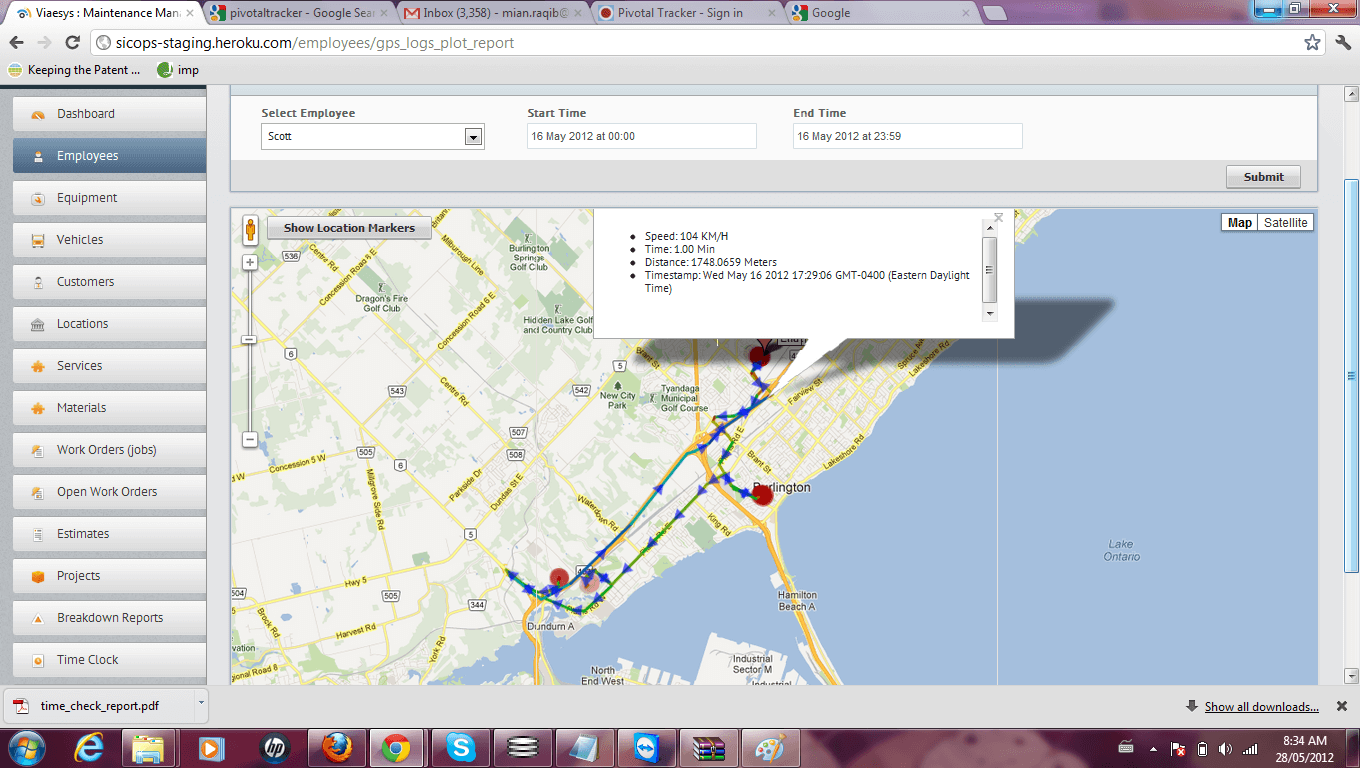 Pilot project testing new tracking system
A by-product of the
parking lot salt study
has resulted in a new tracking system for landscape and snow and ice maintenance companies.
Raqib Omer, leader of the salt study research team, says, "In year one of the (salt) study, we were trying have maintenance contractors share their maintenance information with us. Every meeting I went and saw that there were lots of papers and sheets lying around with little tracing of who is doing what. I would be handed one of the sheets to figure out the application rates, circuit times, etc. It was not possible and no one had the time to collect all the data and put it in a single place for me."
Being an electrical engineer, Omer thought technology could supply the answer to automatically collect data. He felt this would save the effort of going to the shop every time data was required. All that was needed was the employees filling in the forms online.
Omer says, "So we made some online forms with location names, time-in, time-out, etc., and shared them with the contractors in hopes that they would fill out the forms by the end of the event. Despite begging and pleading, no one filled them out. Even though it made their life easier, they just didn't have time or the information."
A search began for online products, such as phone apps, that contractors could use. "We tried a bunch, mostly borrowed from plumbing, construction, delivery people and others, but none of them worked," says Omer. He explained that the systems were either too complicated or couldn't perform the job.
The University of Waterloo researcher knew that a tracking system for landscapers would be worthwhile. He continued his efforts to develop a simple system that companies could use to key in data at a site.
"I teamed up with some developers and started working on this system," says Omer. He says he realized the potential for a system that was developed solely for winter/summer maintenance and construction companies. "Most of them are members of Landscape Ontario."
It took 18 months to develop the app. "I worked with some contractors to help custom build the tracking system for them," says Omer. There are now four major releases covering the iPhone, android, iOS, Blackberry and the Blackberry tablet platform.
Omer says that the system is now ready, with many features specific to the needs of crews and managers in the industry. "The response has been incredible. I am continuously working with the grounds management guys and other contractors who are using the system to improve and simplify things."
Four companies are currently piloting the system. They are Gelderman Landscaping in Waterdown, Denbok Landscaping and Design in Burlington, Greentario Landscaping in Hamilton and Landmark Landscaping in Oakville.