January 15, 2014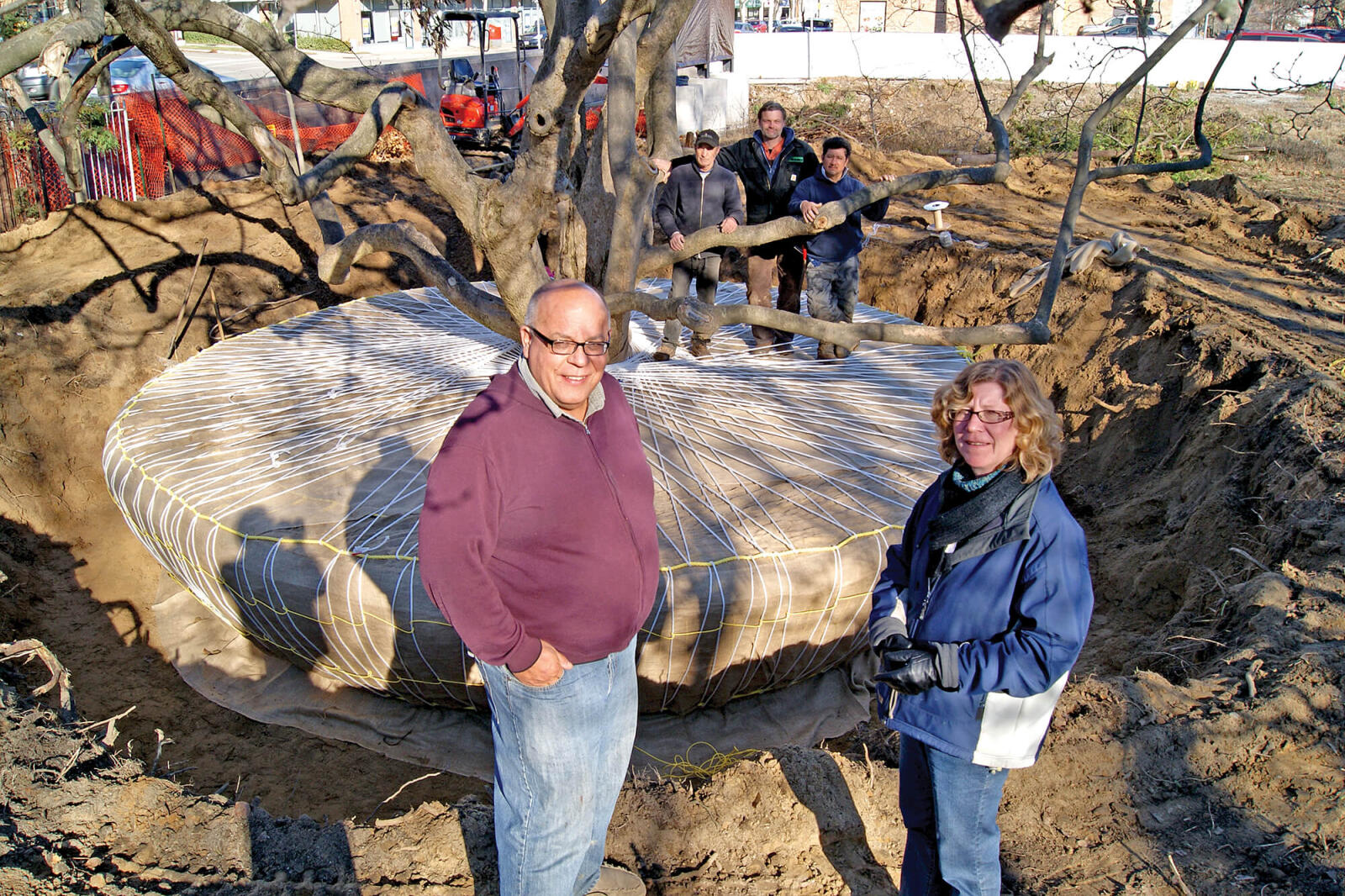 PAO Horticultural takes on 100-year-old magnolia
A century-old magnolia tree in Oakville is wrapped and ready to move, but a final destination has yet to be determined.

Landscape Ontario member Paul Offierski of PAO Horticultural, Hornby, says he estimates the tree was planted in 1915. "I would rate the quality of this tree as 8.5 out of ten," says Offierski. "It has a very good root system, and in very good health."

A crew hand-dug the tree at its location on Lakeshore and Chisholm. The site once housed commercial buildings, and has been cleared, except for the magnolia, for a high-end residential development.

PAO is well-known for moving larger trees over the last 20 years. Each tree is hand dug, and nylon rope is utilized to safely cradle the root ball. "We have successfully relocated weights of up to 140 tons," says Goettsch.

Next to the property is the historic McCraney-Robertson House built in 1880. William McCraney, born in 1831, was a prominent historical figure in Oakville as a leading member of the Methodist Church, a Common School and Grammer School Trustee, and Mayor of Oakville from 1872 to 1874.

A report from the city states, "The historic magnolia tree on the property has continued to serve as a cultural landscape feature with its prolific blooms every spring. The magnolia tree is considered to be a visual landmark that defines the character of the area. As part of the designation of the historic magnolia tree, a protection zone around this tree has been developed in order to protect its root system from any adverse effects of nearby development or site alterations."

Leslie Goettsch, sales and marketing at PAO, says that as of Dec. 12 the process was in political red tape. They hope to move the tree, but nothing is definite on the future location of the tree.

Fifteen years ago Sergo Anniano brought his skill as a fisherman in the Azores to PAO Horticultural, where he now meticulously wraps tree, the magnolia in Oakville measures over 20 feet in diameter and weighs around 120 tons. Nearly three miles of nylon rope was used to weave the rope around the tree.

The cold weather is also not a problem. Goettsch says the freezing weather helps to hold the root ball together, even one as large as the historic magnolia in Oakville.

When that move does occur, Offierski hopes the city will choose a nearby park where city residents can enjoy its beauty for many more years.