November 4, 2020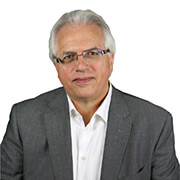 There is something about this profession that seems to attract people who care. I am not saying this lightly. It is based on 31 years of observation. I would like to share a few examples.
The Landscape Ontario Covid Task Force is now entering meeting number 83. What motivates this dedicated group of extremely busy volunteers to give so much of their time and resources to make sure our entire membership has the information they need to best deal with the pandemic? It's because they care.
One of the projects conceived by the Covid Task Force is the Frontline Hero Garden Makeover contest. Over 1,000 stories were submitted from individuals who chose to nominate a frontline worker who had made a difference in their life, or the lives of people in their community. Finalists were chosen, then 10 deserving front line workers were announced as recipients of garden makeovers. There will be one $5,000 makeover in each LO chapter, plus one grand prize provincial project valued at $25,000.
Each LO chapter needs volunteers, products, supplies, expertise, coordination and labour. Many individual members are contributing. In a recent email exchange between members of the Upper Canada Chapter, it was inspiring to read how the chapter has decided to go above and beyond the $5,000 allotment. They obviously care a great deal.
In a much different community project the Green Cities Foundation (a recently formed charitable organization developed by the Canadian Nursery Landscape Association), is involved in a project that will transform an abandoned gas station parking lot in Hamilton, Ont., into a much-needed green space for children to play. They reached out to LO members, who characteristically responded. They also care.
There are hundreds of community-building projects that our members have been involved with over the years, including the St. James Park revitalization, Highway of Heroes Living Tribute, Legacy Garden in Windsor, Day of Tribute in Ottawa, and many more.
In 2019 alone, the Toronto Chapter supported these projects:
Bilton Laneway
Bowery Project
Cedarvale Community Garden
The Church of St. Stephens in the Field
The David Suzuki Foundation's Butterflyway Project
Donview Middle Health and Wellness Academy
Guildwood Butterflyway Project
Horticultural Societies of Parkdale and Toronto
Laneway Garden Laneway Project
Oakvillegreen Conservation Association
Parkdale Village Business Improvement Area
PARC
The Seed Library Commons
Sunnybrook Hospital
Every chapter of Landscape Ontario is involved in community-greening projects. Beyond the collective projects, I am aware of many members who support their community in their own special ways. We want to celebrate your contributions. Whether you are raising money for a local charity, or planting trees at a church or school, please let us know what you are doing. Because we care.
I am always amazed and inspired by the contribution ethic of our members. Many participate in organized events through the Chapters, while many more contribute to their own special causes. The reality is the good works reflect a company's culture and individual character, while also reflecting well on the entire profession.
The contribution ethic of our membership is inspiring. There is no better way to promote our profession than using the talents and skills of our membership to contribute to others.
Thank you for helping LO to shine.
---