December 15, 2015

Ottawa Chapter marks 10th anniversary of Day of Tribute
Martha Walsh
Ottawa Chapter Coordinator
Giving back to the community is very personal, yet a prevalent action among many Ottawa Chapter members.
The 10th anniversary of the Ottawa Day of Tribute was held on Oct. 30, by members volunteering their day to maintain the National Military Cemetery at Beechwood in Ottawa.
This event has continually taken place the week before the November 11 Remembrance Day ceremonies in Ottawa. The brainchild of Sharon Rouette-Urquhart of Green Unlimited, it began as her way of giving back to Canadian veterans and their families. The Government of Canada declared 2005 the Year of the Veteran. Actually, a year-long event, it had a purpose to teach, remember, thank, honour and celebrate those who gave selflessly and honourably.
Rouette-Urquhart knew she wanted to give back to those Canadians who had given the ultimate sacrifice of their lives for the freedoms that we continue to have to this day. She also knew that members of the landscape and horticultural industry are very good at maintaining, beautifying property and landscapes. It was that purpose of remembrance, along with using what members' strengths in numbers could achieve, that made the Ottawa Day of Tribute a celebrated, planned and continually successful event for the past decade.
Throughout the decade, there has been great participation from many sector group members in Ottawa at the event. Sectors include grounds maintenance, lawn care, designers, garden centres, irrigation, landscape contractors, arborists, horticulturalists and students, both from secondary school programs and the horticultural industries programs.
During this time, members from Upper Canada Chapter also volunteered their time at this event, as their way of giving back. Ottawa Chapter member John Smit, of Peter Smit and Sons, has volunteered from the beginning. His personal reason for participating is his brother, who is now retired from the Canadian military service.
The current chair of the event is retired Chief Warrant Officer Pete Campbell, from Geosynthetic Systems. Campbell has come to appreciate meeting all the participating members, along with the pride that industry members give at a time of the year when they are all trying to close their businesses for the season.
Campbell has participated in the maintenance, alongside seasoned members of the green industry, while they aerate, seed, fertilizer, rake, shred leaves to clean the grounds. He would also like to take this event to the next stage, by creating such event on the same day at the same time, in every Chapter.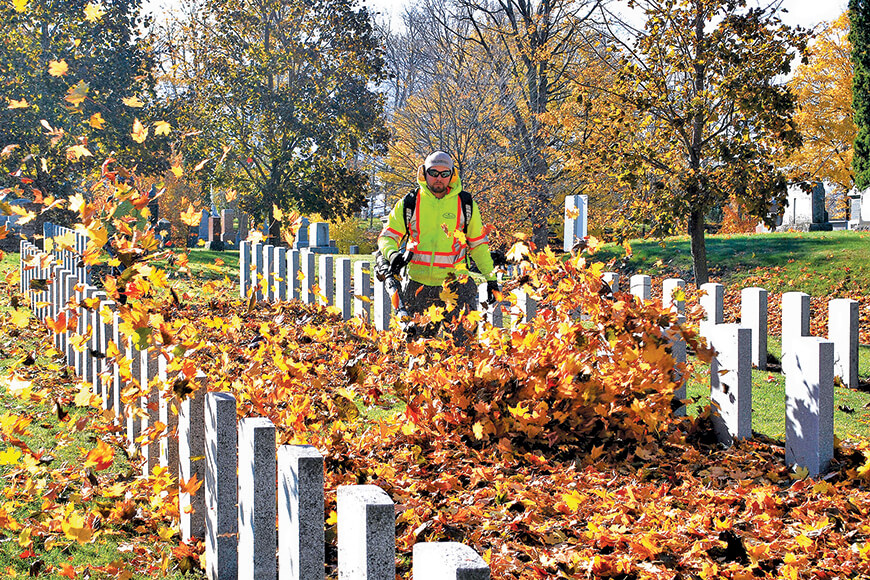 Ottawa Chapter volunteers donate their time and equipment to ensure the National Military Cemetery is prepared for Remembrance Day.
---
Donations and sponsorship for this year's event came from Bradley's Commercial Insurance, Geosynthetic systems, Manderley Turf Products, Peter Knippel Nursery, Plant Products and Sipan Tires, which donated a gift card toward a set of tires for a member participant.
This year's event began just after dawn at the cemetery, with greetings and recognition from attendees, including representative Dominique Boulais from the Canadian War Graves Commission; Chief Warrant Officer David Snyder, Department of National Defence; Roger Boldt, National Military Cemetery Beechwood; Canadian Forces Warrant Officer Clayton Neville; Ottawa Chapter President Sundaura Alford; and Bobbi Falkner from Manderley Turf Products. Also present representing Ottawa Board members were Andrew Burgess, of Natural Impressions, and Chris Urquhart, of Green Unlimited.
The following members are thanked for participating in this year's event: Green Unlimited, Weedman - Ottawa, Lafleur de la Capitale, Peter Smit and Sons, Natural Impressions Landscaping and Jerome Landscaping.
The Ottawa Chapter expresses its sincerest gratitude and appreciation to Sharon Rouette-Urquhart for her foresight in creating this decade-long event that continues to give back to the community. Rouette-Urquhart and this event have continued to follow the mandate of the Year of the Veteran: to teach, remember, thank honour and celebrate those who gave selflessly and honourably.