December 15, 2011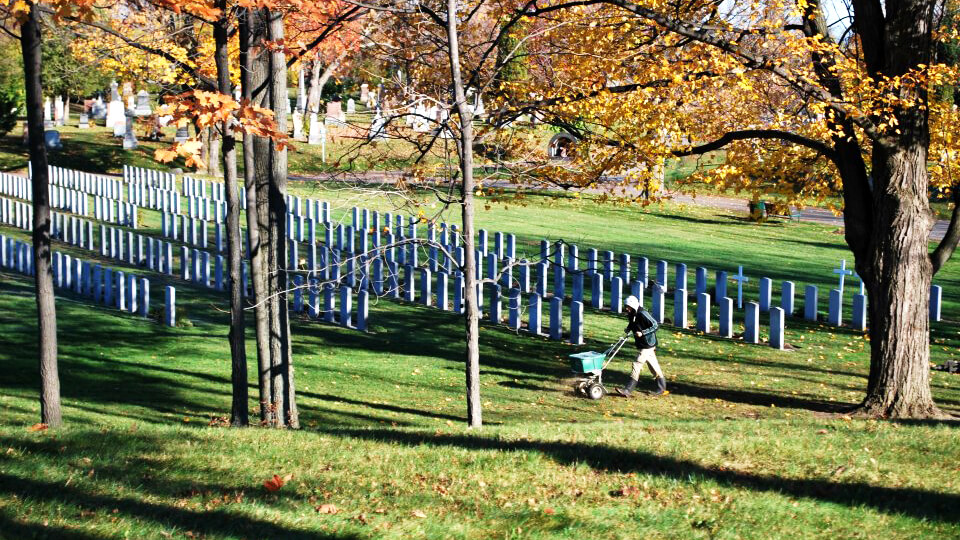 Ottawa Chapter continues to honour Canada's fallen soldiers
Since its inception in 2005, officially designated the Year of the Veteran, the Ottawa Chapter's Day of Tribute has maintained through volunteer work, the burial grounds of Canada's fallen soldiers at the National Military Cemetery Beechwood in Ottawa.
"I am very proud to be involved with this project," says event chairperson Sharon Rouette-Urquhart of Green Unlimited in Ottawa. She has been involved with the project since the beginning.
Many Chapter members say it's an opportunity to honour the military and their families through beautification of final resting places of military veterans. This is the sixth year Chapter members have supported this initiative.
"I find myself continually impressed by the level of commitment that members of the green industry have in supporting a volunteer project such as this," said Rouette-Urquhart. "I have had the honour of meeting and working with wonderful people who care for their community in any way they can. I see an earnest desire in those around me to show some appreciation for our Canadian soldiers and their families, so I am very pleased to be able to take part in coordinating this project."
The Chapter created a banner specially for the event, along with red T-shirts as a symbol of support for the military on Red Fridays. The event took place on Fri., Oct. 28.
Sponsors of the Day of Tribute were Bradley's Insurance, Norleans Technologies. Product suppliers: Greenspace, Peter Knippel Nurseries, Ritchie Feed and Seed, Peter Smit and Sons Inc., Green Unlimited and Weed Man. Special thanks to the members from Green Unlimited, Bradley's Insurance, Geosynthetic Systems, Clintar Landscape Management — Ottawa, La fleur de la Capitale, Weed Man, Hirsig Landscapes, and Peter Smit and Sons, whose work ensured the success of the day.
Dignitaries and Ottawa Chapter members present: Major Jo-Anne Flawn-Laforge DND DCSM, Brigadier General David Kettle, Commonwealth War Graves Commission, Warrant Officer Christopher Robin, Retired Chief Warrant Officer Dan Bradley, Roger Boult of Beechwood Cemetery, Chris Burns LO Ottawa President, directors Stacy Elliott of Bradley's Insurance, Jim Curran of Lafleur de la Capitale; there in spirit, committee member and Ottawa director Kelly Mulrooney-Cote of Geosynthetic Systems.
A complete selection of photographs from the day can be found on the Ottawa Chapter Facebook page that can be accessed from
www.horttrades.com/chapter/ottawa
.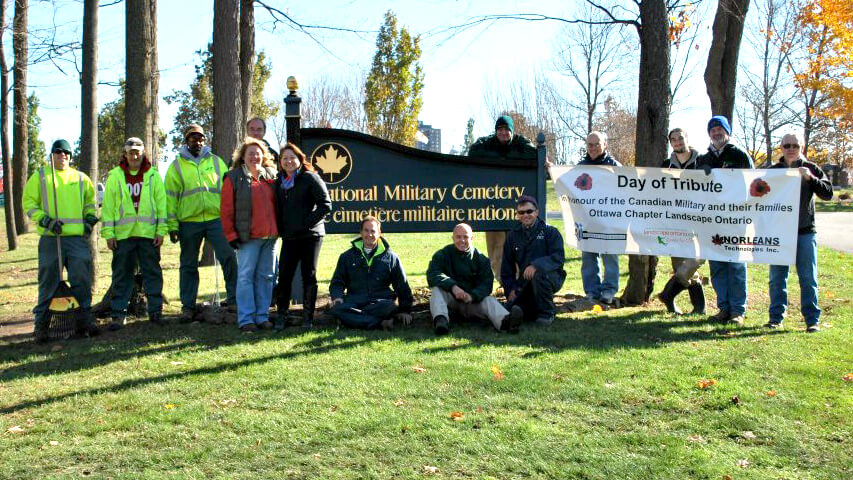 Many of the crew who took part in Ottawa Chapter's Day of Tribute.