January 1, 2019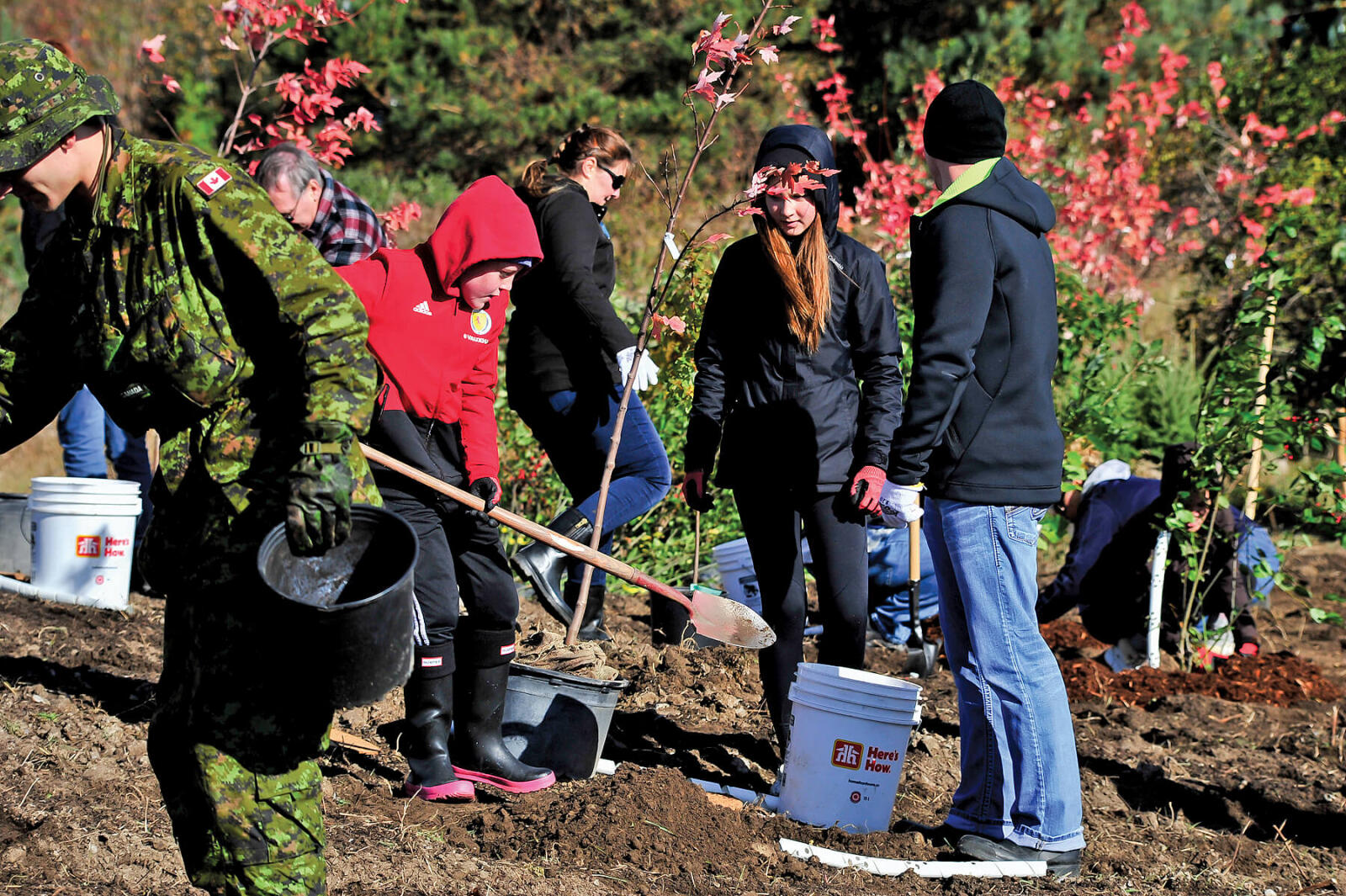 Ontario update January 2019
Landscape Trades
publishes occasional updates of provincial association activities. This issue features Landscape Ontario.
The Ontario horticulture profession's most pressing issue is workforce development, and Landscape Ontario (LO) is addressing the skilled labour shortage on several fronts. Since apprenticeship training is a valuable gift, efforts are ongoing to promote the opportunity, by seeking to fill every available training seat and encouraging business owners to buy into apprenticeship. The winter season of 2017-2018 saw 78 apprentices registered in classroom training across the province. LO is a supporter the Specialist High Skills Major Program, and maintains strong ties with every college and university horticulture program. Other workforce efforts include LO's Peer-to-Peer Network, over 100 professional development seminars, Congress Conferences, certification and
greencareerscanada.ca
.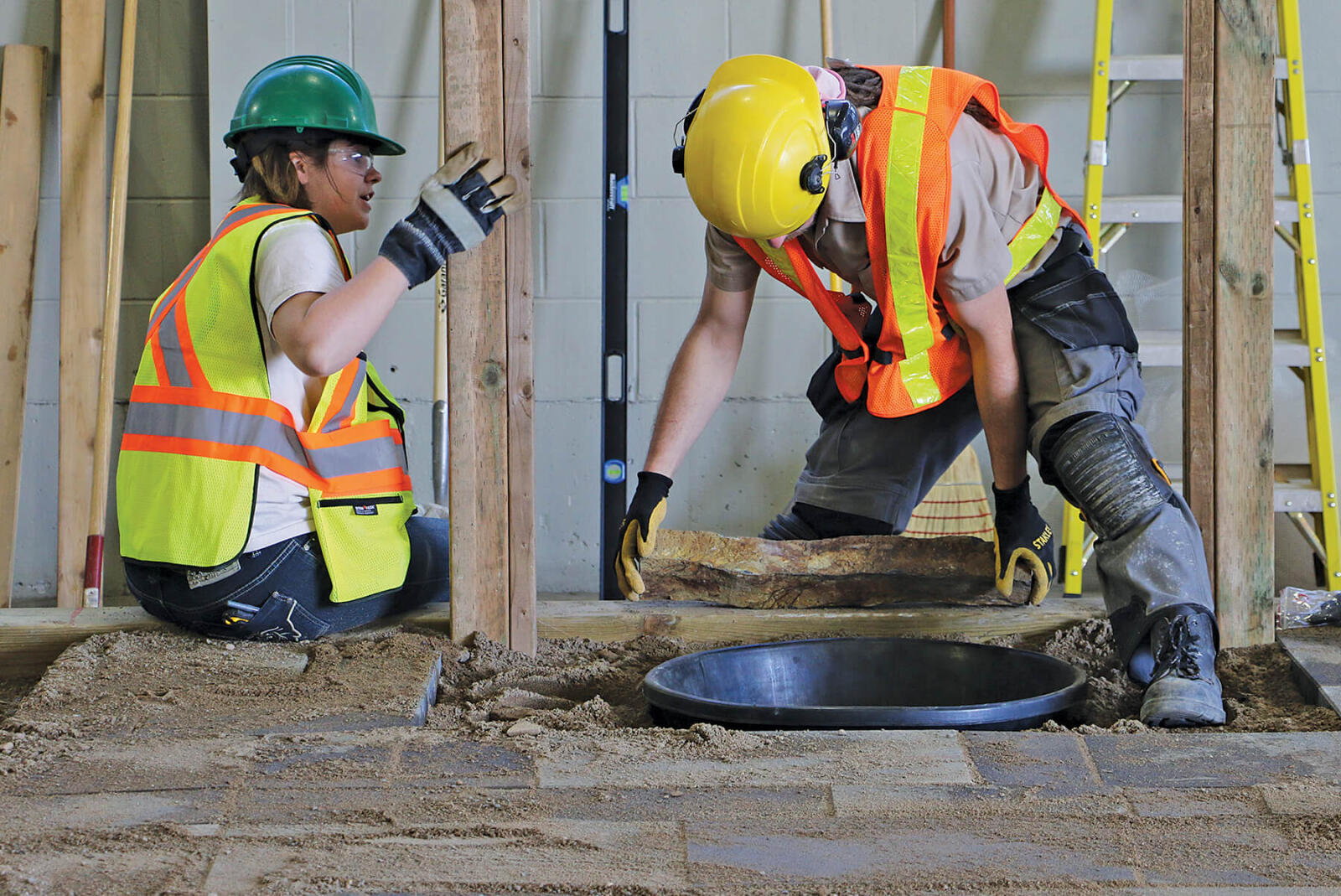 LO supports training initiatives to fill the shortage of skilled workers.
---
LO members are keenly aware that today's successes are built on the vision of respected industry pioneers. One of their most lasting legacies is the Ontario Horticultural Trades Foundation, a funding body for scholarships and research initiatives. In January of 2018, scholarships worth over $40,000 were distributed. Donations and proceeds from LO's annual Growers Auction comprise the fund.
Successful Come Alive Outside events were held in Toronto, Barrie, Hamilton, Westport, Woodstock, Picton and Huntsville, Ont., as well as Calgary, Alta. The idea is to pave a city street with sod, to drive home the idea of healthy outdoor play for children. The public was so captivated, that the busy intersection of Yonge and Bloor in Toronto was actually sodded twice. CAO organizers are also holding design challenges in schools, teaming landscape design students with young children to envision — and build — "outside the box" playscapes.
LO has put the full force of its resources behind the Highway of Heroes Tree Campaign. Most Canadians are familiar with spontaneous tributes paid the remains of fallen soldiers travelling on Hwy. 401 from CFB Trenton to the Toronto Coroner's Office. HOH aims to plant a tree along the highway for every fallen Canadian soldier, 117,000 in all. Response to this opportunity to show respect is gratifying; 32,000 trees have been planted to date. Before the idea was conceived, LO supported research to promote tree success in poor soil, including highway conditions. The results have been invaluable in optimizing survival rates of HOH trees. LO members are involved in all aspects of the project, including stock supply and planting.
Congress Committee members are very proud to stage Canada's leading horticultural trade show, and invest countless volunteer hours in its success. Attendees and exhibitors alike were thrilled with Congress 2018. Peter Guinane received the Past Presidents' Award for outstanding contributions to LO — just one of the show's highlights. LO is also a co-founder of the consumer garden festival Canada Blooms, which has promoted horticulture to hundreds of thousands for 22 years.
LO's leadership believes local involvement is key to relevance. Nine chapters are active in education, regional trade shows, social events and community improvement. In addition, 11 sector groups provide member support; special events were held this year for the irrigation, design, lighting, contractor, snow and grower sectors.
A recent victory for landscape business owners took place in the Hamilton, Ont., area. A proposal to limit landscape companies to commercially zoned properties threatened many members, and LO went to the provincial level to make the case that small businesses like landscape companies actually enhance communities.
After many years of planning, the total renovation of LO's home office in Milton, Ont., is underway. Cooperative spirit has led to an agreement where the Canadian Nursery Landscape Association is a 10 per cent stakeholder in the renovated building. The project will be completed in 2019; expanded training space is just one anticipated benefit. A team of superstar landscape architects is currently planning a revitalized landscape to showcase the profession: Paul Brydges, Haig Seferian, Ron Koudys, Scott Wentworth, Kathy Zhu and Dave Wright.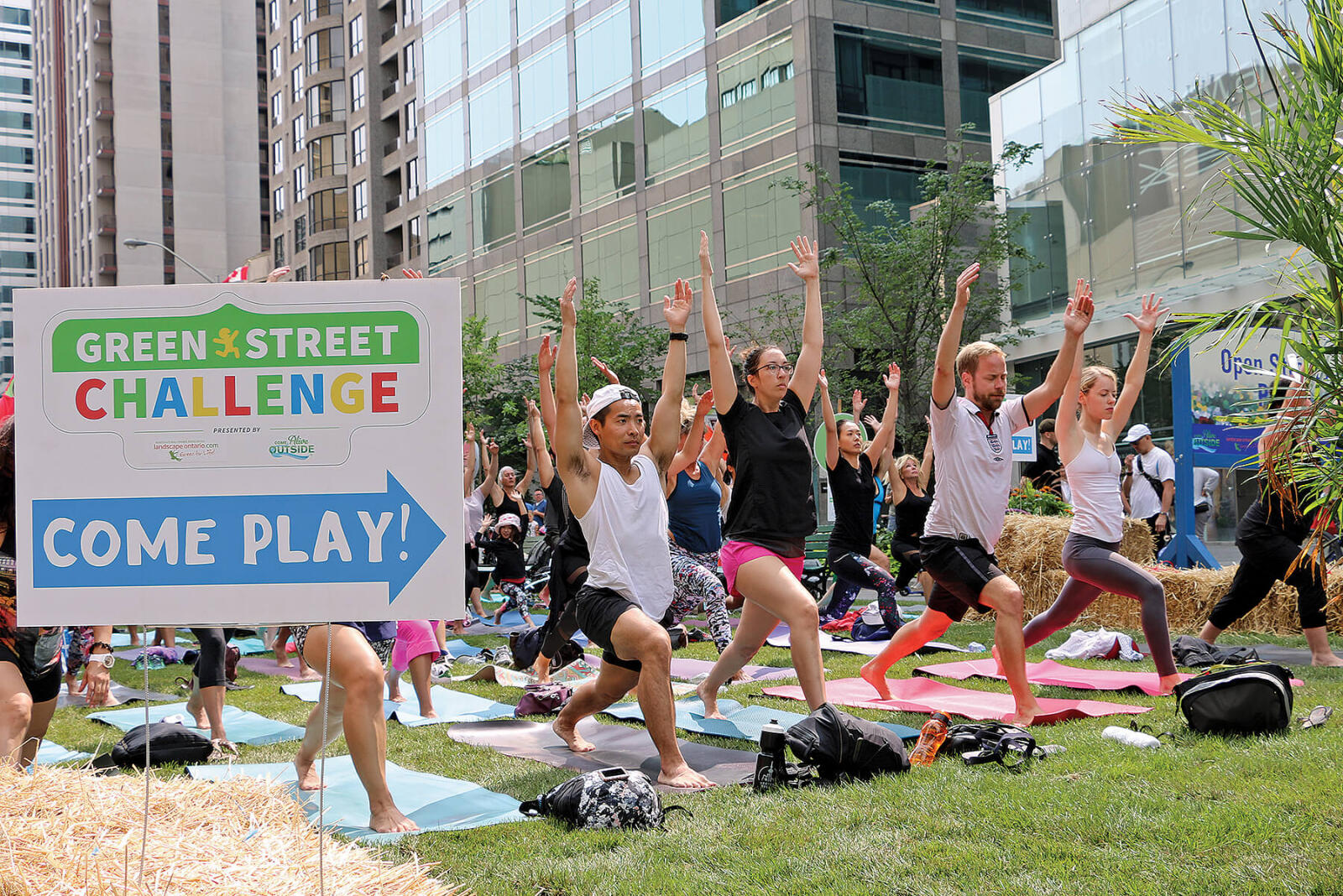 The intersection of Yonge and Bloor in Toronto, Ont., covered with lush, green sod, made a great place for a yoga class.
---