September 5, 2023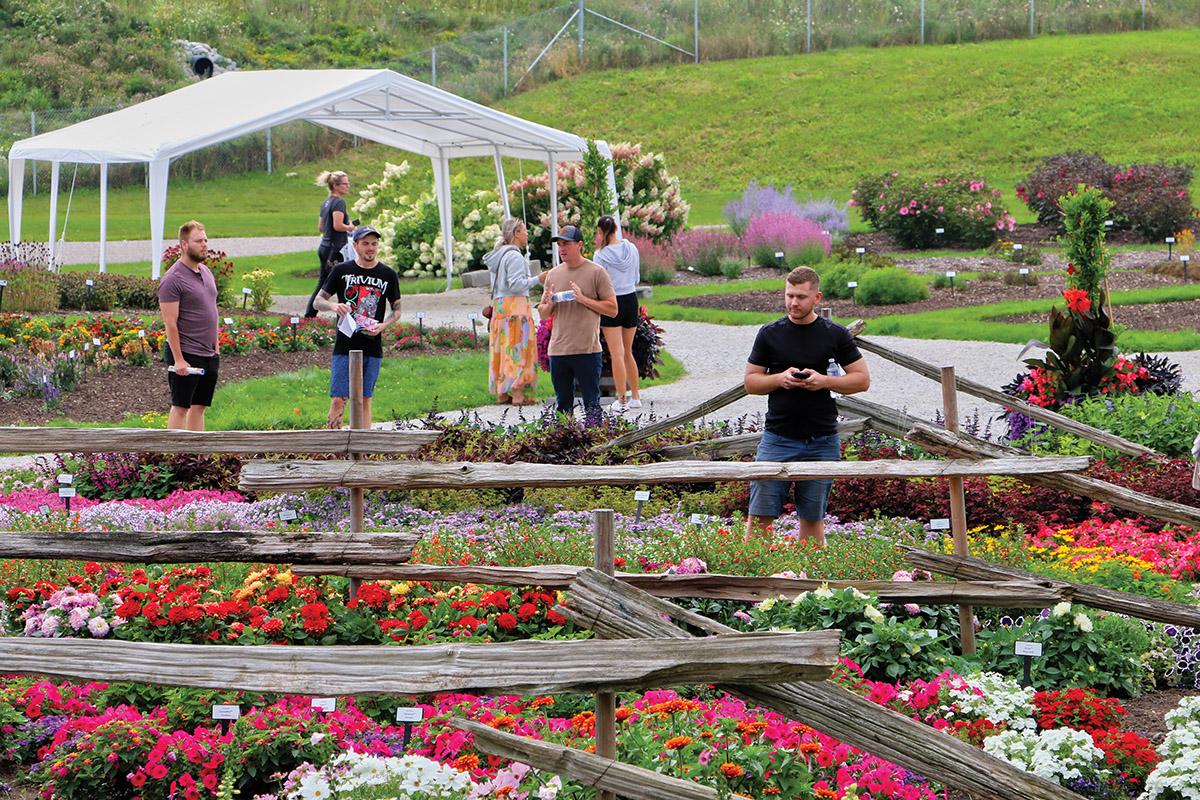 New plants showcased at Landscape Ontario head office
About 90 industry professionals, plant lovers and students attended the Landscape Ontario/University of Guelph Trial Garden Open House on Aug. 17, 2023. The annual event provides a guided tour of the latest plants being trialed at the site, before they are available in the marketplace.
The half-day event kicked off with an indoor education session with Rodger Tschanz, University of Guelph trial garden manager, who welcomed visitors and introduced the various presenters. Tanya Carvalho, territory manager of Canada for Ball FloraPlant and Selecta One, explained the process of trialing plants and highlighted some recent introductions. Felicia Vandervelde, regional account manager at PanAmerican Seed, discussed reliable seed production and provided examples of successful plants that were trialed.
Next, Guinevere Kern, horticultural therapy practitioner, LO GROW Program and Homewood Health Centre, discussed optimizing horticulture for health from awareness to support. Finally, Cassie Russell, Ontario Ministry of Agriculture, Food and Rural Affairs (OMAFRA) nursery and landscape specialist, spoke about invasive species in the landscape, including spotted lanternfly and box tree moth.
Attendees then enjoyed a guided tour of the many planting beds, including the "stone entry bed" — a tribute to the Perennial Plant Association (PPA) with a special planting of Rudbeckia American GoldRush, 2023 perennial plant of the year. The "flagpole bed" was planted in recognition of last year's 75th anniversary of PanAmerican Seed (PAS). The planting had a white and purple palette and included a selection of historical breeding highlights from PAS. Once again, LO, University of Guelph and OMAFRA partnered to continue evaluating pollinator activity on a selection of commercially available ornamental plants. Thanks go to MacKenzie and Avery and their supervisor Sarah Jandricic for their dedicated research.
The main perennial trial features over 250 plant varieties, plus a new trial of echinacea (over 40 entries) and a salvia trial. Over 250 types of annuals were also trialed, both in the ground and in containers.
Landscape Ontario and the University of Guelph would like to recognize the following companies and organizations who participated or supported this year's trial:
Major sponsors:
Canadian Ornamental Horticulture Association, Canadian Agricultural Partnership, Agriculture Canada.
Breeders and plant suppliers:
American Takii, Ball FloraPlant, Benary, Danziger, Darwin Perennials, De Vroomen, Dümmen Orange, Hilverdaflorist, Jelitto, Kieft Seed, PanAmerican Seed, Pacific Plug & Liner, Proven Winners, Takii Europe, Selecta One, Syngenta Flowers, ThinkPlants.
Growers and suppliers:
Aris Horticulture, Colonial Florists, ICL-Group/Specialty Fertilizers, Linwell Gardens, Ed Sobkowich Greenhouses, JVK (Jack Van Klaveren), MCP Manufacturing, Geo Sant and Sons Greenhouses,
SunGro Horticulture, The HC Companies, Walters Gardens.
Supporting organization:
All-America Selections.