October 16, 2018
New perennials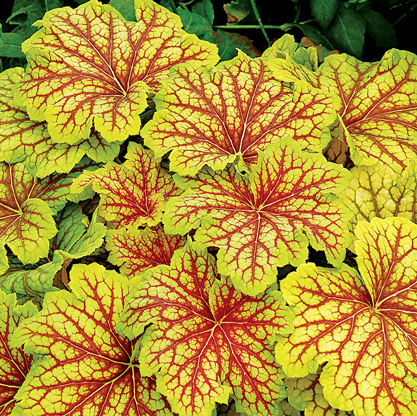 Heuchera 'Red Lightning'
Coral bells
Electrifying dark red veins spark over huge gold leaves. Colour holds well throughout the season. This striking foliage works equally well in the garden or a mixed container. Best in part to full shade. Grows to 30 cm. Hardiness zone 4.
Valleybrook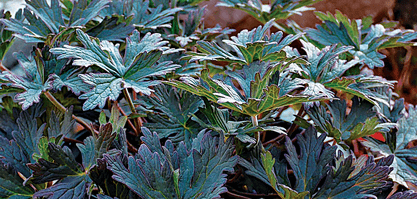 Geranium pratense 'Boom Chocolatta'
Hardy geranium
'Boom Chocolatta' has rich, dark bronze leaves and an upright habit. Blue-purple flowers
cover the top starting in early summer.
It grows to a height of 70 cm and a spread of 75 cm.
Exposure is full sun to part shade. Hardiness zone 4.
Hillen Nursery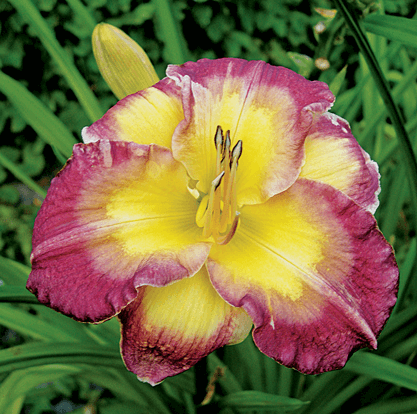 Hemerocallis 'Cheese and Wine'
Reblooming daylily
With the hues of red wine and a variety of cheeses, this fragrant, reblooming daylily provides colour over a long period during the summer. Grows to 75 cm. Best in sun or part sun. Hardiness zone 3.
Valleybrook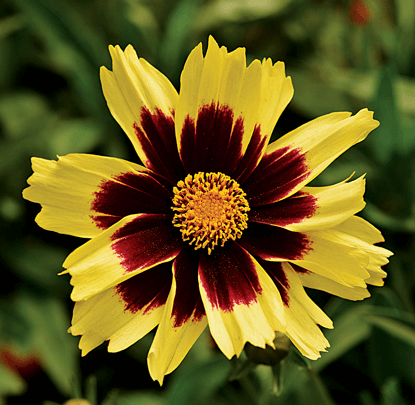 Coreopsis hybrida 'Super Star'
Tickseed
'Super Star' boasts extra-large flowers that bring beauty to any perennial garden. Similar habit and garden performance to the popular UpTick series. Great in landscapes or containers for long-lasting texture and colour. Hardiness zone 5a.
Darwin Perennials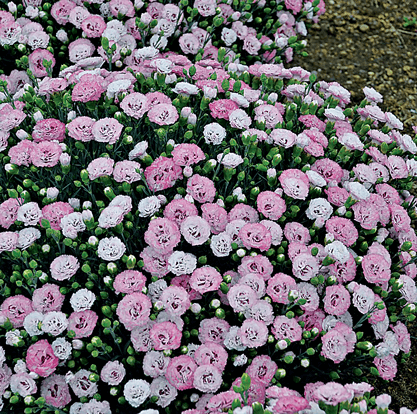 Dianthus
'Appleblossom Burst'
Pinks
The result of breeding work by Walters Gardens, 'Appleblossom Burst' features semi-double flowers ranging from white to an intense pink blush. Best in sun and well-drained soil. Grows to 25 cm. Hardiness zone 4.
Valleybrook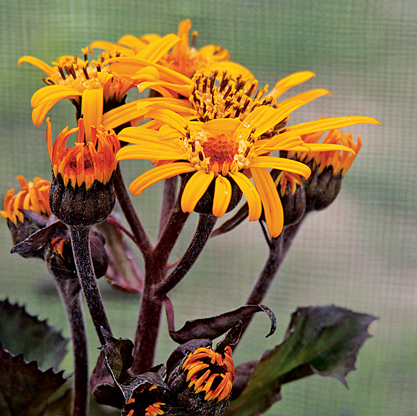 Ligularia dentata 'King Kong'
Bigleaf ligularia
New leaves are glossy and black-purple, turning to burgundy purple with a semi-gloss finish as summer progresses. Golden orange, daisy-like flowers top the plant on purple stems in mid-summer.
Suited for use in borders, as a specimen or in woodland shade.
Grows to a height of 1.25 metres and a spread of 1 metre.
Hardiness zone 4.
Hillen Nursery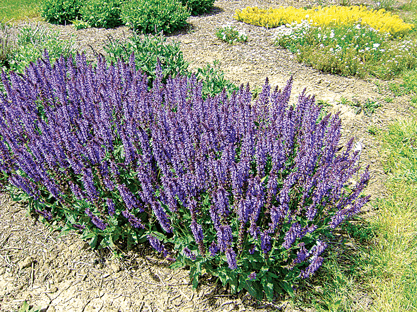 Salvia hybrida 'Blue by You'
Meadow sage
'Blue by You' has excellent winter hardiness and heat tolerance. Will repeat bloom several times during the growing season when spent flowers are removed. It's a sterile hybrid for longer flower life. The plant is adorned with long, bright-blue flower spikes. Hardiness zone 4b.
Darwin Perennials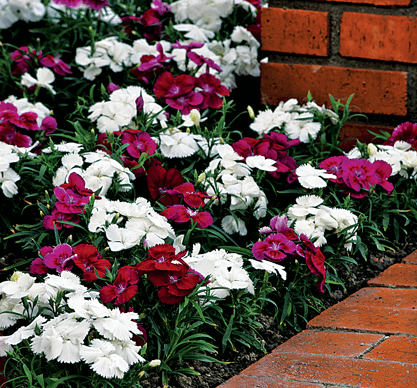 Dianthus chinensis Corona
China pink
Corona produces large-size flowers on a compact, mounded plant. The biggest blooms of any dianthus of this type with exceptional flower form, according to PanAmerican Seed.
Hardiness zone 5a-5b.
PanAmerican Seed
Dicentra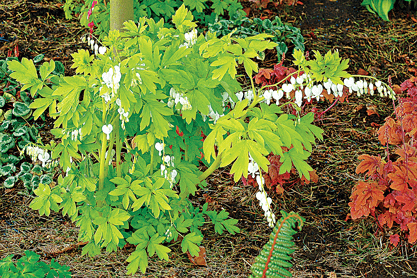 spectabilis
'White Gold'
Golden bleeding heart
'White Gold' has brilliant-white, heart-shaped flowers and blooms in early spring. This bright green-yellow perennial attracts hummingbirds and can bring colour and light
to any shade garden. Hardiness zone 4.
Terra Nova Nurseries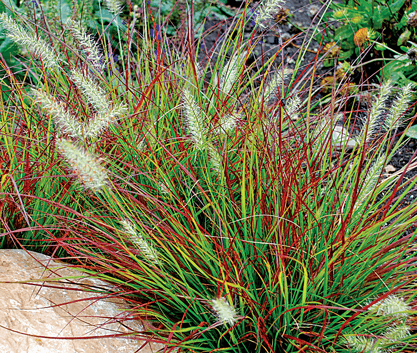 Pennisetum alopecuroides 'Burgundy Bunny'
Miniature fountain grass
Everything about this grass is petite, including its short height,
narrow green leaves and flower plumes. It has fiery red highlights
in late spring, followed by buff coloured blooms in mid- to late summer. In fall, the foliage is a stunning red. Grows to a height and spread of 45 cm. Exposure is full sun. Hardiness zone 5.
Hillen Nursery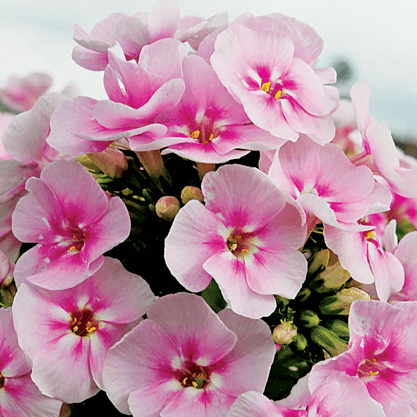 Phlox paniculata 'Younique Bicolor'
Garden phlox
These compact plants have loads of soft pink flowers with a white eye and bright pink specks.
Earlier blooming than tall summer phlox, this introduction will
re-bloom if deadheaded. Mildew resistant. Best in sun.
Grows to 40 cm. Hardiness zone 4.
Valleybrook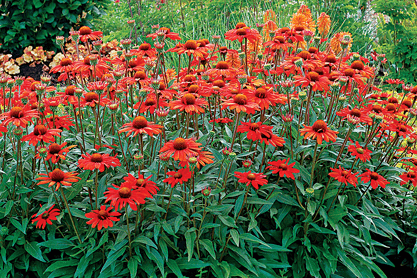 Echinacea Kismet
Intense Orange
Coneflower
Kismet Intense Orange is a deer-resistant, low water usage perennial with an extensive bloom time. Due to years of persistent Echinacea breeding, Kismet Intense Orange keeps blooming
from early summer until frost. Hardiness zone 4.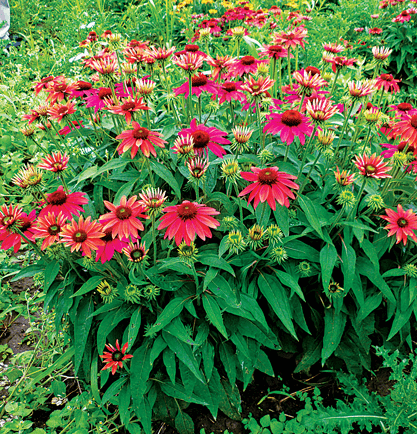 Echinacea x hybrida
Sombrero Tres Amigos
Coneflower
The Sombrero series from Darwin Perennials is highly
floriferous on naturally well-branched and compact plants. They have excellent presentation and are covered in bright, rich blooms. New for 2019 is Tres Amigos, which shows three colours at once: flowers open to peachy-coral, age to rose and fade to burgundy. Hardiness zone 4b.
Darwin Perennials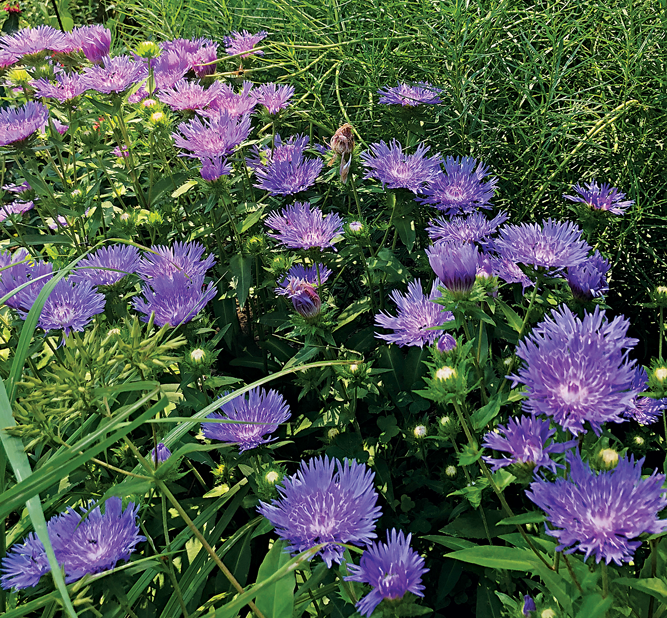 Stokesia laevis 'Mel's Blue'
Stokes' aster
An upright selection with four-inch wide periwinkle blue blooms held high and flat on strong stems. This Stokes' aster stands apart because of the large number of
upright facing flowers it produces. Hardiness zone 5.
Plants Nouveau