April 6, 2020
New palette for Spring 2020
Just like painting the inside of your home with the latest colour trends, Landscape Ontario presents the newest varieties in plants and colours to 'paint' your outside space and fill containers. Visit your local garden centre specialist listed at landscapeontario.com for all your landscape needs. Enjoy the many colours of new plants for 2020!
What if a selection is sold out or not available? Your local garden centre is where you will find professional staffers who can suggest alternates. Buy your plants from sources that understand the business of horticulture!
ASK THE EXPERTS
Independent garden centres are the best place to find the new and improved plants featured in
Garden Inspiration
. Independents are the experts at providing large selections and hard-to-find specialty plants.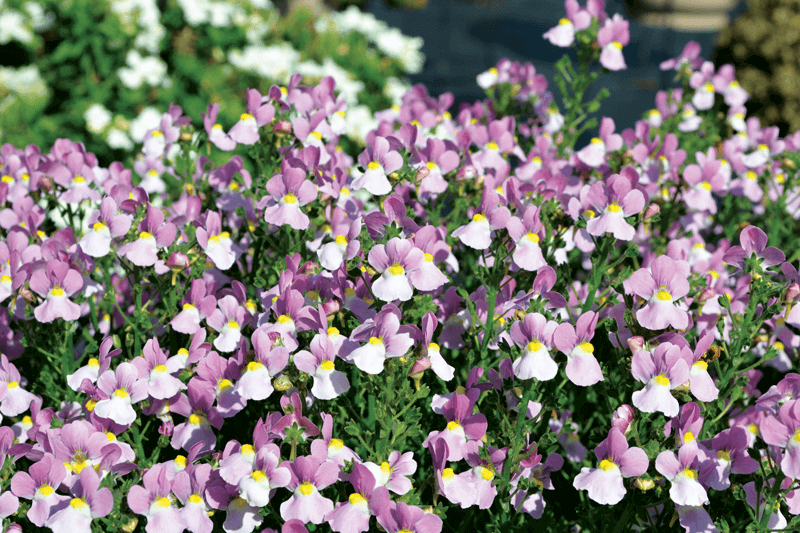 ANNUAL
Aromance Pink nemesia
The flower form of nemesia resembles a small snapdragon, with two tightly-closed lips and a lower lip usually tipped in bright yellow. The bright yellow spot acts as a target for pollinators, allowing access to the nectar inside. Petals can range from shades of pink and blue to red, yellow and orange. In Aromance Pink, we have a biocolour flower, with the lower lip being light pink and the upper displaying dark pink shades. What really stood out in the trial for this cultivar was fragrance. Whether growing in the greenhouse or in the field, the fragrance was noticeable from three metres or more.
---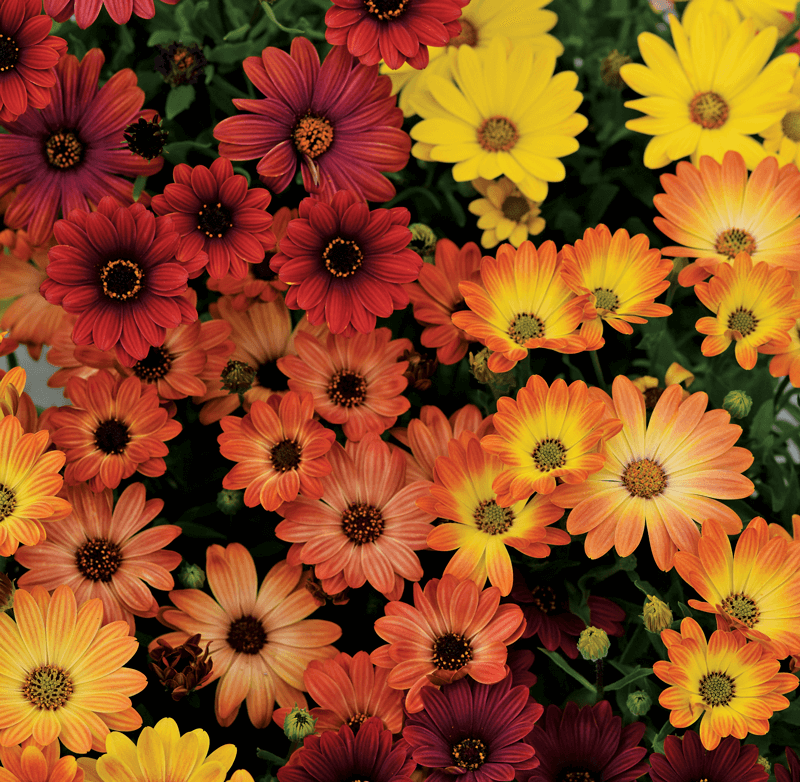 ANNUAL
Akila Sunset Shades African daisy
Great for mass plantings and containers, these full, well-branched African daisies show off beautiful flowers. This new multicolour mix includes popular colours like yellow, magicians and rose-reds, plus salmon, apricot and orange shades.
---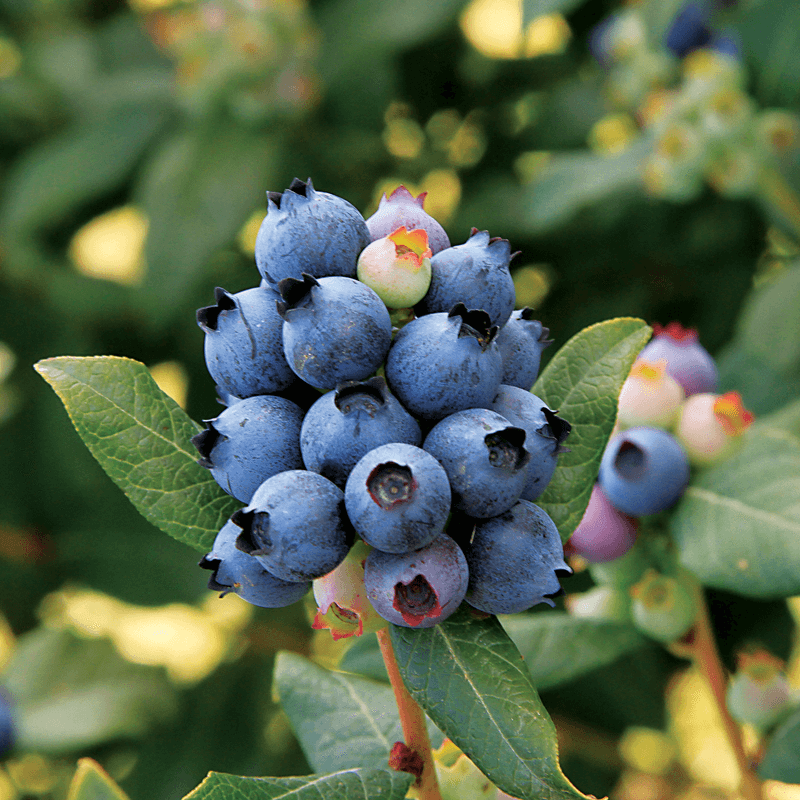 EDIBLE
Bushel and Berry Perpetua blueberry
Perpetua yields two crops of sweet and delicious blueberries. The first fruit appears in mid-summer, then the plant will flower and set fruit a second time in fall. Zone 4.
---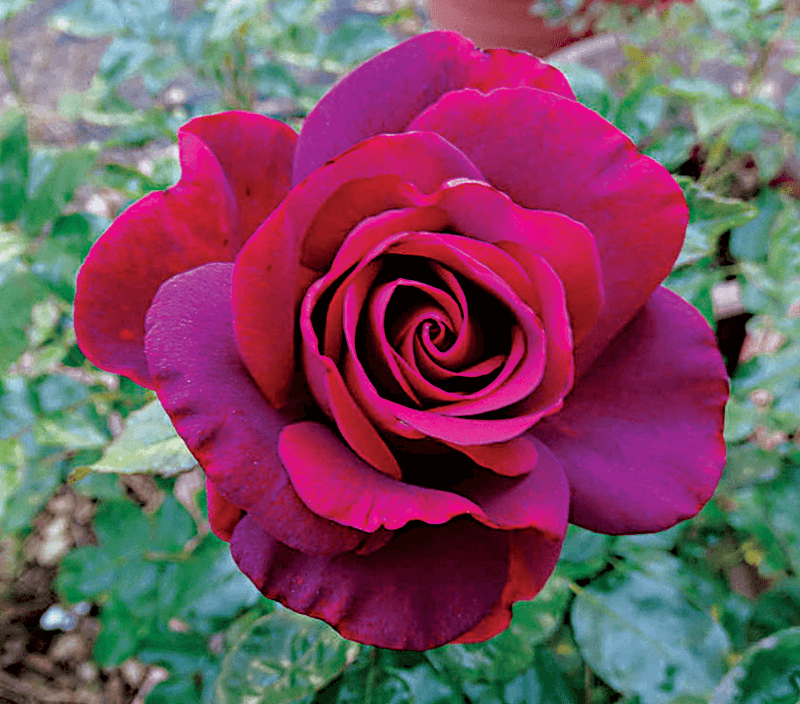 ROSE
Our Anniversary rose
A one-of-a-kind velvety red bloomer that changes to plum purple. The high-centre flowers grow in large clusters and bloom freely throughout the growing season.
---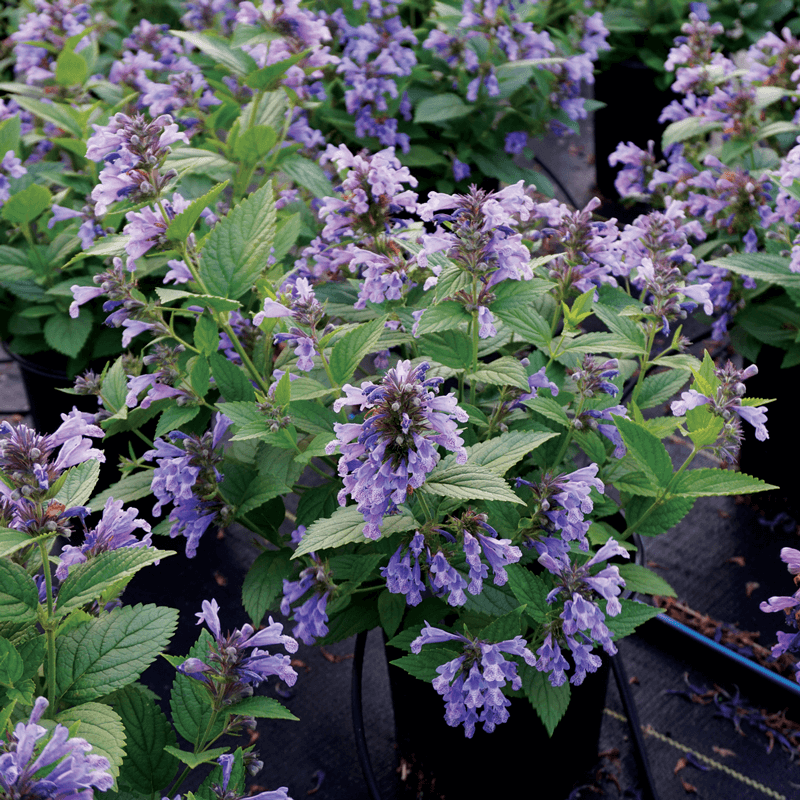 PERENNIAL
Blue Prelude Japanese cat mint
A new Japanese cat mint that will flower for months in the spring and summer. Attracts pollinators with its fragrant leaves. Blue Prelude features large blue flowers on a compact habit in its first year; the second year, it will grow to three feet. Zones 5a-9a.
---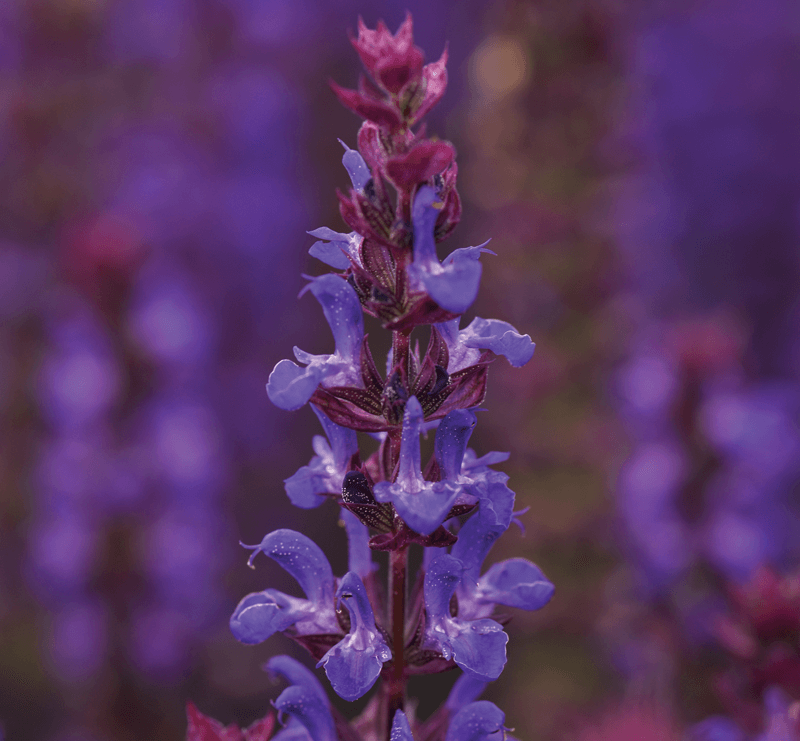 PERENNIAL
Salvatore Blue salvia
This high-contrast salvia has black flower stems and deep purple calyx with deep blue flowers on long spikes. Cut back flower stems after flowering to encourage repeat blooming. Blooms late spring. Zones 4a-8b.
---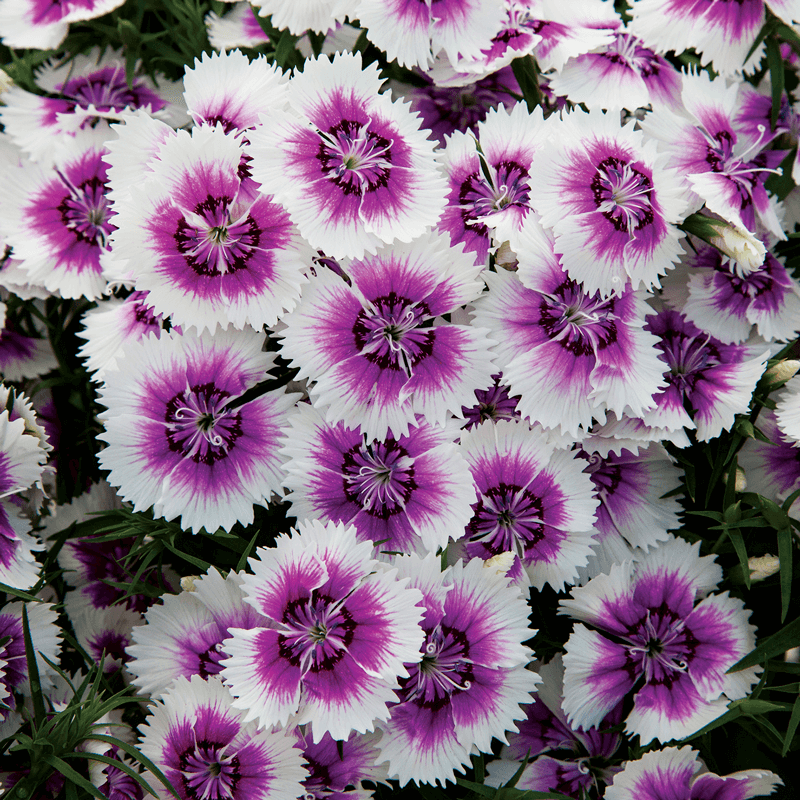 ANNUAL
IQ Purple Ice dianthus
New to the IQ series of dianthus, Purple Ice has a compact habit and a dense canopy of flowers.
---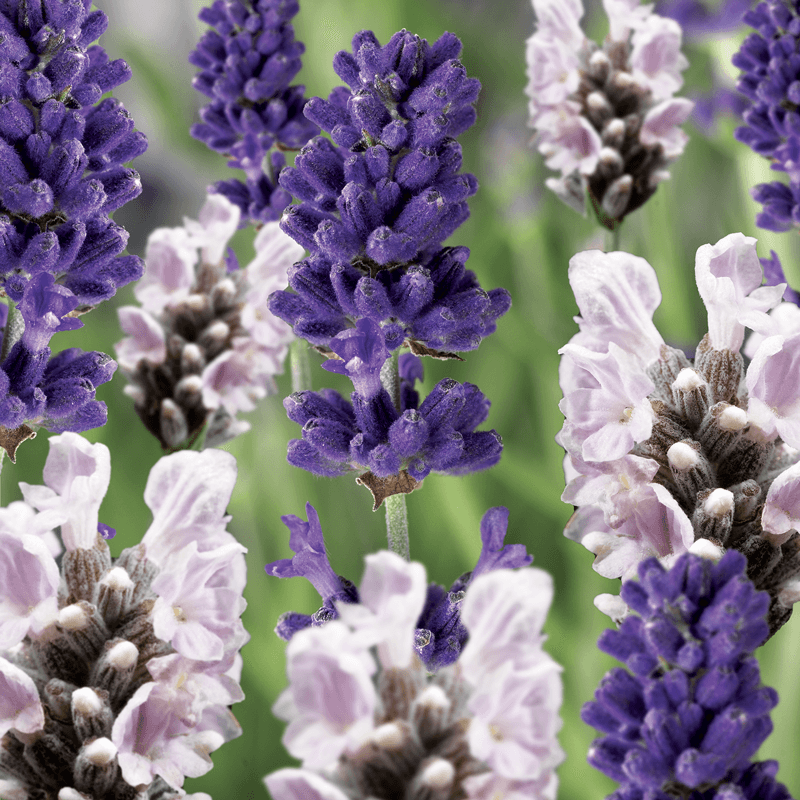 PERENNIAL
Scent Early Blue and White Mix English lavender
The next generation of Scent lavender, Early Blue and White Mix produce consistent and early flowers.
---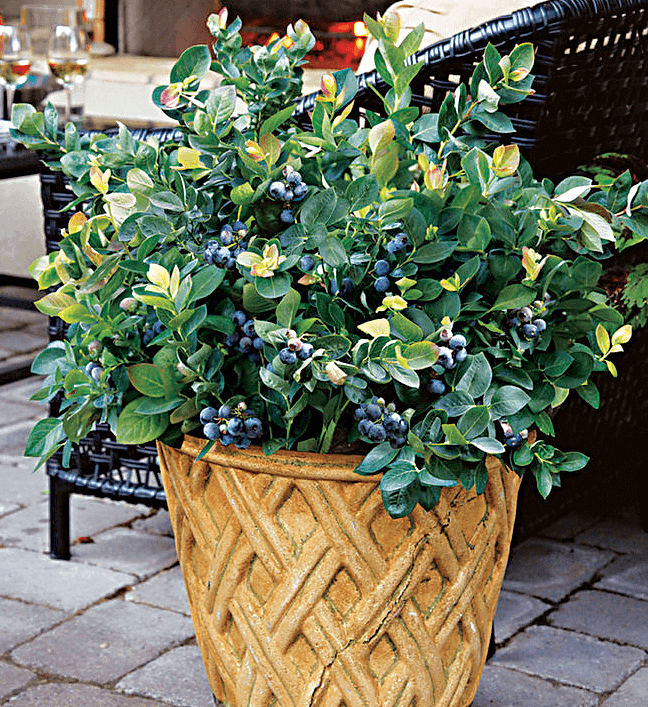 EDIBLE
Peach Sorbet blueberry
This blueberry is stunning with leaves that are peach, pink, orange and emerald green. White bell-shaped flowers will appear in spring, leading to an abundant summer crop of tropical flavoured, sweet blueberries.
---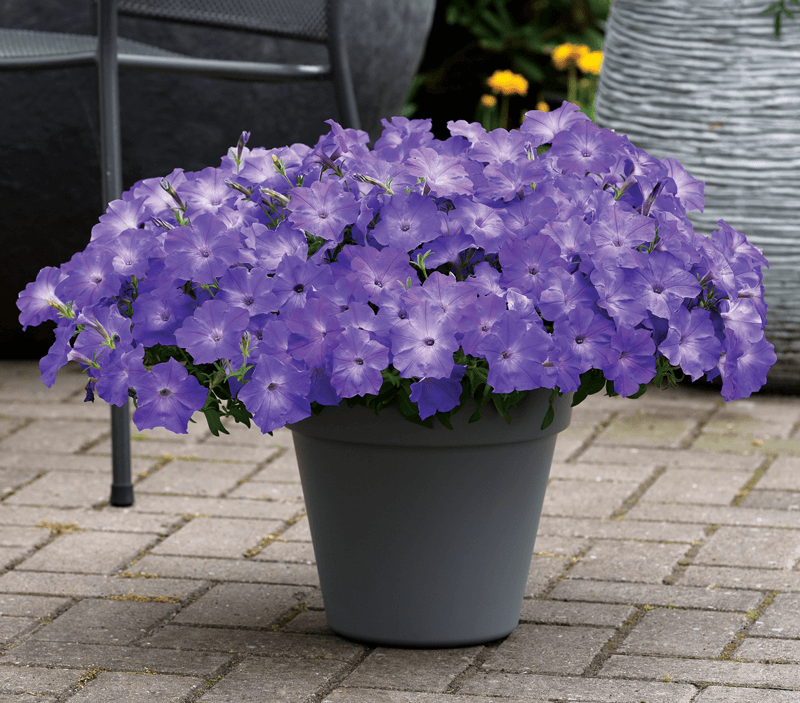 ANNUAL
Easy Wave Lavender Sky Blue spreading petunia
Lavender Blue Sky is a new addition to the Easy Wave series, which are fast growing spreading petunias that bloom freely all season in landscapes and containers.
---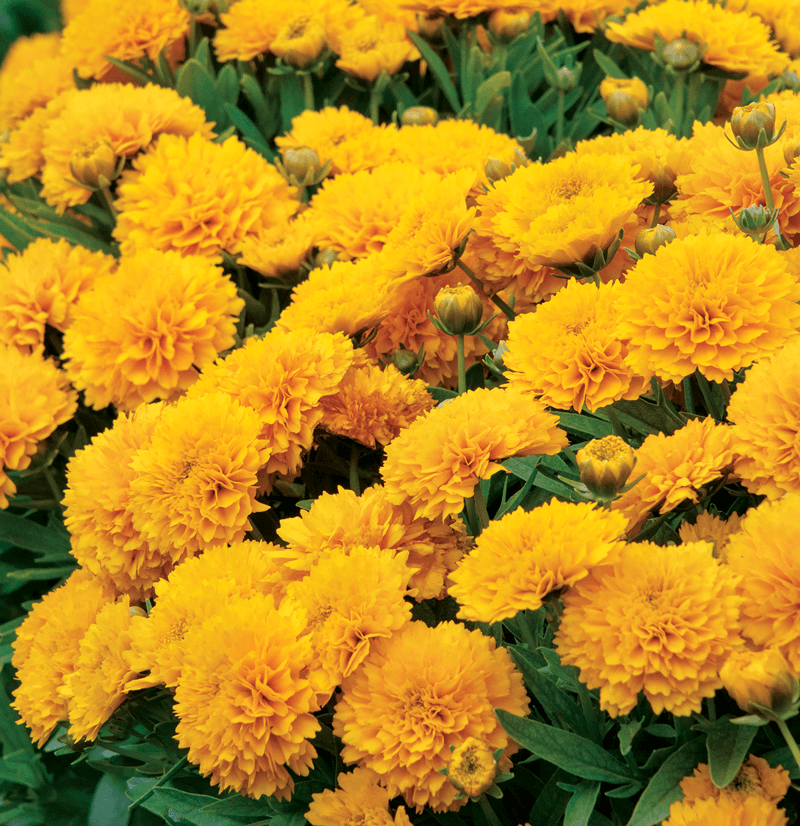 PERENNIAL
Solanna Golden Sphere tickseed
Big, bright golden yellow, fully double flowers on strong, short stems rise slightly above upright mounds of lush green foliage, and continue to bloom throughout the summer. Zones 4-9.
---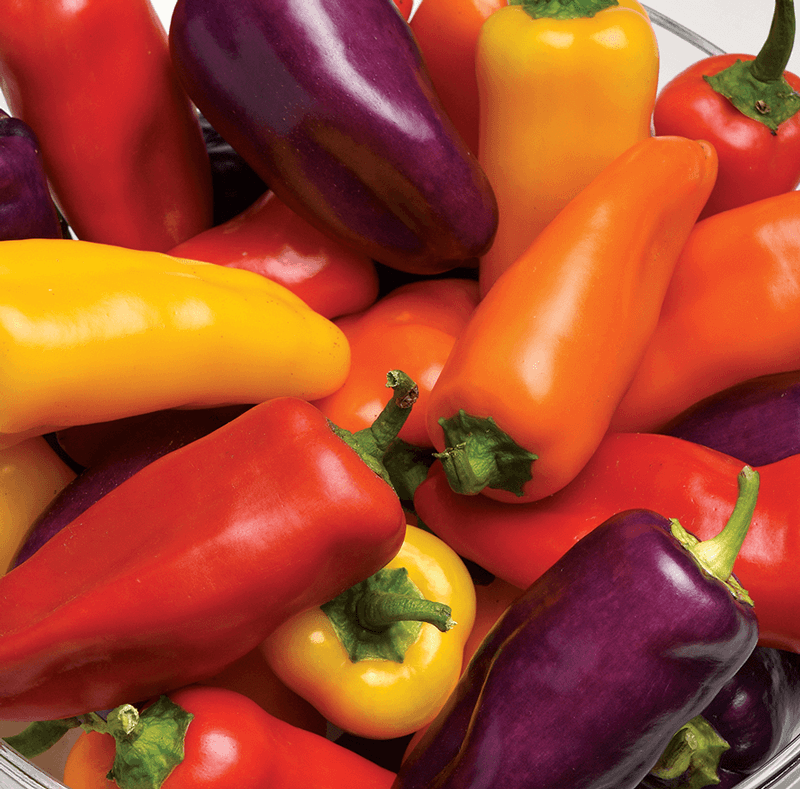 EDIBLE
Mardi Gras Fun Pepper
The Mardi Gras series offers four colours that can be grown together in one large container for a patio display, or in garden beds. Plants continuously produce sweet, snackable peppers that offer the best flavor when their full colour is achieved. Available in Orange, Red, Yellow and Purple.
---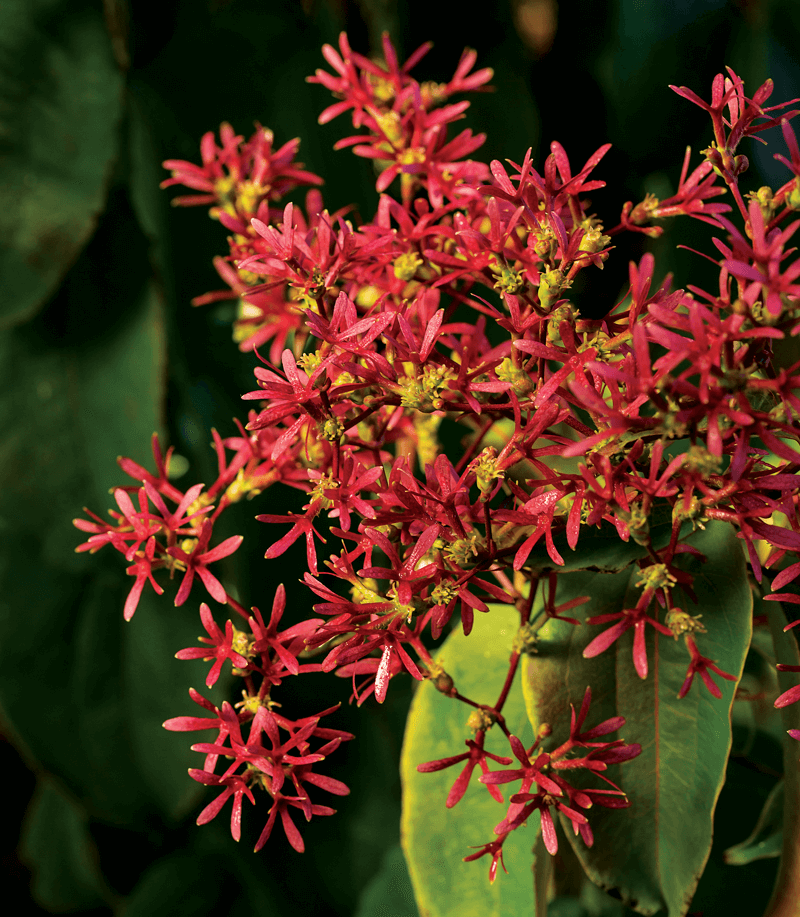 SHRUB
Tianshan seven-son flower
While bred in France, this new cultivar is named after the mountain range in China where the species is native. Clusters of fragrant, creamy-white flowers appear in late summer, with each whorl containing seven flowers. The blooms are followed in autumn by unusual purplish-red fruits.
---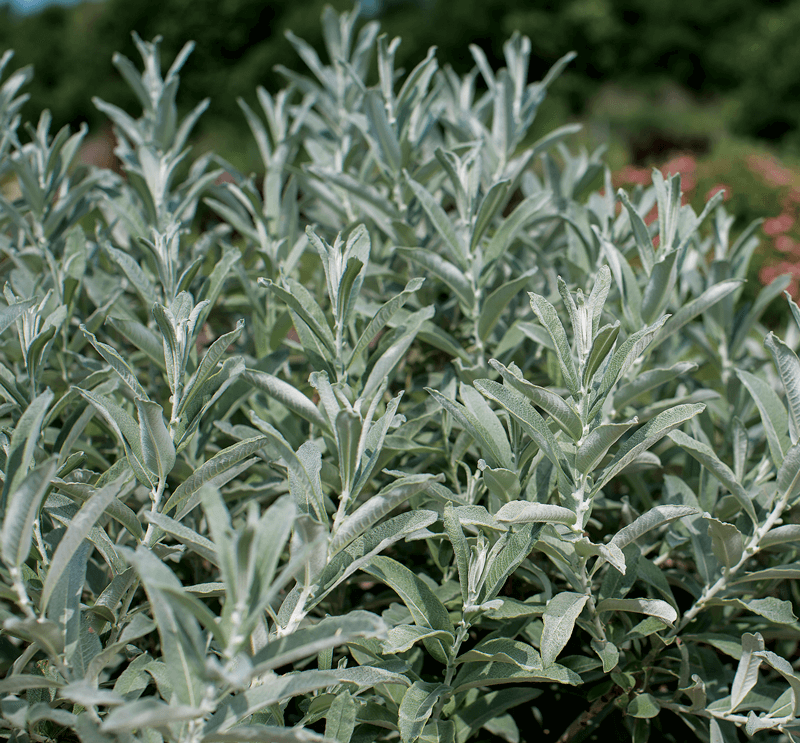 SHRUB
Iceberg Alley sageleaf willow
Iceberg Alley is a native plant discovered by the Memorial University of Newfoundland and Labrador Botanical Garden. The powdery, silver foliage of this small sageleaf willow adds texture and contrast when combined with other colourful shrubs. Zones 2-6.
---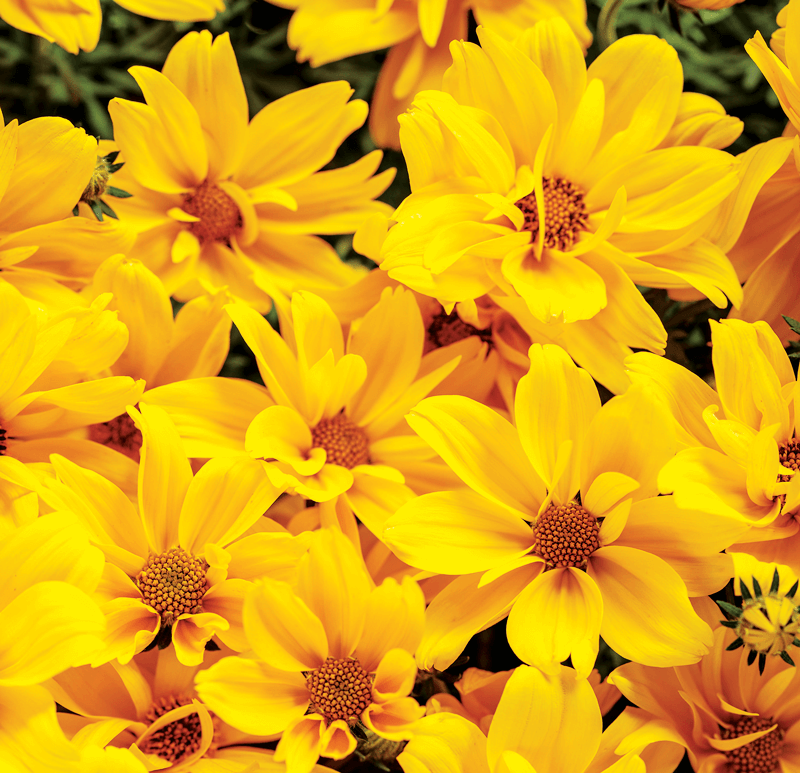 ANNUAL
Goldilocks Rocks Improved Apache beggarticks
This compact beggarticks features extra-large flowers and mixes well in hanging baskets and upright containers.
---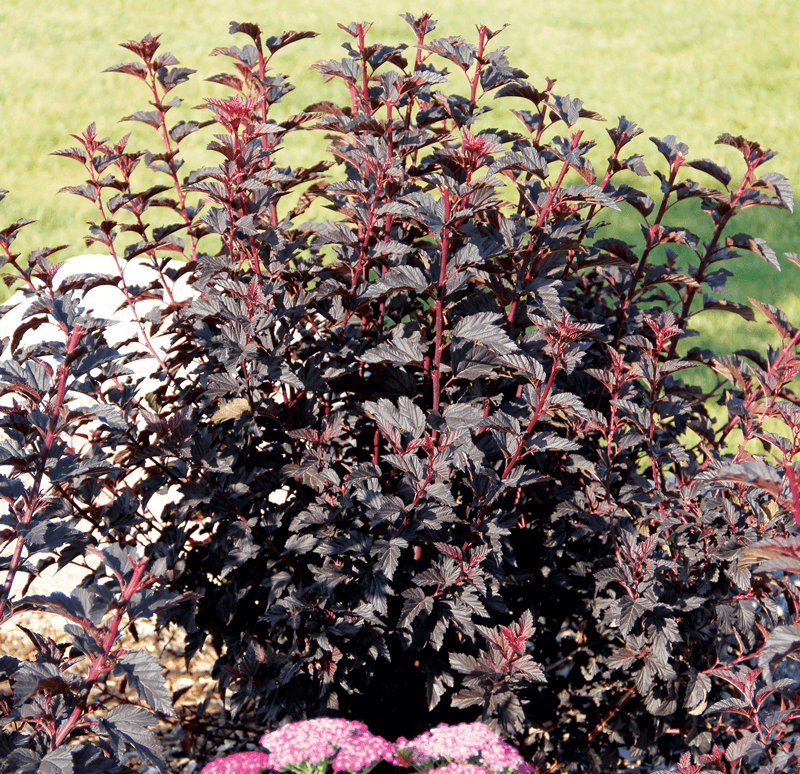 SHRUB
Royal Jubilee ninebark
Royal Jubilee features dark purple foliage, excellent mildew resistance and a dense compact plant form. Zone 2b.
---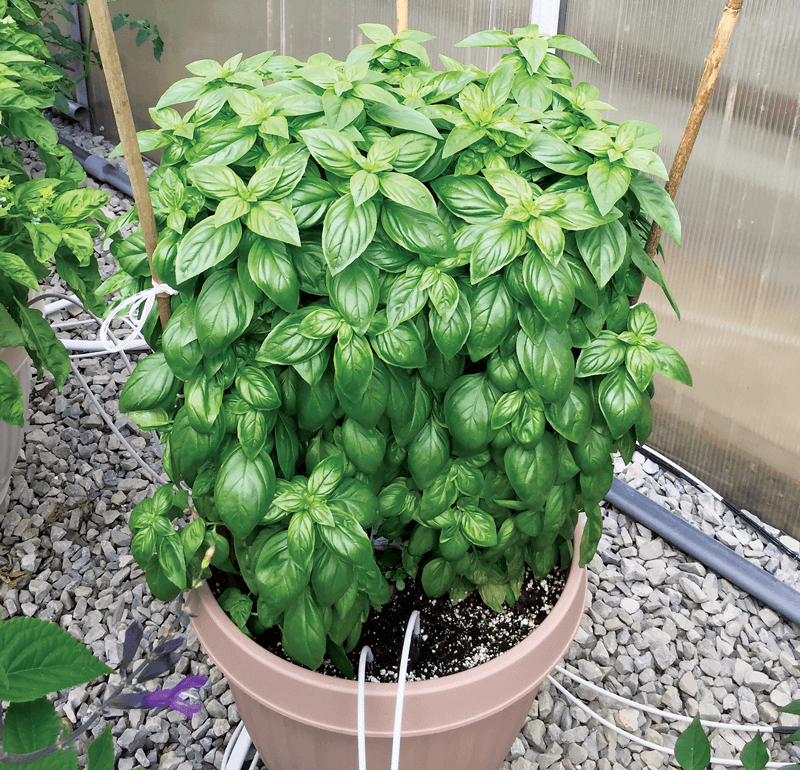 EDIBLE
Everleaf Emerald Towers Genovese basil
This dark green, glossy leafed basil is packed with traditional Genovese flavour, perfect for eating fresh in caprese salad or chopped fresh in recipes.
---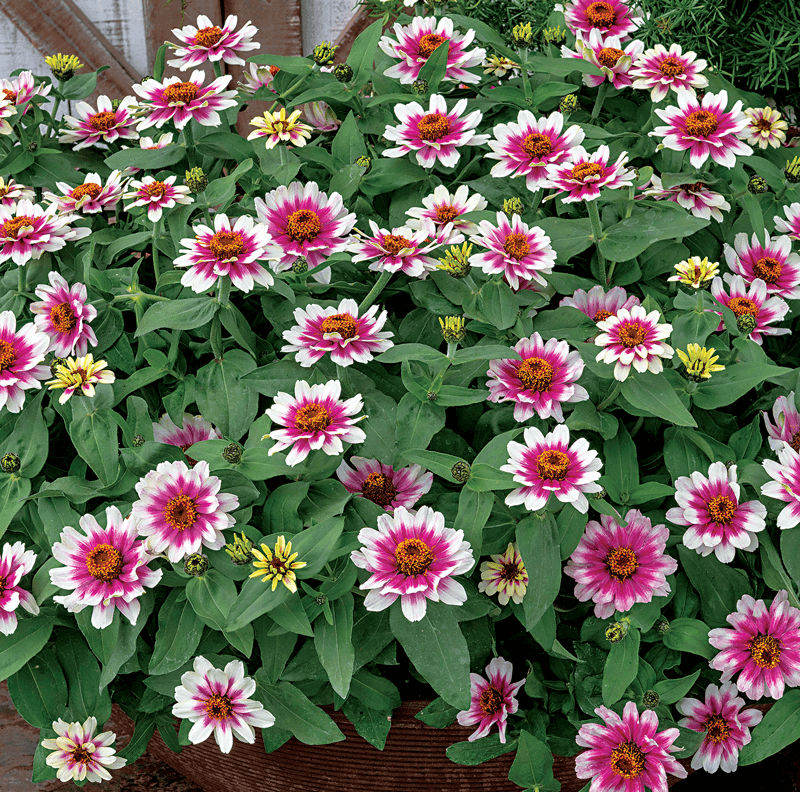 ANNUAL
Profusion Cherry Bicolor zinnia
New to the Profusion series, Cherry Bicolor's non-fading colour blooms with a kiss of bright cherry and becomes more intense as the flower ages.
---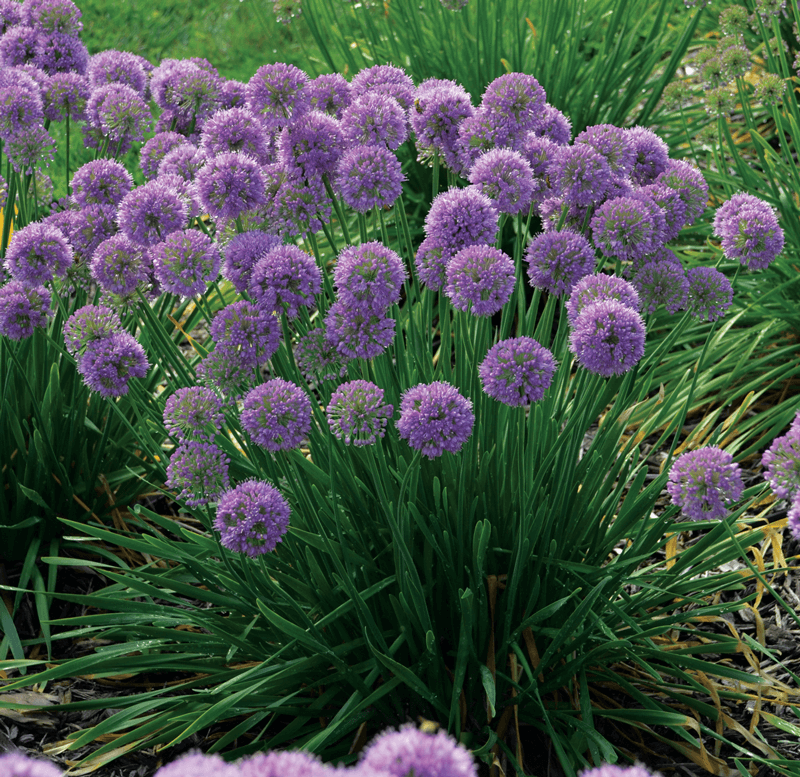 PERENNIAL
Serendipity ornamental onion
This sport of Millenium shares all of the qualities that made Millenium popular, with the addition of glaucous blue foliage. Zones 4-8.
---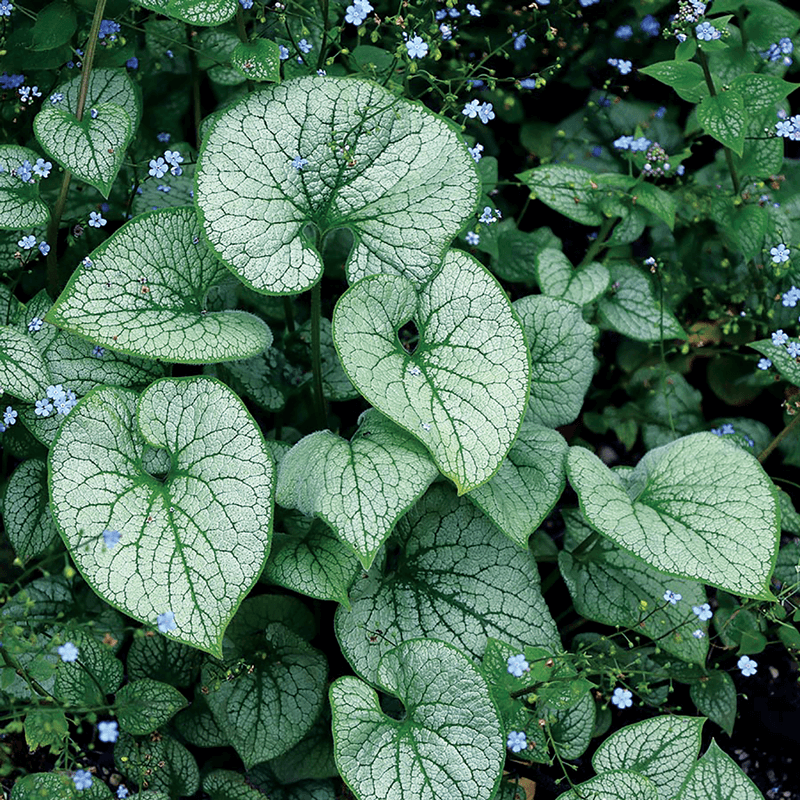 PERENNIAL
Alchemy Silver brunnera
This vigorous selection impresses with showy silver foliage, as a wonderful shade accent plant. Use in containers, as a mass planting or in borders. Zone 4.
---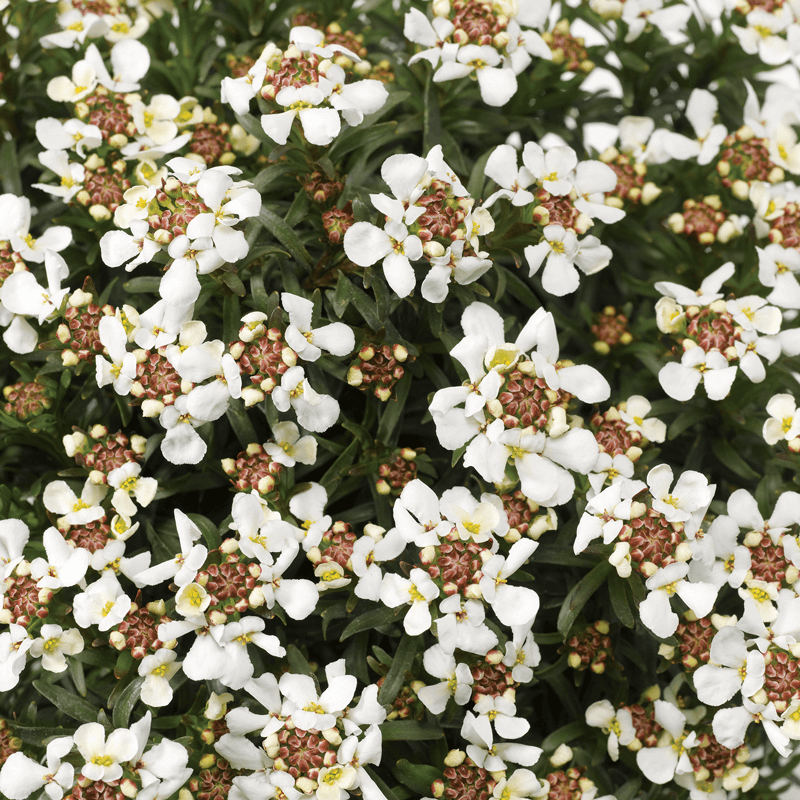 PERENNIAL
Snow Cone Forte evergreen candytuft
A faster growing companion to Snow Cone, with smaller flowers and denser branching. Zones 4-8.
---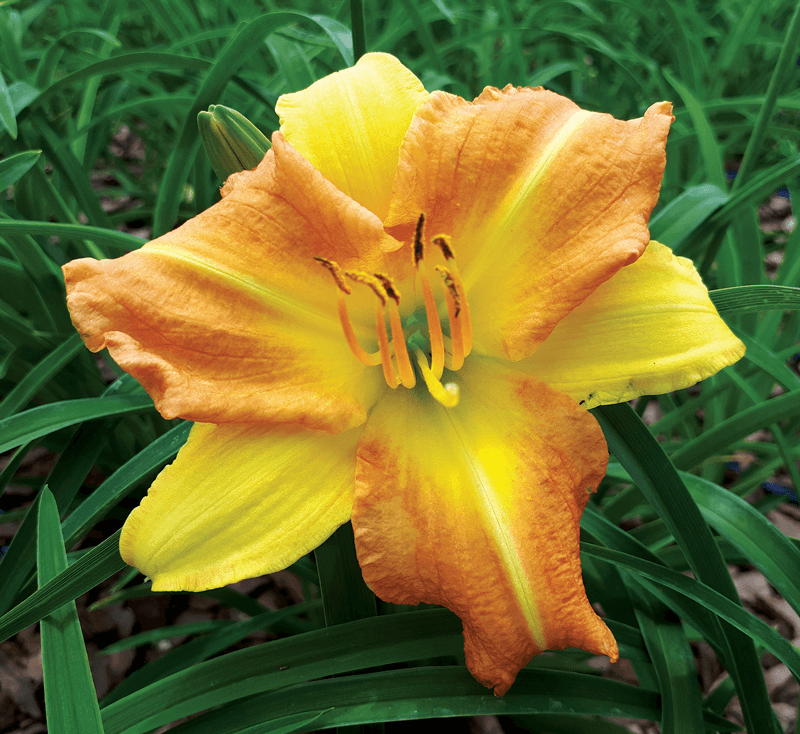 PERENNIAL
EveryDaylily Punch Yellow daylily
This new daylily produces up to 400 two-toned pink and yellow blooms per season. Zone 3.
---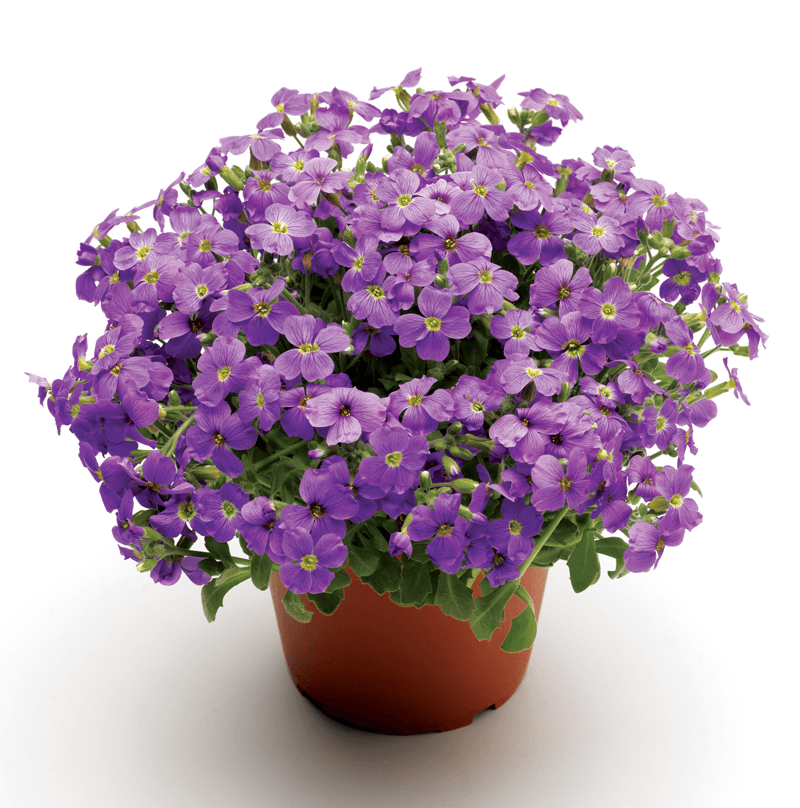 PERENNIAL
Audrey Light Blue aubrieta
New to the Audrey series of aubrieta hybrids, Light Blue provides uniformity in habit and flower colour and is one of the earliest blooming perennials. Zones 6-9.
---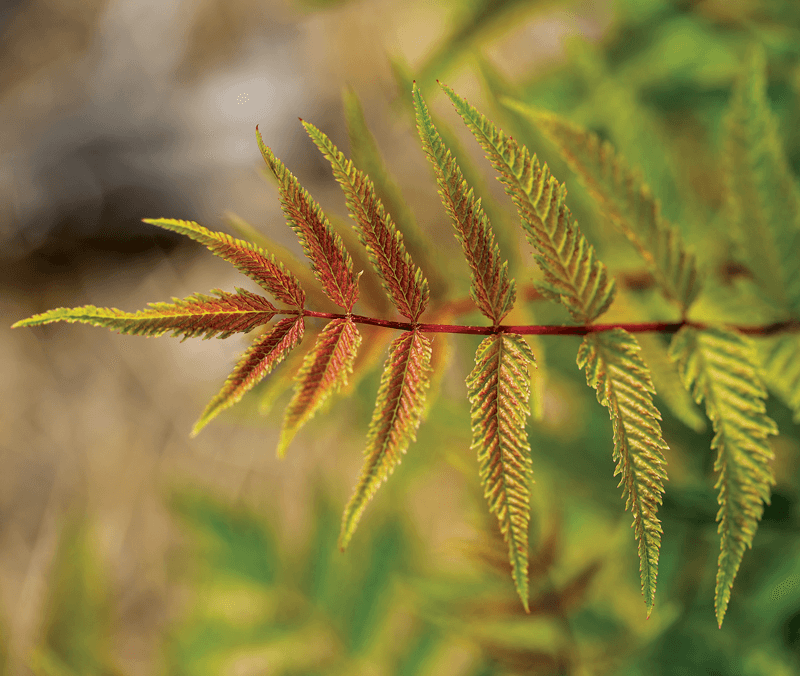 SHRUB
Matcha Ball ash leaf spirea
Matcha Ball forms a perfect round ball of fern-like foliage in a fresh shade of green; the colour reminded the breeder of matcha tea. There is a hint of colour in the leaves and petioles that ranges from red to an orange-peach in spring, ultimately maturing to green. Zones 3-7.
---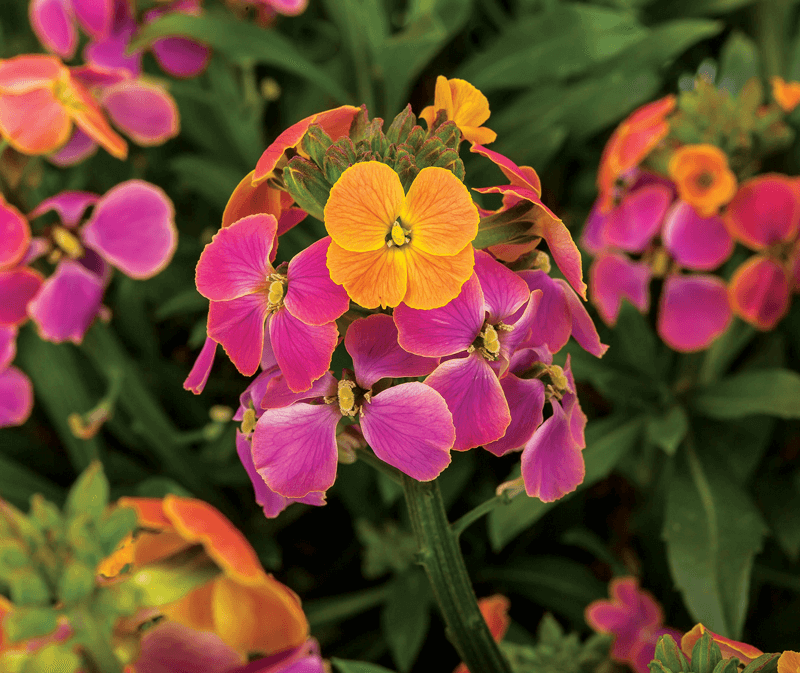 PERENNIAL
Erysistible wallflower
The first-ever Zone 5 wallflower, the Erysistible series includes Yellow, Forte Magenta, Tricolor (shown), and Sunset.
---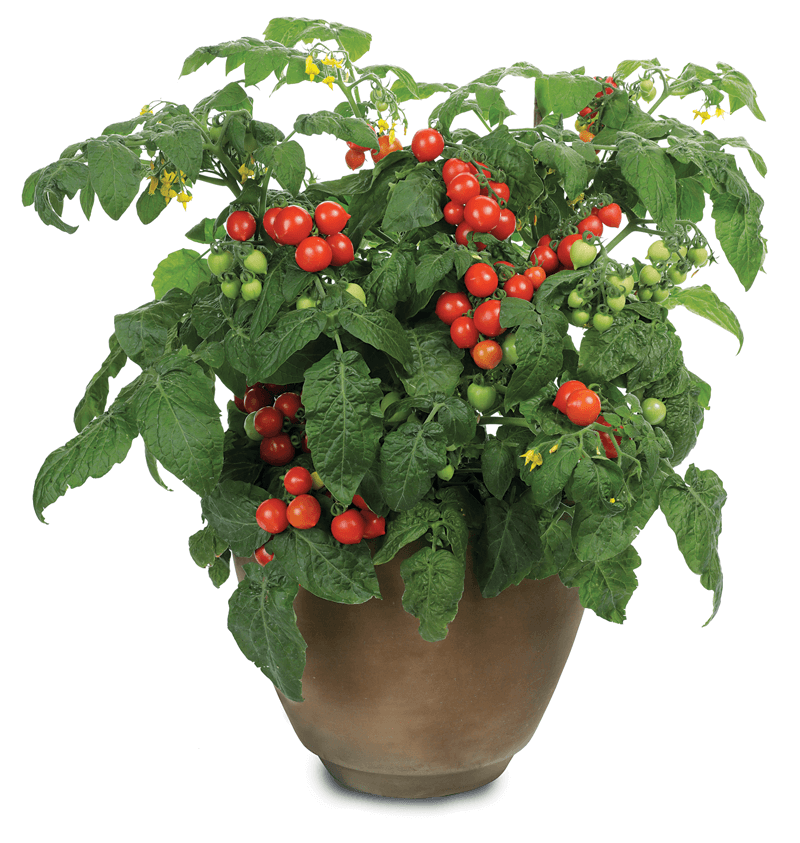 EDIBLE
Good Hearted Tomato
Good Hearted is a compact cocktail tomato with a low mounding habit, ideal for growing in hanging baskets and upright containers. Heart- to pear-shaped fruits a little bigger than a cherry tomato with a blend of sweet and acidic flavours.
---

PERENNIAL
Spring Bell 2.0 bellflower
The new Spring Bell 2.0 bellflowers have nicely mounded habits covered in vibrant blooms. New cultivars include White and Blue. Zones 5-9.
---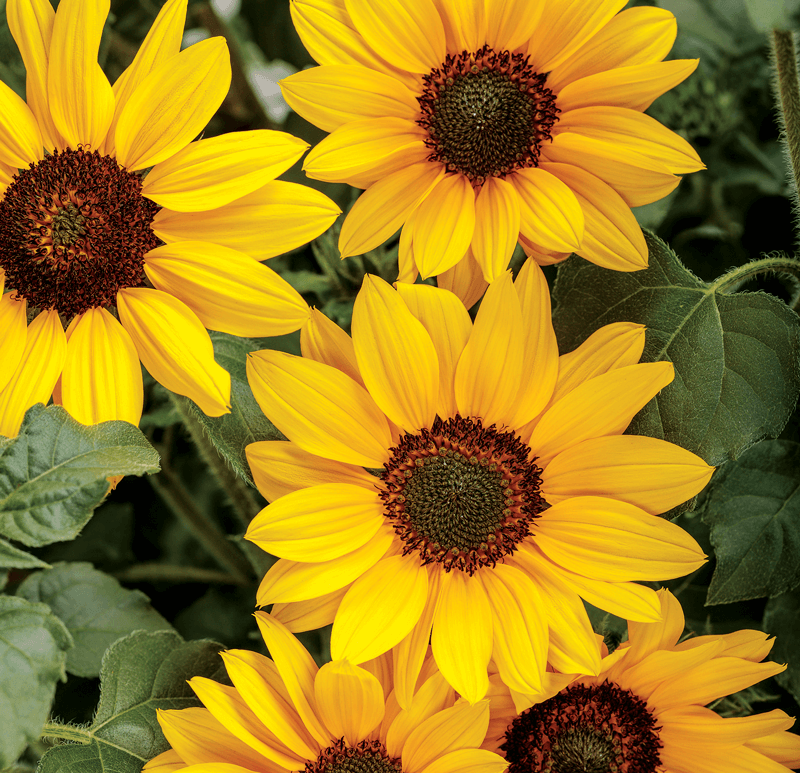 ANNUAL
Suncredible Yellow sunflower
Blooming continuously from summer through fall on large, uniform, well-branched plants, this sunflower makes an outstanding focal point in containers and landscapes.
---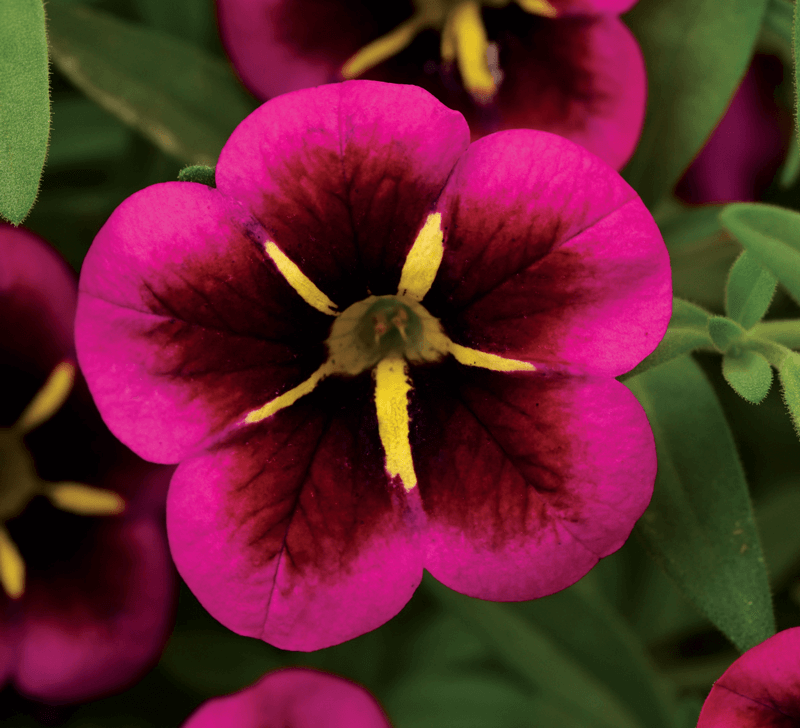 ANNUAL
Cabaret Good Night Kiss calibrochoa
Good Night Kiss features a novel pattern with a star centre. Plants are well-branched with full centres, and are well-suited for hanging baskets.
---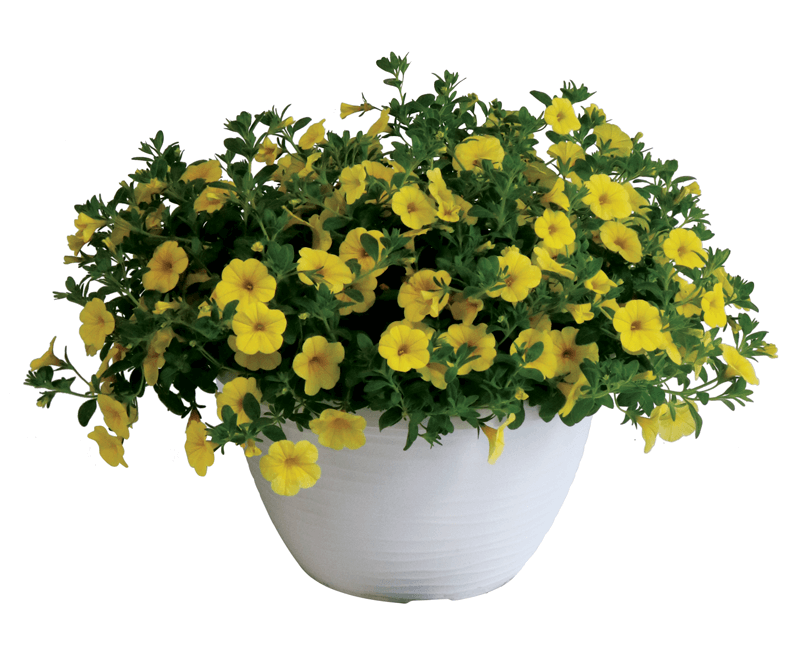 ANNUAL
Bloomtastic Yellow calibrachoa
Bloomtastic Yellow features exceptional all-summer performance and massive flower size.
---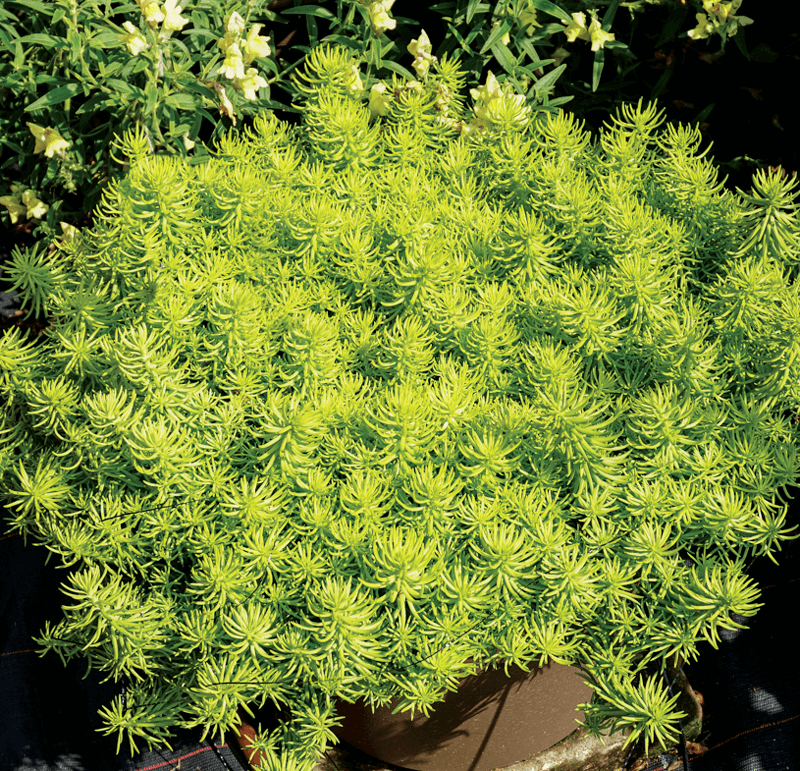 PERENNIAL
Prima Angelina stonecrop
Plant Prima Angelina in a sunny landscape location or use as an accent in mixed succulent containers. Its striking needle-shaped leaves offer a brilliant, golden-yellow colour with winter interest as well. Zones 4a-9b.
---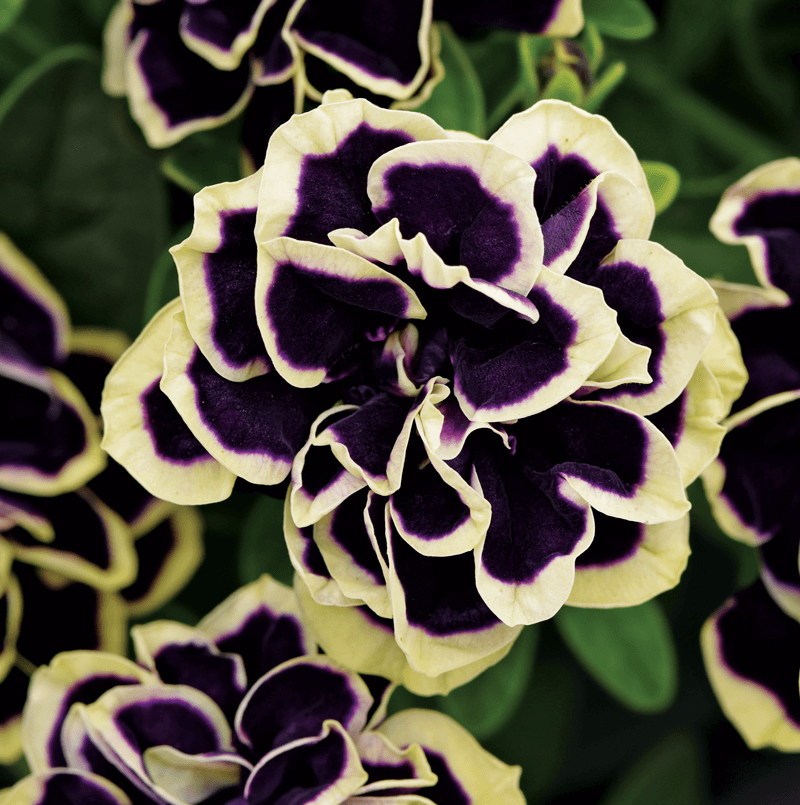 ANNUAL
Midnight Gold petunia
Midnight Gold is a basket-loving petunia with huge double flowers in a unique, first-of-its-kind novelty colour.
---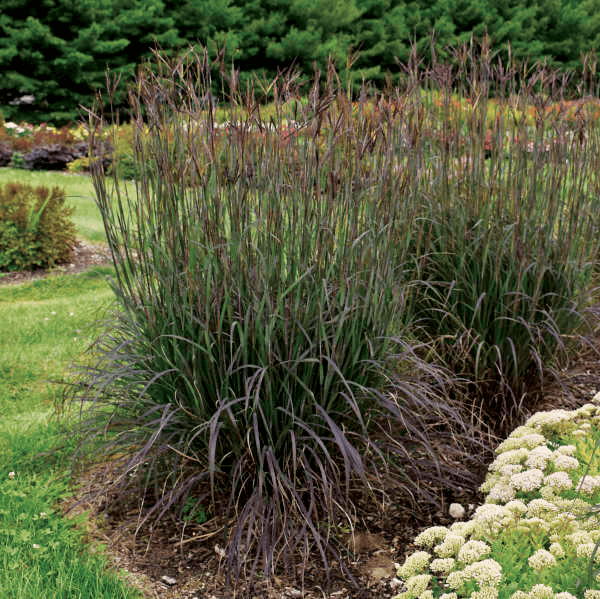 PERENNIAL
Blackhawks Big bluestem
The foliage emerges deep green to dark purple in spring and deepens to near black by fall. Blackhawks provides height and colour to the garden. Zone 3.
---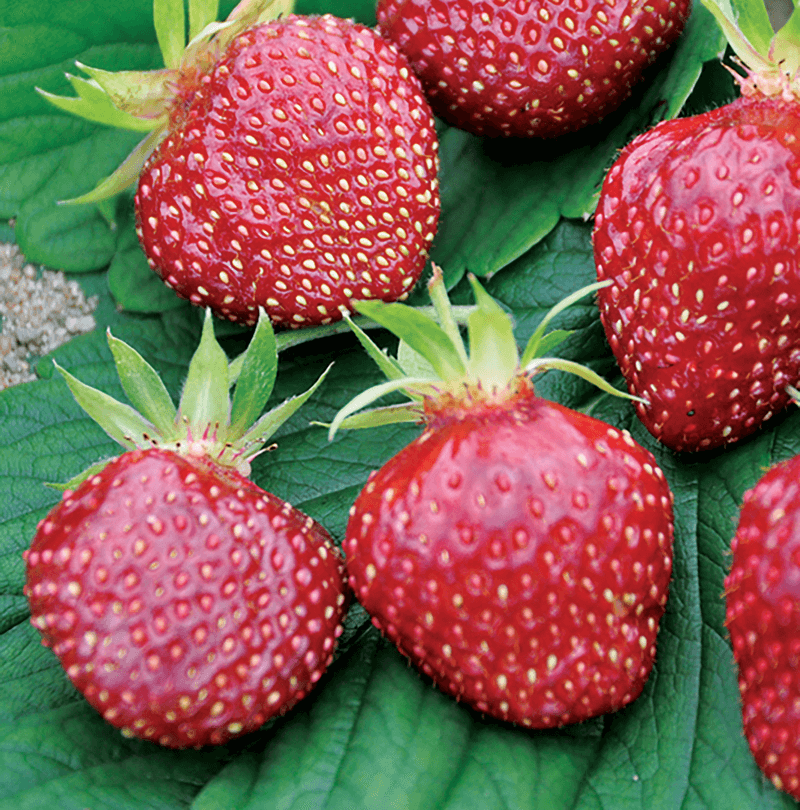 EDIBLE
Cherry Berry Strawberry
The darker the fruit, the sweeter the flavour gets with these strawberries. From a deep red to verging on purple, this variety is hardy and high yielding.
---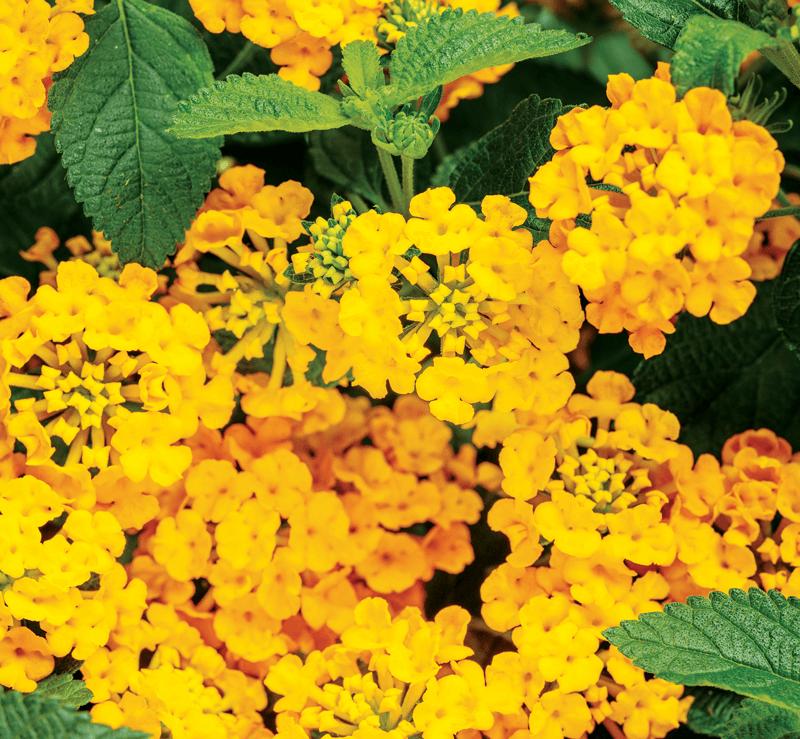 ANNUAL
Luscious Goldengate Lantana
A new addition to the Luscious series of lantanas, Goldengate's golden yellow flowers bloom non-stop all season without deadheading.
---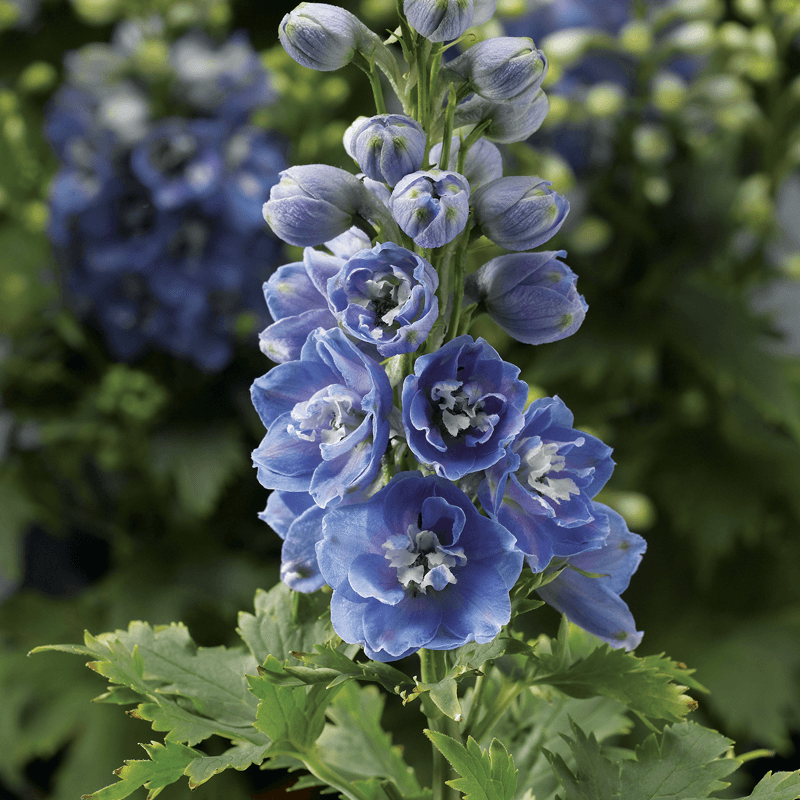 PERENNIAL
Delphina Light Blue White Bee delphinium
The Delphina series is notable for a naturally compact habit and distinct colours. Zones 4-8.
---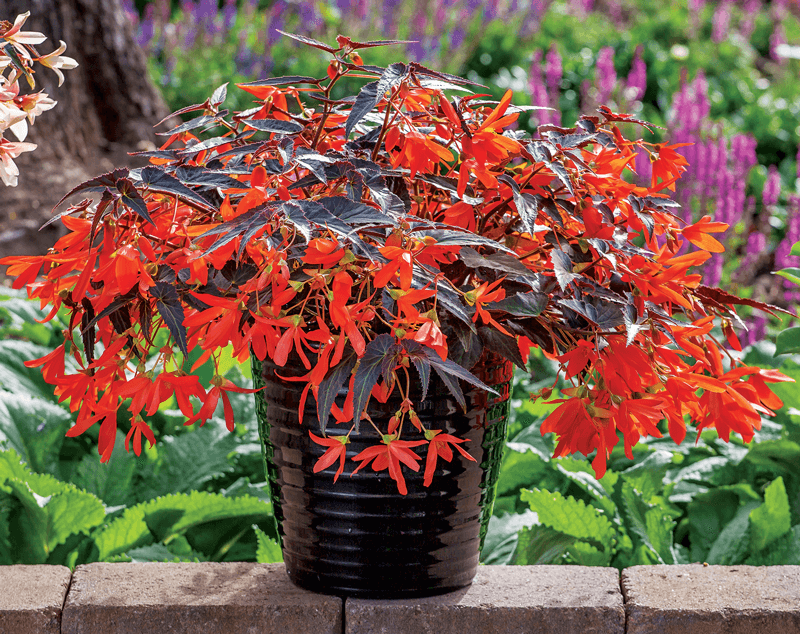 ANNUAL
Night Fever Papaya Begonia
New to the Bossa Nova series, Night Fever Papaya excels in both sun or shade and has dark, grey-green foliage and burnt orange blooms.
---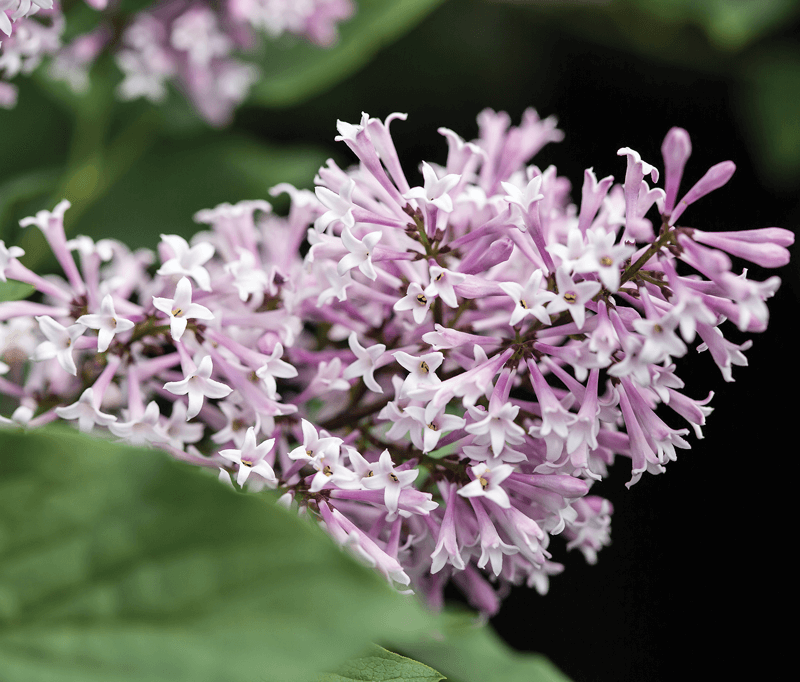 SHRUB
Little Lady lilac
Little Lady combines the beautifully fragrant flowers of Miss Kim with a more compact, restrained plant that is nearly half the size. In late spring, dark pink buds open to lilac pink, and as it matures, the fresh green leaves will cup upwards. Zone 2.
---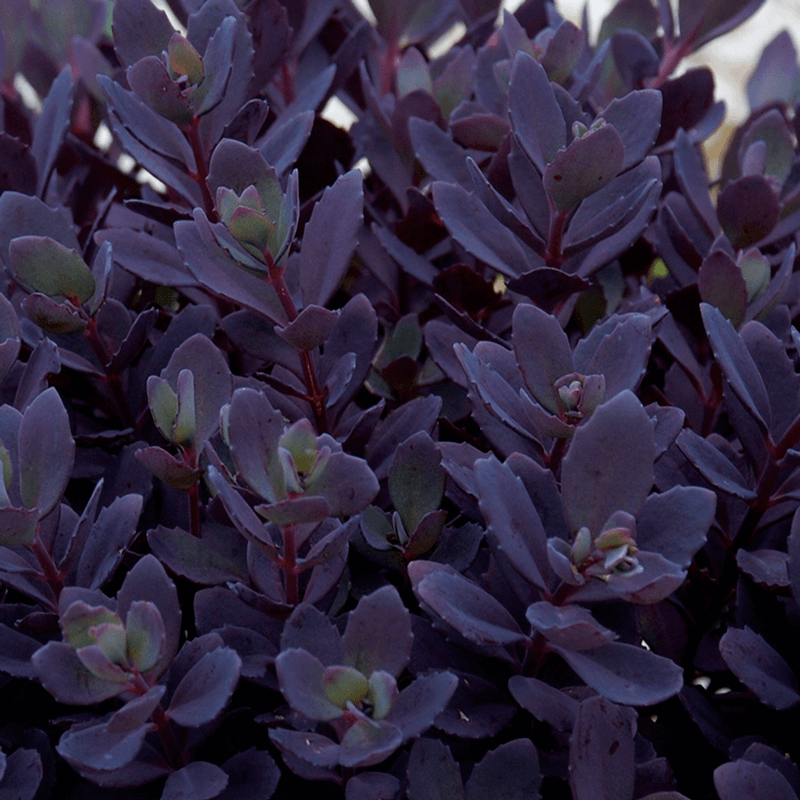 PERENNIAL
Sunsparkler Plum Dazzled stonecrop
This stonecrop is dark purple foliage and large, cherry coloured flowers and flowers from summer to autumn. Zone 4.
---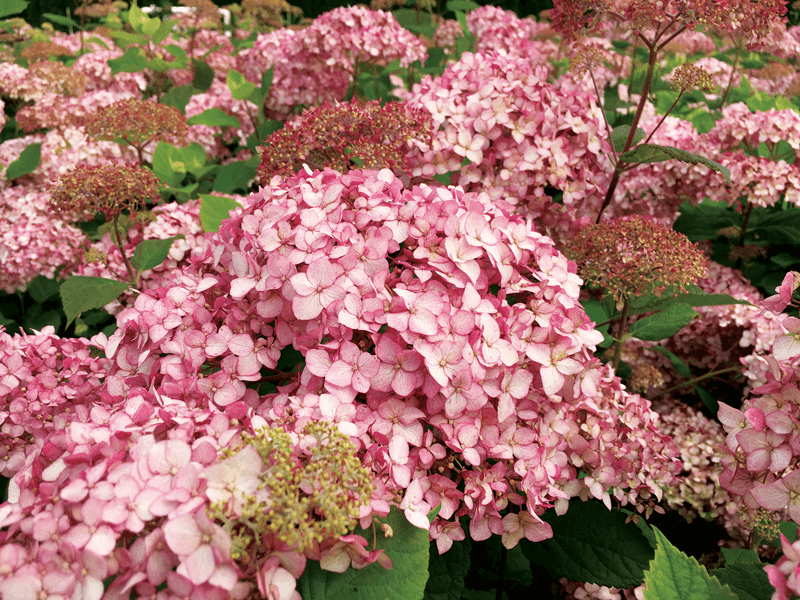 SHRUB
Pinkerella smooth hydrangea
Strong stems hold bright pink blooms tall and really show them off. Great as an accent plant. Be sure to cut a few blooms for fresh bouquets or dry them out for dried flower arrangements. Zone 3.
---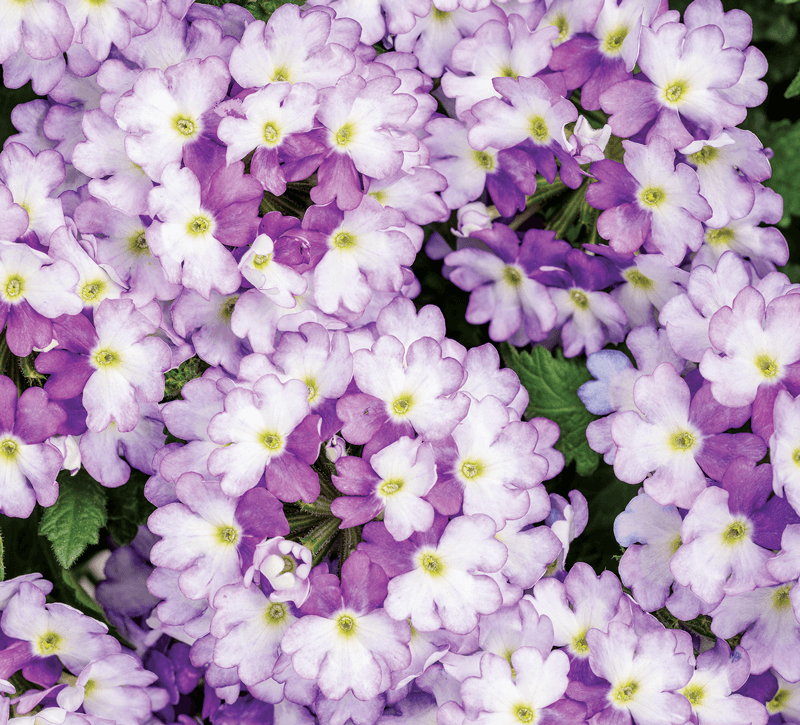 ANNUAL
Sparkling Amethyst Improved verbena
Large clusters of amethyst and white flowers appear early, then continue to bloom prolifically all season without deadheading.
---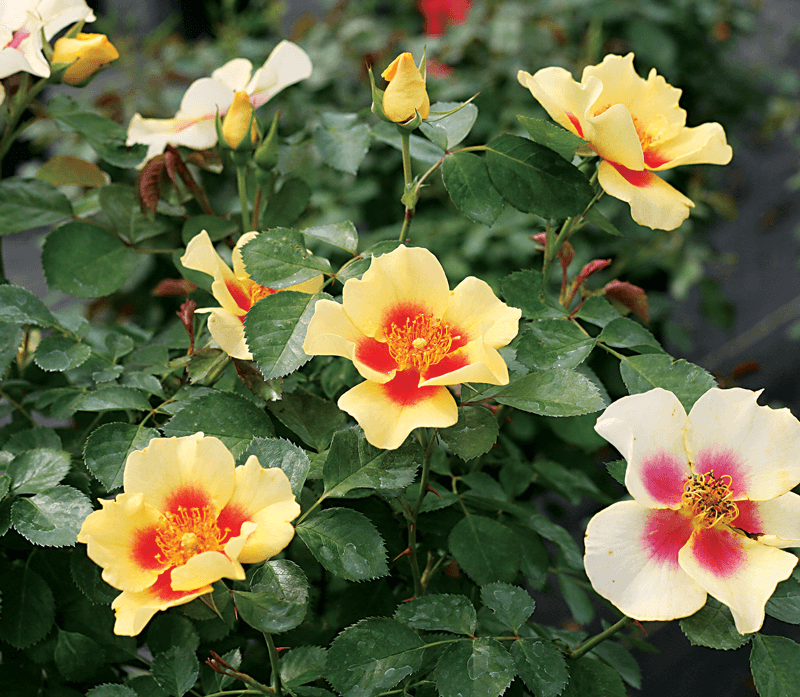 ROSE
Ringo rose
Ringo has a dazzling visual effect in the landscape or garden with its yellow blooms, each graced with a bold red ring in the centre. As the blooms age they fade to white with a pink ring. Ringo can be grown on its own, as a hedge or in a garden. Zone 4.
---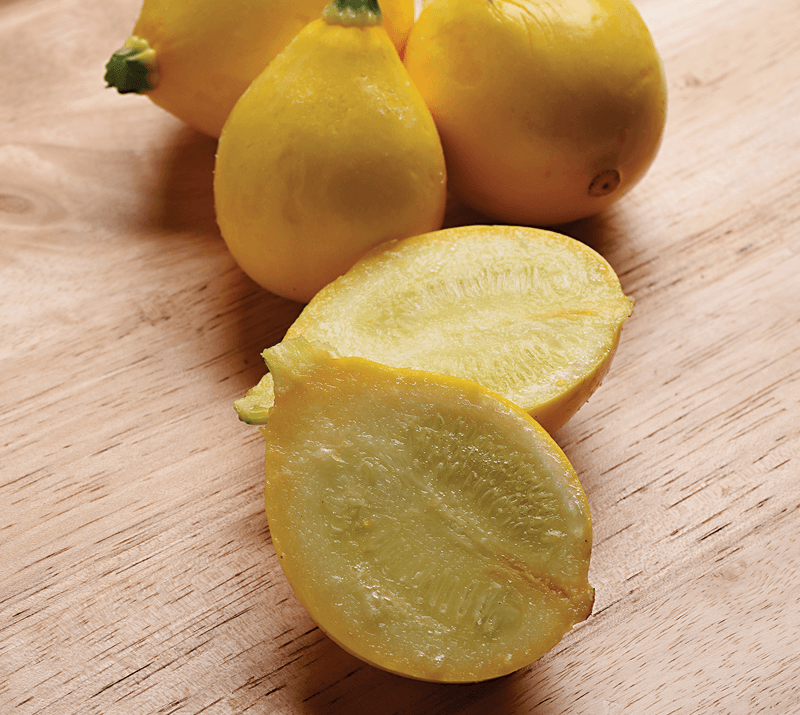 EDIBLE
Lemon Drop Squash
This unique, creamy-yellow squash with a small, lemon shape, can be picked at a very young stage, and is tasty grilled, sauteed or fresh. Grows best in-ground with soil that is moist, but not wet.
---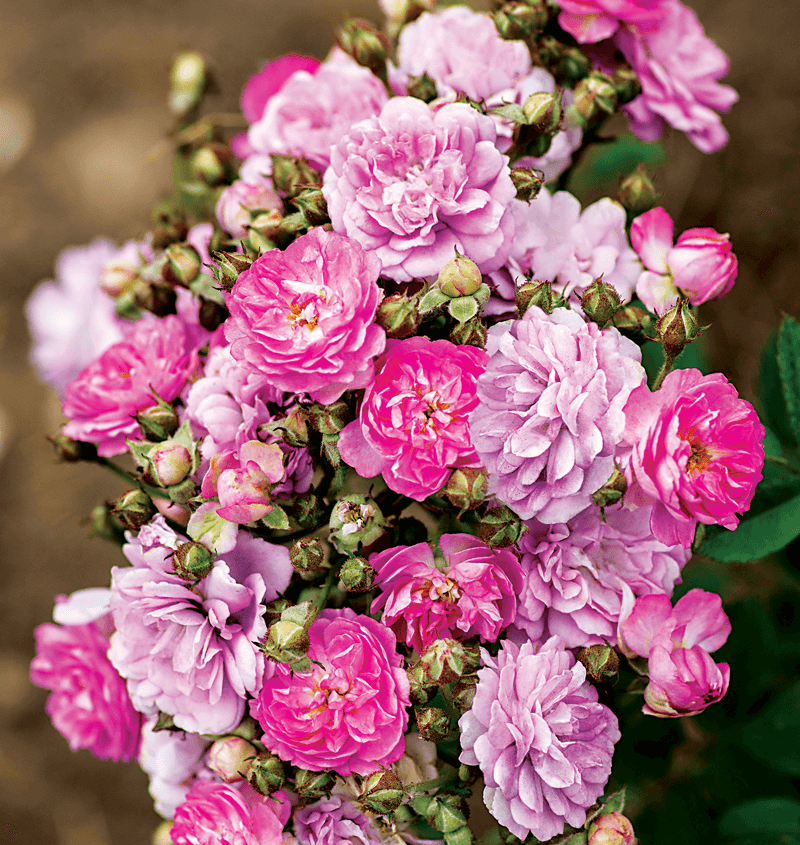 ROSE
Pretty Polly polyantha rose
Pretty Polly is a compact rose that produces cuplike, double flowers. This new series includes: Lavender (shown), Pink, and White.
---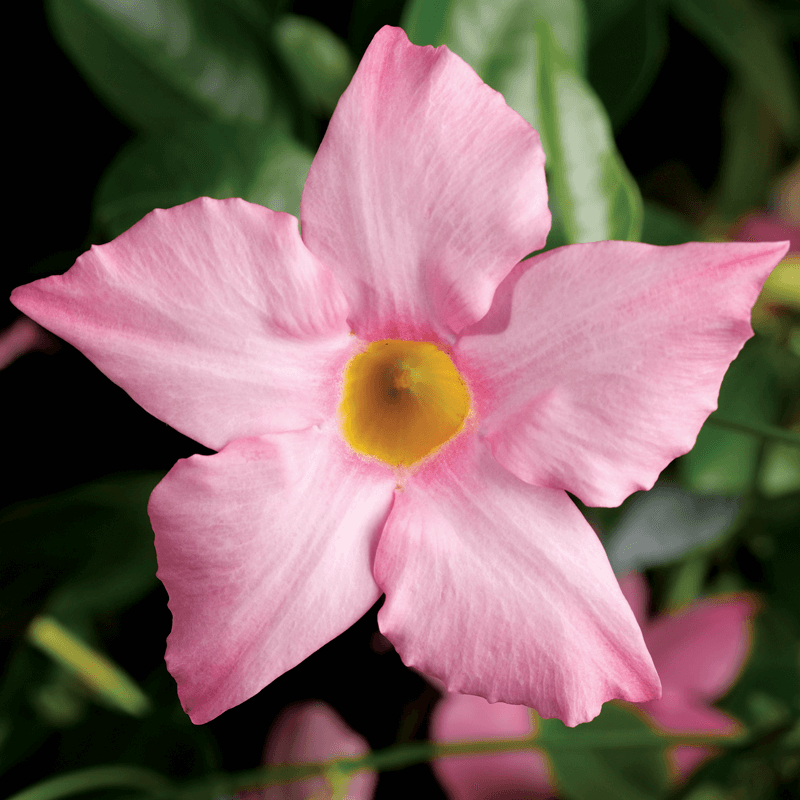 ANNUAL
Madinia mandevilla
Mandevilla, a popular tropical vine, provides showy colour all season. New cultivars in the Madinia series are Red and Light Pink.
---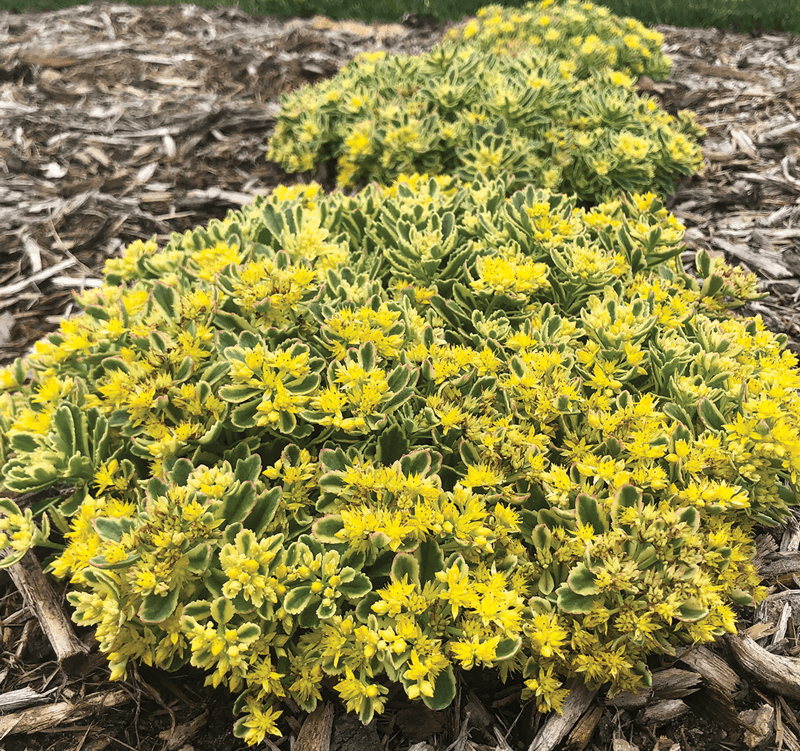 PERENNIAL
Boogie Woogie stonecrop
Boogie Woogie is a summer-flowering groundcover perennial with cream margins that make the plant look bright. Zones 3-9.
---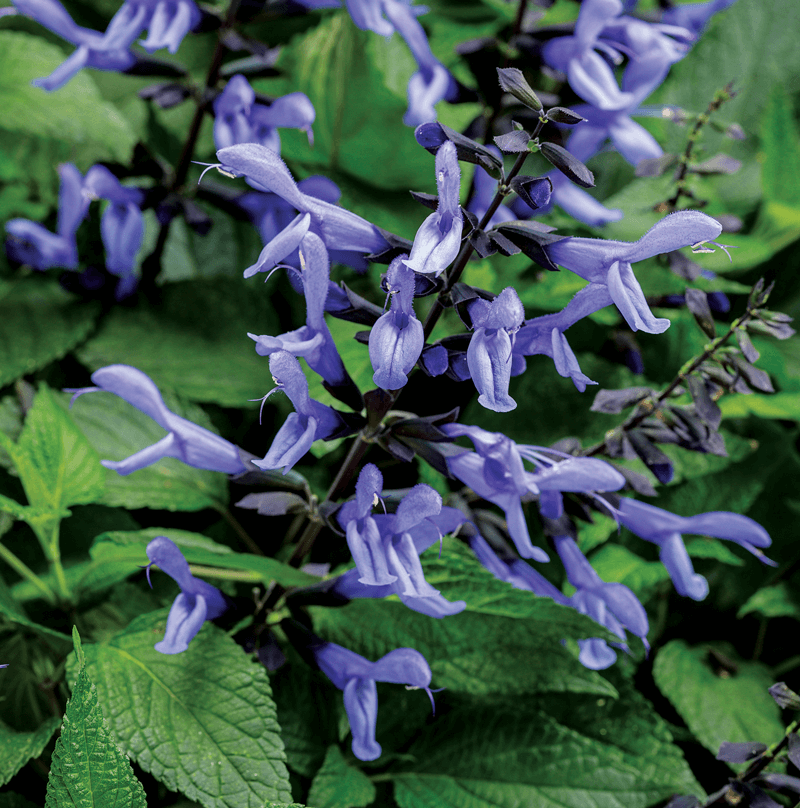 ANNUAL
Rockin' Blue Suede Shoes salvia
Large, crisp blue flowers held by black calyxes are produced above the foliage, attracting all sorts of pollinators from spring through fall.
---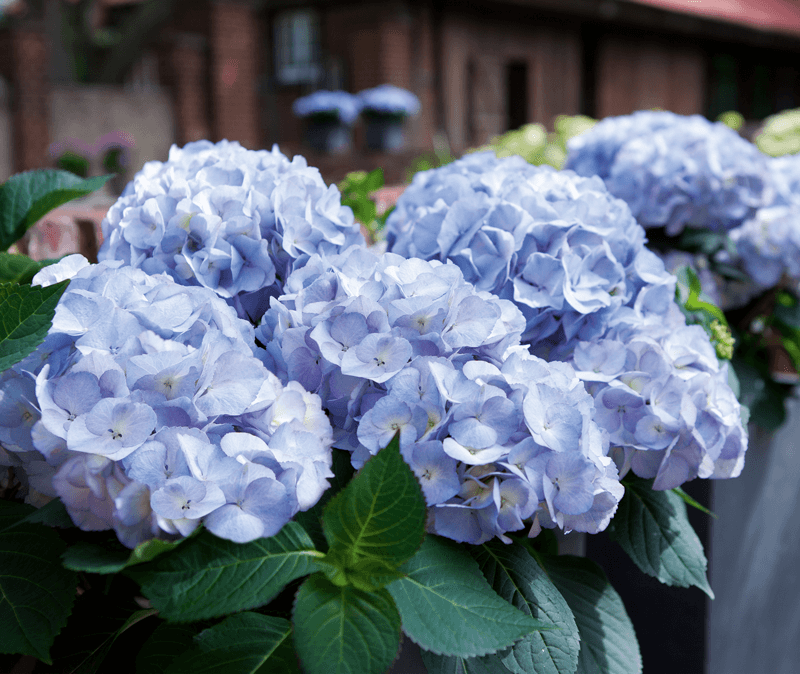 SHRUB
Kanmara Blue bigleaf hydrangea
Kanmara is a new generation of hydrangea with large blooms in unique shades, well-suited for containers, beds or borders.
---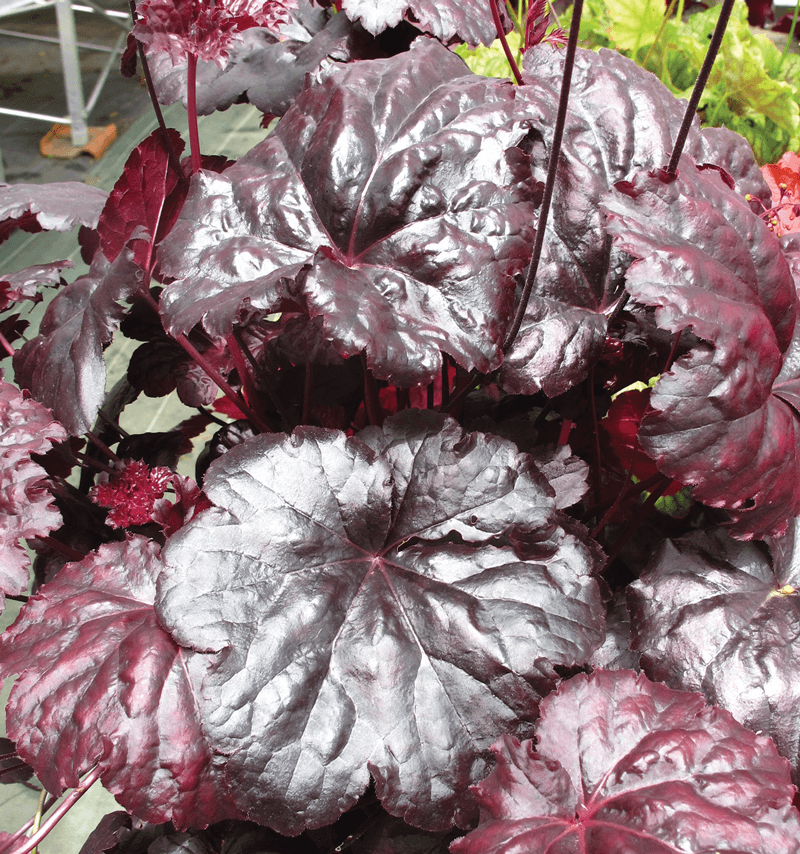 PERENNIAL
Black Sea coral bells
This shade- and sun-tolerant coral bells has attractive, shiny black foliage. Zone 4.
---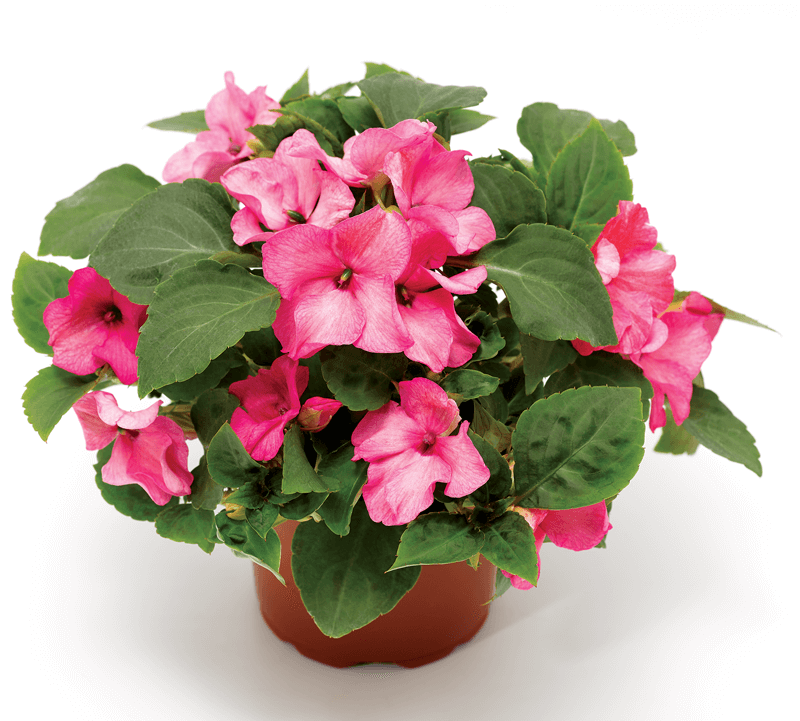 ANNUAL
Imara XDR impatiens
The Imara XDR impatiens series added new colours this year: Red Star, Pink (shown) and Rose.
---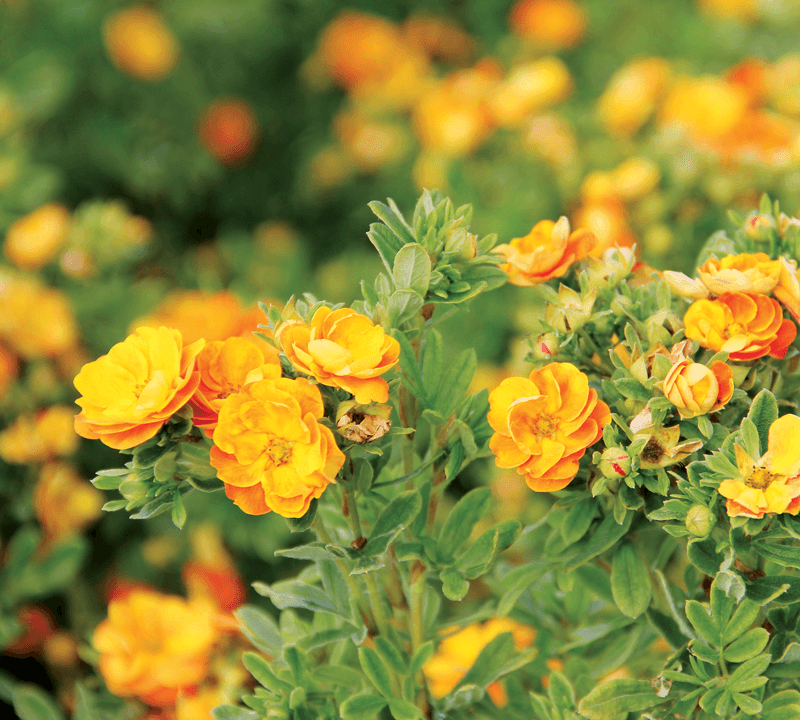 SHRUB
First Editions Marmalade potentilla
Marmalade is a double-flowered potentilla, ranging from deep yellow in high temperatures to orange-red under cooler conditions. Zone 2.
---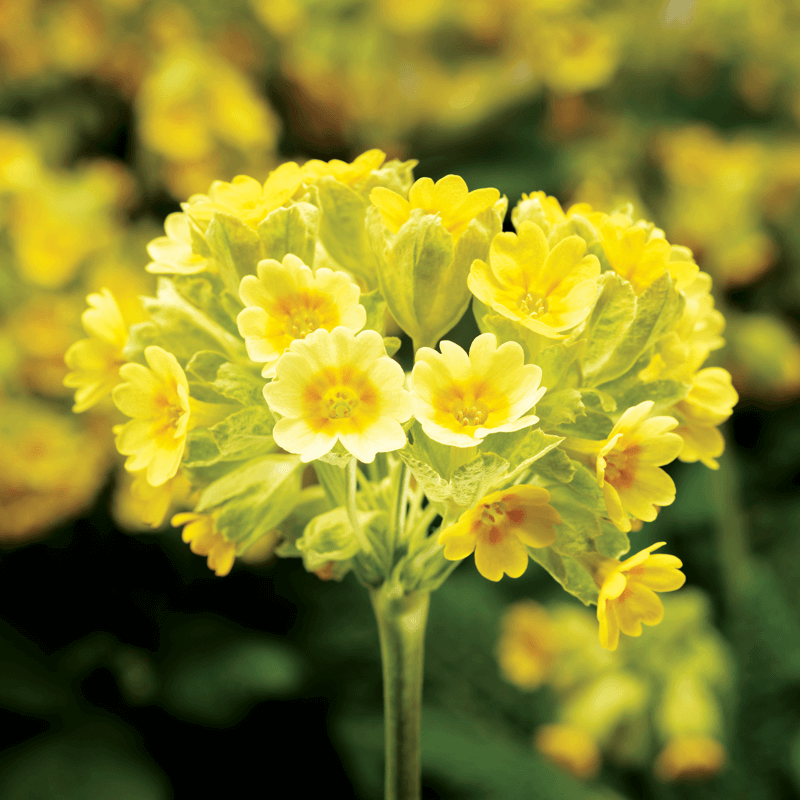 PERENNIAL
Cabrillo Compact Yellow cowslip
New to the Cabrillo series, Compact Yellow is tidy, more compact, and earlier to flower. Zones 5-8.
---

ANNUAL
Shortcake Blueberry spreading petunia
Shortcake Blueberry works well in small pots and combos, but will still size up in the garden.
---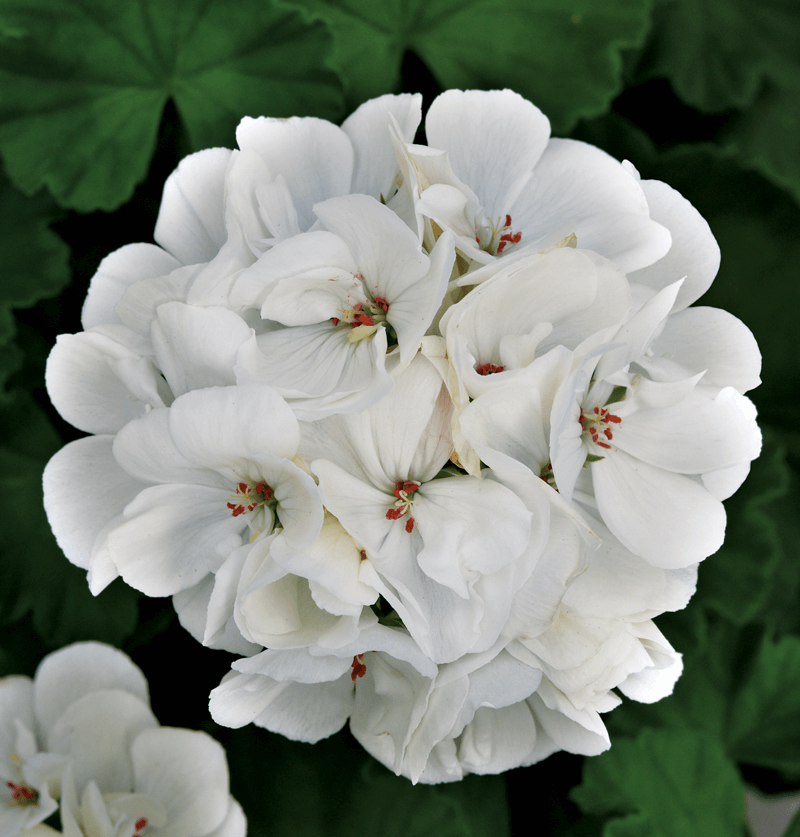 ANNUAL
Galaxy geranium
Galaxy geraniums keep their large, semi-double blooms all season in large containers and landscapes. Available in Dark Red, Pink, Purple, Red, Salmon, Violet, Watermelon, and White (shown).
---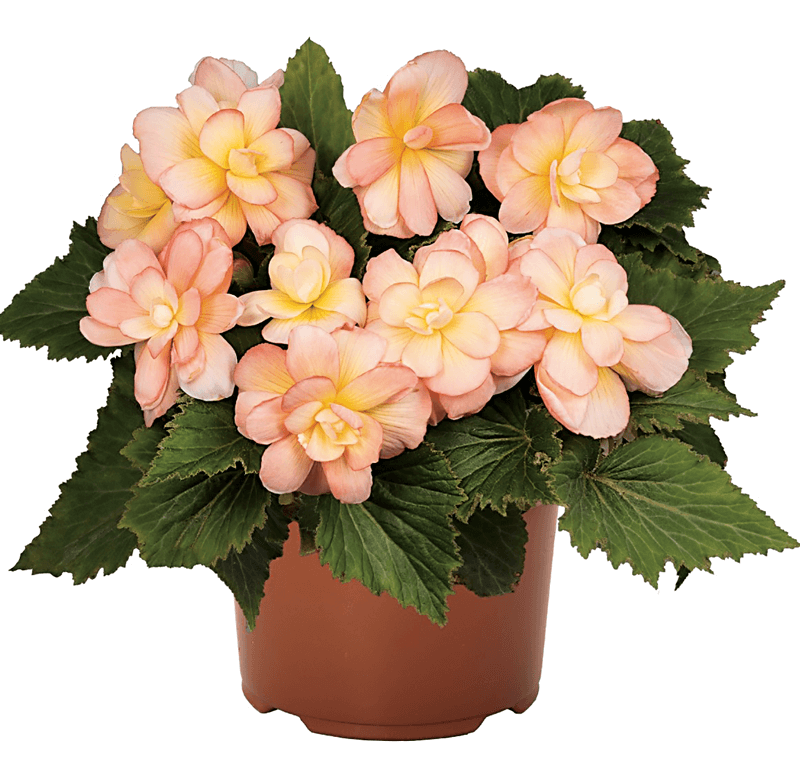 ANNUAL
Scentiment Sunrise tuberous begonia
The Begonia Scentiment series flaunts large, unique, fragrant flowers, including Sunrise (pictured) and Just Peachy.