June 15, 2020
By Kelli M. Maddocks
"You can't fight and move forward." These are the wise words of Kathy Thomas, owner and president of Green Thumb Landscaping in Burlington, Ont.
Kathy's story of moving forward begins back in 1971, when she and husband John launched their landscape business. Working through long and tiring days, raising a family with three children, and taking on the growing world of the landscape profession, Kathy and John built Green Thumb Landscaping into a successful and thriving business. Little did anyone know at the time, their process of moving forward would also become one of the biggest challenges that Kathy, her family, and the business all would face.
In 1993, suddenly and without warning, John died of a heart attack while playing hockey. Kathy became a widow, single mother, and sole business owner in the blink of an eye.
Everything changed. Beyond her own terrible grief, Kathy had to address the "new normal" of the business. "It was such a difficult time," Kathy says. "While I was navigating through grief, taking care of my family, and figuring out the next steps in the business, I was also having to deal with a senior employee who wanted to take control of the business."
While co-workers and friends wanted Kathy to fight, she decided to part ways, keep her business as a sole owner, and continue on. "I told them, you can't fight and move forward at the same time."
Crew staging has changed, since members are now following trucks in their own cars to respect distancing protocols.
---
A family business all around
And move forward she did. She invited son-in-law Todd Rainey to join the company initially as operations manager. He is now a partner in the business. "Todd was just amazing," Kathy says. "He had no landscaping experience, but he's the type of person who can figure things out fairly quickly, and his partnership has become essential to both our family and our company."
Family is a word that Kathy uses quite often: "Family is everything, and that sentiment follows through to our entire team and all of our clients. We have staff that have been with us for over 27 years, but they are so much more than staff, they are family."
Kathy's youngest daughter, Keri Wilby, has also joined the Green Thumb leadership team. After a short hiatus spent starting a family, she's now back in the business development and client care role. Kathy states, "Even as a leadership team, we are wholly-engaged with staff and our clients. On any given day you'll find one of us checking on the properties, and making sure staff have everything they need to ensure a positive and productive day."
One particular key business element for Green Thumb is its staff. For example, the team strives to have workdays wrapped up by 4 p.m. "Work/life balance is crucial to the health of our staff," says Kathy. "Anything we can do to give them time to enjoy a healthy life and family balance is the least we can do for all of their hard work and incredible loyalty."
Educating and evolving
Another key business strategy for Green Thumb is continual education. "We have weekly meetings with the entire team," explains Kathy. "We discuss everything from news and technologies within the profession, to sharing best practices, to discussing any challenges within the group. We empower our employees to be leaders throughout their day, so strong communication with them is essential."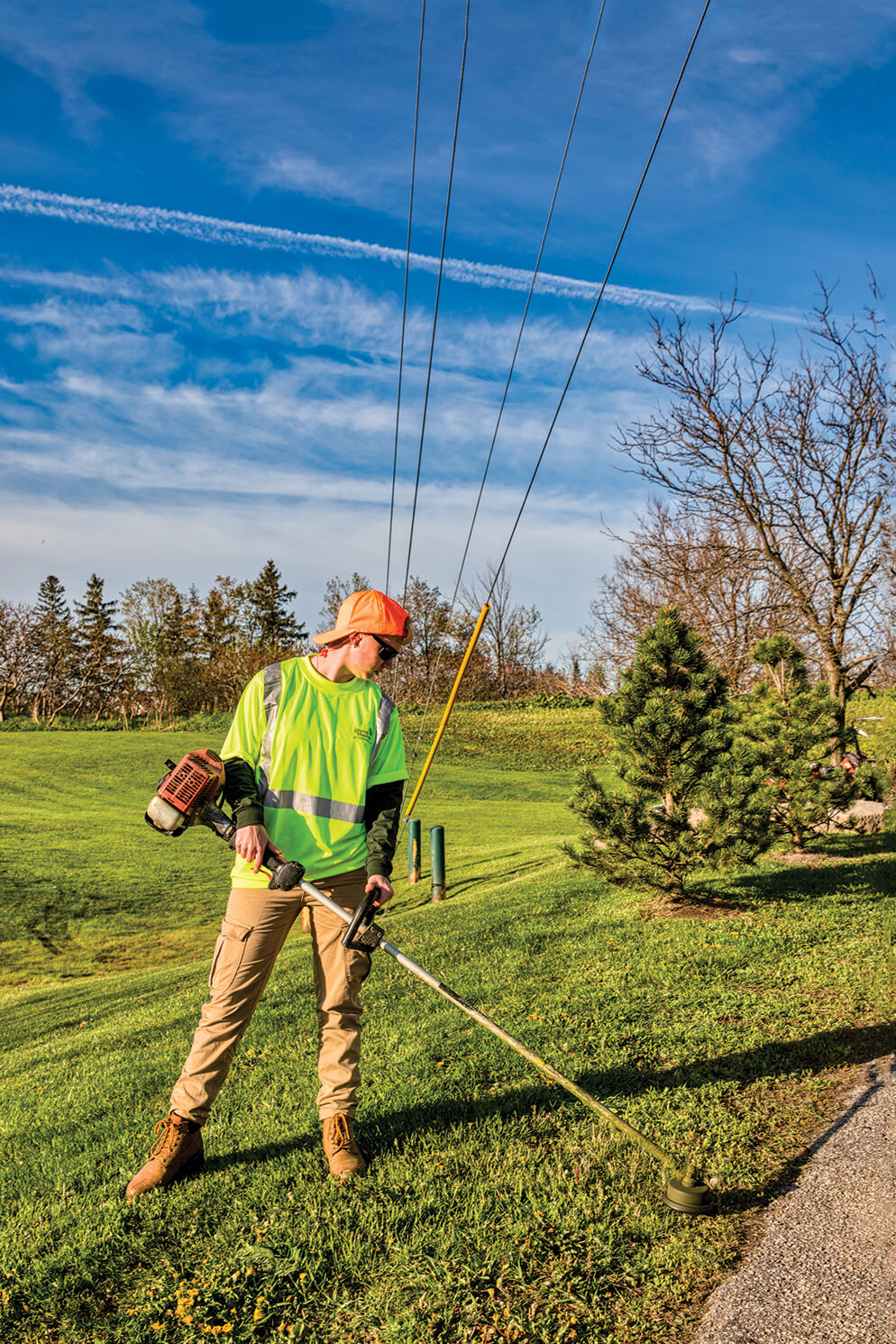 "The landscape profession has evolved and developed throughout the years, and that's how employees should be treated. They are professionals, not just labour. We encourage them to have a career with us, not just a job. There is so much to learn and appreciate in this profession, so we do what we can to ensure our employees know more than just the bare essentials, they know the science behind what they do. They know what to plant, when and where to plant it, and how to maintain it, all while ensuring they deliver on the needs of our customers. We deliver nothing but the best from our products and service."
An extended industry family
A 25-year member of Landscape Ontario, Kathy is eager to give the association the recognition it deserves: "Landscape Ontario has been instrumental in the evolution of the landscape profession." Kathy gives a special nod to Tony DiGiovanni, whom she refers to as the 'patriarch' of the organization. "Tony has been such a wonderful source of support, and has been a mentor to myself and the company. I joined Landscape Ontario one year after John passed, and Tony and his team were instrumental in helping me through those challenging times."
Landscape Ontario is like another family to Kathy. Its mentorship, peer support, training, and education are key to most successful landscaping firms, and are resources Kathy still utilizes today. "When I first joined the organization, I was very involved, and after a while I knew it was time to move on, pass the torch, enjoy simply being a member, while continuing to enjoy all the benefits membership offers," she says.
"It really has been exciting to watch the organization develop and strengthen, right alongside our business. There is so much that one can take advantage of, from the culture and profession, to the government grants and programs. These days, if you're in the landscape business you should absolutely be part of Landscape Ontario. Not only for everything I've already mentioned but there is also a certain credibility that comes with being a member."
Investing in social media
In just the past few years, Green Thumb Landscaping has again moved forward and hired a marketing company to help with its social media content and strategy. "Having a strong marketing plan, with a focus on customized SEO metrics has led to significant growth and lead generation for the company," Kathy explains. "The cost was a little startling when we first looked at taking this step, however, the return on investment has paid back in dividends. Hiring professionals to take on such a large endeavour takes a lot of trust, a lot of guts, and a lot of patience, but with technology, social practices, and communication all changing so rapidly, it's worth it. After just a few short years, we've actually been able to scale back our marketing budget."
Kathy and team are quite proud that Green Thumb Landscaping has been recognized by her peers as a "Partner of Choice" on projects. "We're thrilled that landscape design-build professionals are looking to refer Green Thumb to their clients on completion of their projects, and to help develop follow-up maintenance programs." This professional peer recognition speaks volumes about Green Thumb Landscaping and its team of talented professionals.
Passion spawns another business
In 2003, Kathy set out to pursue a second, yet connected landscape passion. Bronze Frog Gallery, located in downtown Oakville, Ont., opened its doors. The business specializes in landscape sculptures, furniture, water features, and selected art pieces. "I was working like crazy, and loved every moment," explains Kathy, "but I'm a bit of a 'human being junkie.' I love to learn about people and their stories. One of my favourite parts of having the gallery was spending time with my customers, hearing their stories, and helping them find, and fall in love with a landscape art piece that speaks to them." When it came time to renew the lease in 2013, with business in Oakville's downtown core struggling, Kathy moved forward once again and closed Bronze Frog Gallery. "It was time to move on," she says.
Still moving after nearly 50 years
Moving forward in business and very much so in life, has been a strong value for Kathy Thomas. "Nothing stays the same for very long, I've learned that lesson," she says. "You have to be proactive, always have your ear to the ground, and be as ready as you can be for whatever lesson comes your way next."
Green Thumb Landscaping has enjoyed 49 years of moving forward, becoming a successful business, growing and thriving in a time when change in the industry is happening so fast. Kathy may not focus on her ability to fight, but she truly is one of the strongest "fighters" the landscape profession, her peers, staff, and family could ever have in their corner.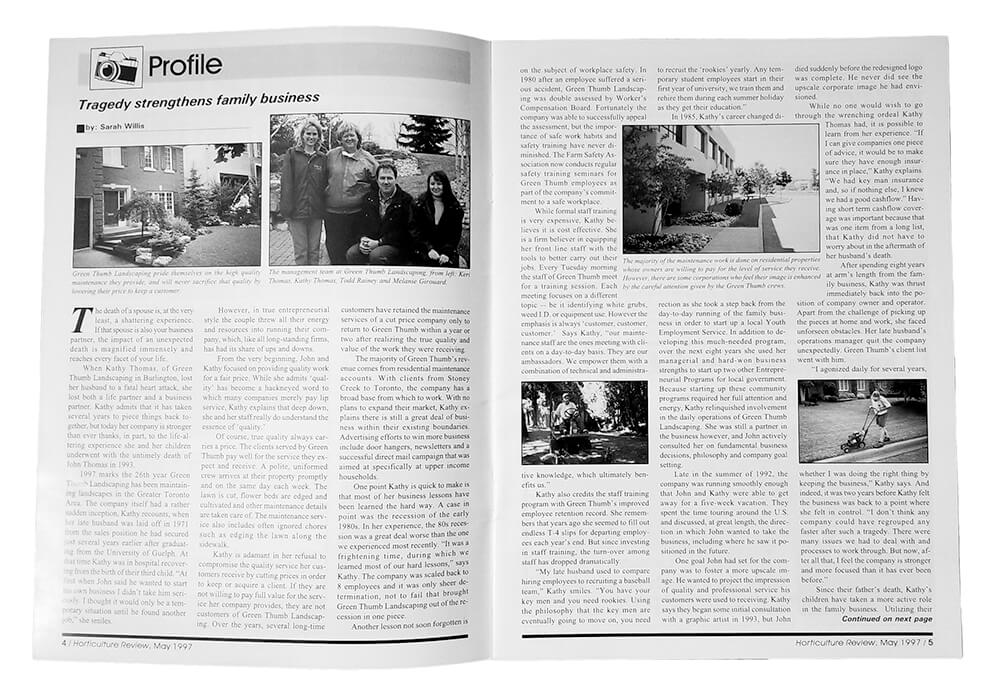 In 1997, Green Thumb Landscaping's story of adversity was profiled in Landscape Ontario's magazine.