May 15, 2014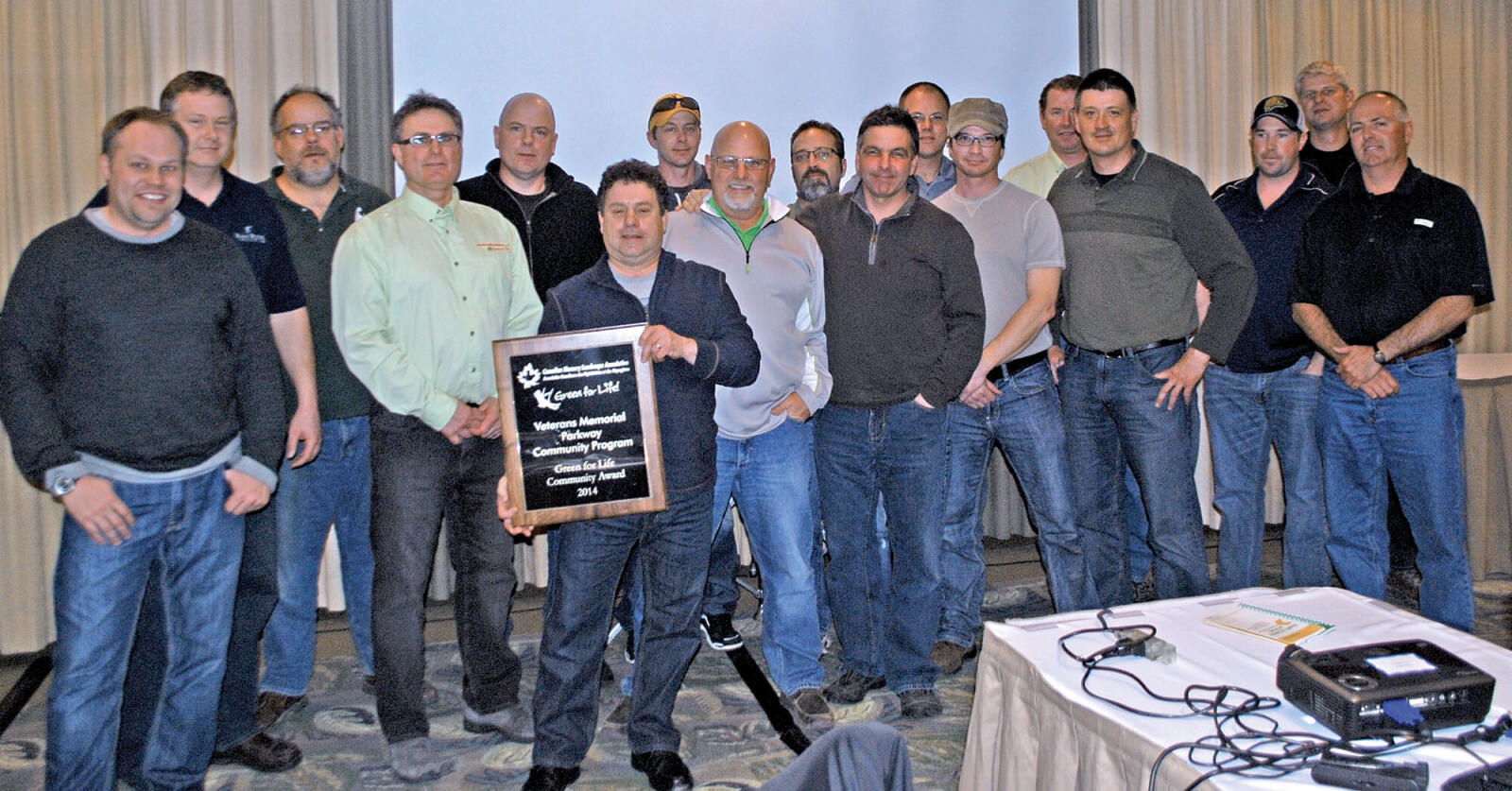 London names its new board of directors
Members of the London Chapter Board of Directors are pleased with the attendance numbers at late winter Chapter meetings.
At the February and March meetings, the London Chapter attracted 50-plus people to each one.
The Feb. 11 meeting featured information from the Upper Thames Conservation Authority on how to identify the five major problem invasive species, and how to treat them. A free lunch was provided to attendees, thanks to generous sponsor London Audio, which was promoting a new line of outdoor lighting from Coastal Source. Meeting sponsor was The Permacon Group.
The Mar. 11 meeting was the Chapter's annual Safety Day with the Ministry of Transportation, and Workplace Safety and Prevention Services. Again members were offered a free lunch, thanks to the generosity of sponsor Unilock. The meeting sponsor was LS Training, which was a good fit for the meeting's topic.
Mountview Services from Woodstock was the member profile. The company shared its story on how it began its involvement with LO.
Certificates were handed out to volunteers who helped with the Veterans Memorial Parkway Community Program (VMPCP). On hand at the Mar. 11 meeting was Joel Beatson CLP, Professional and Business Development Manager at CNLA, who presented the special plaque awarded to the VMPCP "for commitment to the betterment of a public green space."
Barry Sandler, Executive Director of VMPCP, and Grant Harrison, Chapter president, accepted the Green for Life Community Award at the National Awards of Landscape Excellence on Jan. 29 in St. John's, Nfld.
Also at the Mar. 11 meeting, a number of Chapter companies received recognition for the work with the VMPCP. They include, TLC Professional Landscaping, Tydan Landscaping, Coldstream Land Escape Company, Rural Roots Landscaping, Jay McKinnon Company, Escapes Outdoor Living Designs, Beamish Landscaping, Mountview Landscaping, Sifton Properties – River Bend Golf Community, MPH Hardscapes, Parkside Landscaping, PGS Landscaping, Stone in Style, Unilock and Kimmick Landscaping.
London Chapter members will take part in another planting on Oct. 4. As well, the installation of an LO Garden will also commence this summer. The Chapter will be looking for volunteers once details are determined.
Elections were held at the March meeting. The Chapter welcomed the following new members to the board: Tyler Rancourt of Tydan Landscape Design, Mike Wardell of Rural Roots Landscaping, Matt Hart of MPH Hardscapes, Bill Beamish of Beamish Landscape Construction, Nick Graham of Sifton Properties, Kevin Marshall CLT of Turf Pro Landscaping and Bill DeGraaf of Permacon Group.
Remaining members of the board are Jarrett Woodard, Pete Vanderley CLP, Nicola Kamp, Paul Snyders, Derek Geddes, Grant Harrison CLT and Mike Martins.
The first meeting of the new board was held on Apr.1. The board members were voted on as follows, president, Pete Vanderley; past president, Jarrett Woodard; vice president, not filled; treasurer, Bill Beamish; provincial board representative, Grant Harrison; secretary, Matt Hart; directors of membership, Derek Geddes, Paul Snyders, Kevin Marshall; directors of education, Nicola Kamp and Tyler Rancourt; directors of chapter meetings, Mike Wardell and Jarrett Woodard; directors of golf, Mike Wardell, Nick Graham, Bill DeGraaf and Matt Hart; directors of VMP, Mike Martin and Grant Harrison.
The next event will be the 9th annual golf tournament on Sept. 5 at a new location this year, Echo Valley Golf Course, 2738 Brigham Rd. London. Sponsorship opportunities are available, and more information will be sent out closer to the date. Contact Wendy Harry at
wharry@landscapeontario.com
for more information.
The London board wishes everyone a great season, and looks forward to seeing you at the golf tournament, or fall and winter chapter meetings.