August 15, 2008
LO: What a great place to be!
By Stephanie Smith
Membership services coordinator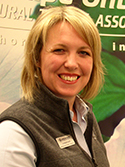 I am a proud member of the Landscape Ontario family. I would like to thank you all for being so great! It's always amazing to me to see the dedication towards the association by a group that is comprised of volunteers. The golf tournaments are a prime example of everyone coming together for a great cause and making it a good time.
Waterloo golf tournament
The second annual Waterloo golf tournament was an event not to be missed.
The committee deserves a pat on the back for another successful tournament.
Thanks also to everyone who donated to the prize tables. Incredible prizes were available for everyone! Thanks also to the attendees for the generosity towards a great cause.
Ottawa golf tournament
The Ottawa Golf tournament was also a big success. The weather was incredible and the day went off without a hitch. Thank you to the Ottawa golf committee members for all of your hard work. Also, thanks to everyone who donated prizes, sponsored holes and to the participants who generously gave towards a great cause. The Ottawa Chapter promises an even larger golf tournament next year, so watch for future information.
David Suzuki spending day with LO
The meeting season is quickly approaching and Landscape Ontario has many exciting new programs and events coming up. Dr. David Suzuki is coming to the Toronto Chapter on November 20th. There will be a luncheon at the Toronto Botanical Garden, including an environmental tour and a ceremonial tree planting. In the evening, Dr. Suzuki will speak at the John Bassett Theatre in the Metro Toronto Convention Centre. His topic will be on the greening our cities. It will be an educational lecture, and you may meet Dr. Suzuki and have a book signed at the end of the evening.
The Toronto Chapter will donate all the funds raised from the day to the Sick Kids Foundation and the Toronto Botanical Garden. What a great gift for a customer, friend or yourself! Tickets will be available online at
www.horttrades.com
. We look forward, as always, to seeing you there.
---
Stephanie Smith can be reached by e-mail at
ssmith@landscapeontario.com
.