May 15, 2012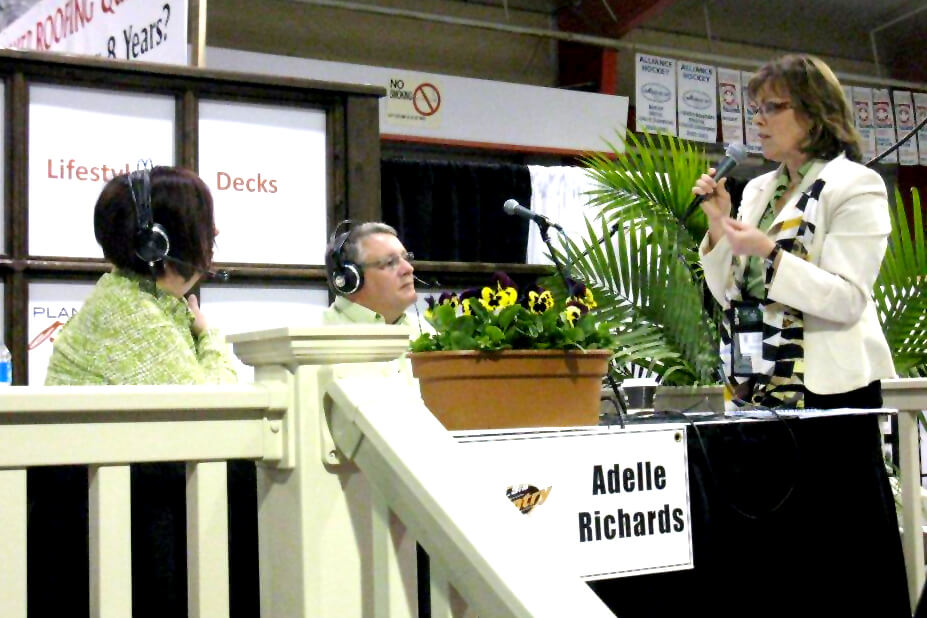 LO community spirit strong in Sarnia
Denis Flanagan CLD
LO Manager of Membership and Public Relations
"The perfect place to live, work and play," is the official motto for Lambton County. The area is on the shores of Lake Huron, and boasts 126,000 residents who are well served by a group of loyal Landscape Ontario
members.
I had a chance to speak with a few of our members while working at the Sarnia Home Show in April. Let me share some of their thoughts with you.
Brett King from SS Greenhouses, Sarnia, is a great believer in being an active member. Green for Life branding is prominent in his store and on his printed material. Brett also appreciates the educational aspects of staying connected with the industry. This year he took an innovative approach, which led him to add 'bling' to his garden centre with an impressive display of brightly coloured shoes, sandals and purses.
With emotion in his voice, Brett told me the story of how one of his buildings burned down a couple of years ago. Within hours, many local LO members were offering help in any way they could.
Innovation was also evident at De Groots Nurseries, Sarnia, which was hosting its spring open house when I visited there. The greenhouse was full of creative displays, customized containers and a pottery show and sale that featured local artisans.
Back at the Home Show, Windover Nurseries of Petrolia, was busy promoting the fact that its open house was the following weekend. At the same time Windover was enjoying the early-season arrival of all its liners.
During one of the breaks, I chatted with a new Landscape Ontario member, Adam Allison and his wife Jasmine, of Leaf Garden Design, Petrolia. They were looking forward to a busy season and keen to find out how they could get more involved with the association. For them, the 80 km trek to London to attend Chapter meetings often proves a challenge. We explored the idea of Lambton County members getting together to tackle a community project. It's an idea that we will follow up on.
As part of the weekend at the home show, I presented some seminars with the horticulturalist from the City of Sarnia Lance Allen on how to plant containers. The local radio stations 103.9 and K106 broadcasted live from the demonstration area, which was constructed by Servayard Fence Patio and Deck, which after 30 years in business intends to become a member of Landscape Ontario. Welcome! It's good to have you on board for what promises to be a terrific year for Green for Life members not just in the perfect place to live, work and play — Lambton County — but right across the province.
---
Denis Flanagan can be reached at
dflanagan@landscapeontario.com
or at 905-875-1805, ext. 2303.