October 15, 2016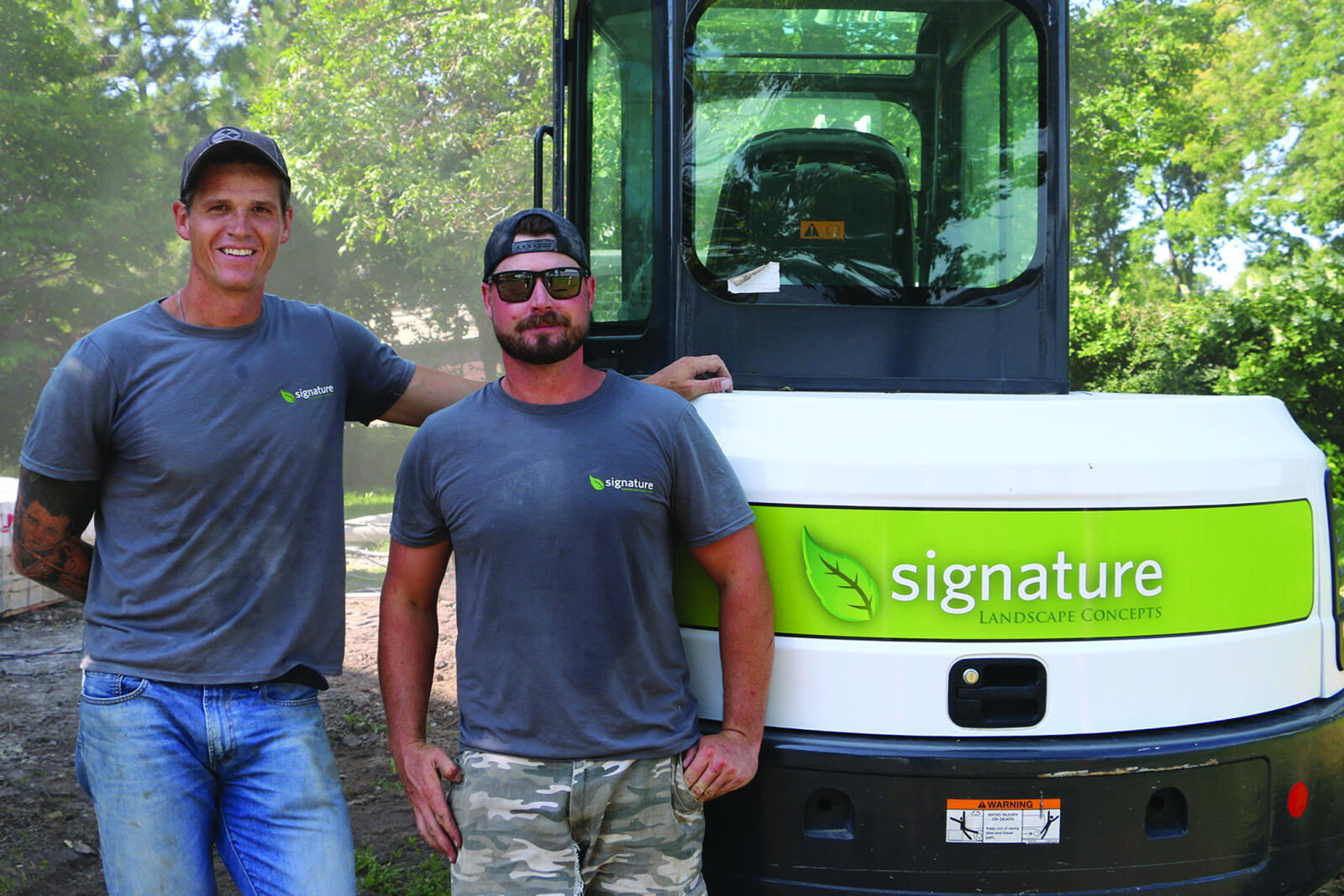 Living the dream in Quinte West
By Robert Ellidge

Back in 2010, Daniel Button and Brent Tripp certainly weren't ready to start a business. Button says they were "just two educated guys with ambition, wheelbarrows, a shovel and a trailer." Fast forward six years later, and the co-owners of Signature Landscape Concepts in Belleville, Ont., are already living a dream they thought was many years off.

That initial idea to venture out on their own came when Tripp approached Button while the pair worked together for a large design-build firm in Eastern Ontario. "It didn't take me long to decide that was exactly what I wanted to do," says Button, the junior of the two. Both men had been doing some sort of landscaping all of their adult lives.

All that ambition, combined with countless hours of hard work, has grown Signature Landscape Concepts from that initial duo to an additional six (soon to be eight), full-time employees — all struggling to keep up with the amount of work coming their way.

"A typical day starts at four a.m.," explains Button, who starts in the office doing design work and planning out the day until around 6:30 a.m. Then it's off to a job site. "The benefit of our company is we don't have a foreman," Button says. For the large jobs, both Button and Tripp will be on-site with all of their employees, and for smaller residential jobs they split into two teams, with each owner having his own crew.

Button also does the majority of client meetings (usually in the evening or on weekends) and spends a lot of time actively seeking out commercial work he feels other companies may not go after. For this, he meets with general contractors or project managers to provide a steady source of work to keep the crews busy.

Lots of growth in the area
A lot of that larger, commercial work is due to a fair amount of growth in the area, which Button says seems to have increased over the past few years. "Real estate is still cheap and people are coming here," Button says, adding there are lots of new developments as well. The City of Belleville borrowed over $90 million for infrastructure projects, including a riverfront square project in downtown Quinte West. In just their third year in business, Signature did a huge installation of 13,000 sq. ft. of interlock, curbs, plantings, lighting and irrigation for the city — a $300,000 project. The project is now in phase two and Signature laid another 23,000 sq. ft. of pavers last fall and are slated to lay another 30,000 sq. ft. this fall for which Button and Tripp will require at least another two employees.

Commercial construction work makes up about 25 to 30 per cent of Signature's business, but that could easily grow since they also have contracts for the new casino and Mariott hotel being added to the area.

"It doesn't really matter what the job is, we are equipped, and equipped to do it and do it well," says Button. "We've got the knowledge, we've got the equipment and the know-how. We've done just about everything."

Everything included a lot of landscape maintenance those first few years when the duo took on whatever jobs they could get. They now only do maintenance and a bit of snow removal for only a handful of clients as part of a contract they are carrying out. Button says they stopped doing both because it didn't make sense for their business model.

With the growth in the area, there is also a lot of new home construction which accounts for a great deal of Signature's work. Button says many new home owners decide to first landscape the front entrance to their property. "We come up with different and creative ways to make them look unique," Button explains. "You never want two to look the same." To achieve this, Button may use natural stone or wood elements in addition to varying plant material and styles of interlock.

"We like to incorporate natural stone or wood elements as an added bonus feature," Button explains. "And things like natural stone accents above and beyond what other contractors may be offering."

Reputation an advantage over competition
As for those other contractors, Button says "you would be surprised" by the number of competitors in the area. "We keep our good competitors close because they are only helping us by doing good work and likewise, we like to do good work because it reflects well on all of us," he says, adding "reputation is huge to us."

Of course, there are also local contractors who do bad work and when the business was started they joined Landscape Ontario as way of separating themselves from some other contactors. Button already knew of LO through his schooling and while working for member companies, including a summer co-op placement with the National Capital Commission (NCC) after finishing his degree. Signature is also a member of the Quinte Home Builders Association because Button believes "when you tell somebody you are involved with a professional organization they respect you more." Button says he goes out of his was to tell clients about their association ties and about his education background and Tripp's business degrees from Loyalist College.

"More and more, people are watching TV shows and reading online articles about the importance of hiring a more reputable contactor," says Button. "If we aren't the lowest price, people are willing to pay based on reputation." Signature was nominated for a Quinte business achievement award for young entrepreneur of the year, and received the best booth award a couple of times at a local home show. Button says participating in the home show usually generates about nine to 12 new jobs each year that vary in size. "This year is a perfect example," Button explains. "We've done anywhere from a $1,000 to a $1,500 walkway and then the next day we are into a $75,000 to $100,000 job."

The challenges of being in demand
Button says one of the biggest challenges he faces is just "keeping up with it all. Getting orders ready, getting plans ready, getting locates." He now spends a full day each week in the office and spends a great deal of time collecting final payments from clients and going over additions to each project that have come at the request of the client. Button gets help from Tripp, whose business schooling comes in handy for inputting the numbers and keeping things in check. They also use an accountant to make sure everything is done correctly.

"Where our company is at right now has far exceeded our expectations," Button says. "It's not just a company, it has become our life. We have become very successful, but we also work very hard at it."

Keeping friends and the community close
With all of the business and the hard work, the company still manages to find time to help out the local community, friends and family members. "We keep our friends pretty close," says Button. A few years back, a friend's father had a stroke and was in a wheelchair, so a local builder installed an elevator at the side of his home. Signature then helped by donating the labour to do the interlock work leading up to the entrance and they also did snow removal and grass cutting for the family for a year.

Earlier this spring, the company also answered the call from LO to help with the Highway of Heroes tribute planting in Trenton. "We got an email that was sent out by Tony DiGiovanni the Wednesday before the long weekend in May calling all landscapers," Button recalls. He then asked a couple of his guys if they could participate and replied to DiGiovanni right away. Button expected to show up with three or four employees and a piece of machinery and "it ended up we showed up with five or six guys and three pieces of machinery. It was a very rewarding experience and I'm glad that we did it."

Button says another key to their success is the incredible relationships they have formed with suppliers. "They respect us very well and are always there for us in a pinch" he says. "We love the respect we get" from them and "they are always taking an extra step for us."

Button is well past the days he used to come home from school and go out cutting grass as a young kid. Looking back at that business proposal from Tripp just six years ago, he says the company is far beyond both of their original expectations. "We are over the mountain," Button explains. "We kept two guys busy over a summer in our first season and now we are keeping eight guys, including ourselves, busy every day."