August 1, 2019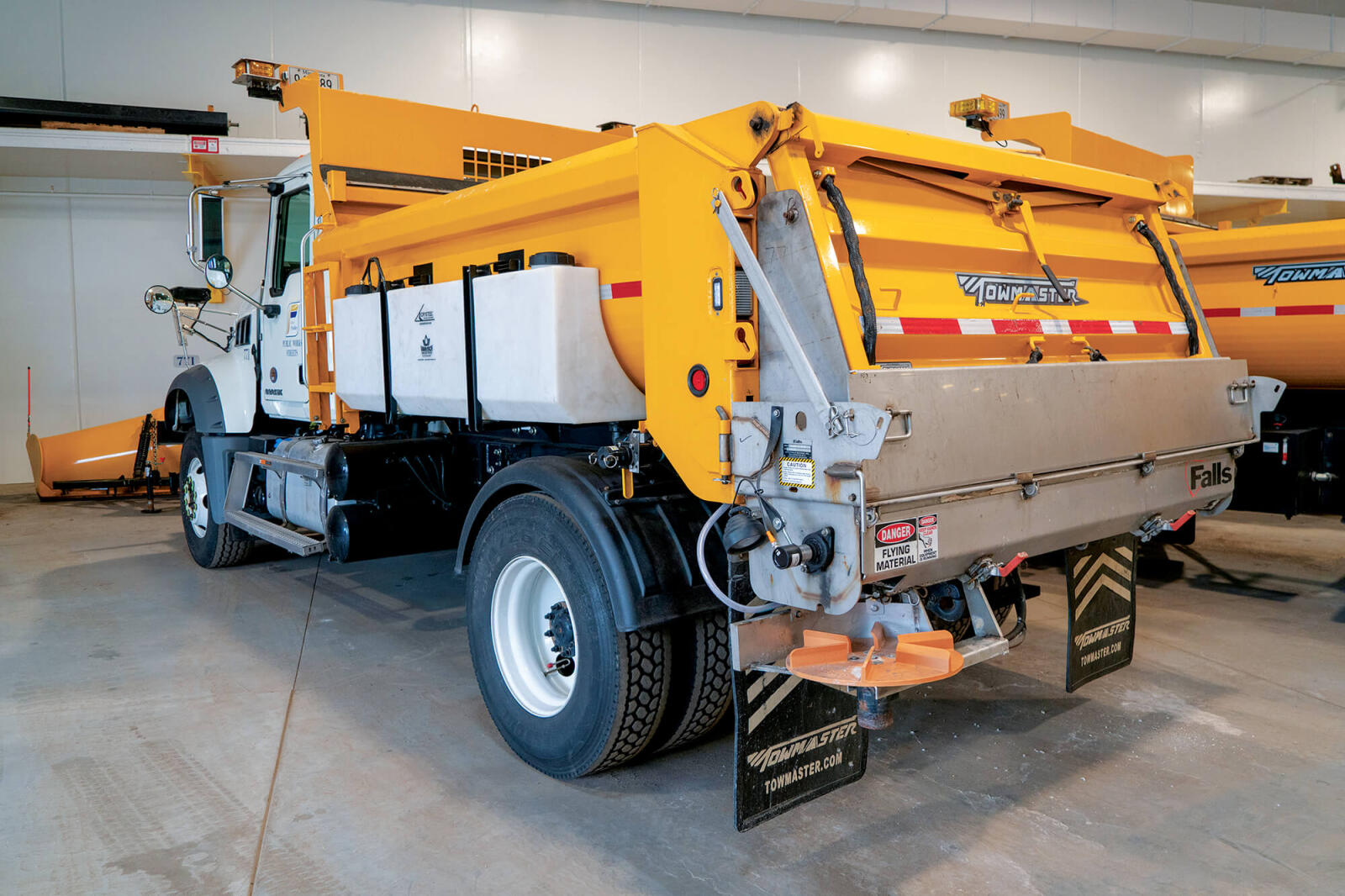 Liquid asset: Brine is taking hold with contractors
You don't have to look much farther than your own street to see how popular brines and other liquid de-icers have become in this country.
BY JORDAN WHITEHOUSE
Municipalities have embraced them in one form or another for years. Advantages include increased safety, decreased environmental damage and potentially lower costs. But recently, more private contractors have been seeing the benefits, too, especially the bigger operators.
Take Clintar Landscape Management, headquartered in Markham, Ont., with franchises across Canada. Five years ago, they weren't using any liquids. Now they're using liquids in half their locations.
"It's working really well for us in some parts, and we believe it's the future," says Terry Nicholson, Clintar's VP of Operations. "It's not something that we're close to accomplishing 100 per cent yet, but we are working towards it."
They aren't alone. The Snow and Ice Management Association (SIMA) says that about a quarter of its members use liquids in some capacity, whether that's as a pre-treatment, post-treatment or as a way to pre-wet granular salt. And those numbers are going up, says Brian Birch, SIMA's Chief Operating Officer.
"I don't know how fast, but it is becoming more in demand, especially with the larger commercial contractors," he says. "They have more resources and more people dedicated to researching it and implementing it, because there definitely is a learning curve."
There can also be a significant investment in equipment, and even if a contractor has that upfront money, he still has to convince customers that liquids are a good idea. In a liability-heavy market where people are more familiar with solid salt than liquid brine, that's not always easy.
THE GOOD
So how should contractors begin having those conversations with customers? By explaining the benefits of liquids. And there are lots, says Phill Sexton, the founder of WIT Advisers of Delanson, N.Y., which works with contractors across North America to develop more sustainable snow and ice practices.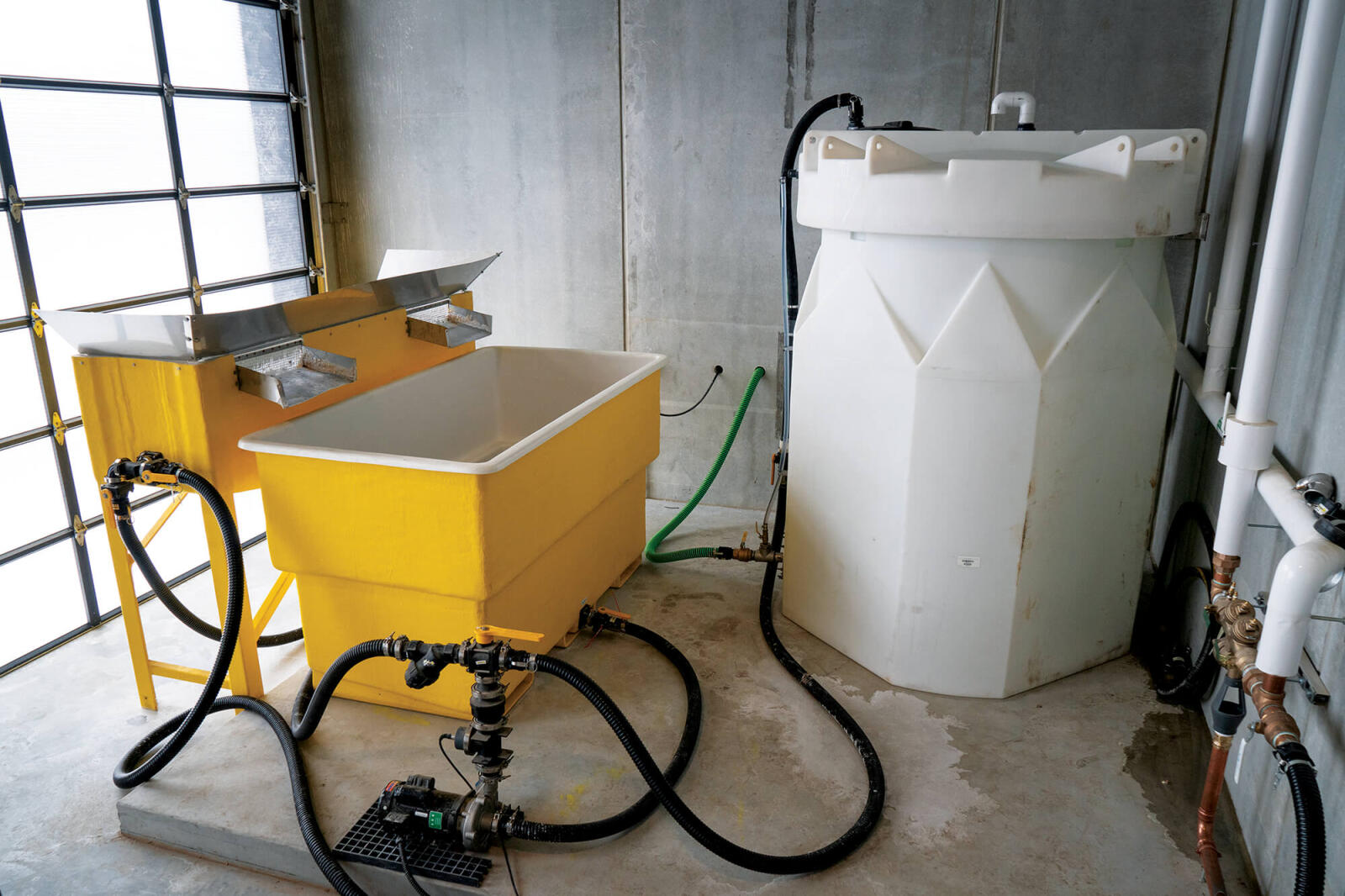 Pumps, hoses and containers to make brine.
---
"If you care about increasing efficiencies that enable increased profit over time, then brine is the way to go," he says. "Brine saves wasted salt being spread that bounces and scatters, and it saves time by allowing de-icing applications to work faster." It can also prevent the bond of snow and ice to paved surfaces, he adds, and when contractors can do that, they decrease the chance of someone slipping and falling, which in turn reduces risk. "All these combined benefits mean contractors can help their clients control their spending, and the contractor to be more efficient, which means more profit without charging the client more."
As for those profits, it's tough to generalize, as brines and other liquid de-icers can range from 10 cents to $1 per gallon (less if the contractor wants to make it himself). But as many contractors know, recent salt shortages have caused rock salt prices to skyrocket, meaning these liquid alternatives that require less salt can be good for the bottom lines of customers and contractors.
Still, liquids are new to many customers, and there's a sustained and growing anxiety about slip and fall liabilities. "Customers want to know that they've been serviced; they want to see that they've been serviced, and you can't see a liquid very easily," says Brian Birch.
Thus, starting small is key, says Robert Tester, president of TNT Property Maintenance and Your Salt Connection in Kitchener, Ont. "We advise taking baby steps if people aren't too sure about it, maybe getting you into treated salt first, then let's get you into doing some pre-spraying of sidewalks or stairs or runways of busier properties. Then later maybe you're ready to spray brine for everything."
It's also key for all parties to understand that not all liquids are created equal. Like rock salt, straight salt brines work best at temperatures no lower than -10 degrees Celsius. Other liquids, like magnesium chloride and beet juice, can work in colder temps.
At Clintar, Nicholson says in general they're learning that brines work best as a pre-treatment, particularly when later trying to scrape the hard packed snow off the asphalt. "The brine makes it a lot easier, and with follow-up applications of granular salt afterwards there's less residual to melt away, so we end up using less materials."
THE CHALLENGE
Outside of additional equipment costs, the learning curve contractors like Clintar have to go through is one of the biggest challenges with liquids. It's a whole paradigm shift in just considering one product for all conditions (granular salt) versus a different product or different combination of products, depending on the conditions.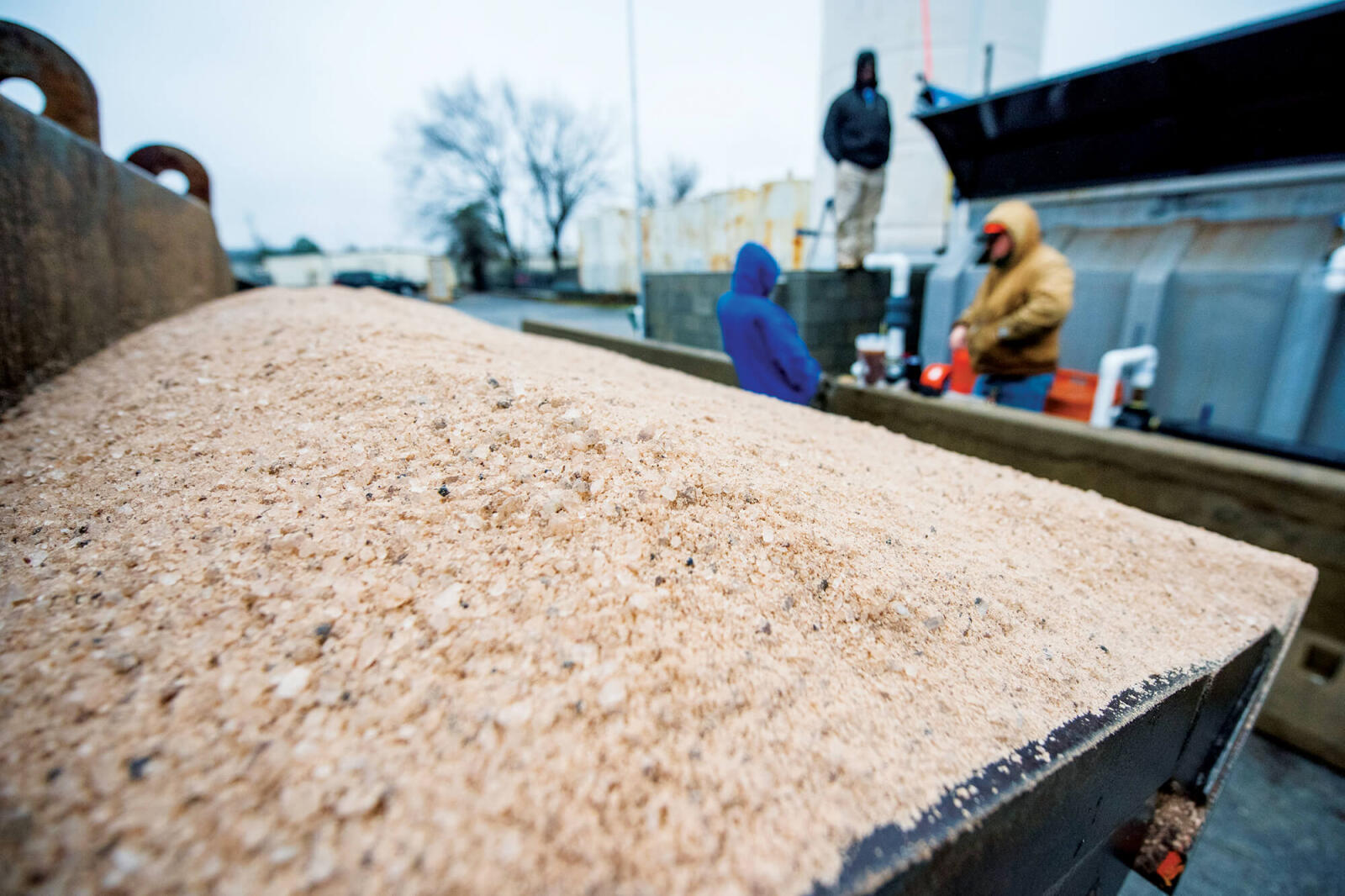 Preparing to feed a front-end loader full of salt into a machine that mixes it with water.
---
"It's much more complicated than just going out and spreading rock salt," says Birch. "There are even some scenarios where the liquid can cause the exact opposite of what you want if you don't understand the weather and the surface temperatures and the wind moisture that could condense out of the air and potentially freeze."
And then there's typically a shift in how contractors have to service accounts. With granular salts, crews may go out an hour before a storm or during it. But with liquids, they may have to be trained to go out a day before. That sounds like any easy shift to make, but not always.
"Right now, one of our challenges is selling the concept to our own staff," says Nicholson. "You need buy-in from everybody that it's going to work, but because it's relatively new, just convincing people that it's the right way to go can be tough."
What helps, though, he says, is targeting the younger generation of staff, because they tend to be more open to change. Communicating the environmental angle is also good, he adds, because it's relatively clear to most that salt is bad for our waterways and that liquids minimize that impact.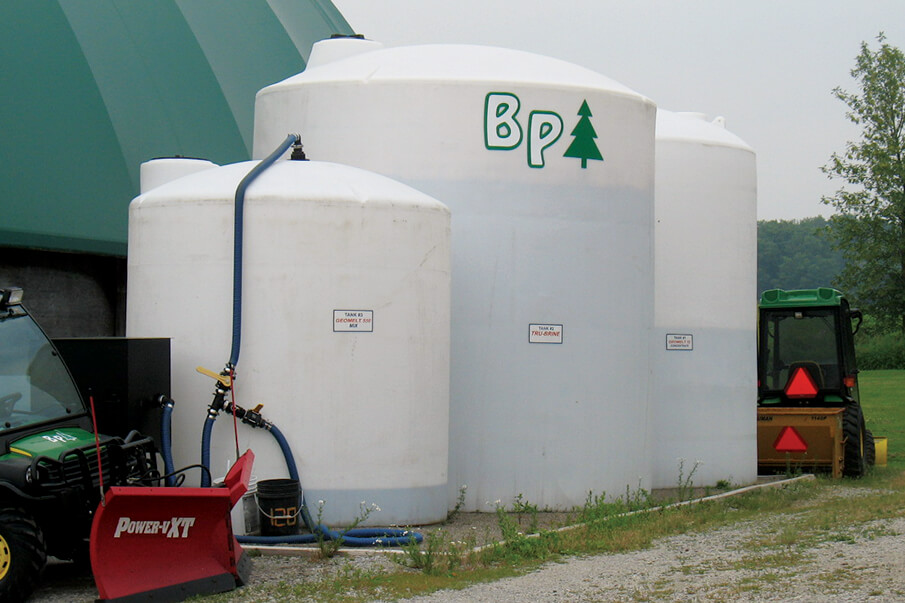 BP Landscaping's 20,000-gallon tanks holding a supply of beet juice and brine.
---
There has to be an even larger cultural shift across the industry for true change to happen, says Sexton. And what inspires change are two things, he's learned: pain and awareness. The pain part has been there with the recent — and likely ongoing — salt shortages. "Now we have an awareness and education opportunity to get simple, easy to understand and scalable information out to the broad industry. We need the 'got milk' or 'just do it' awareness and marketing campaign so that the producers, applicators and end-user clients who purchase salt applications all understand the issues and opportunities."
THE FUTURE
Everyone we talked to for this story thinks that cultural shift will continue to happen, particularly with larger contractors who have the budgets, manpower and knowledge to shift to liquid. But they agree it won't happen overnight.
"A lot of people in this industry are not in it as a full-time operation, and I don't see them spending a lot of money upgrading their equipment," says Brian Perras, owner of BP Landscaping in Caledon, Ont. "So unless somebody like the government mandates changes, even if it's a five-year phase-in policy or something, I don't see that changing any time soon."
Brian Birch is a bit more hopeful. He believes there will be more opportunities with sophisticated clients that are more focused on the environment, more focused on finding quality contractors over just the lowest bidders. "I can't predict liquids taking over rock salt, but I think the pressures of environment and need for better service, higher expectations, and efficiency will continue to drive liquid use for sure."
Terry Nicholson doesn't think Clintar will ever totally stop using rock salt, but he does believe they will use a lot less in the future. Technology application improvements will certainly help with that, he says, but the public education component is huge. "The public has to understand that salt is damaging our waterways and that more salt doesn't necessarily create safer conditions."
---
Jordan Whitehouse is a freelance writer based in Vancouver, B.C.