April 8, 2020
Landscape Ontario update April 7, 2020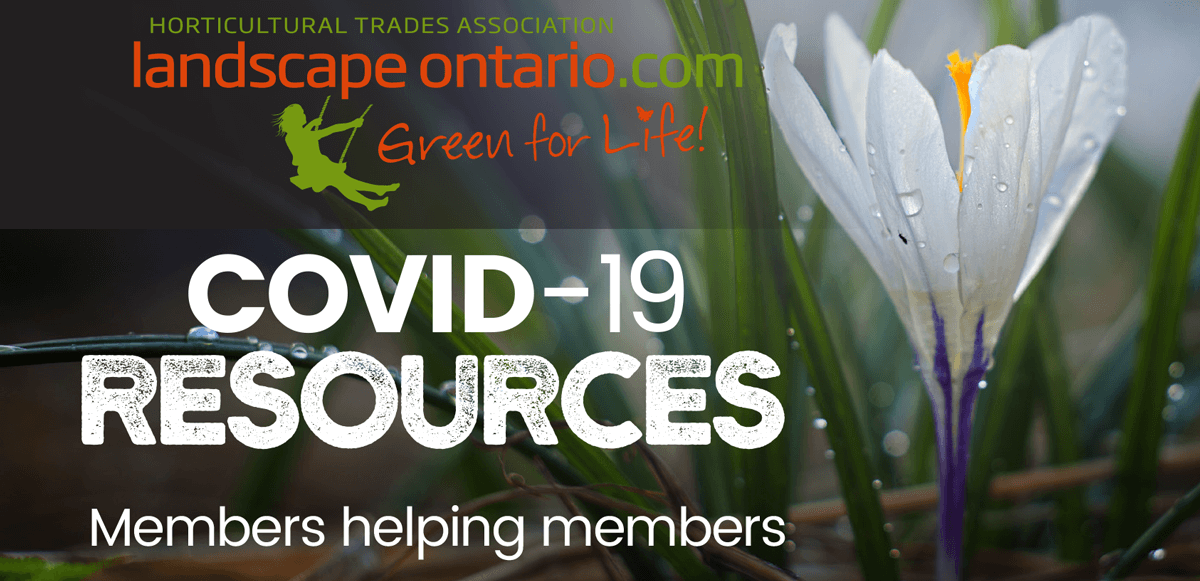 ---
Spring always comes

This is getting more serious.
The tone of the government is getting more severe. Covid cases continue to increase. There is a focused effort to fight the virus. The government is worried that hospitals will become overwhelmed and essential supplies and equipment will run out. They are making plans to open temporary hospitals if required. The entire population has been told repeatedly to stay home until cases start to decline. We have all been asked to do our part to help. Entire sectors of the economy have been shut down in an effort to control the virus. Millions are out to work.
On Friday the government updated the
Essential Workplace List
to be more restrictive. The language is not as specific as it could be. This is causing a great deal of confusion and stress. The association and many individual members have reached out to the government for clarity and received similar replies. Here is a reply from the Ministry of Economic Development.
"Businesses are required to assess whether they are treated as essential under the updated Order. You may choose to consider that landscaping business services are not explicitly referenced in the list of essential businesses. We would also call your attention to Section 20 in Schedule 2 of the updated regulation (O.Reg 119/20), which includes in the category of essential businesses the following:
Maintenance, repair and property management services strictly necessary to manage and maintain the safety, security, sanitation and essential operation of institutional, commercial, industrial and residential properties and buildings"
Today we received stronger language. Here is the email sent to one of our members.
"Thank you again for your Essential Business Application.
Following advice from Ontario's Chief Medical Officer of Health, on April 3, 2020, Ontario updated the list of essential businesses that can remain open. The restrictions are aimed at further reducing contact between people and stopping the spread of COVID-19. By 11:59 p.m. Saturday, April 4, 2020, businesses that are not identified on this list must close their physical locations.
As you may be aware, landscape gardening has not been added to the list. The updated "maintenance" category can be found at paragraph 20 of the list.
We cannot provide legal advice on whether a specific business is an essential business. Business owners should review the updated list of essential businesses which are authorized to stay open, determine whether they fit into any of the categories and, if they do, make a business decision as to whether to stay open".
Today we also received word that fines are being levied.
A Maintenance crew was fined $4,000 for having four persons in a commercial vehicle doing grounds keeping.
A commercial landscape company doing litter control in a mall in Etobicoke was told they were considered non-essential. A warning was issued.
Please let us know if you hear about other enforcement activities.
We understand the need to work. We know how stressful it is to be shut down without revenue. We know the pressures you are under because of your employees and your clients. We know you have bills to pay. However, we recommend you stop working unless you are confident that you fit under the Essential Workplaces List. Unfortunately, you will have to make your own determination and take your own risks. Please be aware of those risks. We do not want you to suffer long-term damage or risk the reputation of your company or the profession.
At the
Town Hall webinar today
one of the presenters urged us to think of the long term. In the short term, the government is urging everyone to do their part. The sooner we "flatten the curve," the sooner we will be able to go to work. This Covid crisis is definitely taking its toll, but all storms pass. At the webinar on Monday, one of the presenters said that our profession plants hope. Let's take that as our rallying cry. We always have choices.
We choose to plant hope despite the serious challenges we are facing. We choose to look at a brighter future. We choose to help and support each other through this crisis. We choose to understand what really matters. We choose courage and action.
We choose to care for each other and our wonderful, life-enhancing profession. Spring always comes.
---
| | | | | | |
| --- | --- | --- | --- | --- | --- |
| CONNECT WITH US: | | | | | |
---
This message is sent by
Landscape Ontario Horticultural Trades Association.
Contact us at 800-265-5656 | 7856 Fifth Line South, Milton, ON L9T 2X8
To unsubscribe from commercial electronic messages sent by the Landscape Ontario
Horticultural Trades Association or
LandscapeOntario.com
Manage your e-mail preferences