March 15, 2013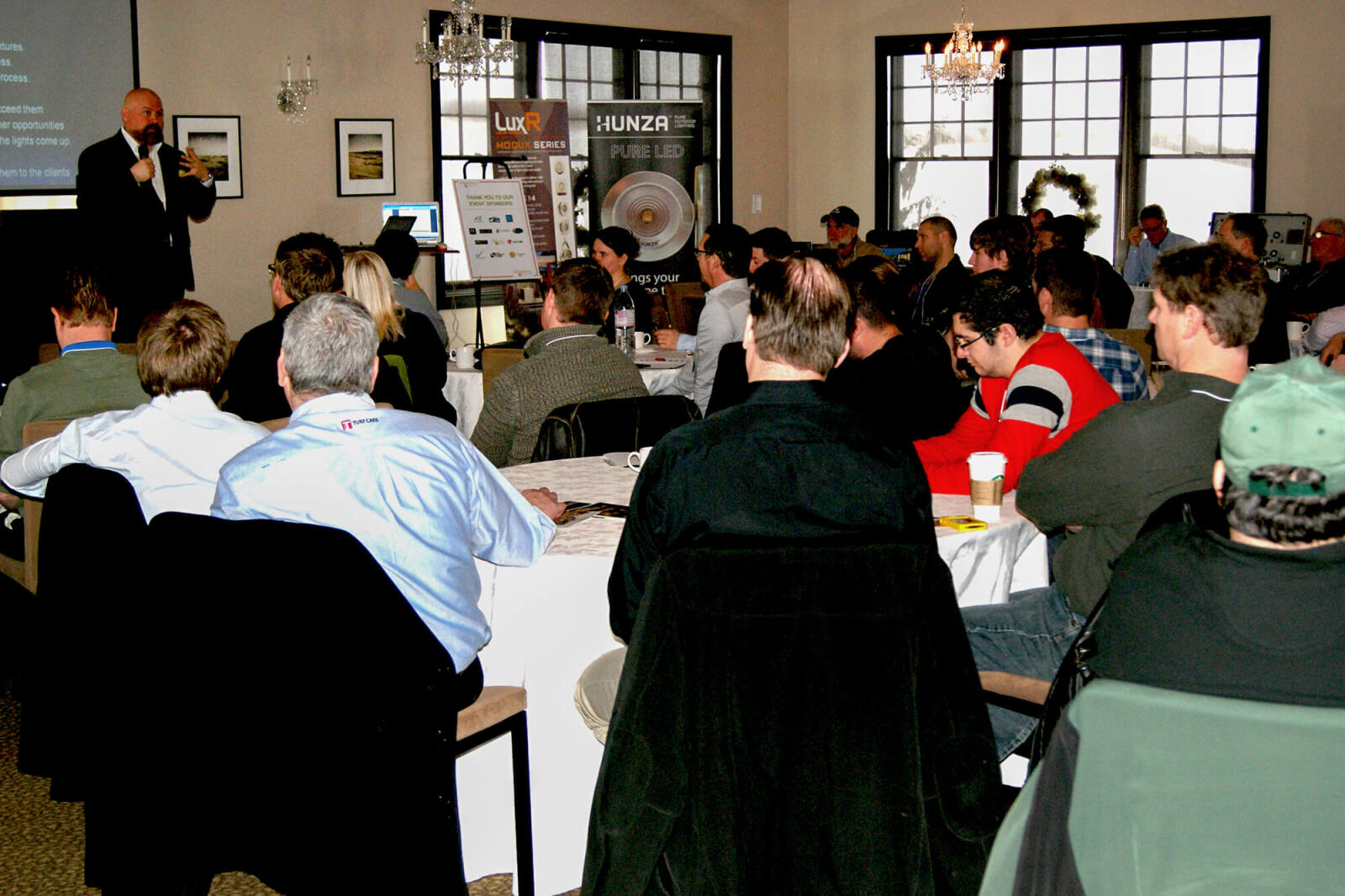 Landscape lighting design was highlight of conference
Now in its fourth year, the success of the Landscape Ontario's Lighting Conference continued with a full house of more than 100 contractors and suppliers.
The event was hosted on Feb. 20 by LO's Landscape Lighting Sector Group at Piper's Heath Golf Club in Milton. A total of 13 exhibits showcased new and innovative landscape lighting products. It gave everyone an opportunity to see the products up close and talk to suppliers throughout the day.
Exhibits on display were from the following supportive sponsors: Aurora Experience, Brilliance Led, LLC, Cast Lighting LLC, FX Luminaire, Hunza Canada, Illumicare Group, Martek Supply, Moon Visions, Turf Care Products, Nightscaping, Vanden Bussche Irrigation, Vista Professional Outdoor Lighting and WB Cross.
The Lighting Sector Group appreciates all of the time and effort put into the displays, and was happy to see the great benefit to all of the delegates. The morning keynote presentation was delivered by Nels Peterson from Minnesota. The session highlighted innovative selling techniques and featured the importance of a good lighting design.
One attendee noted, "I really enjoyed Nels' presentation — I take with me the real importance of selling the design of an outdoor lighting system, as well as when and how to make the sale and when to close the deal." Peterson's larger than life approach to design for exterior illumination was a key highlight for most attendees.
The Electrical Safety Authority (ESA) presented safety and technical requirements to the group. Inspector Allan Lis provided an update on regulations that could impact local business, as well as permit requirements. The audience responded with many questions; group chair John Higo did an excellent job providing clarification to many of the points. It was a great opportunity to learn more about compliance and what could be coming next. Attendees appreciated the ESA's co-operation effort and the exchange of information.
Attendees were also engaged with pictorial highlights from two Awards of Excellence-winning lighting projects from 2013. Joe Willemse and Stew Dunn from DiMarco Landscape Lighting, as well as Brad Paton and Katie Van Grootheest from Shades of Summer Landscaping and Maintenance walked the audience through installation highlights and challenges. They answered questions about the projects, and shared some tricks and tips for the lighting trade.
The day capped off with interactive panel discussions. Three areas covered included customer, design and installation challenges. Carl Hastings from Moonstruck Landscape Lighting, Leon Hordyk from Shademaster Landscaping and James Solecki from Integra Bespoke Lighting Systems discussed each topic in detail. They each related back to their own business practices, and included very candid real-life examples and solutions. An audience member noted, "The panel discussions were really enjoyable; hitting topics that were on the minds of all the contractors in the room."
The end of the sessions was marked with refreshments for all at the Pipers Pub, courtesy of Illumicare Group. "This event has become a highlight for landscape lighting professionals in Ontario. Attendees were engaged and left the conference with new product information, and great sales techniques for design in landscape lighting," said John Higo, chair of the Lighting Sector Group. Higo also remarked that this event is made possible through the hard work of our committee members. "We thank each one of them for volunteering their time," he said.
Plans for the conference in 2014 will be announced soon. Members with ideas, comments or suggestions to share may contact
Kristen@landscapeontario.com
.