September 1, 2017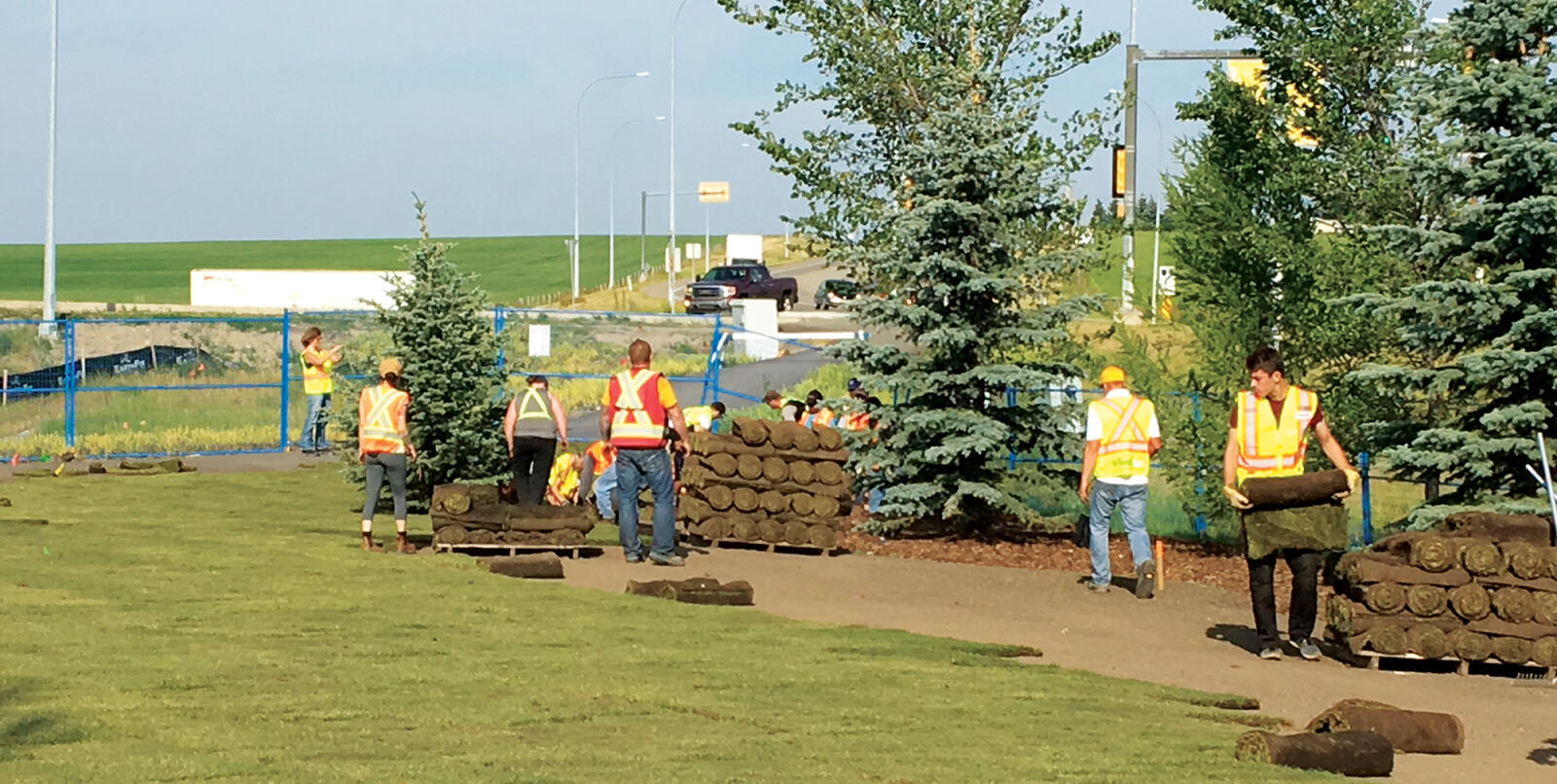 Landscape Trades devotes space to Canada's provincial horticultural trades associations. This month features news from Landscape Alberta Nursery Trade Association (LANTA).
LANTA members dream big for Canada Day
Members of Landscape Alberta came together for Canada 150 to donate two community green spaces as gifts to the people of Alberta. In Southern Alberta, just outside Calgary, members worked to turn an old skateboard park into a lush community park with the Synergy building. In the capital city of Edmonton, members worked as one to create a commemorative garden on the legislature grounds with a definite Canadian theme.
The Synergy Park project in Chestermere was championed by two local members, Phil Paxton of Alpha Better Landscaping and Blaire Cote of Foothills Nurseries. Together they rallied many members and created connections with community groups and local governments to develop a park that would foster community engagement and be a landscaping showcase. Volunteers and donors planted 81 trees, 415 potted shrubs and perennials, installed 354 cu. yds. of mulch and laid more than 40,000 sq. ft. of new sod. Chestermere city council had recently agreed to install irrigation on the site and a more robust landscape master plan for the area was developed.
At nearly the same time, another group of volunteers was building a garden at the hub of Alberta politics. Landscape Alberta reached out to government in late 2016 to inquire about donating a garden to the legislature grounds in celebration of Canada's 150th birthday. From the outset, the concept connected the introduction of the new Canadian Shield rose to highlight innovation, in addition to the theme. Volunteers planted 150 of the roses in two beds encircling a large patio. At the centre of it all is a natural stone maple leaf-shaped bed that includes 13 roses (one for each province), all centred on the stunning backdrop of the legislatures bell tower with thanks to designer John van Roessel of JVR Landscape. Thank you to all the donors and volunteers for making these two projects a success.
---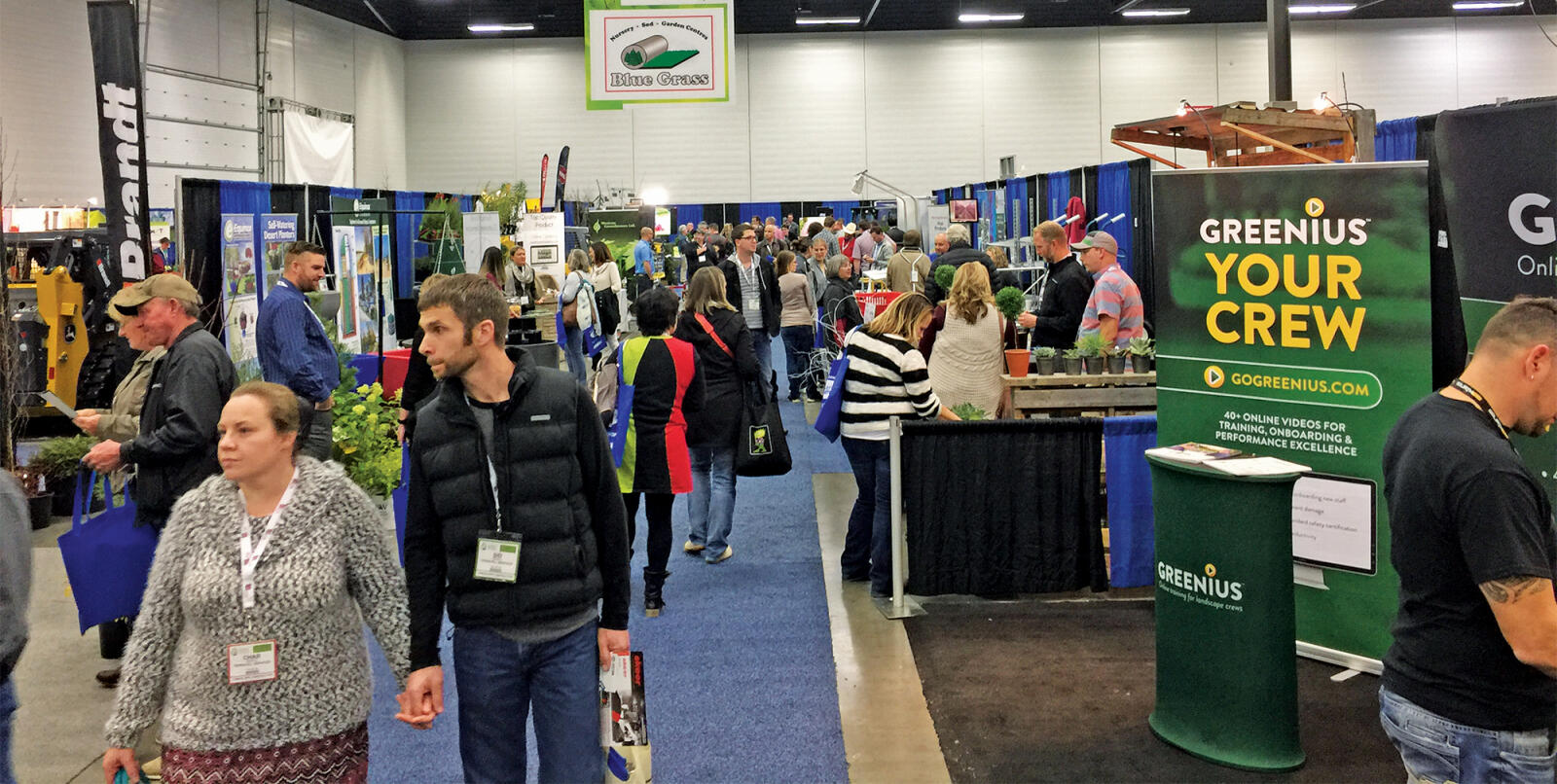 Green Industry Show and Conference will take place November 16-17, 2017 at BMO Centre, Calgary, Alta.
GISC returns to Calgary
Prairie Canada's largest industry trade show and conference returns to Calgary in 2017. With over 32 conference sessions, more than 200 trade show booths and over 2,500 attendees, this year's Green Industry Show and Conference is shaping up to be great. Featured speakers include Alan Armitage, Monroe Porter, Sean James, Jacki Hart and Dr. Ken Fry. The event takes place Nov. 16-17, 2017, at Calgary's BMO Centre; visit
www.greenindustryshow.com
.
---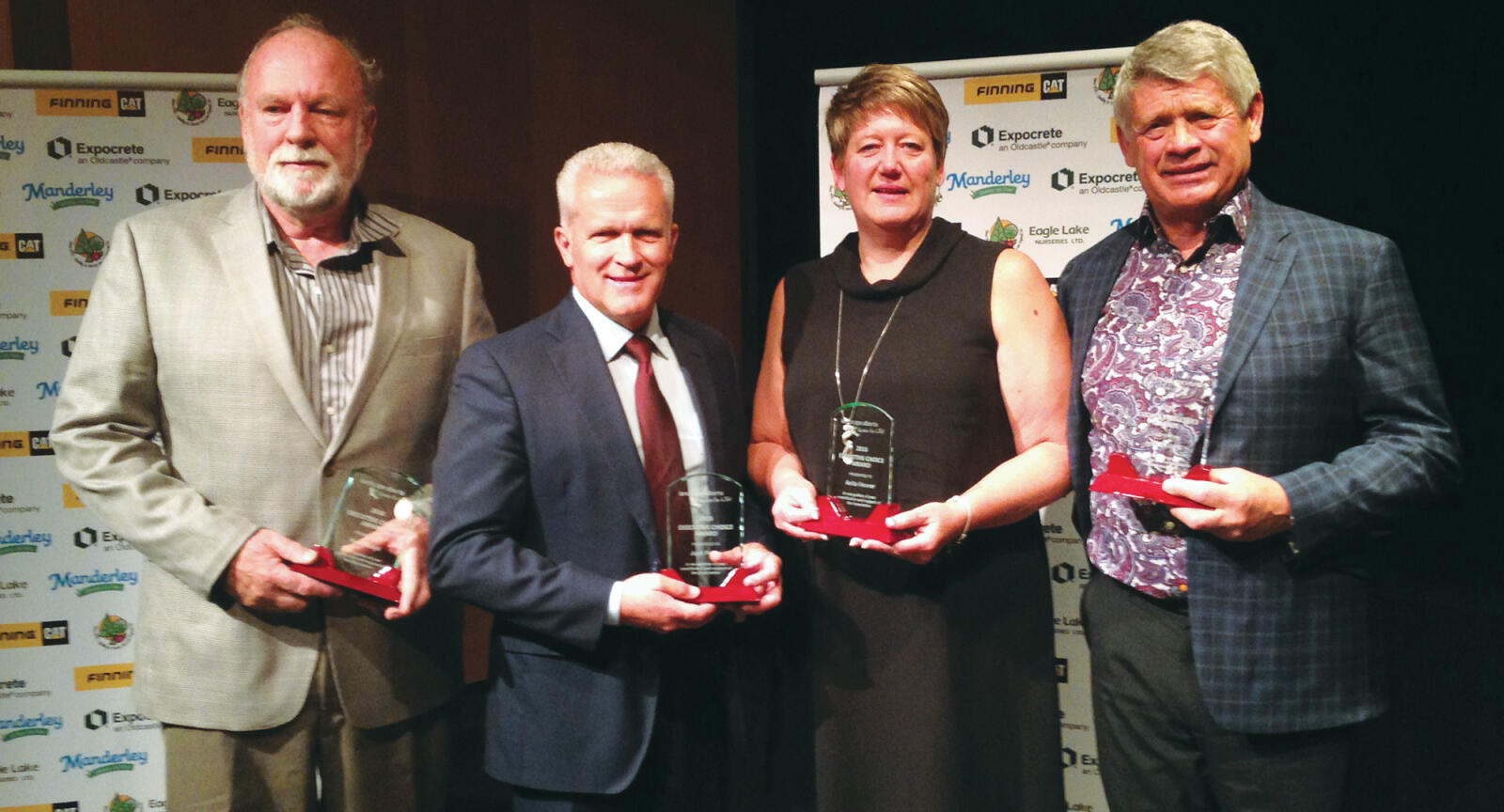 Special award winners (left to right), Ron Oudyk, Jack Payne, Anita Heuver and Phil Paxton.
Landscape awards presentation
Our annual Landscape Awards Presentation and Dinner was held in March at Calgary's Telus Spark Centre. This year, four recipients were recognized with the Executive Choice Award. The first went to Ron Oudyk from Land Tec Landscape Contractors of Edmonton for his commitment to raising professionalism in the industry through his support of the apprenticeship program, Ronald McDonald House and Skills Canada Alberta. The second award went to Jack Payne, of Classic Landscape Centre, also of Edmonton, for his keen involvement in development of the
Canadian Landscape Standard
. The third recipient was Phil Paxton from Alpha Better Landscaping, Calgary, for his role in bringing the
Canadian Landscape Standard
to life. The fourth award went to Anita Huever from Eagle Lake Nurseries in Strathmore, for her massive effort in the
Bill 6
consultation process. The Executive Choice Award recognizes members who have demonstrated dedication to helping the association grow and achieve its long-term goals.
Gloria Beck presented long-time colleague and friend, Tony Heuver, with the Lifetime Member Award for his years of dedicated service to the association and to our industry. It is beyond well deserved and well overdue. Congratulations to Tony!
The Landscape Awards program received a record 53 entries this year. Congratulations to winners Alpha Better Landscaping, Earthlings, Homescapes Complete Landscape Construction, Julia's Alpine Garden, Landform, Modern Earth Landscaping, Park Landscaping, Planta Landscape, Solid Landscape Construction and Design, Surface Pro Services, Terra Landscaping, ULS Maintenance and Landscaping and Year-Round Landscaping.
---
Team Alberta wins gold
Team Alberta, Ray de Kok and Adrian Sinke, took first place, winning gold at the Skills Canada National Competition held in Winnipeg last June. Both competitors work for Caliber Landscaping of Coalhurst, Alta.
During the two-day event, the landscape gardener teams built a project that included a perimeter retaining wall, a deck, planter boxes, a patio and plant material, all within 12 hours. The Alberta team competed against teams from six other provinces, with Quebec taking home the silver medal and Nova Scotia taking home bronze. Congratulations to all competitors!
Carbon levy rebate
In March, Alberta Agriculture announced support for the province's greenhouse sector by creating the Alberta Greenhouse Rebate Program (AGRP), allowing growers to apply for up to 80 per cent of the carbon tax paid on heating costs. The program allows Alberta producers to remain competitive with import markets.