November 5, 2018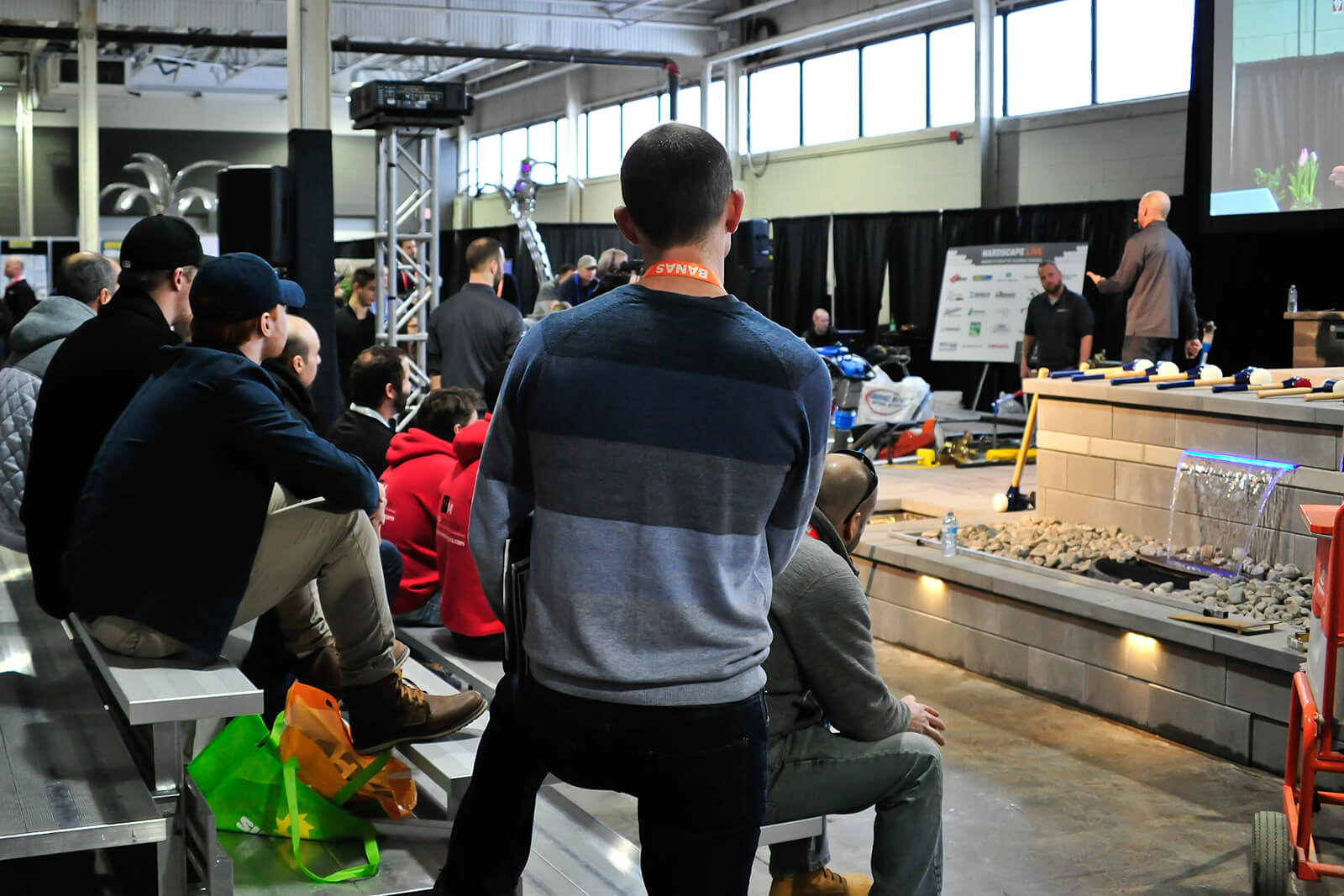 Kick off the new year with Congress '19!
In less than two months, thousands of professionals will explore over eight acres of products and services from leading suppliers at Congress 2019. For 46 years, Congress has continued to evolve with the growing needs of the landscape and horticulture profession, and the latest edition, running Jan. 8-10, 2019 at the Toronto Congress Centre, is no different. Congress '19 will include three unique, live demonstrations, each held twice daily directly on the show floor. In addition, a full, four-day conference program will feature many leaders and business experts who will deliver countless learning opportunities of value to each and every sector of the profession.
Warm-Up Monday conferences
The four-day conference program that runs alongside the Congress trade show actually begins the day before, on Jan. 7 with Warm-Up Monday. This series of industry-specific events includes: Integrated Pest Management (IPM) Symposium, Landscape Designer Conference and the Peer to Peer Workshop. Each requires a separate ticket purchase and includes admission to the trade show that starts the following day.
Attendees of the IPM Symposium will earn six IPM Council of Canada CECs by attending all six technical sessions. The symposium includes time for delegates to visit with several suppliers as well. The Landscape Designer Conference will host five sessions, followed by a popular networking reception, and also includes supplier displays and time for guests to circulate throughout.
At the Peer to Peer Workshop, facilitator, Jacki Hart, will provide business owners with some face-time to work on their journey to continued business improvement.
On Jan. 9, the Garden Centre Symposium will feature prominent digital marketing expert, Zachary O'Connor. O'Connor will dive deep into the changing landscape of the web and web advertising, including best practices for creating healthy digital ecosystems — a topic that applies to not only retailers, but to all other sectors as well.
Conference program
The full conference program (Jan. 8-10), presented in partnership with LMN, will help delegates learn valuable insights from leading industry experts. The program has options for owners, managers and key staff who want to stay one step ahead of their competition. The schedule features a Luncheon Keynote on Tuesday with George Kourounis, an award-winning explorer, one of the world's most active storm chasers, television presenter, and freshly-minted Explorer-in-Residence with The Royal Canadian Geographical Society. In his keynote titled, "Face Any Storm," Kourounis will compare his storm chasing and eco-exploration experiences to the types of challenges we all face—in both our personal and our professional lives.
Concurrent conference sessions are filled with business development and industry-specific topics, with inspirational and provocative speakers such as: Bill Hogg, Niki Jabbour, David Lammers, Michael Ormston-Holloway, Christina Salwitz, Frank Ferragine and Paul Zammit.
In addition to the Conference, many Congress exhibitors provide excellent education to their customers as well. These companies understand that their success depends on a prosperous and professional customer. This year, Congress organizers have dedicated a limited number of rooms on Jan. 10 for exhibitors interested in expanding their commitment to quality education. All new for 2019, these Congress educational partners will provide high-quality sessions, each led by a qualified instructor. Sessions will be available to all Full Conference and One-Day Conference Pass holders. Education Partners include: Techo-Bloc, LMN, Load Army, SiteOne Landscape Supply, Jim Pattison Lease, Workplace Safety and Prevention Services, Lawn Life Natural Turf Products, TradeWinds International, and Unilock.
Hardscape LIVE!
In partnership with Landscape Ontario's Hardscape Committee, the fourth edition of Hardscape LIVE! will return to the show floor with daily instructions at 10:30 a.m. and 2:30 p.m. Featuring the latest in hardscape installation techniques, the live build over the three show days will enlighten audiences on many topics related to hardscape installation and maintenance.
Green LIVE!
Returning to the show floor for a second year, Green LIVE! will continue an up-close approach for landscape pros to re-learn the important basics of tree selection, preparation, planting and maintenance. Produced in partnership between the LO Growers Sector Group and International Society of Arboriculture Ontario (ISAO), Green LIVE! will feature several experts on-stage, twice daily at 11:30 a.m. and 1:30 p.m. Topics this year include: Selecting Quality Nursery Stock, Handling and Transporting Nursery Stock, Site Conditions and Soil Preparation for Tree Planting, Proper Planting Techniques, Maintenance Within the First Two Years of Planting, and How to Care for Established Trees. Sessions will highlight do's and don'ts, and prepare contractors for the upcoming season.
Drive LIVE!
Proper vehicle safety continues to be one of the most popular topics for landscape professionals. Anyone who drives a vehicle should attend Drive LIVE! at 11 a.m. and 2 p.m. daily for live instruction from Toronto Police and Ontario Provincial Police officers. This safe vehicle refresher demonstration uses a hands-on approach that shows operators how to apply daily vehicle inspection rules, pre-trip inspection reports and itemize defects in compliance with Ontario regulations. Learn how to conduct a proper circle inspection, the difference between minor and major defects, and how to operate safely to help avoid costly tickets and fines. Bring key staff and crew leaders to ensure they are ready for the season ahead.
Evening networking events
Attending the trade show and conference is hard work, so be sure to mingle and unwind at "the Oscars of the green profession" — LO's Awards of Excellence ceremony on Tuesday night and at the infamous Tailgate Party on Wednesday night. Both events include free food and entertainment.
Trade show and new products
Congress offers over eight acres with more than 600 exhibitors — the ideal community-building and purchasing environment for design-build, fence, landscape and pool contractors, grounds managers, landscape designers, irrigation and lighting contractors. The popular New Product Showcase area features the latest equipment, tools, products and technologies available from Congress exhibitors. If you influence purchasing decisions, labour force issues, productivity or manage the budgets of your business, you won't want to miss this event.
Canada Blooms College Campus
Check out what they're learning in school these days by visiting the Canada Blooms Student Campus. The area showcases the vast array of skills of future leaders of the profession and is a testimony to the strong work ethic, vast knowledge base, and hands-on training learned in today's institutions of higher education. Visit the Canada Blooms College Campus gardens to see for yourself the passion, talent and ability top employers are searching for.
Congress is strategically held each January so landscape and horticulture professionals can all kick off the new year together. Congress literally is a one-stop-shop for professional development, innovative products, education and community-building opportunities. Register online now at
LOcongress.com
where special early-bird pricing is available until Dec. 14.