August 28, 2020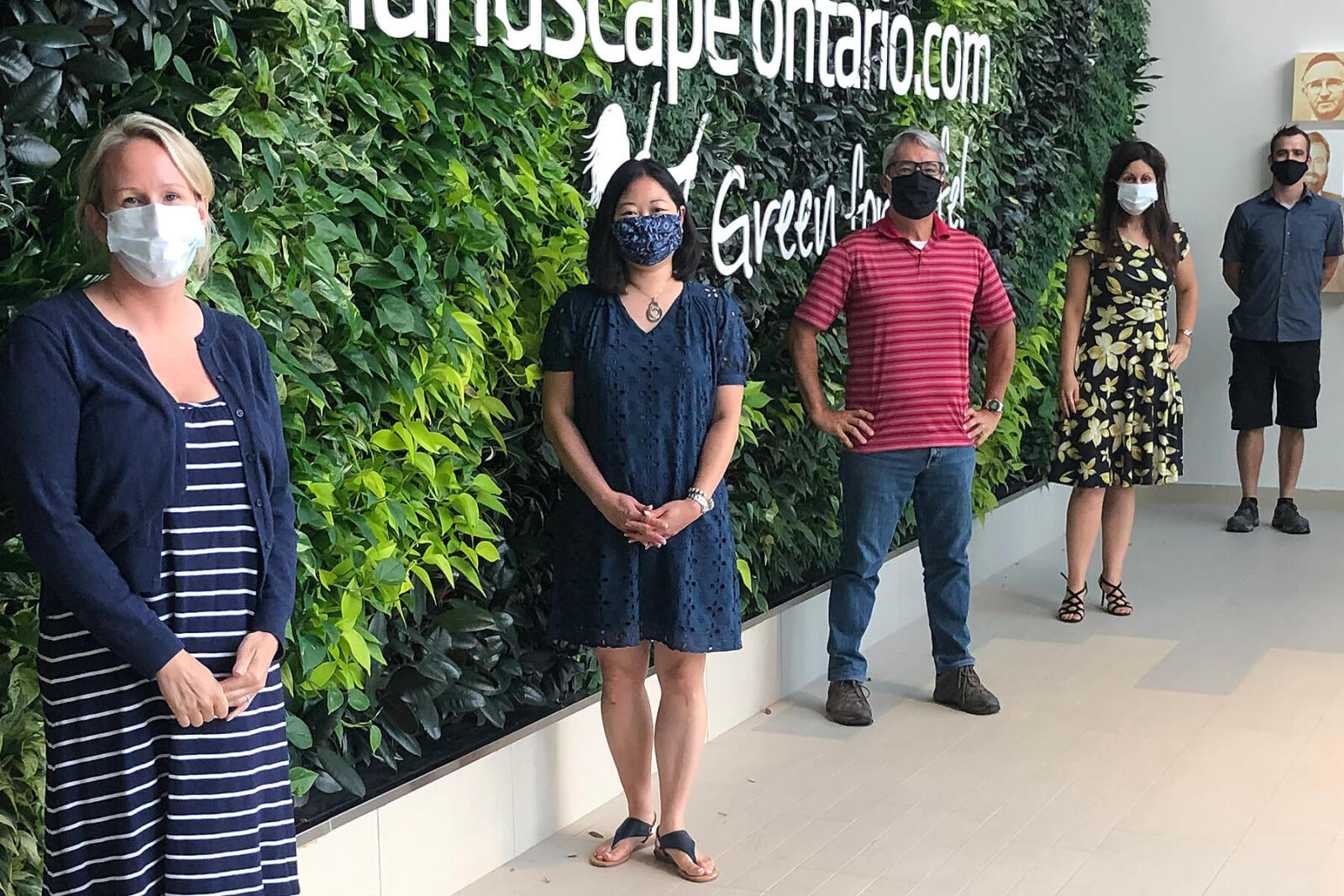 Introducing the new GROW program
By Sally Harvey CLT, CLM, CAE
LO Director of Education and Labour Development
Landscape Ontario has identified workforce development as a critical component of the landscape and horticulture industry's competitiveness and sustainability. In 2018, the association's updated Strategic Plan (
HortTrades.com/strategic-plan
) outlined relevant and ambitious goals for the association. The workforce development related goals are summarized in the following graphic below.

Although LO has been actively working on these goals for years, the strategic plan inspired the association to explore a new grant program, and we were notified in April that our application was successful. As a result, we are thrilled to announce that Landscape Ontario, in partnership with SkillsAdvance Ontario (SAO), funded in part by the Government of Canada and the Government of Ontario, has launched the new Get Ready for Opportunities at Work (GROW) program. This innovative and strategic training program will support the development and growth of three new pilot programs that include: new entrant worker training, a current employee development and advancement program, and an Employers of Choice program. The initiative will run as pilot programs in three regions: Toronto, Hamilton and Kawartha/Muskoka. The project truly supports achievement of numerous strategic goals all under one program. In summary, we will:
Attract and train new workers and place them with employers with in-demand jobs;
Offer professional development and advancement training to current workers in the profession;
Provide pathway guidance and supports to new and incumbent workers, and support them in pursuing development and advancement opportunities that includes registration in the Horticultural Technician Apprenticeship program; and
Offer and deliver an Employers of Choice program to increase competitiveness.
Three pilot programs
New Entrant Worker Certificate Training Program (Fall 2020 and Winter 2021):
The program is designed to close the gap on in-demand jobs/talent requirements identified by employers. The program will provide a four-week basic technical and employment skills training program, serving employers in the three regions with 150 entry level workers who aspire to enter into a promising career in the landscape and horticulture profession.
The program is intended to attract youth, newcomers, adults, women etc., and provide training and employment opportunities to job seekers who may have experienced labour market challenges. It is anticipated that the fall cohort of new workers will support employers until the end of the season, and some may remain for winter work. The winter cohort will be ready to work in April 2021. The certificate program curriculum is being designed and developed based on feedback provided by employer members of the regional Program Advisory Committees in the three regions and based on current in-demand jobs. The training program for Toronto and Hamilton is currently taking place at Landscape Ontario's head office and training facility (Aug.-Sept. 2020). We will expand the program to Kawartha/Muskoka and repeat Toronto and Hamilton in Winter 2021.
Employers who anticipate having entry level positions available this fall are invited to contact the program manager to learn more about this opportunity.
Current worker development and advancement program (Dec. 2020-March 2021):
The current/incumbent worker program is intended to advance and upskill 50 nominated and eligible workers who will benefit from professional development opportunities. Employers in the three regions will nominate current workers and once approved and registered, they will be offered foundational supervisory training (in a remote learning format), focused on the pillars of supervising work and team members safely and effectively. In addition, participants will receive an individualized training plan and budget funded by the project, developed for and with them and their employers, and given the opportunity to pursue more courses and/or designations during the span of the pilot program this winter. The intention of this program is to help current workers to grow their careers in the sector and gain advancement and promotion with their current employer. It is also intended to provide employers with improved employee retention outcomes.
Opportunity for employers:
Employers who anticipate having entry level positions available this fall are invited to contact the program Manager to learn more about this opportunity.
Employer of Choice Program (Dec. 2020-March 2021):
The Employer of Choice program will support the 50 participating employers within the three regions (who agree to commit eight hours weekly) to build HR, Leadership and Diversity and Inclusion capacity within their firms to better support them in attracting and retaining a workforce of choice. This program seeks to enhance employer's knowledge and capacity in terms of workplace operational practices and policies specifically related to: recruitment, on-boarding, training, development, and continuous improvement strategies. The program will be delivered in an on-line format and will introduce and share tools, policies and best practices with participants. Employers will participate in an assessment and benchmarking process (fall of 2020), followed by an eight-week experiential, contextualized learning program (Jan.-Feb. 2021). Intended results include: more effective recruitment and higher levels of employee engagement, productivity and retention so that firms can develop, grow and meet consumer demand.
Employers who are interested in participating in this program are invited to contact the program manager to learn more about this opportunity.
GROW Program team and current opportunities
LO is delighted to have hired a strong core project team to date, comprised of technical instructors, training recruitment and placement coordinators serving the Toronto and Hamilton regions. The team is led by Andrea Annis, Program Manager.
At the time of publication, we continue to seek individuals who can fill vacant program positions required to deliver the GROW Program, including: Partnership Engagement Specialist, Incumbent Worker Program Coordinator, Technical Instructor (Kawartha/Muskoka), and a Recruitment, Training and Placement Coordinator (Kawartha/Muskoka).
Closing comments
LO wishes to thank SkillsAdvance Ontario (SAO), funded in part by the Government of Canada and the Government of Ontario, for their support of this project. This project will help to accelerate the strategic plan, as it checks off so many goals identified within the Workforce Development Strategy. The new entrant program will help to test the feasibility of the Hiring Hall Hub concept, create awareness about pathways to in-demand careers/jobs, and engage and provide youth and new workers to a very busy sector that has been challenged to find workers in a competitive environment.
The curriculum will support future new entrant development programs as well. The incumbent worker program and Employer of Choice program will help LO to build capacity in terms of increasing access to training and leveraging remote distance learning platforms. All new entrants and current workers and their employers will be introduced to the Apprenticeship program pathway, and LO's Group Sponsorship program is ready to support those registrations. We are fortunate to have the recognition and support of government as we strive to build a workforce of choice who have the opportunity to work for employers of choice in a profession that enhances lives.
Stay tuned for more information from LO about the GROW program opportunities.
For more information about the program, please contact Amanda Laszcz at
alaszcz@landscapeontario.com
or Sally Harvey at
sharvey@landscapeontario.com
or visit
GROWoutdoors.ca
.