October 17, 2018
Industry news October 2018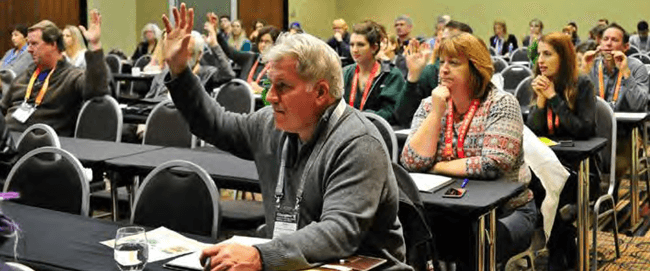 Congress Conference lineup announced
Congress Conference will again deliver Canada's most comprehensive horticultural professional development offerings in 2019. More than 30 sessions, geared for both frontline employees and business owners in every green industry sector, will take place Jan. 8-10.

The keynote address features George Kourounis, storm chaser and host of TV's Angry Planet. Other speakers include: Thomas Rainer, Walter Kehm, Frank Ferragine, David Lammers, Andy Paluch, Bobbie Schwartz, Christina Salwitz, Bill Hogg and Landscape Trades's Rob Kennaley.

New this year are education partner sessions, offered by experts affiliated with green industry suppliers, including Techo-Bloc, LMN and Lawn Life.

Landscape Ontario's IPM Symposium, Designers Conference and Peer to Peer Network events take place on Jan. 7, the day before the trade show. A special Garden Centre Symposium will also be presented during the show. Free educational areas on the show floor include GreenLIVE for the grower and arborist industries, HardscapeLIVE for paving stone pros and DriveLIVE on Ministry of Transportation compliance. Visit LOcongress.com for complete details or to register.

Maritimes look forward to HortEast
Registration is now open for eastern Canada's horticultural trade show and conference, HortEast. This year's event takes place Nov. 27-28 in Truro, N.S. Organizers have invited Robert Sandford to deliver the keynote. Sandford is co-author of Flood Forecast, and will discuss how landscape restoration can reduce the risks of flooding and drought. Education sessions feature speakers from the Nova Scotia Apprenticeship Agency, Fox Meadow Golf Course, Sandler Training, Boyne Clarke and Perennia. Visit horteast.com for more information.

Red River College cancels horticulture program
Members of the Manitoba Nursery Landscape Association (MBNLA) Professional Development Committee, local business leaders, current students and graduates have joined forces to challenge the abrupt decision by Winnipeg's Red River College to cancel its Greenspace Horticulture Program.

The Greenspace Horticulture Program, Manitoba's sole horticulture certificate program, included hands-on training in integrated pest management, turf management, landscape design, as well as pruning, grafting and the application of pesticides and fertilizers.

MBNLA says the "program is crucial to the continued success of the landscape and horticulture industry in Manitoba. With the growing need for our services, professionally trained individuals are even more in demand."

An online petition has been created to reinstate the program at https://chn.ge/2LtNJQh. Typical of comments left by those signing the petition is this from Sandra Soon, "Sustaining and creating jobs is important. Giving students the opportunity and knowledge to use safe practices to keep our land healthy and create green spaces should be a priority."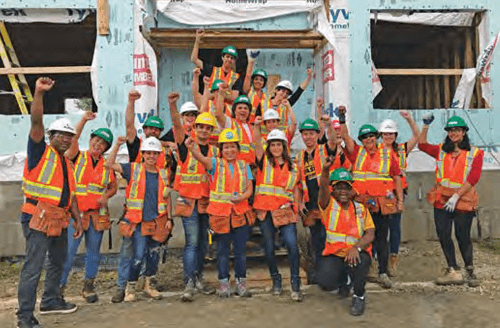 SBD supports Habitat for Humanity
Stanley Black and Decker Canada employees donated their time and skills to Habitat for Humanity at the recent Toronto-GTA Adopt-a-Day Challenge event held Aug. 8 at the McLaughlin Road Build Project in Brampton, Ont.; the Edmonton, Alta., Carter Place build; and a summer build in Montreal, Que. The company has supported 58 builds so far, and nine families have already moved into their new homes, the company says.

ASV adds Saskatchewan dealer
ASV recently added GlenMor Equipment to its dealer network. The Prince Albert, Sask.-based dealer will offer all ASV Posi-Track compact track loaders, including the new RT-40 small-frame CTL, the VT-70, ASV's first mid-frame vertical lift model, and the RT-120 Forestry CTL. The company will also carry ASV's full line of skid-steer loaders.

AAS and PPA seek trial sites
In 2015, All-America Selections (AAS) in conjunction with the Perennial Plant Association (PPA), launched a new herbaceous perennial trial with five entries and corresponding comparisons currently planted and undergoing its third summer of evaluations. The first of those winners will be announced in July 2019. Subsequent trial years have resulted in additional perennial entries that the AAS judges are evaluating through the thick and thin that Mother Nature delivers. The organizations are now accepting entries for the 2019-2022 (three-winter) trial. For more details, visit all-americaselections.org.

Startup to build sprayer-spreaders
Steel Green Manufacturing has announced plans to begin producing zero-turn sprayer-spreader machines. The Lebanon, Ind.-based company is founded by Scot Jones, Matt Smith, Michael Floyd, Craig Conyer, and Brent Mills, all previous employees of the Z-Spray manufacturer, L.T. Rich Products.