January 13, 2017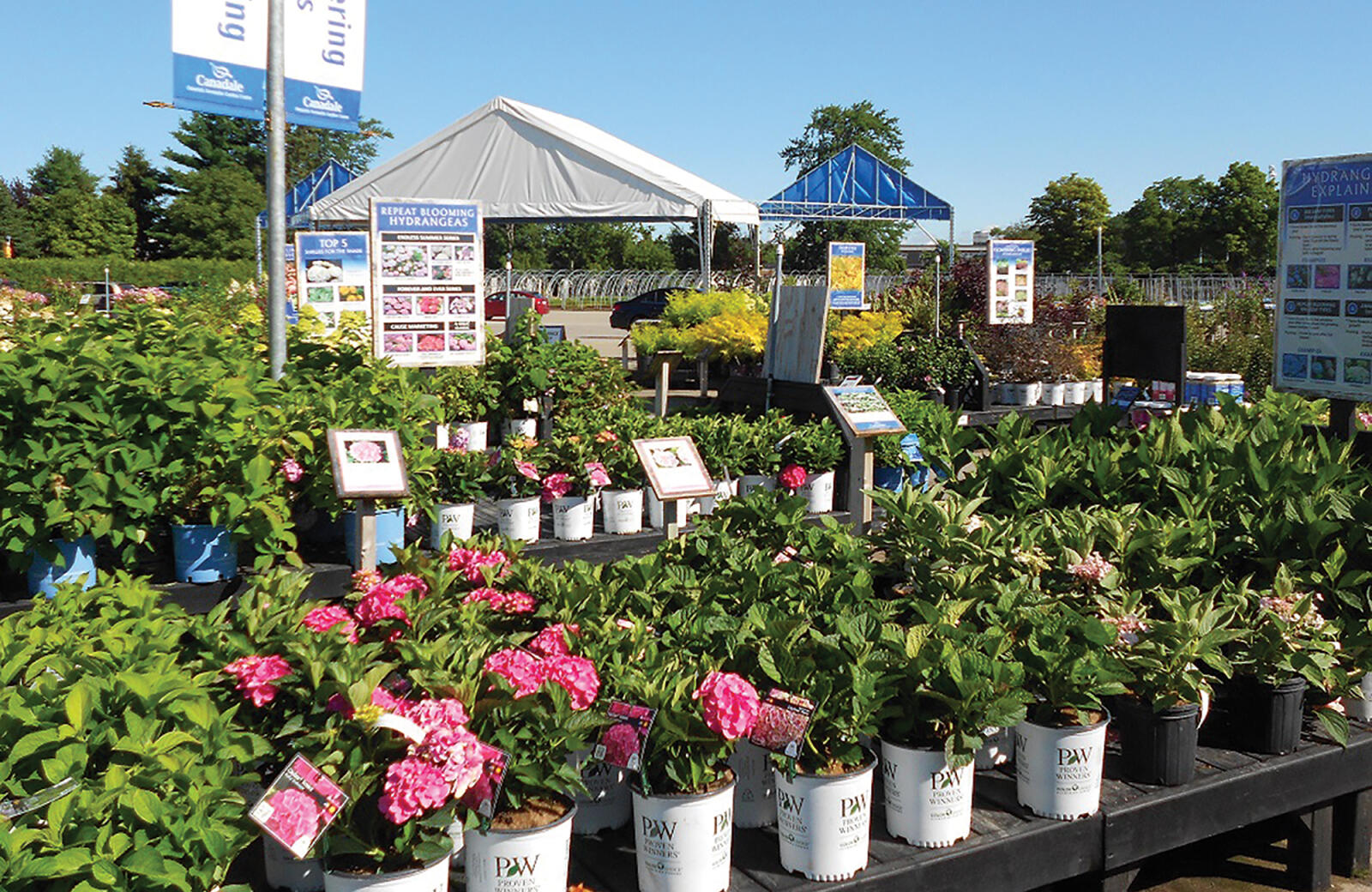 How can I make more money with new plants?
What's new?
We see an explosion of new annuals, perennials and woody plant cultivars promoted by breeding companies; the marketing power of new cultivars undeniable.

Can breeding breakthroughs drive your sales? How can contractors and live plant retailers take advantage of new plant promotions?
BY LAURIE SCULLEN
First some background on why new plants and marketing programs can help your business improve sales and profits.
Trick Question 1: What do a spreading petunia, a free flowing bacopa and a repeat blooming hydrangea have in common?
More than 20 years ago saw the advent of 'Wave' petunia from Ball Horticulture Company, the Proven Winners specialty annual program and 'Endless Summer' hydrangea from Bailey Nurseries. All three changed the world of 'new' plants, and more importantly, changed how Canadian consumers value new plant introductions. These plants were part of that first wave (pardon the pun) of breakthrough new breeding that allowed breeding companies to both trademark and market their new plant introductions — not just to growers and nursery owners, but all the way to the plant consuming public.
Trick question 2: Which came first: Great genetics or great marketing?
You need both good breeding and good marketing to make the process work. According to Tom Intven of Canadale Nurseries in St. Thomas, Ont., "I think the important moment was 20 or so years ago when Proven Winners first came up with the concept of charging a marketing fee with each plant. It has taken a few years for the strong PW marketing program to gain traction in Canada, but now we have many customers coming into retail and asking for their shrubs by name — which to me is the mark of a true brand." By being able to attach a marketing fee, royalty or PBR fee with each plant, breeders are now able to support new genetics with marketing programs that will drive demand from both consumers and industry customers. But marketing alone is not enough, as the new plants must also show improvements over older selections. Cautions Coleen Zimmermann, Nursery and Perennial Buyer at Terra Greenhouses, Milton Ont., "New and different plants are always good and will stand out at retail. But the main thing we look for is performance. Our customers will want to see results quickly, so new plants must perform as advertised."
We can add a few other breakthrough introductions to the above list: Knock Out rose by Star Roses and Plants and 'Limelight' hydrangea from Proven Winners. Both come to mind as exceptional genetics, well marketed to all levels of the marketplace including consumers, retailers, contractors and growers.

Strong new breeding
Today's woody plant breeding trends toward dwarf repeat bloomers that give three or four seasons of colour. Canadian gardens typically demand plants that fit into homes with small lots, plants for deck gardens or plants for balcony container gardens. Our all-too-short summers put a premium on plants that can give more seasons of colour and fit the trend to instant gardens.
Bobo Hardy hydrangea from Proven Winners is one newer introduction offering both multi-season colour and compact size. In many zones across Canada we see Bobo as a reliable, hardy, repeat bloomer that is even replacing many of the larger flowered
H. macrophylla
, as contractors and retailers both see strong overwintering performance. Other examples include Diamond Rouge hydrangea from the Bailey First Editions program, an
H. paniculata
which colours up earlier than many other pinks, and Tiny Wine Ninebark from Proven Winners, one of a series of compact and colourful ninebarks.

Marketing — Consumer, Retailer, Contractor...
It is the combination of genetics plus marketing that makes these programs work. On the consumer side, we see successful programs building consumer awareness with a combination of product packaging, media outreach and social media engagement.
Consumers often make plant buying decisions while shopping, so impulse appeal is critical. Programs such as First Editions and Proven Winners have made great use of large plant tags and printed containers to help communicate their plants are special. Some well-known cultivars, such as Endless Summer and Knock Out, are able to command their own printed containers. Store signs, bench cards and posters are often available from breeders to help promote in-store impulse purchases.
Consumer marketing to support plant programs often includes traditional media, such as garden and design magazines, radio and TV, and public events such as home shows. Consumers will see frequent mentions of new breeding, the result of public relations placement from breeding companies, samples sent to key influencers in the gardening and design media and in some cases, direct media spending in consumer publications.
Digital marketing has become a major tool for breeders to connect their marketing messages to consumers, retailers and contractors. Digital ad campaigns for new plants often include consumer websites for each new plant or plant series, Facebook pages that allow consumers to post photos and comments, and YouTube videos on how to grow and design with the new plants.
In addition to marketing directly to plant consumers, breeders are taking their messages through to retailers and contractors with outreach in industry trade magazines, trade show events, direct mail and e-mail programs. The combination of strong breeding with well executed marketing has created both a push into the industry, as well as pull from consumers.
How new plant programs pay off
To call attention to new genetics, many retailers use end-cap displays and other prime selling locations for new plant programs. These spaces can either feature one selection, or can be an area reserved for a collection of new and important plants. Given the impulse nature of consumers, powerful store signage has been proven to increase sales. The signs need to quickly communicate the 'why' this new plant is better. Take advantage of the in-store sign and POP programs made available from breeders, and add your own signs telling why you and your staff like these plants.
From a retailer's perspective, one challenge is how to balance the number of 'new plants' to the traditional selection. Hydrangea is a great example, with so many newer cultivars to pick from, at the same time customers will be looking for older genetics such as 'Annabelle.' Intven comments, "We think as much of 20 per cent of sales space can be devoted to newer plant programs. But keep in mind, some of our new items from a few years ago are really becoming the main cultivars. We are seeing plants like hydrangea Incrediball replacing old genetics."
As newer plants become mainstays in your product mix, key selections will stand on their own in your retail space. Zimmermann says, "Weigela Wine & Roses and Incrediball hydrangea both have such strong sales, they have moved to their own locations at retail. Customers are now asking for them by name."
In addition to in-store displays, many retailers are making new plant programs a major part of their marketing outreach. New plants can be major stories for newsletters, Facebook posts and sections on a retailer's website. Breeders want retailers to talk about their new plants, so they provide photos, written content and occasionally videos.
Retail prices also play a factor, as most newer genetics carry higher royalty, packaging and marketing fees, and often retail at two or three times the price of older plants. These higher retails are a major reason to get involved with new plant programs. As customers upgrade to new plants, there is opportunity to improve both top line and profits.
The landscape side
There are added challenges for contractors regarding new plant programs, as there can be more levels of customers needing to be influenced by a breeding company. Jeff Gibson, the Landscape Business Manager for Ball Horticulture Company, comments, "Marketing new plants to contractors has been more difficult, as we have more levels on the contractor side, with residential and commercial firms, then split again into maintenance versus design/build. While the landscape supply chain has lagged behind retailers in taking advantage of new plant promotions, we are starting to see a shift. One reason is that consumers are asking contractors for newer plants, while breeding companies are doing a better job connecting messages directly to contractors. One example is with the Drift rose series. Drift is an excellent compact groundcover rose, winter hardy to many zones in Canada and ideal for many uses from contractors."
Another challenge for contractors using newer genetics is making sure the newer plants are available. Generally, retailers have an easier time of placing advance orders with their plant suppliers, while contractors tend to have shorter windows from order to delivery. As a solution, there is a trend by many wholesalers to offer more inventory of newer items. Stronger plant performance and higher per-unit selling prices are just a few of the reasons why contractors are looking to install more new plants. Todd Baker of Baker Nursery, Bayfield, Ont., is a young plant propagator helping a number of European and Canadian breeders introduce new genetics such as Van Belle Bloomin' Easy 'Wings of Fire'
weigela
. According to Baker, "The interest in new shrub genetics is strong, as I see retailers and wholesalers looking for extra marketplace advantages. At the same time, plant breeders have multiple new lines to launch. Our task is to help put both groups together, so all can benefit."
As more contractors take advantage of social media tools, new plant programs offer much in the way of posting content, with breeders often suppling photos of their plants in foundations, container gardens and large commercial settings. Pre-written content from breeders can complement other social media posts about a contractor's services and recent installations.
Whether it's added topline sales, added margins or increased customer satisfaction, the marketing power of new plant programs can become a valuable part of your business plan.
---
Laurie Scullin is a horticultural marketing expert consulting for clients in both Canada and the U.S., collaborating with Frank Zuanscherb of ZRB, Brantford Ont., 519-304-4357.