June 15, 2008
HortProtect will work for you!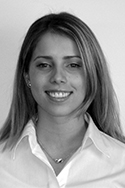 Canadian Nursery Landscape Association (CNLA) is pleased to announce Alanna Wolf is the new HortProtect marketing coordinator. A recent graduate of the University of Guelph, Alanna is excited about the opportunity to work with the association's members and with such a well-established program. Working closely with program brokers Sinclair-Cockburn and The Investment Guild, Alanna aims to increase brand recognition and provide unique coverage for the horticulture industry.
HortProtect was developed by the CNLA to provide a comprehensive group of insurance products designed specifically to meet the needs of individuals and companies operating within the horticulture industry. HortProtect is the only insurance program endorsed by Landscape Ontario and the CNLA. The program is closely monitored to ensure that members receive the best possible products and competitive pricing.
The HortProtect program is managed by two brokers, Sinclair Cockburn and The Investment Guild. Sinclair-Cockburn manages the business insurance side of the program, while The Investment Guild manages the life and health benefits. Both brokers have years of experience in the horticulture industry and have been working with Landscape Ontario for over 20 years. This experience allows them to fully understand which coverage is needed, and to create custom coverage for the horticulture industry. Sinclair Cockburn and The Investment Guild are proud sponsors of the CLP program and many other industry initiatives. In an industry that has many risks, it is important to choose a broker who understands your exposure and is able to offer the protection you require.
Industry specific coverage
Sinclair-Cockburn has developed industry-specific coverage, not found in regular policies. Because of HortProtect's buying power, the company has been able to create additional coverage not found anywhere else, at no extra cost, while still providing preferred rates. Sinclair-Cockburn is an active member of the LO snow and ice commodity group. Its expertise in this field makes the company the right choice if you do any sort of snow removal. For example, if a vehicle with a snow plough and salt spreader attached were stolen and you could not complete the regular scheduled work, HortProtect would pay for you to hire another contractor to complete the job, so you would not break your contract. As well, HortProtect offers a single occurrence deductible on vehicles and equipment. This means in that situation you would not need to pay a deductible for each of the three stolen pieces. With HortProtect, you pay only one deductible per claim on vehicles, trailers, and equipment. These are just some of the additional coverages you can receive. Ask your current provider what would happen in that situation, and then compare the value of being with HortProtect.

Benefits for seasonal businesses
The Investment Guild has also developed group life, health and disability benefits that are customized for the horticulture industry. It is important to protect your business, but you cannot forget to protect yourself, employees and family. Group life and health benefits through HortProtect offer your business a flexible, affordable program. HortProtect will work with you, the employer, to develop a plan that works for your business. As the company sponsor, you will have the option of a group benefits program, in which only the employee pays for the benefits, or a comfortable formula where you are both contributing. Whichever way you decide to go, HortProtect offers the flexibility to make a group benefits program work for your business. Not only are benefits easy to implement, but they are also a great tool to attract and retain employees. As the labour shortage continues, you will have to stay competitive in order to attract the best staff. Offering a group benefits and RRSP program will keep you competitive in the labour market.
Many of the employees you hire may be seasonal. With HortProtect you can offer full-time seasonal staff benefits year-round. Seasonal staff may be laid off for up to six months a year and still be eligible for benefits. If you have a staff member you would like to attract back next season, consider HortProtect benefits. Being perceived as a good employer is an effective way to recruit and retain good employees.
When considering your next insurance purchase, make sure you consider the benefits of HortProtect. Speak to Alanna Wolf, your association contact today, to find out more about how the HortProtect program can work for your business.
Alanna Wolf
HortProtect Marketing Coordinator
1-888-446-3499, ext. 8670
hortprotect@canadanursery.com
www.hortprotect.com